Dallas-Ft. Worth Local Life
A Guide to the Neighborhoods Along the Santa Fe Trail
Paved walking and biking trails that run through neighborhoods are a rarity in Dallas, so when the Santa Fe Trail opened, it was a hot commodity. At 4.5 miles long and 12 feet wide, this concrete path connects White Rock Lake to Deep Ellum and it's as much a trail as it is a linear park with flowers and benches. The trail runs right through some of East Dallas' most beloved neighborhoods, allowing residents to get a workout or travel between Dallas neighborhoods. Check out the neighborhoods along the Santa Fe Trail and see what makes them special.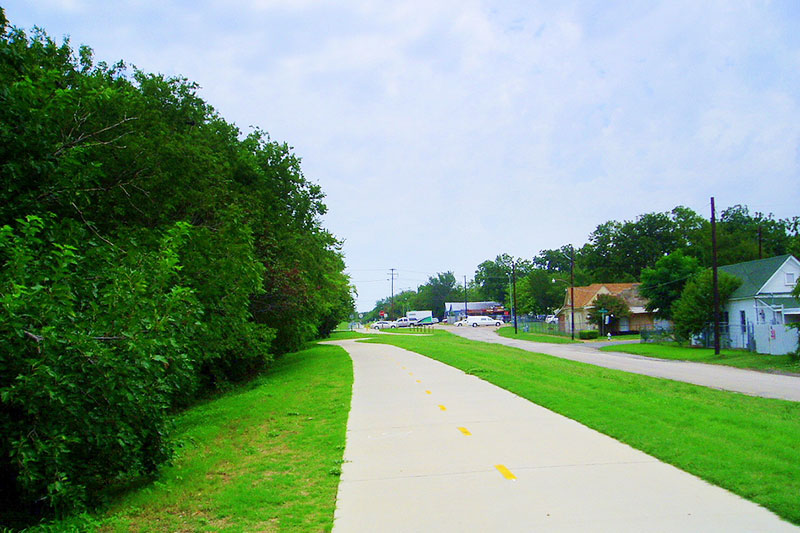 No, it's not in California—Hollywood and Santa Monica are side-by-side neighborhoods at the top of the Santa Fe Trail, closest to White Rock Lake. The two neighborhoods have a combined neighborhood association and a connected history. The area was previously a dairy farm until 1920 when J.B. Salmon bought it and formed the Hollywood Company, planning out the property meticulously. In 1989, the two neighborhoods succeeded in earning a dedication as a Conservation District.
Home styles in the two neighborhoods include Spanish and French Eclectic, Minimal Traditional, Craftsman, Monterrey, two rare examples of flat-roofed Pueblo Revival, and one of the largest collections of stone-embellished Tudor cottages in the nation. Houses here are midsize with an average of two to three bedrooms and bathrooms. Prices range from the high $300s to the high $800s, according to Neighborhoods.com. It's a good choice for those who want to be near White Rock Lake but don't want to pay a hefty price (like you would in nearby Lakewood).
In addition to its proximity to the Santa Fe Trail, which borders the west side of the neighborhoods, there's a lot to enjoy in Hollywood and Santa Monica. Lindsley Park is within the neighborhood, while Tenison Park borders it on the east. The Hollywood Santa Monica Neighborhood Association is very active, hosting events like Easter egg hunts, Christmas parties, and even a yearly home tour.
On the west side of the Santa Fe Trail is the charming Junius Heights historic neighborhood. The neighborhood is Dallas' largest historic district with homes dating to the early 1900s and the largest collection of arts and craftsman homes in the Southwest. Junius Heights homes are midsize and sell for a median sales price of $325,000, according to Neighborhoods.com. The neighborhood is charming, and with plenty of sidewalks and trees, you'll often see residents walking their dogs or sitting on their patios. It's a family-friendly neighborhood with some of the top public schools in Dallas. The Garden Cafe is a local farm-to-table cafe in the neighborhood that's a perfect stop before or after a walk on the Santa Fe Trail.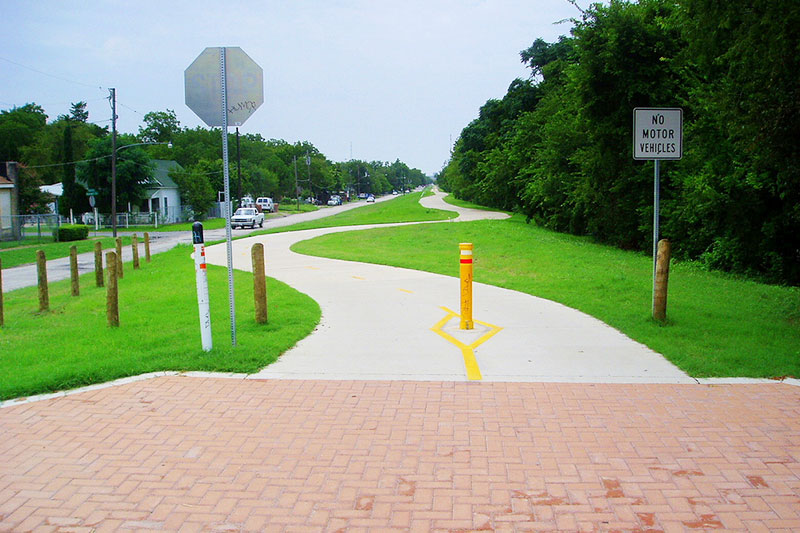 Swiss Avenue Historic District doesn't technically border the Santa Fe Trail; however, it's just a short 15-minute walk from the neighborhood. At just a 2.5-mile stretch, there's not much in Dallas' first historic district beyond a post office and a wide range of upscale homes in Mediterranean, Spanish, Mission, Prairie, Tudor, and Colonial Revival styles. While many Dallas locals make their way to Swiss Avenue to walk on the large sidewalks of the tree-lined avenue, residents might want to change it up by biking to White Rock Lake on the Santa Fe Trail.
Like other neighborhoods along the Santa Fe Trail, Munger Place is a historic district. The homes in Munger Place currently range from the high $300s to just under $2 million, and they generally have three bedrooms and two bathrooms, per Neighborhoods.com data. Prairie Style is predominantly found in this neighborhood, but you can also find bungalow and Neo-Classicals. Munger Place was the first deed-restricted neighborhood in Dallas with homes built in the early 1900s. The community here includes 250 homes, so homeowners here are close-knit and love to participate in home tours, neighborhood block parties, and the Dallas arts scene.
Old East Dallas is a large neighborhood area with a variety of single-family homes, condos, and lofts that mix old and new development. The southeast section of Old East Dallas, anchored by the Old East Dallas Work Yard Park, is the last neighborhood along the Santa Fe Trail before it reaches Deep Ellum. This area is mostly filled with businesses like grocery stores, automotive shops, and small restaurants, but there are some homes and condos within walking distance of the trail. Residents in this area will find it easy to get to Deep Ellum via the Santa Fe Trail, as it's only about a mile away on the path. For a more intense workout, it's 3.3. miles on the Santa Fe Trail to White Rock Lake from this neighborhood.