National Real Estate
A Guide to Working From Home
Social distancing is more than a buzzword—it's a lifesaving tactic that health experts say is our best chance to slow the spread of COVID-19 and avoid overwhelming hospitals. One of the main examples of social distancing is working from home. Many people all over the world are mandated to or are choosing to work from home to socially distance themselves and help slow or prevent the spread of the virus.
Plenty of "front line workers" can't work remotely—hospital and pharmacy employees, grocery store employees, and delivery drivers, for example. But for those of us who have the capability and privilege to work from home, here are a few tips to make it a little bit easier, whether it's your first time encountering remote work, you have distracting roommates or family members, or you just can't seem to stay on task.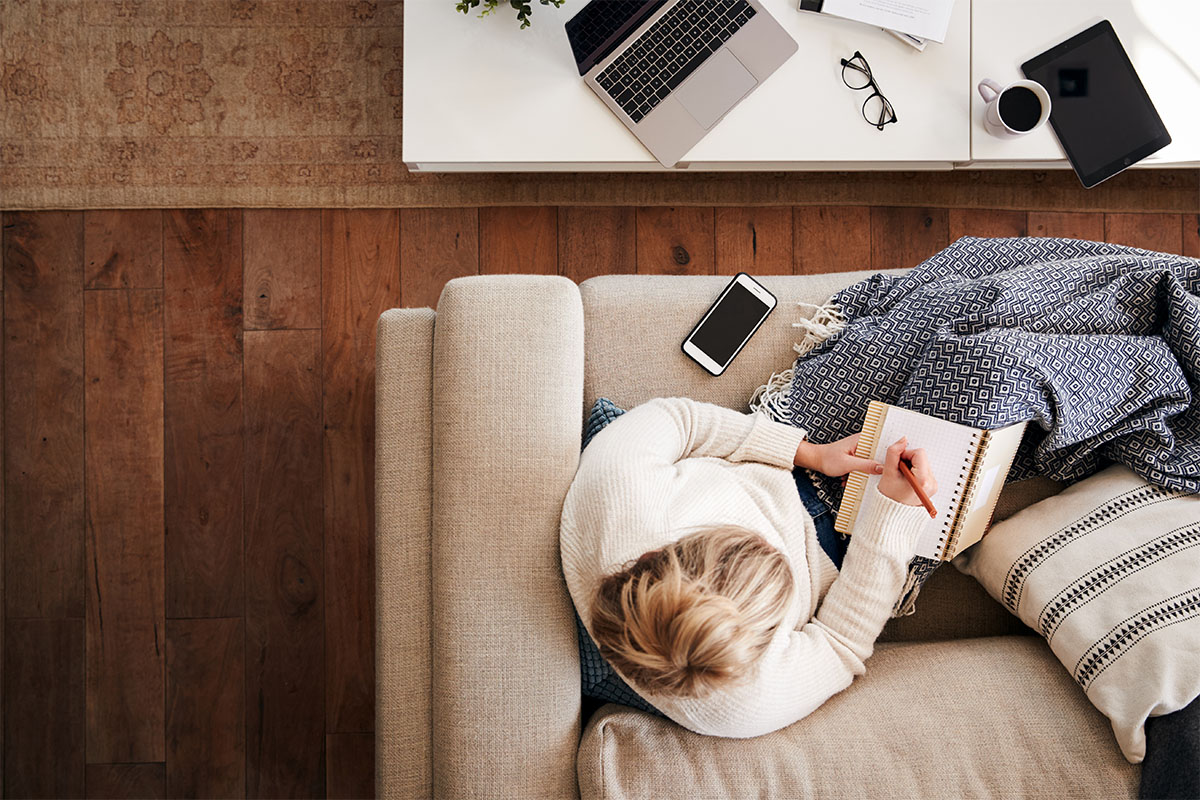 If It's Your First Time Working From Home
If you've always worked in an office or simply prefer to, thinking about the benefits of working from home is a good first step—you can keep up with light housework, enjoy your backyard, and simply take advantage of spending more time in the space you've worked so hard to purchase.
To help ease the transition, you'll also want to create a dedicated work area. This doesn't have to be a whole office, of course: it could be a small desk in your bedroom or a guest bedroom, or even the dining room table. If you live in a small studio condo, don't fret: wall-mounted floating desks are an affordable, space-saving solution (I personally like this minimalist under-$100 option and this under-$150 option).
Set yourself up for success by choosing a makeshift workspace out of the way of tempting distractions like the television. Of course, ultimately the goal is to choose a spot where you feel comfortable and productive—if that's propped up in bed? Go for it.
Logistically, you'll want decent internet and should check with your employer regarding VPN. Last, experts suggest adding structure to your day since you'll be on your own when it comes to managing your workload and keeping in touch with colleagues.
If You Have Roommates
At least for the time being, your roommates may be in the same boat as you, where they're required or are self-electing to work from home in the name of social distancing. That means, in theory, you'll have similar hours of quiet times where everyone can get their work finished.
However, if your roommates are on different schedules, you will want to communicate your work-from-home needs upfront. Keep them abreast of your schedule—say, if you have a 2 p.m. call and need things to stay quiet—and try to give them reasonable time frames to pipe down.
As noted above, settling on a dedicated workspace is also key. Try to choose somewhere out of the way (a corner of your bedroom, for example) rather than a main living area that your roommates will need access to.
If Your Roommates Also Happen to Be Children
We've all seen that video. Children have a knack for interrupting, especially when most schools are closed for the time being. Amid COVID-19, parents are working overtime to school their kids and maintain their jobs—hopefully, most employers will have some compassion and understand an occasional interruption when your child needs your help at home.
Depending on their age, some children simply don't understand that Mom or Dad are working and need peace and quiet. Even older kids might feel frustrated their parents aren't able to give them their undivided attention.
While your method of parenting is up to you, one suggestion is a sound machine to dampen inevitable background noise while you're working or on an important phone call. The LectroFan gets top reviews from sites like WireCutter. Bonus: you can also try it in the kids' rooms at night to help them get a better night's sleep.
Or, you can download a nature sounds app for free and test out calming background noise like rain sounds, sounds of the forest or binaural sounds, which research suggests can help boost productivity and mood.
If You Can't Stay Focused
It happens. If you're able, hit the refresh button by going for a walk (stay six feet away from others!), or try an online yoga video—many studios are offering live-streaming of yoga and other fitness classes for free. This is a benefit of working from home: you can responsibly take a few minutes to yourself to redirect your thoughts and emotions, and come back when you're ready.
Of course, staying focused has a more literal meaning too—are your eyes going wonky from staring at a screen for so long? Experts waffle back and forth on the efficacy of blue-light-blocking glasses, but you may want to try this affordable option to help prevent eye strain and accompanying headaches. Many pairs are available on Amazon for under $20.
With these tactics in mind, you can enjoy your home while maintaining your workload. Win-win!