Bay Area Neighborhood News
A New Ferry Terminal Is Poised to Transform Richmond's Waterfront District
For those who live in Richmond, being near the water is likely a perk. The city borders San Francisco Bay and San Pablo Bay, which help regulate the temperature and produce year-round good weather in the city. But as for Richmond's shoreline, it isn't currently the waterfront entertainment district and transportation hub many would hope for—not yet, that is.
Richmond's shoreline is poised for a major revival, which could elevate the city's reputation from a scrappy East Bay city to a major transportation and economic center. Construction crews are building a new $20 million terminal at Harbour Way South near the Bay Trail, where ferry passengers will soon be able to commute via water to Downtown San Francisco. The journey will take just 30 minutes, the San Francisco Chronicle reports.
The terminal will be especially convenient for current residents of Brickyard Cove and Point Richmond. Named after Brickyard Cove Pond, the upscale Brickyard Cove neighborhood is surrounded by the greenery of Miller/Knox Regional Shoreline and Keller Beach Park, and there are many condominium complexes and luxury homes situated along the hills. The Point Richmond neighborhood, which is divided into a "bay side" and a "town side," has many historic Victorian homes offering sweeping vistas of the bay. Both of these neighborhoods will be just a few miles away from the ferry terminal.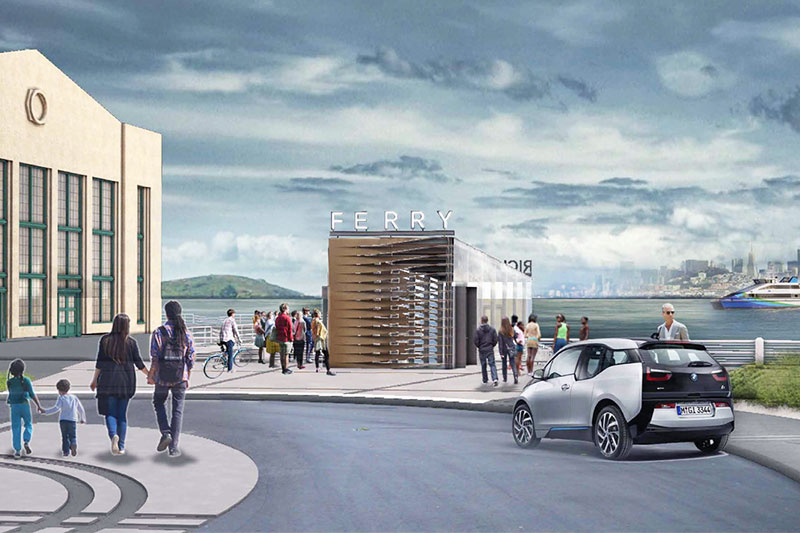 The ferry terminal is likely to usher in plenty of economic development, including shops, restaurants, and other businesses. The waterfront area has already gained new establishments recently, including the popular brunch eatery Assemble Restaurant, as well as the R&B Cellars Winery. The neighborhood is also already home to Rosie the Riveter WWII Home Front National Historic Park Visitor Center, and with a new and convenient way to reach the area, more people are likely to visit. Many hope these new additions will be just the beginning of a major economic boost.
"My fantasy is that we'll make this the East Bay entrance to Alcatraz, which gets a million visitors a year," Park Ranger Betty Reid Soskin told the San Francisco Chronicle.
Tech workers are also drawn to the area for the shoreline housing developments already planned near the terminal. Developer Todd Floyd, who owns New West Communities, is planning a 600-unit apartment building on Harbour Way South, as well as a 200-unit mid-rise on Seacliff Drive. Floyd says he chose those particular locations in anticipation of the soon-to-be-completed ferry terminal, according to the San Francisco Chronicle.
With the option to commute just 30 minutes into Downtown San Francisco, people can avoid sitting in bumper-to-bumper rush hour traffic, and fewer cars on the highways can also improve regional air quality. The proposed fare is currently $9 one way for adults, which is more expensive than a BART ticket. The ferries from Richmond are projected to carry 500 to 1,000 passengers per day during their first year of operation, but that number will likely jump up in future years. In Oakland, ridership tripled on the boats between Oakland's Jack London Square and San Francisco, increasing from 40,000 people in April 2012 to 108,000 in April 2018, according to the San Francisco Chronicle.
Not only is the terminal expected to bring economic development, the city also anticipates property values will increase. Those who already live in the area will likely watch their homes go up in value in the coming years.
In addition to the new ferry terminal, Richmond could also become more accessible from other corners of the Bay Area thanks to the planned San Francisco Bay Trail. This 500-mile walking and cycling path stretching around the entire region would run through all nine counties, pass through 47 cities, cross seven toll bridges, and connect various schools, transit centers, open spaces, and more. There are already 350 miles in place. In Richmond, the Bay Trail will pass through a few of the city's regional parks, including the Miller/Knox Regional Shoreline and the Point Pinole Regional Shoreline.