Bay Area Neighborhood News
Can loyal In-N-Out fans in the Bay Area learn to love Shake Shack too?
Ask any Bay Area native what their favorite burger joint is, and nine times out of ten, you'll probably be met with an enthusiastic, "In-N-Out!" The chain got its start in California and the burgers have become embedded in the state's culture and developed a loyal following.
From Humble Californian Beginnings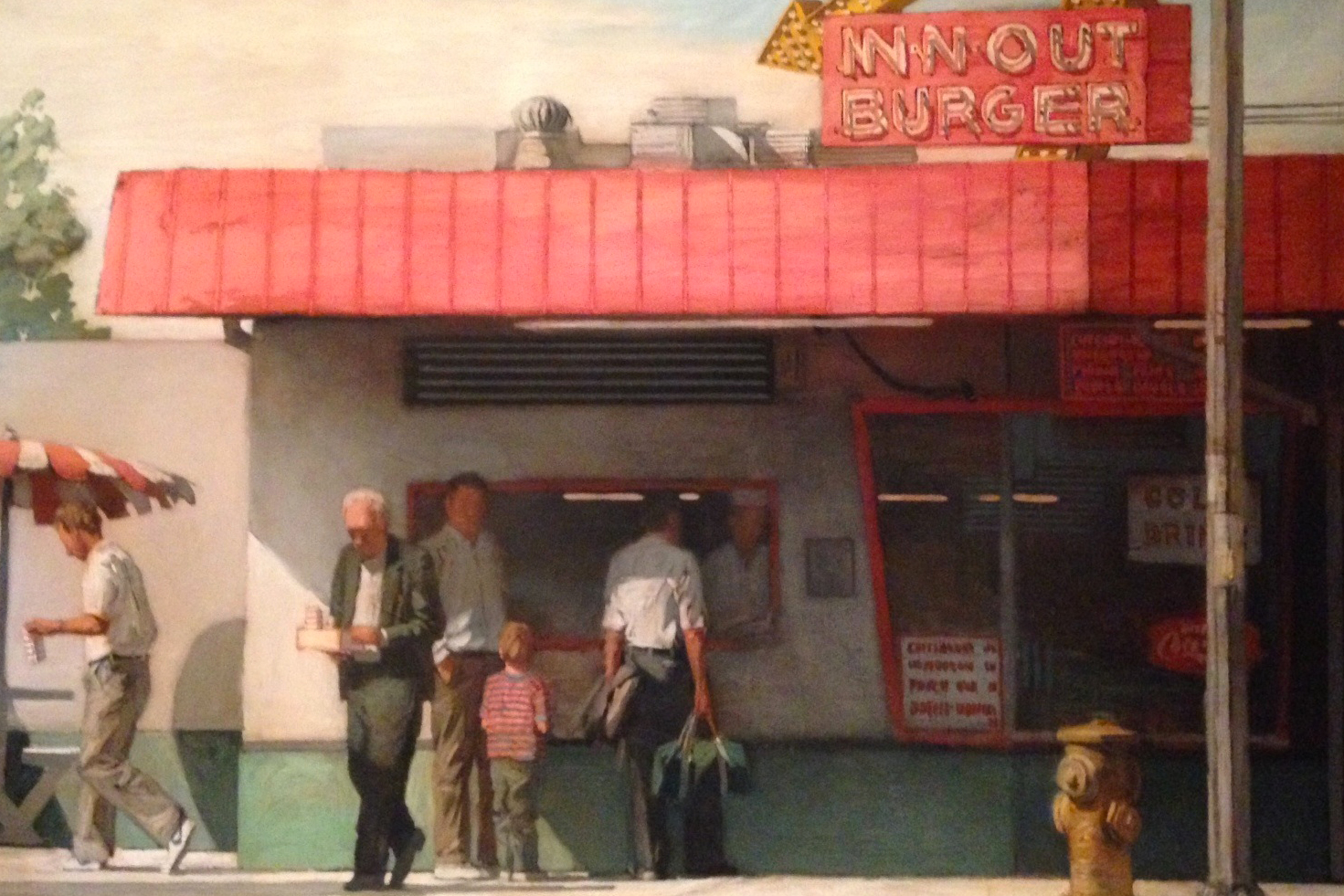 In-N-Out's menu is simple and reminiscent of old-school American diners, with only three burger options on the menu: hamburger, cheeseburger, and Double-Double (a burger with two patties and two slices of cheese). All the burgers come with a crisp leaf of lettuce, a sweet slice of tomato, and In-N-Out's signature spread, which is somewhat similar to Thousand Island dressing.
In-N-Out also has an extensive secret menu, which has become less secretive over the years but still lends the chain an exclusively Californian quality. Protein-style burgers come wrapped in lettuce instead of on a bun and animal-style burgers are packed with grilled onions, extra spread and pickles, and mustard-grilled patties. Animal-style fries, on the other hand, are decked in cheese, grilled onions, and a generous helping of that signature spread.
In-N-Out was founded in Baldwin Park, California, by Harry Snyder and Esther Snyder in 1948. From Southern California, In-N-Out eventually expanded into Northern California, and later into Arizona, Nevada, Utah, Texas, and Oregon. But it's California that boasts the most locations and has seen In-N-Out's growth from the very beginning, so it comes as no surprise that Californians really love their In-N-Out burgers.
"I have In-N-Out probably every two or three days. That's not an exaggeration. It's just a great place to chill out with friends and have good food that's also cheap," Justin Gomez, a high-school senior in San Jose, told Neighborhoods.com.
"I've been having In-N-Out since I was, gosh, 15? I'm 45 now, and you can't drag me into any other burger chain," said Thomas Harvey, a local engineer, with a laugh.
East Meets West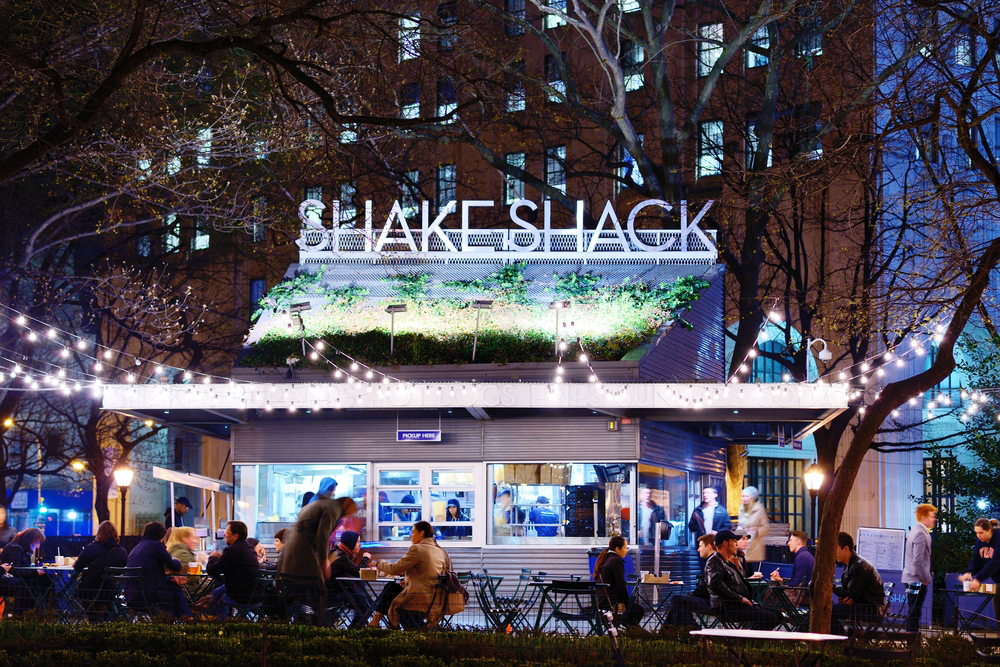 So far, In-N-Out has kept its locations mostly on the western side of the United States, so East Coasters haven't been able to get in on the fun. But East Coast residents have their own beloved burger chain: Shake Shack. Shake Shack is headquartered in New York City and got its start as a food cart inside Madison Square Park. From that tiny set-up, its popularity grew, and Shake Shack now has 160 locations around the world.
You can find Shake Shack restaurants in many states, including Minnesota, Kentucky, Florida, and yes, even California. However, Shake Shack's seven California locations have so far been limited to Southern California, in areas such as Glendale, San Diego, and Hollywood, giving Angelenos a front-row seat to the inevitable rivalry between the two. And now, it seems the Bay Area will also be getting a taste of the competition.
Shake Shack Invades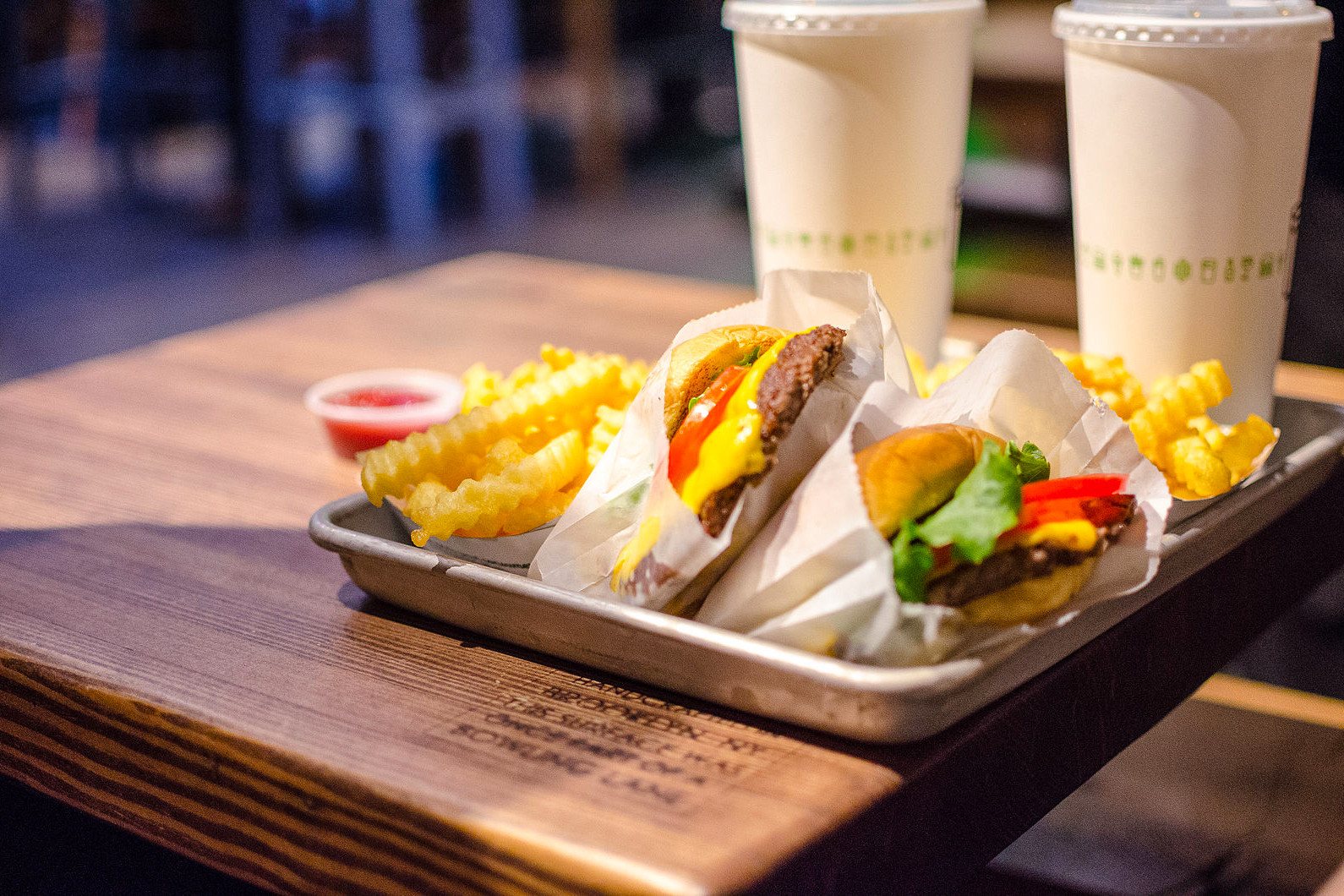 According to Eater SF, Shake Shack is bringing its burgers to three new locations: Marin County's Larkspur, San Francisco's Cow Hollow neighborhood, and Palo Alto's Stanford Shopping Center.
Two beloved burger chains with a lot in common, both of which have a very loyal fan base, in the same place? It's the perfect opportunity for burger lovers to compare these two chains side by side. Let's take a look at Shake Shack to see what all the fuss is about.
Shake Shack's menu, while still simple, offers more options than In-N-Out does. At Shake Shack, you can order a cheeseburger, hamburger, a burger topped with bacon, and even a portobello mushroom burger. Unlike In-N-Out, Shake Shack does offer menu options for vegetarians. Shake Shack also serves decked-out hot dogs and crispy fried chicken sandwiches, along with their signature crinkle-cut fries.
But the thing that gives Shake Shack its name are the milkshakes. At each new location the chain opens, the milkshake menu is customized to suit the tastes of locals, utilizing the flavors of that city to form some interesting creations. You can also order their signature flavors anywhere, such as salted caramel, peanut butter, and chocolate. That's a lot more than what In-N-Out offers, which is just the basic chocolate, vanilla, and strawberry flavors. Not a fan of milkshakes? Shake Shack also offers floats, cups, cones, and concretes, which are made of frozen custard and delicious mix-ins.
In comparison to In-N-Out, Shake Shack restaurants offer a slightly more upscale feel. The decor is contemporary and understated, with wood paneling and plants throughout the restaurant. In-N-Out, on the other hand, has more of a diner feel, with a very minimalistic interior and its signature red-and-white tiling and palm tree artwork on the walls. However, In-N-Out does beat out Shake Shack in terms of pricing. While a burger and fries at Shake Shack will set you back about eight dollars, the same combo is just about five dollars at In-N-Out.
The Better Burger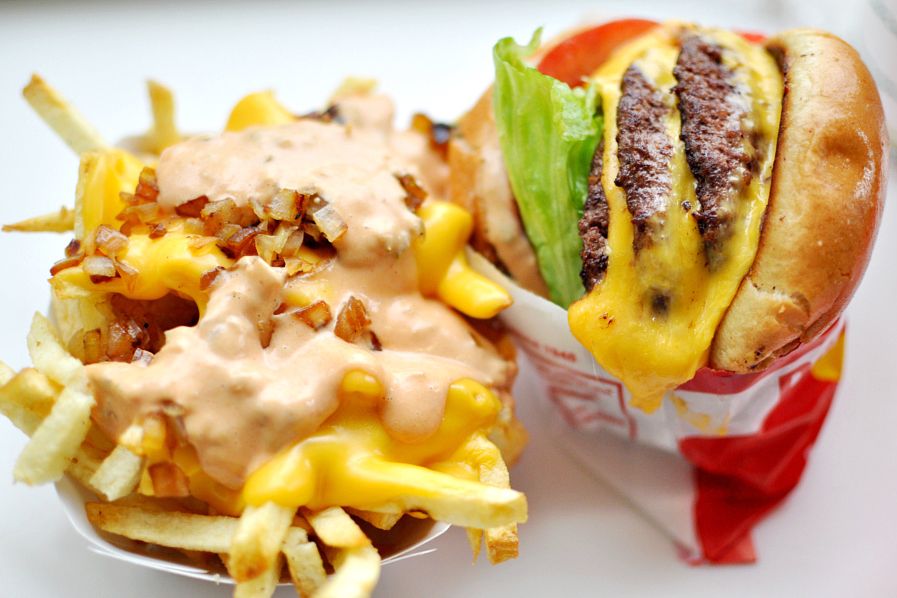 So how do Californians feel about Shake Shack? Based on locals we spoke with, opinions are mixed about the In-N-Out and Shake Shack rivalry.
"I just prefer In-N-Out because I think the burgers taste better and it's also cheaper. I really like that animal-style spread, and I think Shake Shack burgers taste kind of boring in comparison," said Nellie Cruz, a long-time homeowner in Fremont.
"I like the burgers and fries at In-N-Out better, but I think their milkshakes are too thick, so I go to Shake Shack for milkshakes," said Patrick Archuleta, who recently moved to Los Angeles from Wisconsin.
"I don't see the point of a rivalry. Why can't some people like In-N-Out and some people like Shake Shack? Some people get really defensive about In-N-Out, and it's like, why? Both have their merits. Or maybe I'm just saying that because I like Shake Shack better and I'm scared to admit that in California," said Christopher Simmons, a college student.
It won't be long before we find out how the competition plays out. According to the San Francisco Chronicle, the Palo Alto location of Shake Shack is aiming for a fall 2018 opening date. The space previously housed a Wells Fargo bank. Shake Shack plans to work with the city to add outdoor seating, strings of lights, and games, which would mirror the setup of the first-ever Shake Shack in New York City's Madison Square Park. The Marin County location will be at 1401 Larkspur Landing Circle in Larkspur. The highly anticipated San Francisco location will likely be located at 3060 Fillmore Street in Cow Hollow, reports Socket Site. This location is yet to be officially confirmed.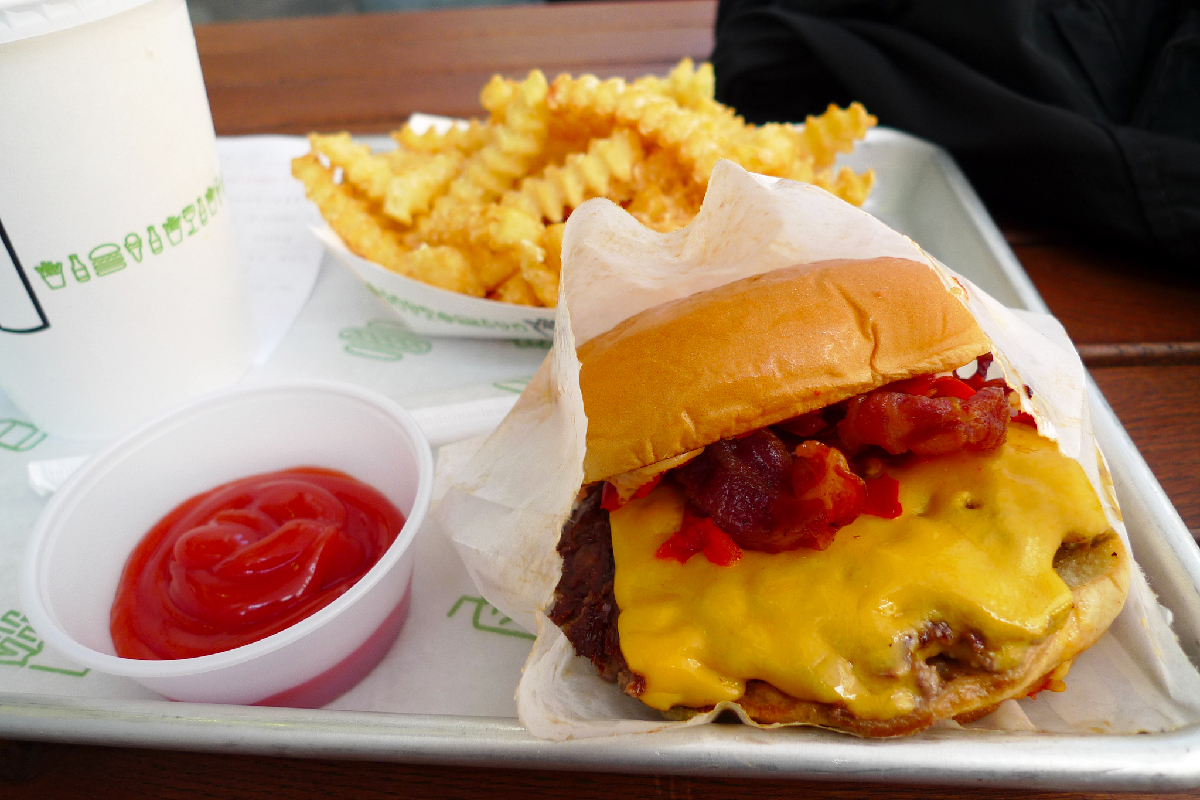 Shake Shack is joining a competitive burger scene in the Bay Area, as it's not only In-N-Out that has a loyal following of hungry burger lovers. Gott's Roadside, Roam, and Super Duper have their own enthusiastic fan bases, and it's unclear where Shake Shack will fit into the picture. Is there enough burger love to accommodate one more player?
"I've never tried Shake Shack, so I definitely want to give it a chance. I've heard good things from my East Coast friends. I'm really excited for their frozen custard," said Allison Chu, a food photographer.
"Can't say I'm going in with huge hopes because I just don't think anything can top In-N-Out or Gott's Roadside. But hey, I'm ready to be proven wrong. Ask me a year from now and I might be a Shake Shack convert. My kids can't wait to try it," said Ramit Gupta, a Bay Area engineer and father of two.