Chicago Real Estate Development
Chicago New Development Drilldown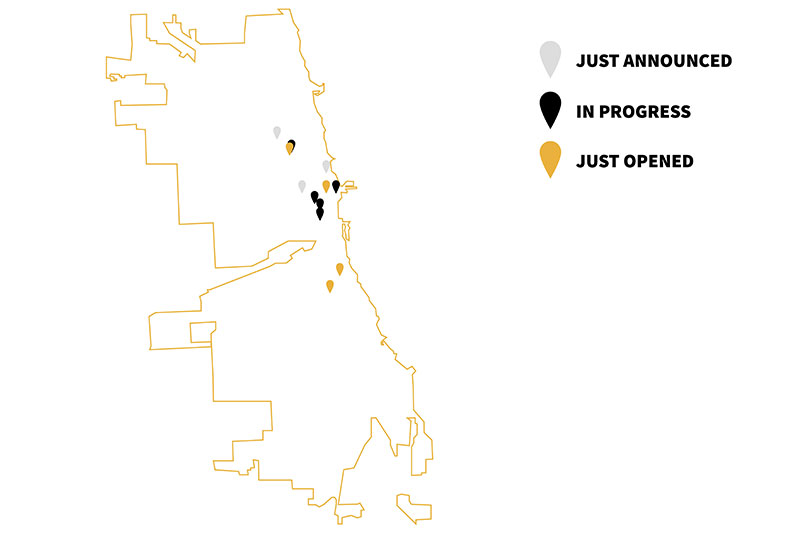 Megadevelopments are one of the biggest trends reshaping Chicago in 2018. From whole new neighborhoods to towering residential buildings, construction is underway on some enormous projects. Among those projects, skyscrapers and luxury living emerge as major themes. Right now, nearly 50 high-rise buildings are in the works, according to Curbed Chicago.
Naturally, most of those taller buildings are concentrated in downtown neighborhoods like the Loop, South Loop, West Loop, and River North. While some of these buildings are set to become office towers, the majority of skyscrapers are residential leaning. A recent report from Commercial Café puts Chicago as no. 12 in the country for new office development, trailing behind several other major markets like New York and the Bay Area. When you look at the city's growing collection of skyscrapers, 25 of the 38 that have gone up since 2000 are residential, according to Bisnow.
Developers are racing to build upwards, and that means there's a healthy market for luxury living in the city. As of August, buyers snatched up more than 50 single-family houses and condos for at least $4 million apiece, according to Crain's Chicago Business. And, luxury buyers aren't looking just downtown. In September, a Lincoln Park home sold for more than $5 million, according to The Real Deal.
Here's the lowdown on Chicago development.
Just Announced
The Near North Side could be the future home of yet another new high-rise. A building currently occupied by a Barnes & Noble—one of the bookstore's few remaining outposts in the city—and a Lou Malnati's is on the market, according to the Chicago Tribune. Though no buyer has been announced, transformation into a residential tower with ground-floor retail is a likely fate for the site near State and Rush streets, according to the report.
In more concrete residential development news, developer Belgravia Group has earned city approval for a 366-unit residential development along the Bucktown-Lincoln Park border, according to The Real Deal. The development, located at a site not far from the massive Lincoln Yards project, is dubbed Triangle Square. The residential development is expected to include retail space, apartments, and a 66-unit condo building.
Although Chicago may not be leading the country in new office development, there are certainly neighborhoods that attract it, namely Fulton Market. Sterling Bay, an active force in the neighborhood and the developer helming Lincoln Yards, recently acquired another building in Fulton Market, according to Crain's Chicago Business. The approximately $20 million acquisition is not far from the building Sterling Bay redeveloped and now houses Google, according to the report. The building's wholesale meat company will remain there until 2020, so Sterling Bay's plans will need to wait a few years, Crain's reports.
In Progress
Vista Tower is one of the prominent luxury residential projects stretching skyward. Currently under construction, the 100-story condo and hotel building could change ownership, according to the Chicago Tribune. The building, slated for completion in 2020, is set to be the third tallest building in the city, according to the report.
A number of in progress projects have the ambitions aim of adding an entirely new neighborhood to Chicago. For example, developer Related Midwest is busy creating The 78, a 62-acre project that will connect the South Loop and Chinatown and become a neighborhood in its own right. This summer, Amazon toured the site as a part of its highly publicized hunt for a new headquarters location, according to Chicago Business Journal.
Among the highest profile developments in the city, Lincoln Yards is moving toward executing its $10 billion grand vision for a new soccer stadium, homes, a Metra station, office space, a slew of amenities, and a whole lot more. Unsurprisingly, the 70-acre, riverfront development is another Amazon contender.
Closer to downtown but still on the river, another new neighborhood is taking shape. Lendlease Development and Magellan Development Group are proposing the master-planned community Lakeshore East. The MPC already has a number of luxury residential buildings, including Vista One, and the developers have proposed three new towers with a total of 1,700 residential units.
The Chicago River is proving to be a coveted spot for developers. Tribune Media is creating the River District, which will bring 18 new buildings and public space to 37 acres in River West. The Chicago Plan Commission has already approved the project. A 14-acre site in the South Loop is home of the Riverline project, a $2 billion endeavor that will include eight buildings and a river walk. Developers Lendlease and CMK have split the project into two separate sections.
In addition to projects rising from scratch, the city has a major project underway that's reshaping one of its icons. Union Station in the West Loop is undergoing a $1 billion redevelopment. The project will add residential units, office space, and hotel rooms to the train station. BMO Harris Bank could be the anchor tenant for the development's 715-foot office tower, according to the Chicago Tribune. The multi-phase project still has a number of city approval hurdles to clear, according to Curbed Chicago.
Of these new developments, large mixed-use projects emerge as a trend. Developers are snapping up available vacant lots and creating not one or two buildings but entirely new neighborhoods. If they don't have the space to build outwards, they build upwards striving for new heights. While Amazon's favorable eye may not be the sole reason behind the surge of megadevelopments, it's certainly a significant motivator. It would be a major coup for any development, whether Lincoln Yards or The 78, to land the ecommerce company's new headquarters.
Just Opened
While Lincoln Yards is still a work in progress, the development landed its first major tenant. Shipping company C.H. Robinson opened a 200,000-square-foot facility in the development, according to CBS Chicago. The company employs more than 2,500 people in Chicago, according to the report.
When it comes to new residential development, Bronzeville is a notable neighborhood. Between July 2017 and July 2018, developers nabbed 73 new construction permits, which represent $30 million worth of development, according to The Real Deal. Recently, developer Steele Consulting Group built new homes in the neighborhood on the 400 block of East 41st Street, according to the report. Additionally, new single-family homes were built on the 4500 block of South Prairie Avenue. The homes were built through the Parade of Homes initiative, which encourages developers to build market-rate homes on land owned by the city, according to the report.
In smaller, but culturally significant news, the new Chicago Architecture Center in the Loop held its ribbon cutting ceremony this summer, according to Chicago Magazine. The new, 20,000-square-foot location at 111 E. Wacker Drive will offer tours and feature exhibits designed to shine a light on the city's architecture.