Dallas-Ft. Worth Real Estate Development
Dallas-Fort Worth New Development Drilldown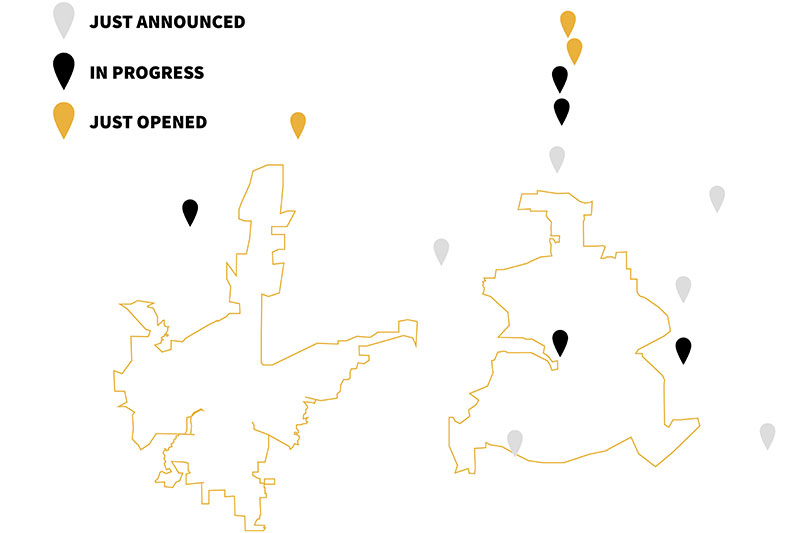 The wide open spaces of North Texas are primed for Dallas-Fort Worth's new developments. While there are a wide range of commercial and residential projects in the works, master-planned communities and mixed-use developments keep cropping up on old farm and ranchland throughout the region. In addition to some mammoth MPCs as well as live, work, play, and stay projects, several interesting developments are either in the pipeline or underway. For example, a digital giant has selected an Ellis County suburb as the site to build a half-billion-dollar facility. A tech professional has launched the nation's first-of-its kind new home development in Frisco, and the Collin County town of Princeton is adding a rare twist to its mixed-use project.
Here's an overview of those and other new developments happening in Dallas-Fort Worth.
Just Announced
SOCFM Developer LLC purchased the Wildcat Ranch on the eastern edge of D-FW in Kaufman County. Located between the popular Heartland MPC and the small town of Crandall, the over 900-acre spread will include 3,100 moderately priced homes built by D.R. Horton, KB Homes, and Beazer Homes.
In the northern quadrant of North Texas, Hunt Realty Investment Inc. and its partners acquired the 2,544-acre Headquarters Ranch in Frisco, which is the city's largest contiguous land site left to develop. Fehmi Karahan, who developed most Legacy projects in Plano, will lead the team in transforming the mammoth land mass into a Texas-sized mixed-use community.
In the Ellis County town of Midlothian—about 25 miles from Downtown Dallas—Google and its parent company, Alphabet, received City approval to build an epic $500 million Google Data Center in the industrial neighborhood. On the heels of the Google announcement, the City Council gave the thumbs up for Methodist Health System to build Methodist Midlothian Medical Center, which will include a 5-story fully licensed hospital and a 3-story medical office building near the city's multi-use stadium west of U.S. Highway 287. These developments will add to employment and amenities in this growing town.
Garland approved the concept plan for My Possibilities to construct 300 homes and amenities on the 178-acre site of the old Eastern Hills Country Club, which was previously the centerpiece of the Club Hill Estates neighborhood. The Plano nonprofit plans to retain ownership of 100 single-family homes to use as housing for its adult special-needs clients.
A $575 million, 297-acre mixed-use development coming to Princeton in Collin County will be the city's new town center. Besides a new 40,000-square-foot City Hall, Princeton Crossroads will include commercial and retail space, apartments, 166 townhomes, a city park, two ponds, a dog park, and an 88-acre neighborhood with 333 new single-family homes.
Cawley Partners plan to develop The Braun on Belt Line, a three-building office complex in Coppell that's just a stone's throw from the 1,000-acre Cypress Waters, one of Texas' most successful office developments. Phase I of the Cawley project will be a four-story, 168,000 square-foot building.
In Progress
Builder Jimmy Tanghongs just broke ground near Preston Road in Frisco on the first neighborhood in the U.S. to contain new single-family homes that will power themselves and require no exterior maintenance. These Texas Modern homes will include dozens of solar panels, as well as durable masonry and steel building materials. The homes will range from 2,000 to 5,000 square feet, and Tanghongs already has a couple of buyers.
On Warren Parkway in Frisco, just west of the Dallas North Tollway,Frisco Station—a $1.5 billion, 242-acre mixed-use development on the city's North Platinum Corridor—just started construction on the second structure in its 5-building office complex. The first building is already 95 percent leased, and construction is likewise underway on two hotels and two apartment projects.
Hall Arts Residences and Hall Arts Hotel are taking shape in the Dallas Arts District, and the $250 million project is on track to open by late 2019. While the hotel will include 183 upscale rooms, the 28-story residential tower will contain around 45 luxury condos, which are the only new high-rise condos currently for sale in Downtown Dallas.
Bloomfield Homes is presently developing the first phase of the Ridge Ranch MPC in the Clay Mathis neighborhood of Mesquite, and sales are slated to begin in 2019 at a price point ranging from the mid-to-upper $200s. Kim Gill and Tim Fleet, developers of the Morningstar MPC in Aledo, just broke ground on their next project, Northstar, in northwest Fort Worth. This 750-acre MPC will contain 2,200 new single-family homes at build-out.
Now Open
Phase I recently opened at Sandbrock Ranch, a 2,400-acre MPC and former Denton County horse ranch in Aubrey. New single-family homes from David Weekley Homes, Highland Homes, and Perry Homes start in the mid-$200,000s.
Frisco Springs is open on El Dorado Parkway between the Dallas North Tollway and Preston Road. The 97-acre Frisco neighborhood will contain 172 single-family homes built by Toll Brothers and Village Builders and 154 townhomes that CB JENI Homes is constructing. Prices on luxury single-family homes begin at $569,995, and quick delivery new homes are available at $759,995 and up. Two-story attached townhomes start at $319,990.
The Harvest Townside neighborhood is open in the 1,200-acre Harvest by Hillwood MPC in the Denton County towns of Argyle and Northlake. Hillwood added the new subdivision to meet the affordability demand of first-time buyers, millennials, and empty nesters. One and two story patio homes built by David Weekley Homes range from $265,990 for nearly 1,500 square feet to $312,990 for almost 2,300 square feet. DR Horton's single and split-level floor plans run from $268,990 for 1,884 square feet to $305,990 for 2,686 square feet.