National Local Life
Meet My Neighborhood: Plaza Midwood, Charlotte
Hey, everyone! I'm Shannon, a food and lifestyle blogger from Charlotte, North Carolina. I have been a resident of the Queen City for over seven years now. I've lived in a couple of different neighborhoods here in that time, but have found that my favorite area is close to the main hub of it all, Uptown.
Despite growing up in the mountains of Asheville, I really am a city girl at heart. I love the hustle and bustle and being close enough to explore all the new restaurants, bars, and entertainment. I have only been living here since 2010 and have witnessed incredible growth in this city, which isn't slowing down anytime soon. When I am not working my 9-5, you can find me checking out Charlotte's food and lifestyle scene to share with others that enjoy the same.
I've never been happier with my neighborhood than where I live now. It's right on the outskirts of Uptown (just 2 miles away) and borders two neighborhoods, Elizabeth and Plaza Midwood. Elizabeth is mostly historic and beautiful homes, but Plaza Midwood is an eclectic area filled with lots of places to experience. I want to share with you some of my favorite spots in Plaza Midwood that I frequent often!
Central Coffee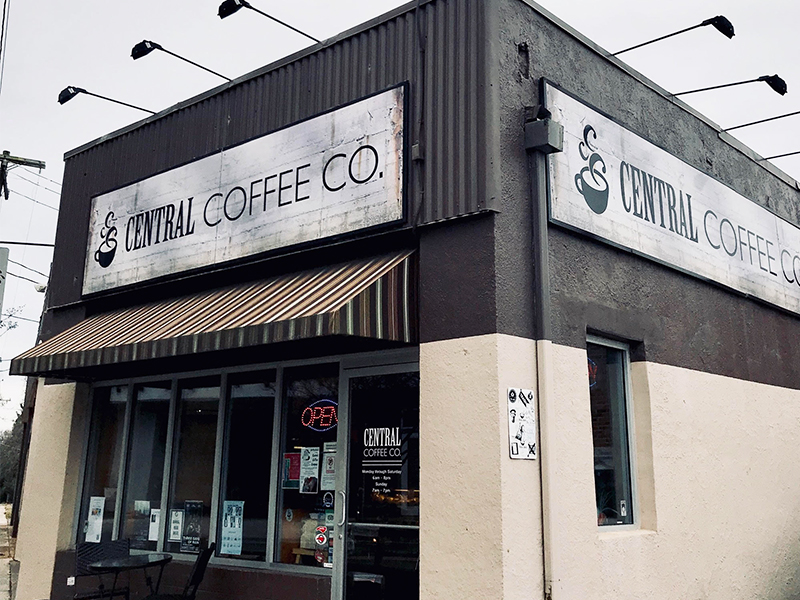 Central Coffee Co. was one of the first shops in the local coffee scene here in Charlotte, opening off of Central Avenue in 2009. They have been a community favorite ever since, so much so that they opened a second location in the South End neighborhood last fall. Not only do they serve great locally roasted coffee, but they bake all of their pastries and food from scratch daily. The original Plaza Midwood location has a warm and inviting setting with interior brick walls and a fireplace in the back corner. There are a ton of drink options with house made flavors (regulars and seasonal) if you like to fancy it up like me; one of my favorites is the lavender vanilla latte.
Green With Envy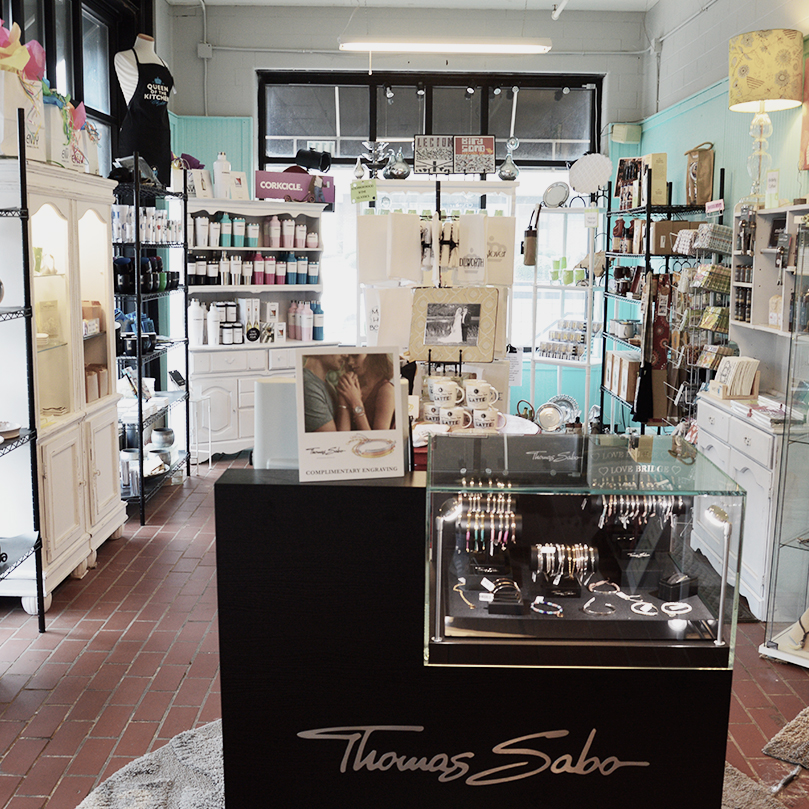 Green with Envy is one of my favorite boutiques in the neighborhood to grab a gift for someone. Housed in a former ice cream plant, this unique shop has original brick floors, high exposed ceilings, and sells the work of 60 local and semi-local artists. Whether it's clothing, jewelry, home decor, art, children's items, or whatever you're looking for, chances are they have it. I've picked up candles, wine glasses, books, funny greeting cards, witty tea towels, and so many other things. Bonus: they gift wrap for free! I will admit, it's hard not to buy everything for yourself.
Two Scoops Creamery
Two Scoops Creamery is an artsy and colorful local ice cream shop that serves over 70 homemade small-batch flavors that rotate throughout the year. You can expect flavors such as Not Your Momma's Pumpkin Pie, Thin Mint Crunch, Apple Cider Donuts, Cookies by the Sea (cookies and cream swirled with salted caramel), Thai Tea, Yabba Dabba Doo (Fruity Pebbles), Papi Crunch (Cap'n Crunch), TED (cinnamon teddy grahams with a cinnamon swirl) ... OK, are you drooling yet?!
Lunchbox Records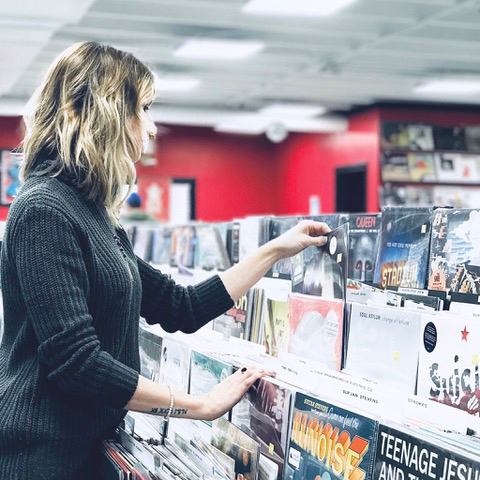 Just down the block from Two Scoops Creamery, you'll find Lunchbox Records, a hip, independently owned store that sells new and used vinyl records, CDs, and DVDs. Their specialty is indie rock, punk, metal and jazz, and you can also find stickers, patches, magazines, and other band merchandise there. They have a stage for bands to play, and all ages are always welcome to the intimate shows. The selection will definitely take you on a walk down memory lane.
Legion Brewery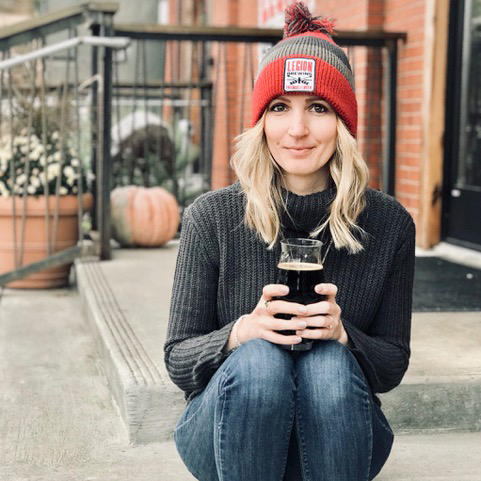 The Plaza Midwood community was ecstatic when Legion Brewery opened their doors in December 2015. The location is ideal, nestled on Commonwealth Avenue (a walkable strip of restaurants, bars, and shops) with a view of the skyline from their outside patio complete with fire pit. I personally love their variety of taps — Carolina Sparkle Party (a Berliner Weisse) is one of my favorites there! House-made syrups in flavors like blackberry sage, peach mint, strawberry basil, and blueberry can "dress" it up and give you a different taste every time. This brewery has been so well received, that they are in the process of opening their second location in the South Park neighborhood next Fall. The staff has always been incredibly welcoming, as if you've been friends for life. Their motto is "Friends & Beer" after all.
Diamond Restaurant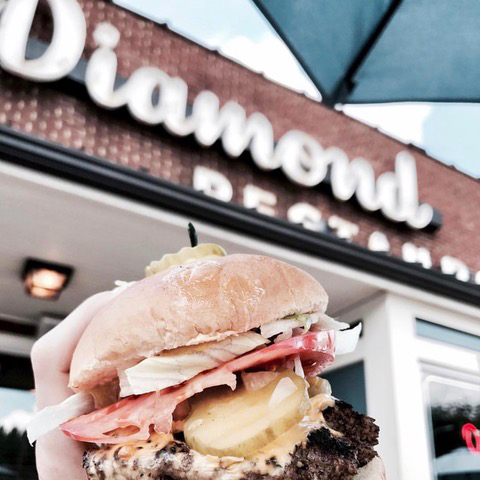 If it's comfort food you're looking for, you'll find it at Diamond. It was opened in 1945 on Commonwealth Avenue and remains popular to this day. You'll get to choose menu items like hot pimento cheese dip, gravy fries, chili dogs, and more — but my personal Diamond favorite is the Small Block Burger. It's nothing fancy, just a great classic burger that I crave at least once a week.
Common Market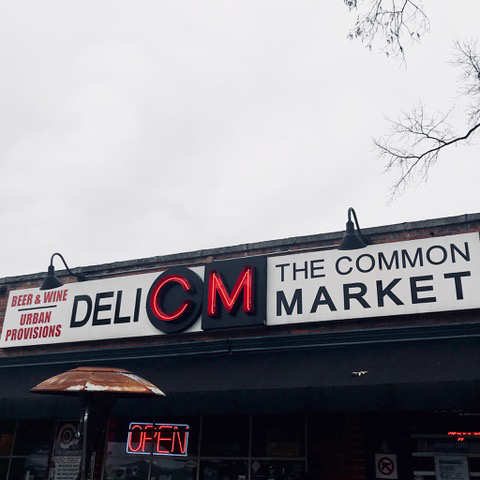 There's no doubt The Common Market is a staple in Charlotte. Their "all-embracing" philosophy when it comes to accepting everyone for who they are makes this quirky deli and bar a popular spot in not one, not two, but three Charlotte neighborhoods. The deli offers breakfast, sandwiches, salads, soups and more, all made from scratch using as many local ingredients as possible with options for vegans and carnivores alike. Need a casual gluten-free meal/snack? No problem. Looking for a funky gift for that fun person in your life? Common Market has you covered. Want to unwind somewhere laid back after work? This is it. The sandwiches are amazing and one of my favorite things about their snack selection is that you can find all of those unique flavored chips that the big chain grocery stores never carry.
There is so much more to this neighborhood that I could write a novel, but these businesses are a great introduction to the type of community Plaza Midwood is. Diverse and eclectic, locally focused, fun, and welcoming — I am so proud to call it home.
—
Shannon McCauley is a blogger and dog mom based in Charlotte, North Carolina. Shannon shares glimpses into her life in Charlotte both on Instagram and on her blog, Uptown Girl CLT.