Miami Real Estate Development
Miami New Development Drilldown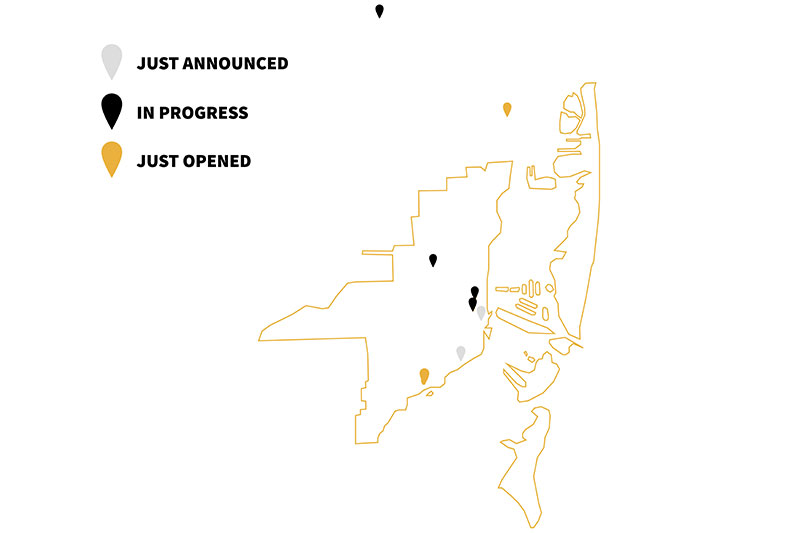 When people think of Miami, visions of sun-dappled beaches, tanned tourists, and posh nightclubs often come to mind. But, in recent years, as more cranes flood Downtown and other neighborhoods, construction is increasingly vertical. As a result, the skyline has been slowly developing into a rival of larger cities.
The following are some of the city's largest developments that are reshaping the skyline as well as other developments impacting Miami neighborhoods.
Just Announced
The Waldorf Astoria Hotel and Residences, the combo hotel and condo skyscraper planned for 300 Biscayne Boulevard in Downtown Miami, is noteworthy for a few reasons. First, it'll bring one of the world's most iconic hotel brands, Waldorf Astoria Hotels & Resorts, to Miami. The company has over 30 properties around the world, including two in Boca Raton, two in Key West, and one in Orlando.
Second, at 1,049 feet, it'll be Miami's tallest building, per Curbed Miami. The tallest structure right now is the 868-foot Panorama Tower in Brickell. The Waldorf Astoria Hotel and Residences will also surpass the 890-foot Okran Tower Miami, which was recently approved by city officials, and the 1,000-foot SkyRise observation deck and thrill ride, which is currently under construction.
The project is being developed by New York-based Property Markets Group, Toronto-based Greybrook Realty Partners, and Miami's S2 Development. Designed by local firm Sieger Suarez Architects, the building will feature a design resembling a series of glassy cubes stacked nine high. The development will have 140 hotel rooms and 400 condos, with total sales expected to top $1 billion, according to Bloomberg. Pre-sales are expected to begin in late 2019.
While it may not be vying to be the tallest structure in Miami, the Una Residences is another significant residential project taking shape Downtown. The 579-foot, 47-story condo project proposed for 175 SE 25th Road in Brickell was recently approved by the city's Urban Development Review Board, per Curbed Miami.
The project is being developed by OKO Group and Chicago-based Adrian Smith and Gordon Gill Architecture and will feature 137 units, 251 parking spaces, and a public baywalk with landscape design by Enzo Enea. Project officials say the tower's design has a nautical theme. "From a distance, the iconic tower is recognizable by its smooth, light-metallic surface and striking silhouette that recalls the natural shape of a wave," per the project website.
In Progress
Before the Waldorf Astoria project was announced, the tallest structure would have been the $300 million Okan Tower Miami, which was approved by the Urban Design Review Board in October, per Curbed Miami.
The project, to be built at the corner of North Miami Avenue and 6th Street, had been originally planned to reach 956 feet, but it was scaled back to 890 feet. Sales and marketing efforts have started, with groundbreaking planned by the end of 2018.
The project is being developed by Istanbul-based real estate developer Bekir Okan and his company Okan Group. Its design, by Miami-based Behar Font & Partners, is inspired by the Turkish national flower—a tulip.
Okan Tower Miami will feature 236 condo-hotel units, 149 condos ranging from one to three bedrooms, and four duplex-style penthouses. It'll also have 294 suites managed by Hilton Hotels and Resorts as well as 64,000 square feet of office space. Developers are hoping to break ground in the fourth quarter of 2018. Anticipating a 40- to 45-month construction schedule, Okran Tower is targeting a 2022 completion date.
Although tall residential towers seem to draw the most headlines, several other mega projects are reshaping Miami neighborhoods. The largest of these is Miami Worldcenter, a $2.7 billion mixed-use project by developers Art Falcone and Nitin Motwani on 27 acres in the heart of Downtown.
When completed, it's expected to have four residential towers, a 1,700-room Marriott Marquis hotel and conference center, a 45-story office tower, and 450,000 square feet of street-level retail space. It's the second largest project currently going vertical in the United States, after Hudson Yards in New York City, per Bisnow.
Construction on this long-awaited project—it took about 15 years to get it off the ground—is ongoing, with a few buildings set to open soon. The project's 60-story Paramount condo tower was topped off earlier this year, according to Curbed Miami, and it's expected to open in 2019.
Another project in the works that has the potential to reshape a neighborhood is Miami Produce Center in Allapattah. Plans are underway for the development, an eight-building complex featuring residential, office, retail, hotel, and school components, first reported on by the Real Deal.
The project is reportedly being designed by Danish architect Bjarke Ingels with local developer Robert Wennett, who is best known for building a mixed-use garage at 1111 Lincoln designed by Herzog & de Meuron. Plans call for 19-story interconnected buildings with about 1,200 residential units, 231,000 square feet of office space, 114,000 square feet of hotel, 75,000 square feet of retail, a 76,000-square-foot school, and garage parking for 1,149 cars.
Though it'll be located far from Downtown, on 174 acres of mostly vacant farmland along the Florida Turnpike in Miami Lakes, the $4 billion American Dream Miami is sure to have a big impact not only on the neighborhood where it's located, but the surrounding areas as well.
The project, which is being developed by Triple Five who developed Minnesota's Mall of America, is a retail and entertainment complex that will include 2,000 hotel rooms, multiple indoor roller coasters, an artificial ski slope, skating rink, water park, fishing hole, performing arts center, and a lagoon with submarine rides.
The city gave its stamp of approval in May, but developers still need to obtain several environmental permits before construction can begin, per the Miami Herald.
Just Opened
After years of planning and construction, the mixed-use Aventura ParkSquare development in Aventura has been completed, per Curbed Miami. The five-building project, which was announced in 2014 and broke ground in 2016 is intended to promote walkability and wellness in an area that's geared more towards automobiles. It includes a nine-story office and condo building, a 45,000-square-foot medical center, a 207-room Aloft hotel, a senior housing tower, and a parking garage.
Although Coconut Grove is not typically the neighborhood where you'd find prominent high-rise architecture, developers The Related Group and Terra Group recently celebrated the opening of two towers at Park Grove at 2701 South Bayshore Drive. The third tower broke ground last spring, and it's still under construction. The project overlooking Biscayne Bay was designed by world-renowned architect OMA/Rem Koolhaas and features a two-acre sculpture park by Enea Landscape Architecture and a restaurant from Michael Schwartz.