San Diego Real Estate Development
San Diego State University Has Big Plans for Former Qualcomm Site
The former Qualcomm Stadium site in Mission Valley is going to be redesigned for San Diego State University (SDSU), according to Times of San Diego. The plans include a new 35,000 seat stadium, a new west campus, and a recreation of the natural river environment. "We're not designing a city; we're designing a campus," Gordon Carrier, architect of Carrier Johnson + Culture, said about the project. "We'll engage once again with the river, which has been gone for 50 years."
Carrier Johnson + Culture partnered with JMI Realty, outlined 90 acres of park space, 4,500 housing units, a 250 room conference hotel, and 1.6 million square feet of university space for the site.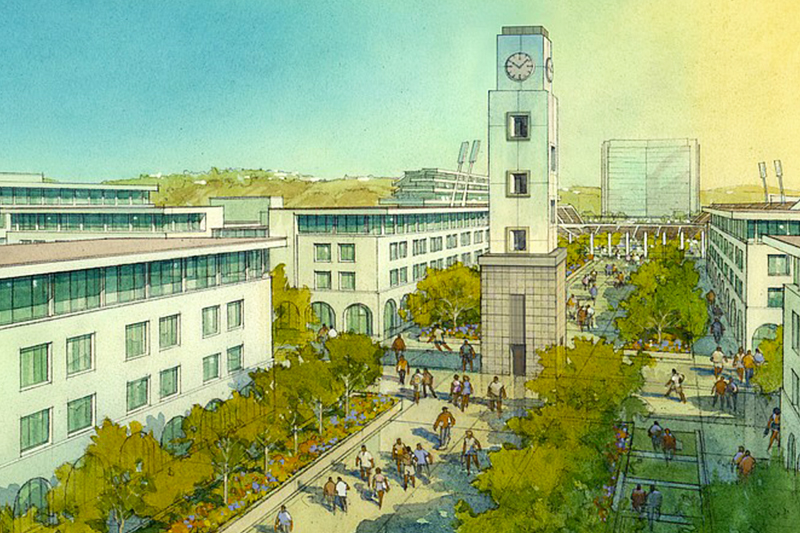 According to the report the land cost an estimated $80 million, and would be paid over the years by university funds and donations no tax dollars or increases in tuition would be used to fund the project. This however, excludes the stadium, which will receive funding by state-issued bonds, and will be paid off using future venue revenue.
The campus expansion is expected to take 15 years, costing roughly $3 billion.
Previously, SDSU opted out of a proposed SoccerCity development in the former Qualcomm site. The university was disappointed by the cost of the land and the terms of the deal — the proposed stadium capacity was approximately $10,000 less than what SDSU originally requested.