Where to Find Food Halls and Markets in Miami
Where to Find Food Halls and Markets in Miami
You're in the mood for Mexican, but your friend is craving Chinese. Another friend just wants gelato and a place to sit down and rest while others eat their meals. What's the answer? In recent years, it's visiting a food hall and, like in other cities, they have been popping up with regularity in Miami.
A far cry from its precursor, the mall food court, a food hall is typically an upscale venue that features a variety of culinary offerings all within an enclosed space. Some are geared towards a particular type of cuisine, while others feature a variety.
If you're looking for a more "on-the-go" experience, you may want to visit a market where food trucks are often a part of the dining scene. Here are the best neighborhoods to find food halls and markets in Miami.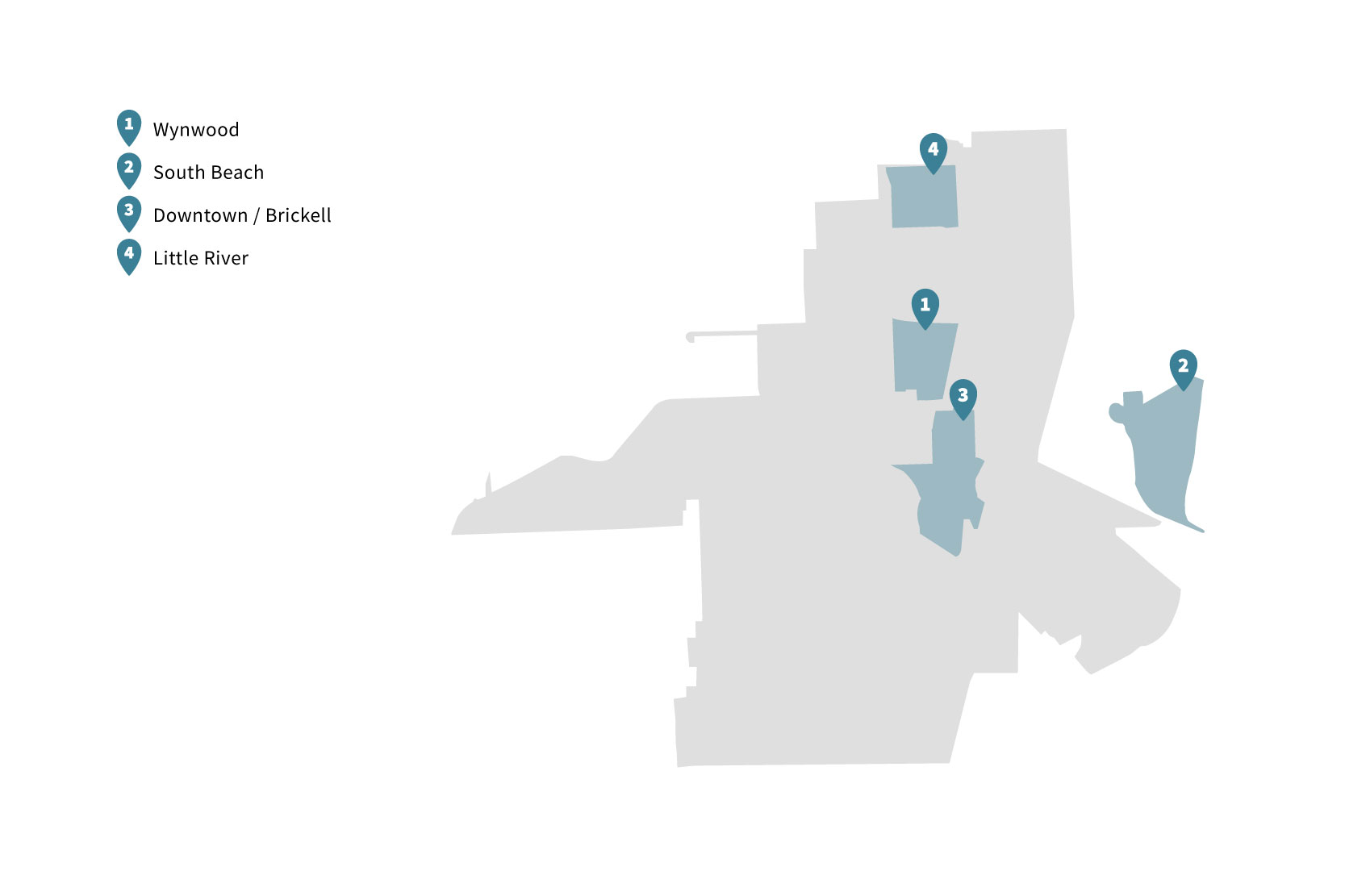 In recent years, Wynwood has become symbolic for all things hip and new, so it's no surprise that this area has many food hall offerings sprinkled among its more traditional restaurants, art galleries, and boutique stores.
In the heart of the neighborhood lies 1-800-LUCKY, a 10,000-square-foot venue with seven vendors offering pan-Asian cuisine with indoor and outdoor seating, two full bars, and a karaoke lounge. It's the perfect spot to sit and chill, whether you're in a large group or dining with a few close friends. You can even take in live music on occasion.
The Wynwood Marketplace is an outdoor venue that holds weekly events Thursday through Sunday. Along with food trucks, it features arts and crafts, cabanas, music, games, live concerts, sporting events, and more.
Formerly known as St. Roch Market Miami, Politan Row Miami bills itself as a "chef-inspired" venue with local entrepreneurs offering a wide mix of food offerings. In addition to daily happy hours, diners can take advantage of specials during the week such as Apple Pay Days on the last Friday of the month, whereby you can save 20% off your check by using Apple Pay to settle your bill.
GRO Wynwood is a pop-up venue that combines food and drinks with environmental awareness. Through a partnership with Cerveza Patagonia, GRO offers classes, workshops, and speakers once a month on environmental issues. For every beer purchased, a tree is planted.
There is no shortage of food and drink options in South Beach, but scattered among the beach-friendly bars and trendy restaurants are two of the best food halls in the city.
Though Time Out Market Miami opened in 2019, its creation owes its roots to one of the first food halls ever opened. Time Out magazine created the first Time Out Market in Lisbon, Portugal, in 2014, where it was greeted with such success that the magazine decided to roll out similar venues in other cities, including Miami. Located in 17,000 square feet, the Miami food hall includes 17 kitchens, three bars, a demo cooking area, and a video installation wall.
Not far away is Lincoln Eatery, where you'll find a variety of options, ranging from garden bowls to tacos and sushi. You'll also find The Nest, a rooftop sunset lounge which is only open on Thursday through Saturday beginning at 5 p.m.
Market at Edition was created by celebrity, Michelin-starred chef Jean-Georges Vongerichten. Although it's not a traditional food hall, it offers a similar experience, billing itself as "part patisserie, part boulangerie, and part salumeria." At its gourmet cuisine counters, you can find everything from pizza to pressed juices.
This neighborhood has grown in popularity in recent years, due in part to its reputation as a place that "has it all." And that "all" includes some great venues for food, with choices as diverse as the area itself.
Luna Park is an Italian-inspired venue at Brickell City Centre offering food, drink, shopping, cooking classes, and more. You can find more casual dining options for breakfast, lunch, dinner, and Sunday brunch at the Mercato, but there are also several high-end restaurants from which to choose.
Spanning six downtown city blocks, Virgin MiamiCentral aims to be a mixed-use urban experience centered around the Brightline train station, complete with retail, office, and residential space. The food part of the equation is Central Fare where you'll find local artisans and chefs.
Though it's more of an open-air shopping mall than a traditional food hall, Bayside Marketplace has many restaurants to go with its shops. Although many of them are the same national chains you'd find virtually anywhere, there are a few locally owned options. The greatest asset, however, may be this venue's location—sitting between Bayfront Park and AmericanAirlines Arena with sweeping views of Biscayne Bay.
The Wharf Miami is a 30,000-square-foot, open-air, pop-up venue that features rotating chefs, a fish market, and a raw bar. This is an especially appealing choice for those seeking more of a destination experience where eating and drinking is combined with live music and special events.
Though it is the only food hall in Little River, The Citadel bears mentioning. It combines food, drink, and entertainment all under one roof and, along with regular events such as Saturday Sounds in the Hall and Rooftop Sessions, the venue also holds special events, including its annual St. Patrick's Day bash. It also has a 5,000-square-foot rooftop lounge that offers sweeping views of Downtown.