Austin Local Life
10 Things to Do in East Austin
Located just across Interstate 35 from the bustling business district of Downtown Austin, East Austin has a powerful reputation as the city's premier area for artistic expression, excellent dining, and a large selection of watering holes.
This white-hot neighborhood features plenty of opportunities for entertainment and adventure, and these 10 activities will provide you with a vibrant sense of what East Austin is all about.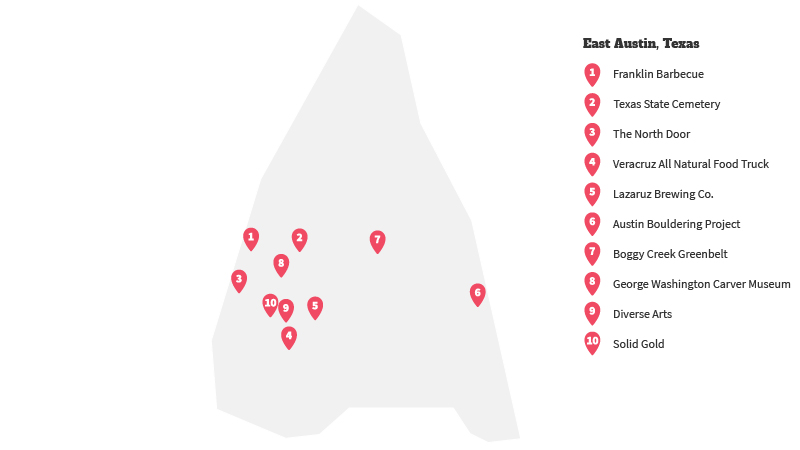 1. Eat at the Best BBQ Spots
"Austin" and "barbecue" are closely-connected concepts in the popular imagination, and for a very good reason. If you're looking for a single Austin neighborhood that includes multiple top-rated BBQ smoke joints, East Austin is the best place.
Three of Austin's most iconic BBQ destinations can be found in East Austin, serving up world-class brisket, sausages, and ribs to those lucky enough (and savvy enough) to get some grub before these shops run out.
By far the most famous barbecue establishment in Austin has to be Franklin Barbecue, a legendary East Austin eatery boasting impeccable brisket and featuring an intimidating daily wait for smoked meats. The scene outside Franklin resembles a tailgating party; BBQ hopefuls start lining up hours before the restaurant opens, bringing along lawn chairs, coolers full of beer, and of course, their appetite for barbecue.
If you want excellent BBQ without a serious wait, Micklethwait Craft Meats and La Barbecue are both located just blocks away from Franklin, and their offerings receive similar praise from Austin foodies and barbecue experts. Don't miss Micklethwait's fresh-made sausages or La Barbecue's succulent pulled pork.
2. Visit Famous Texans at the Texas State Cemetery
If you're a history buff, you'll want to add the Texas State Cemetery to your East Austin itinerary. The beautifully landscaped public grounds serve as a final resting place for hundreds of Texan governors, senators, and famous figures, including the "Father of Texas" Stephen F. Austin, civil rights leader Barbara Jordan, and "American Sniper" author Chris Kyle. The grounds are open to the public from 8 a.m. to 5 p.m. daily.
3. Catch a Live Music Show
East Austin hosts several excellent venues for grabbing a drink and enjoying a live set from a local band. The North Door is a bar and performance space located on a former soundstage. Featuring a top-notch audio system, this establishment proudly showcases a diverse range of music, from jazz to folk to experimental rock.
The Historic Scoot Inn is a long-standing neighborhood bar with a strong commitment to providing performance space for up-and-coming musicians of the indie-rock persuasion; and The White Horse is an East Austin staple with nightly concerts, a taco truck, and whiskey on tap.
4. Experience the Food Truck Scene
Boasting over 300 days of sunshine per year, Austin is an ideal locale for outdoor dining. Therefore, the city's ever-growing supply of food trucks comes as little surprise. East Austin provides a home for many top-rated foodie trailers, such as Veracruz All Natural breakfast tacos, Boteco Brazilian fare, Baton Creole Cajun cuisine, and Thai-Kun street food.
5. Sample Local Craft Beers and Ciders
Austin makes a major impression on the craft-beer market, with a wealth of craft breweries producing IPAs, sours, pilsners, lagers, and everything in between. East Austin welcomes many of these producers, serving as a home base for breweries like Lazarus Brewing Co., Hops and Grain Brewing, Blue Owl Brewing, and Austin Eastciders Collaboratory.
6. Climb at the World's Largest Bouldering Gym
Austin is proud to be a highly active city, and fans of physical fitness can find infinite ways to stay on the move while visiting the Lone Star Capital.
In East Austin, adventurous exercisers can take advantage of the vertiginous climbing walls located in the world's largest bouldering gym, the Austin Bouldering Project (ABP). ABP offers climbing lessons, circuit rentals, group lessons, yoga seminars, and a fully-equipped weight room.
7. Hike the Boggy Creek Greenbelt
While East Austin is home to plenty of pocket parks and small public greenspaces, its only true public outdoor recreational space exists in the form of the Boggy Creek Greenbelt, a sizable park toward the northern border of the neighborhood.
In addition to picnic grounds, shady trees, and plenty of native Texan vegetation, Boggy Creek also features a 1.7-mile hiking path that's easy enough for casual strollers but still engaging for experienced trailblazers. It's also dog-friendly, making it an ideal walk route for you and your pup.
8. Get Some Culture at the George Washington Carver Museum
The George Washington Carver Museum is a state-run museum devoted to the cultural and historical impact of Austin's African-American community. This East Austin institution includes a permanent exhibit devoted to prominent African-American families, galleries highlighting work by local artists, educational facilities, a children's exhibit centered around African-American scientists and inventors, and a genealogical center.
9. Check Out Local Art Galleries
Fans of visual art will find plenty of interesting studios and galleries to explore within the boundaries of East Austin. Popular examples include Diverse Arts, a multidisciplinary arts center dedicated to artists of color; Link & Pin, a "creative community" focusing on local artists; grayDUCK Gallery, a polished gallery space hosting visual art exhibitions, events, and performance-art displays; and MASS Gallery, a non-profit venue featuring multidisciplinary arts programming.
10. Buy Some New Swag From Local Shops
East Austin's low-key, creative vibes also extend to its shopping scene; the neighborhood hosts an array of independently owned stores selling unique products, locally made goods, and chic vintage duds. If you're hoping to visit the most popular shops in the area, check out trendy women's boutique and jewelry store Solid Gold, whimsical home goods vendor Take Heart, artisanal decor destination EA/ST Co., and beloved bike shop/coffeehouse hybrid Cycleast/Flat Track.