10 Things To Do In Georgetown, TX This Spring
10 Things To Do In Georgetown, TX This Spring
Have a Prehistoric Adventure at the Inner Space Cavern
One of the natural wonders of Texas can be found in Georgetown, in the form of the Inner Space Cavern. This cave and passage system dates back to the prehistoric era, with the cavern itself estimated to be about 100 million years old. Visitors can experience guided tours led by experts who can point out the unique features of this ancient marvel, and it's a remarkable way to learn this area of Texas inside and out (quite literally).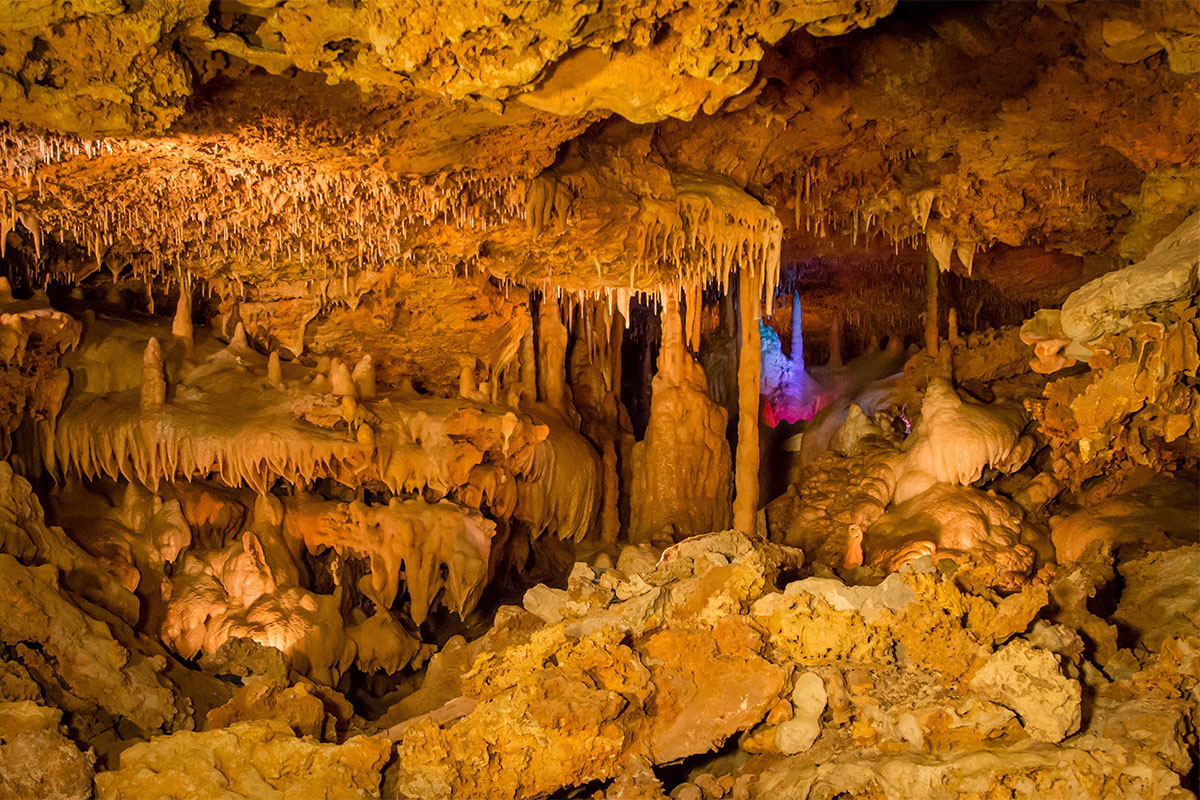 Stroll Through Georgetown's Beautiful Town Square
Considered the "most beautiful town square in Texas," Georgetown's downtown core offers up classic architecture, independently owned shops and cafes, and historic sites like the Williamson County Courthouse and The Williamson Museum. Also located in the town square is the Palace Theatre, a stunning Art Deco building whose stage welcomes touring theatrical productions on a regular basis.
Enjoy a Picnic at the Scenic Blue Hole Lagoon
One of the most picturesque excursions in Georgetown involves Blue Hole Park, a public greenspace that contains a lagoon framed by limestone hills, complete with waterfalls and a wading area. Picnics are welcomed and encouraged at Blue Hole Park, so if you're hoping to enjoy a meal with a view, look no farther.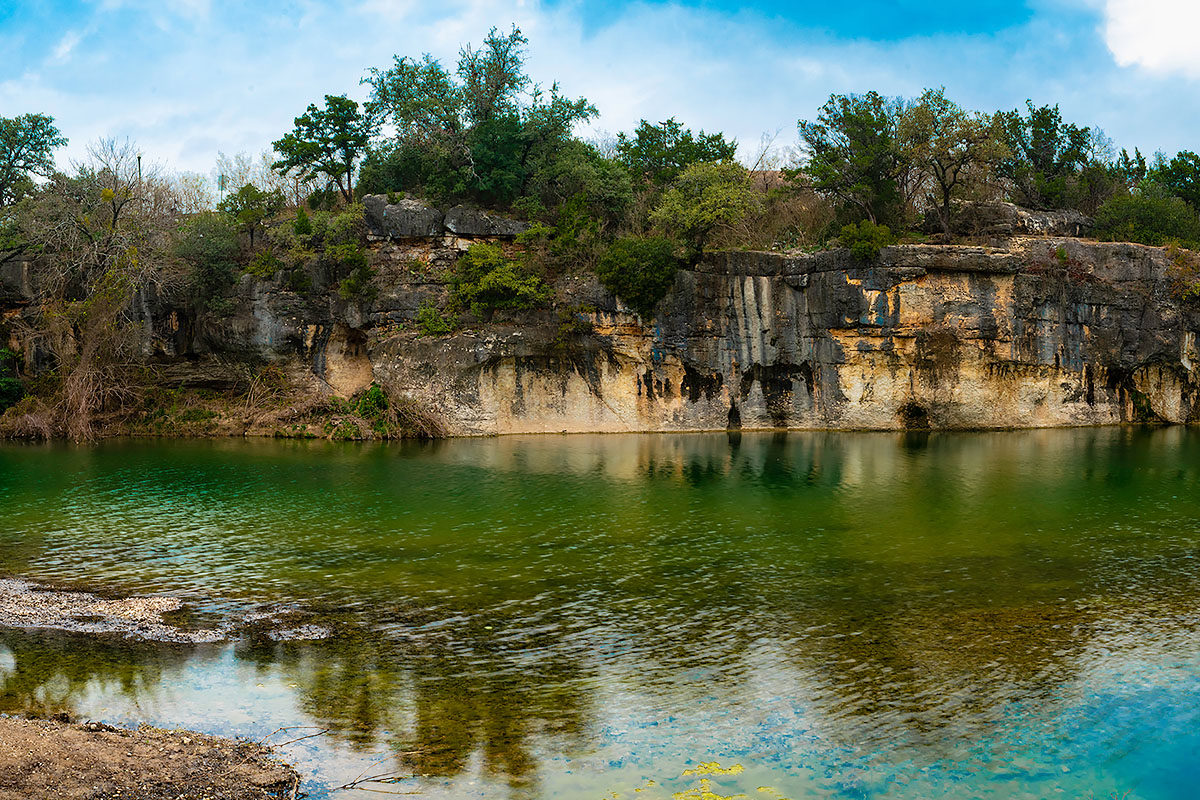 For More Extensive Water-Related Activities, Head to Lake Georgetown
While Blue Hole Lagoon may be Georgetown's most Instagrammable body of water, those who want to fish and boat will be better served by heading to Lake Georgetown, found at the north fork of the San Gabriel River. Boating, fishing, swimming, and camping can all happen here, and the lake makes a beautiful backdrop for runs, bike rides, and straight-up relaxing.
Grab a beer, Try on some duds, and Take in a Show at Mesquite Creek Outfitters
If you're an outdoorsman (or an outdoorswoman) who appreciates a one-stop-shop where you can stock up on gear and clothing suitable for your al fresco adventures, but who also likes to take a seat at the bar, then you'll feel right at home at Mesquite Creek Outfitters. Here, you can grab a craft beer while listening to tunes played by local country musicians at this Georgetown institution that's about as Texan as they come.
Browse Locally Made Art and Crafts at Georgetown's Saturday Market
The artistic vibes so prevalent in Austin definitely extend into the city suburbs and the surrounding Hill Country, as evidenced by Georgetown's gallery scene and highly popular monthly arts market.
Held on the second Saturday of every month from March through November, the market includes handmade paintings and sculptures, ironworks, jewelry, stained glass, textiles, antiques, and much more. Plus, visitors can fortify themselves at food vendor booths while their market experience is soundtracked by live music from local artists.
Don't Miss Out on the Red Poppies
If you visit Georgetown during the early spring months of March and April, you'll be treated to one of the town's most beloved natural occurrences: the blooming of the red poppies. These vibrant flowers appear throughout Georgetown on an annual basis, and residents anticipate their arrival so enthusiastically that the town puts on a Red Poppy Festival every year in late April.
The festival includes live musical acts, plenty of local food and drink, a car show, an artisan market, a 5K race, and plenty of opportunities to walk among the poppies.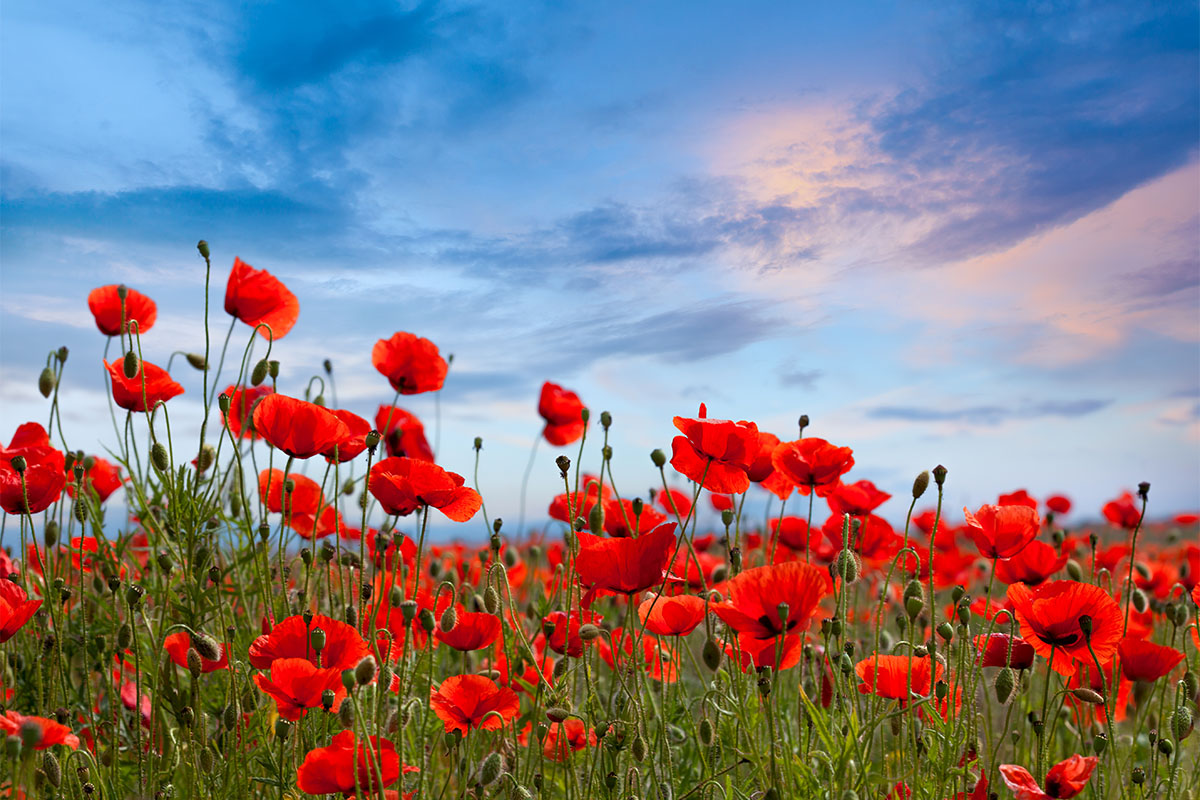 Get Some Fresh Air on the Hike-and-Bike Trail Around San Gabriel Park.
A beautiful greenspace offering up shady knolls amongst century-old oak trees, plenty of green lawns, and spots for athletic events, San Gabriel Park also has one of Georgetown's most popular hike-and-bike trails, and residents can be seen year-round making their way around the 1.6-mile trail, leading through the park and providing views of the river and the majestic trees.
Sample Some Locally Made vino at Georgetown Winery
Long known as an excellent state for local beer, Texas is now growing its profile in the wine world, and venues like Georgetown Winery feel only too happy to take advantage of the new enthusiasm for Texan vino.
This winery, the first in Williamson County, offers up a range of red, white, and dessert wines, made from a combination of grapes grown in Texas and grapes grown in California. Visitors are encouraged to sample the wines during guided tastings, and if you like what you sample, you're more than welcome to purchase a bottle to carry out with you.
Make Your Kids' Day By Taking Them to Creative Playscape
Creative Playscape takes pride in combining local history with a fun, active, and a unique array of activities for kids. Different aspects of the play area represent geographic features and past eras in Georgetown's history, and from a purely recreational standpoint, kids can rush down slides, climb a custom "boulder," and much more.