10 Things to Do in Uptown Charlotte
10 Things to Do in Uptown Charlotte
In recent years Charlotte, North Carolina, has quickly become one of the fastest-growing cities in the U.S.—and for good reason. The Queen City seems to have it all. From a booming job industry and a multitude of cultural amenities to impressive culinary and craft brewing scenes and a vibrant nightlife, there's no shortage of things to see and do.
No area in town showcases all of that better than the city's center known as Uptown. Among the towering skyscrapers of Uptown, you'll find busy streets teeming with art galleries, historic museums, theaters, urban pocket parks, renowned restaurants, and lively watering holes.
Here are the 10 best things to do in Uptown to get the most out of the city.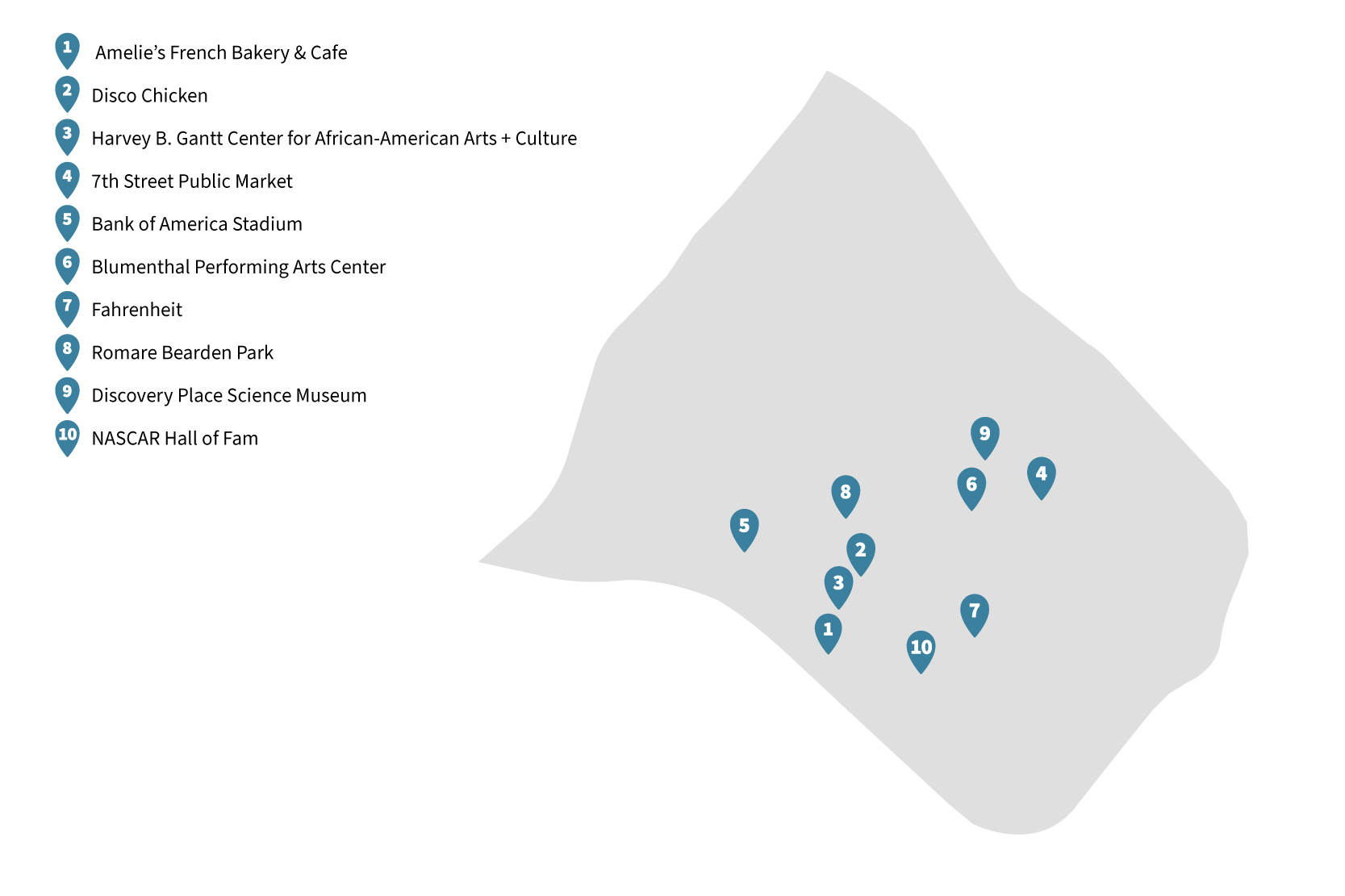 Get Your Caffeine or Sugar Fix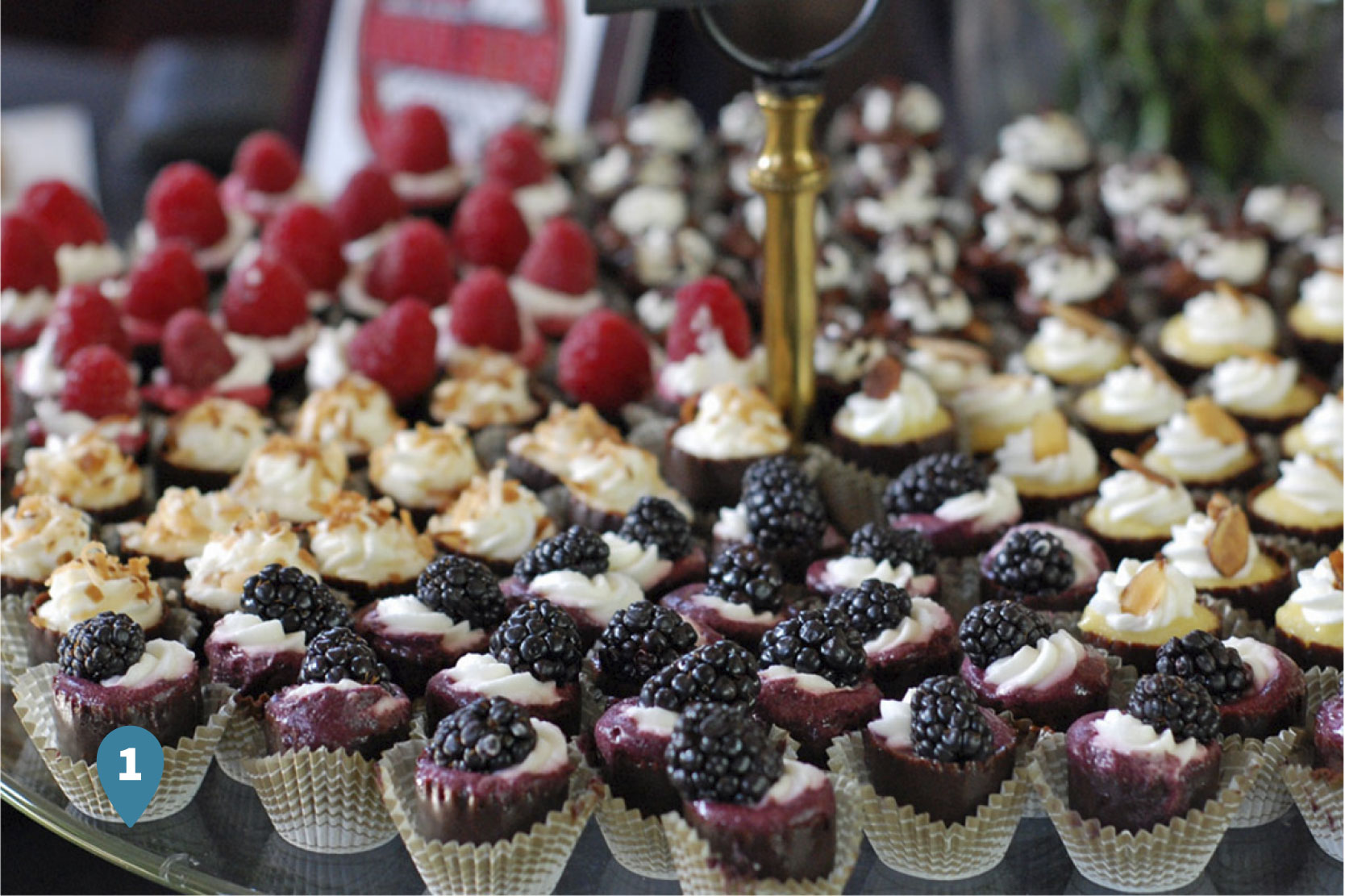 Whether you need a little caffeine to perk up or want to satisfy a sweet tooth, stop by Amelie's French Bakery & Cafe. The sweets shop has been a local staple for years, and the Uptown location is decked out with eclectic decor that includes chandeliers that are made entirely out of cookware.
The menu consists of nine types of espresso, hearty soups and sandwiches, and decadent desserts like their beloved salted caramel brownies. They also have wine, specialty mimosas, and beer on tap.
Take a Selfie With the 'Disco Chicken'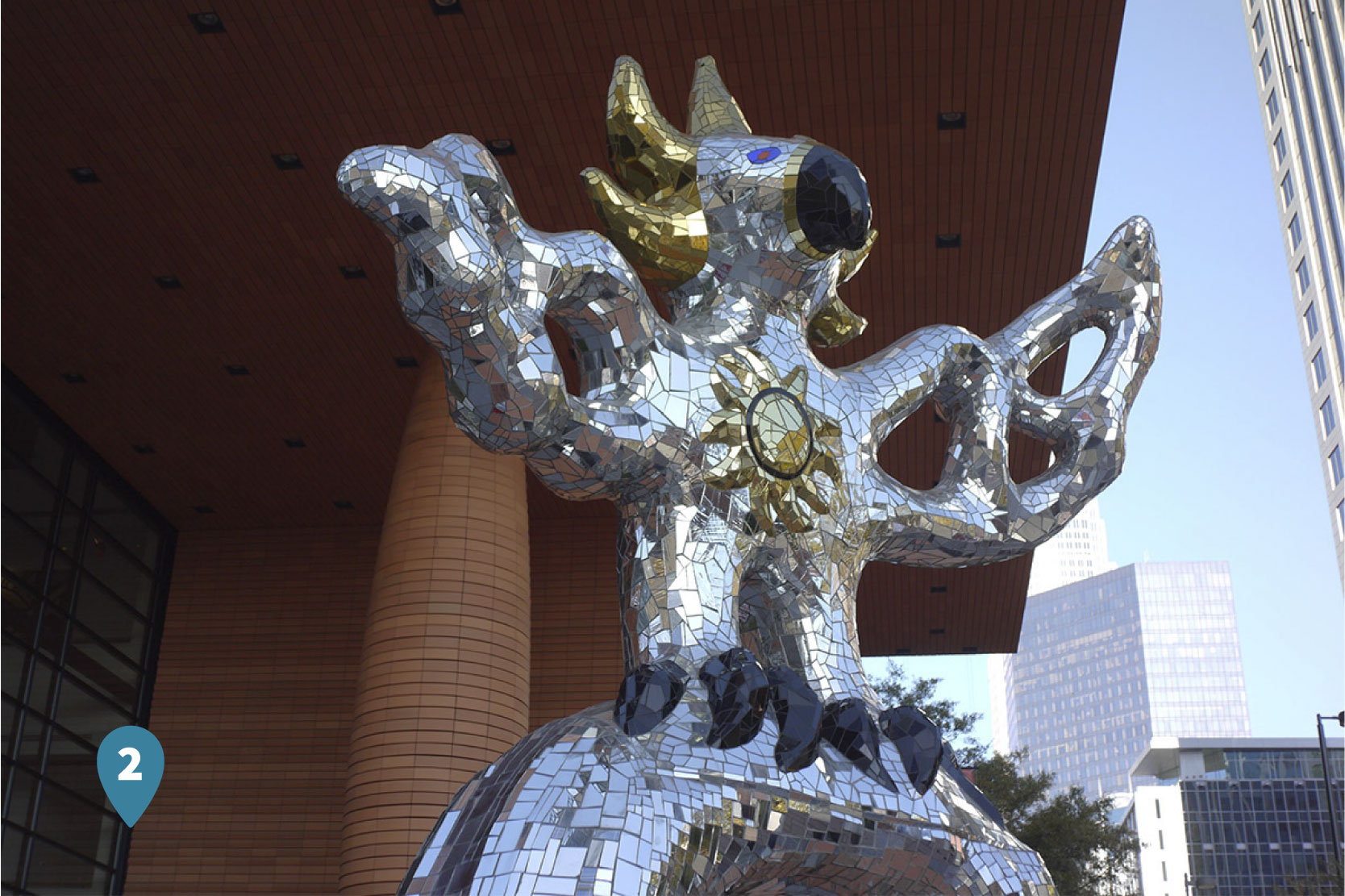 Between the vibrant murals splashed across buildings and bronzed statues silently guarding busy street corners, Charlotte has a lot of public art scattered throughout the city.
But one of Uptown's most eye-catching art pieces is the 17-foot mirrored sculpture that sits on the corner of Tryon Street outside the Bechtler Museum of Modern Art—Niki de Saint Phalle's "Le Grand Oiseau de Feu Sur l'Arche," known among locals as the Disco Chicken. Since its unveiling outside the museum in 2009, it has become one of the city's most popular landmarks.
Explore the City's Best Museums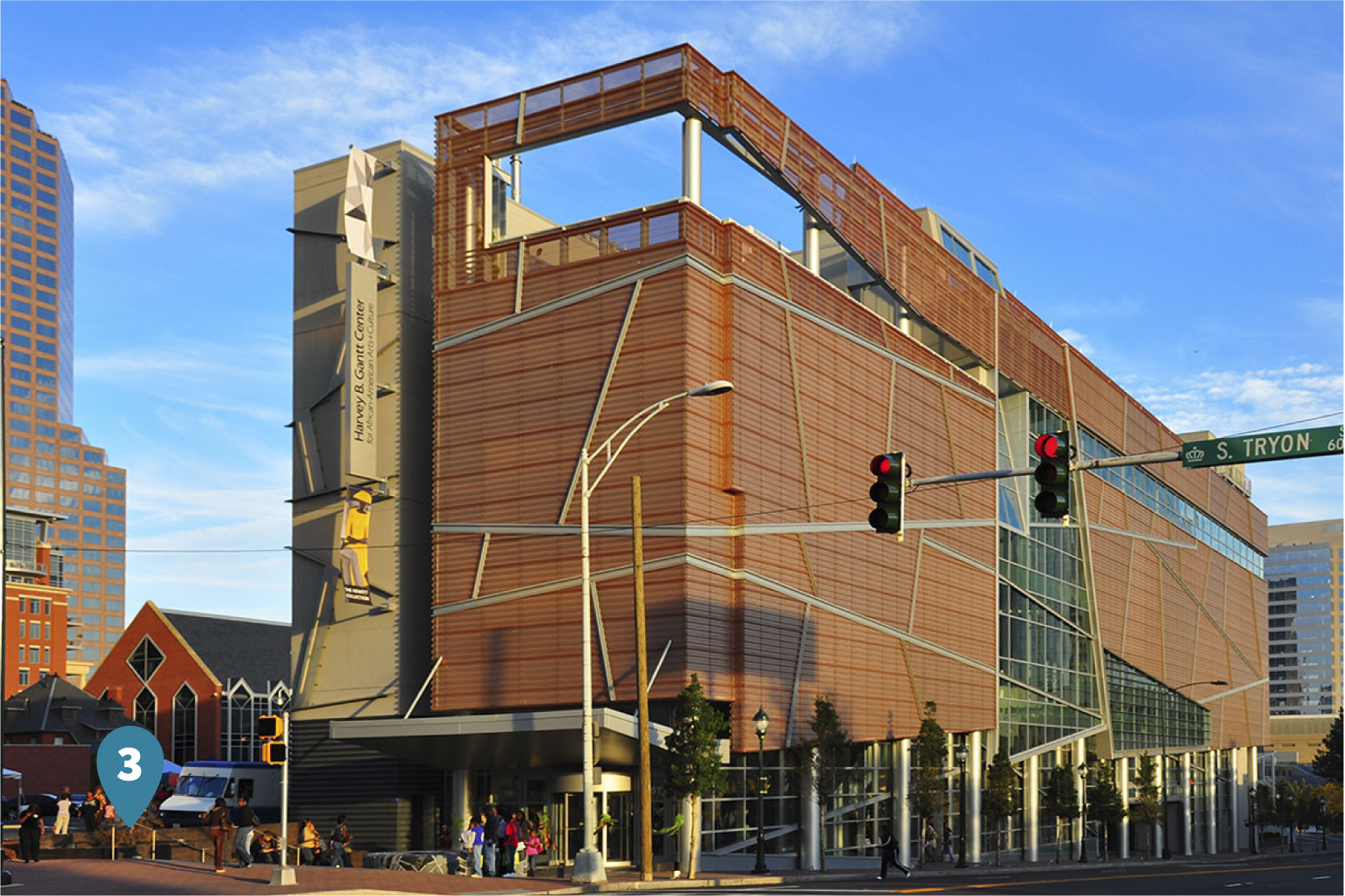 Uptown is home to a bevy of cultural amenities, so it can be hard to pick just one place to visit. Luckily, with the Levine Center for the Arts Access Ticket, you don't have to choose just one. For $20 the ticket will give you two-day access to three of the city's most popular museums, including the Bechtler Museum of Modern Art, Harvey B. Gantt Center for African-American Arts + Culture, and the Mint Museum Uptown.
Shop at 7th Street Public Market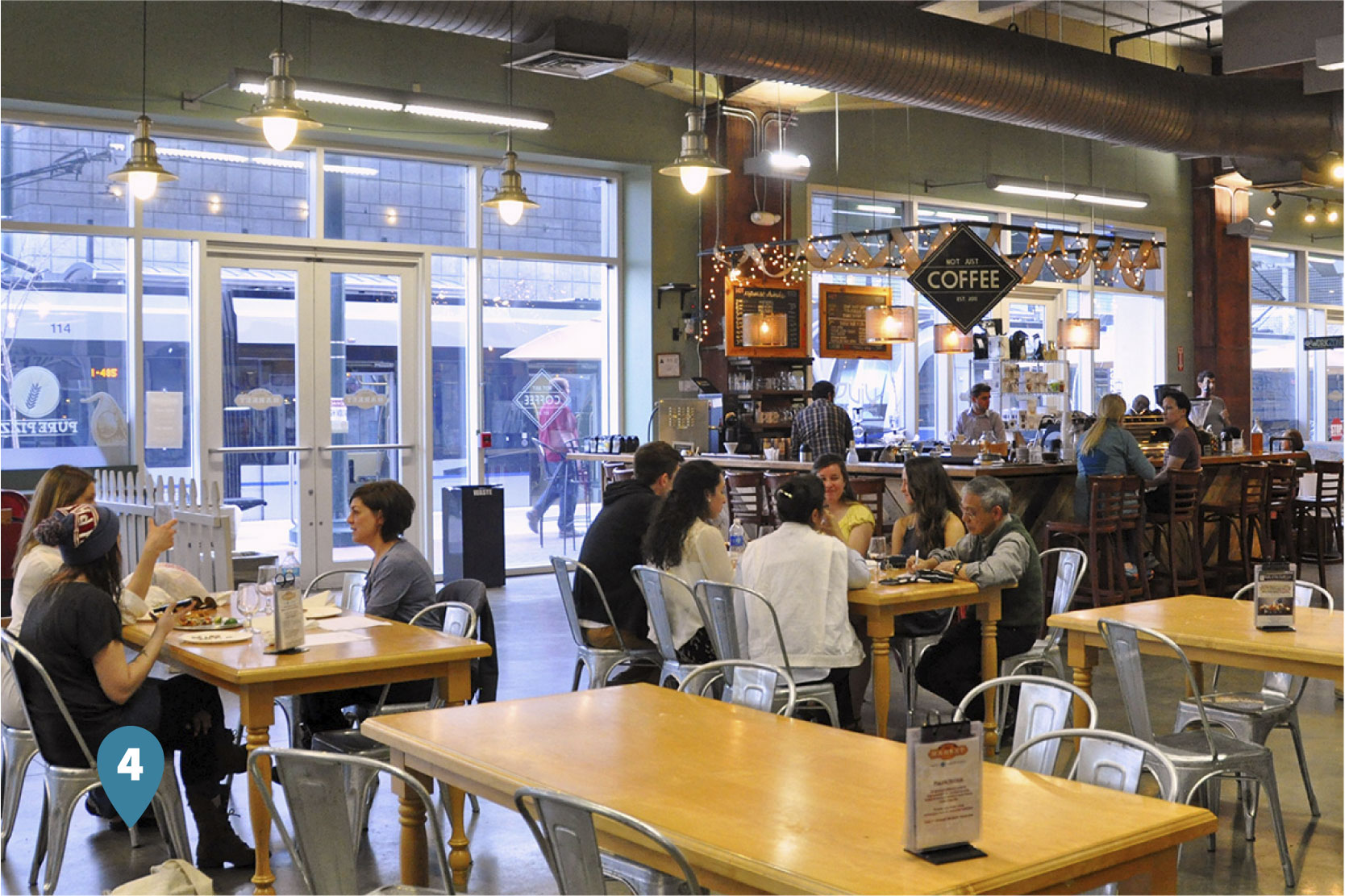 Open seven days a week, the 7th Street Public Market is a one-stop shop directly in the heart of the city. There, you'll find crepes, sushi, gourmet wine and cheese shops, and local vendors selling gifts and Charlotte-themed merchandise. The market's expansive outdoor seating area makes it an ideal place to grab a bite to eat and take in the energy of the city on a nice day.
Catch a Game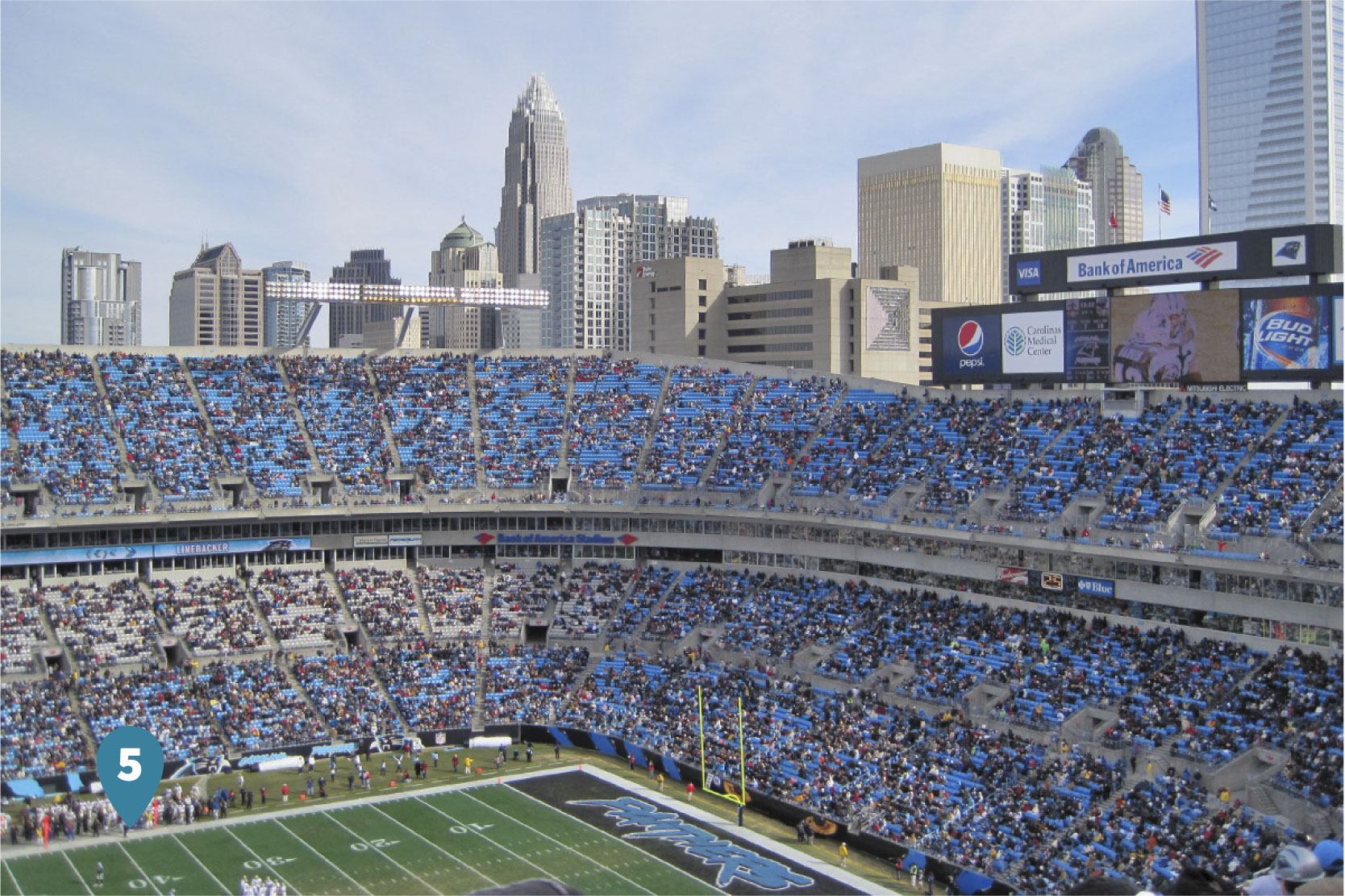 It doesn't matter what day of the week it is; you're almost always guaranteed to find a professional sporting event to attend in Uptown. Between the NBA's Charlotte Hornets, the NFL's Carolina Panthers, and MiLB's Charlotte Knights, there's always an opportunity to cheer on the home team. And since every team's stadium is conveniently located within walking distance of several bars and restaurants, it's easy to grab a bite to eat before the game or celebratory drinks after a win.
Enjoy an Evening at the Theater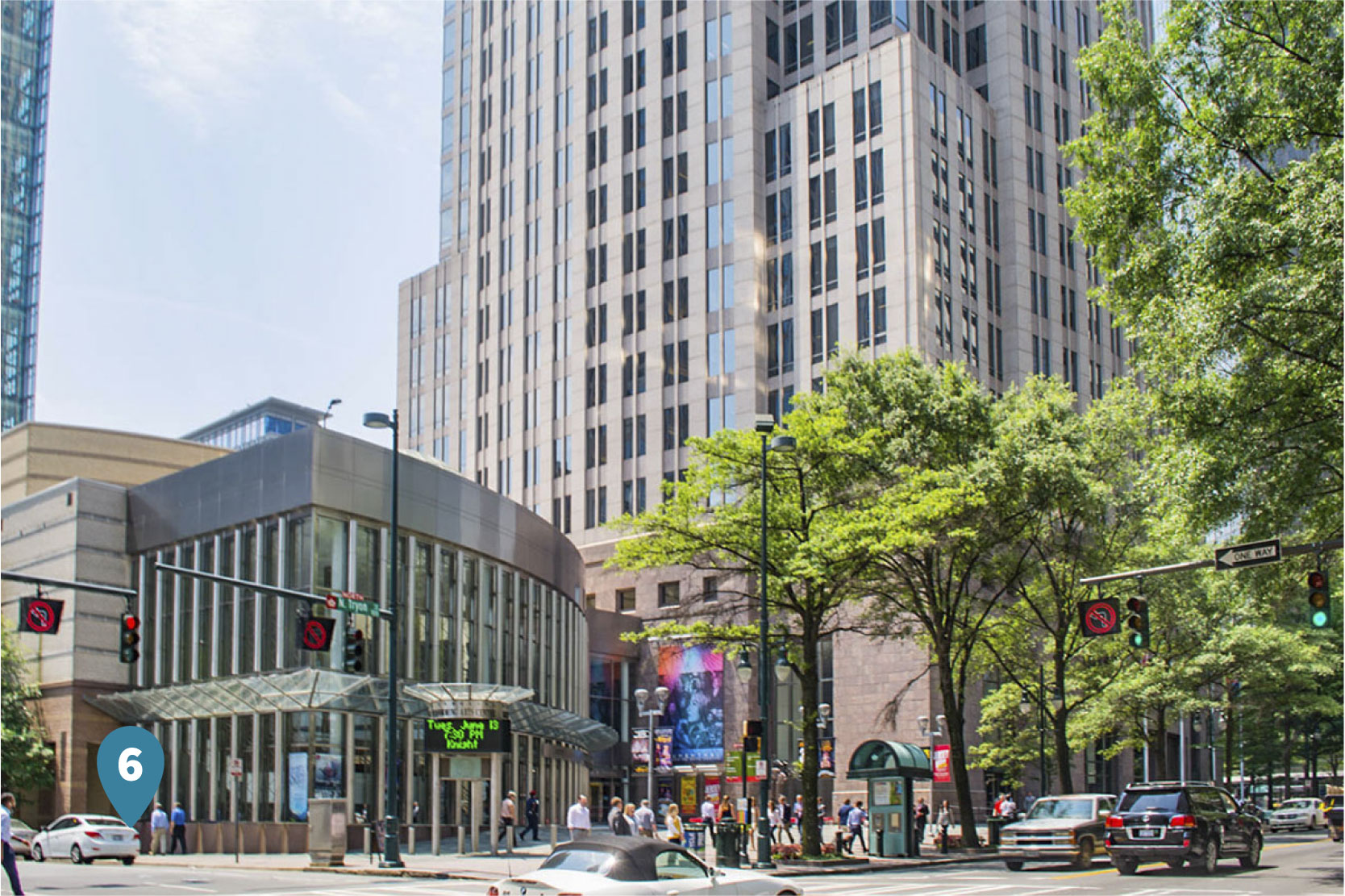 The Blumenthal Performing Arts Center's Belk Theater is a major hub for entertainment and all things performing arts in the city. Throughout the year, the venue hosts a wide variety of live performances like Broadway musicals (including "Hamilton," "Jesus Christ Superstar," and "Wicked"), concerts, ballet performances, and comedy shows.
Have Drinks With a View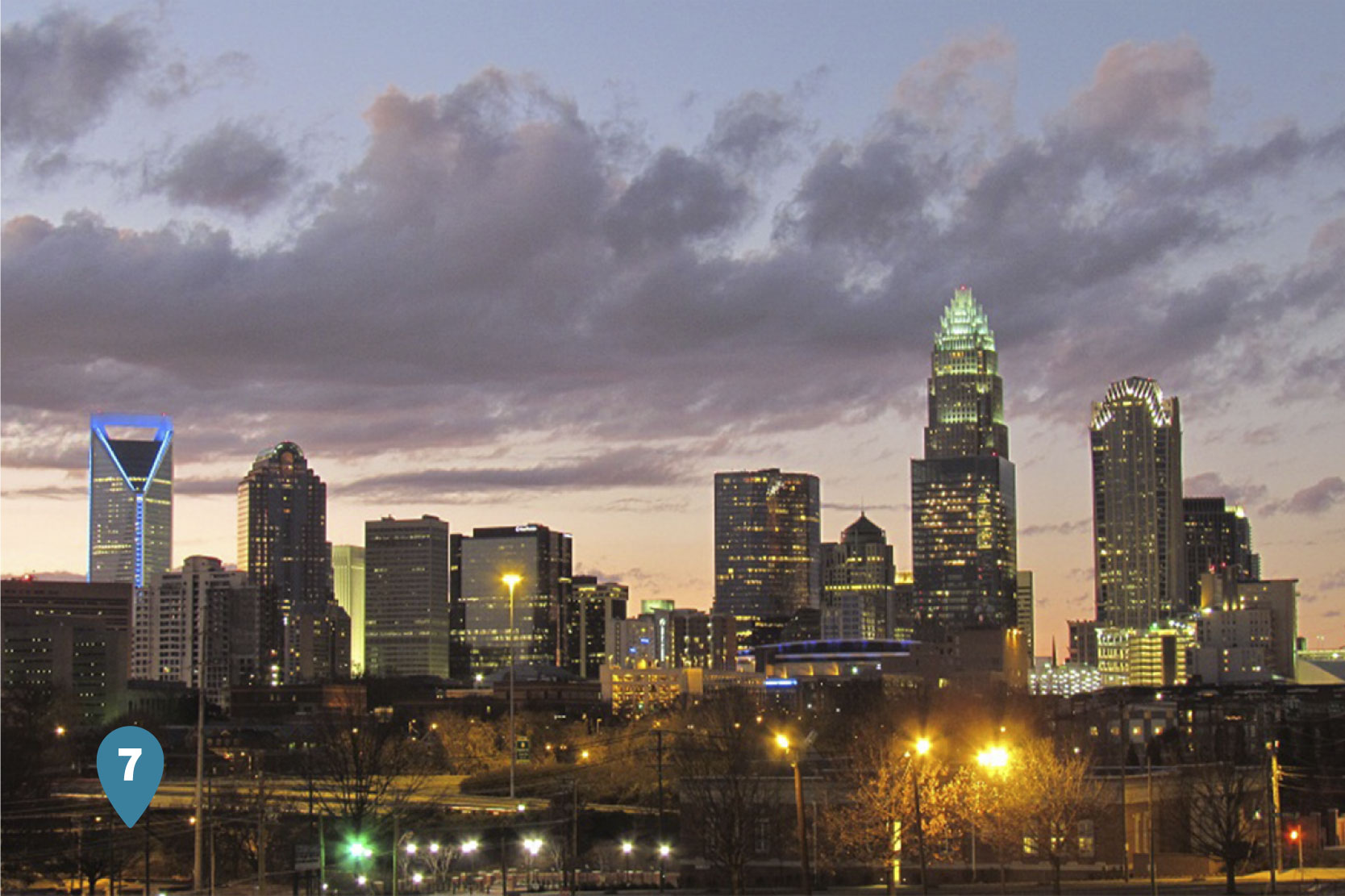 One of Charlotte's greatest attributes is its stunning skyline, which can be seen from many angles, but it's especially beautiful from a higher vantage point. You can take your pick from two rooftop bars, Merchant & Trade or Fahrenheit, to experience some of the best undisturbed, panoramic views of the skyline and the city below while sipping on refreshing craft cocktails.
Take a Break at Romare Bearden Park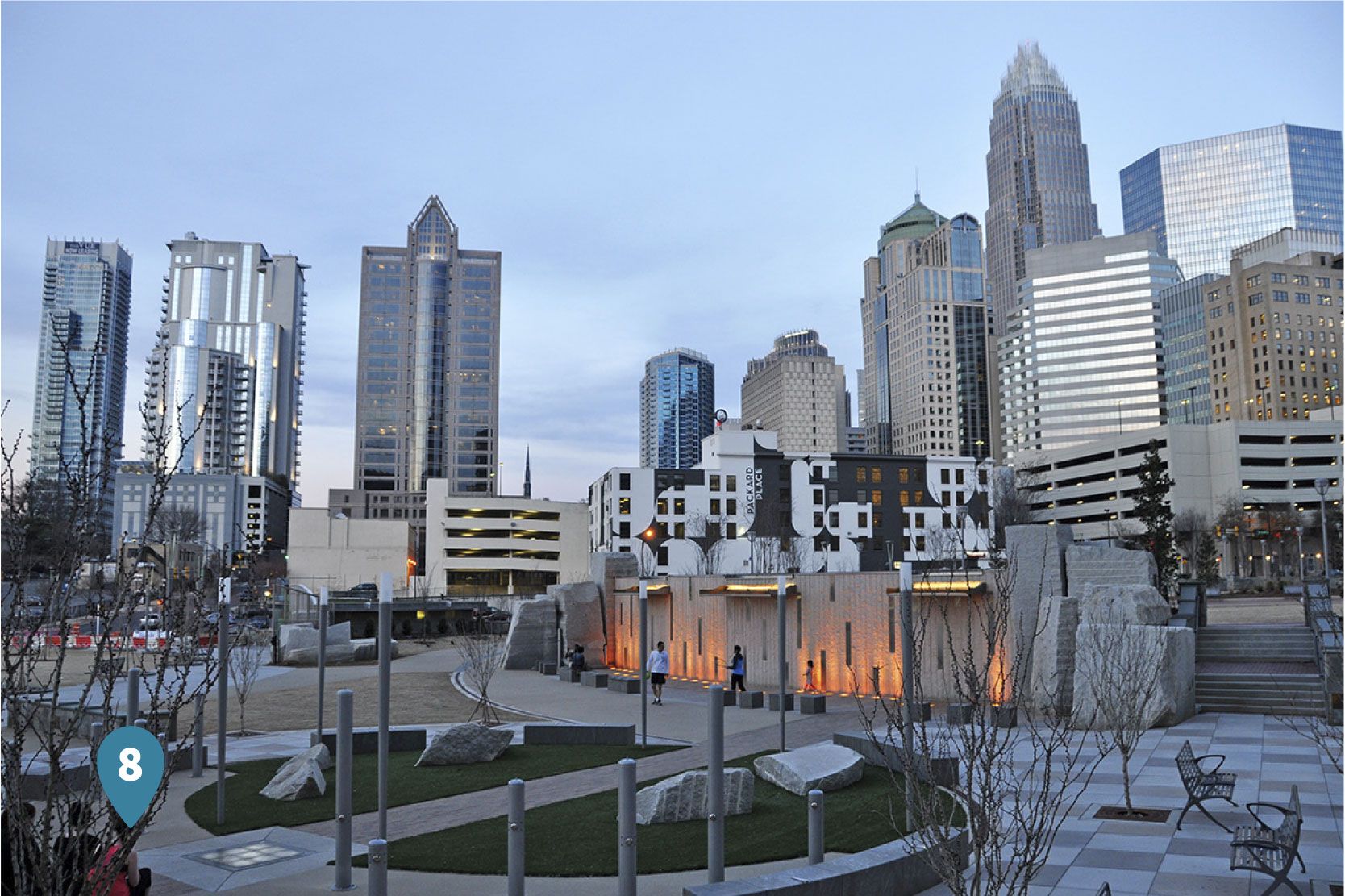 While this 5.4-acre urban park is nestled right in the heart of the city between towering condo buildings and a baseball stadium, it surprisingly still offers a peaceful setting to escape the everyday hustle of Uptown. During daylight hours the park provides fantastic views of the city, and once the sun goes down, the park's fountains put on an impressive light show.
Take in a Science Lesson
For a family-friendly activity, visit the Discovery Place Science Museum, where you'll find hands-on science exhibits, an aquarium, and plenty of exciting live demonstrations to watch. Discovery Place is also home to the largest IMAX screen in the Carolinas with films playing daily. Don't have kids? Once a month the museum hosts Science On The Rocks, a 21+ event that lets adults act like kids again and do fascinating science experiments while having a drink.
Visit the NASCAR Hall of Fame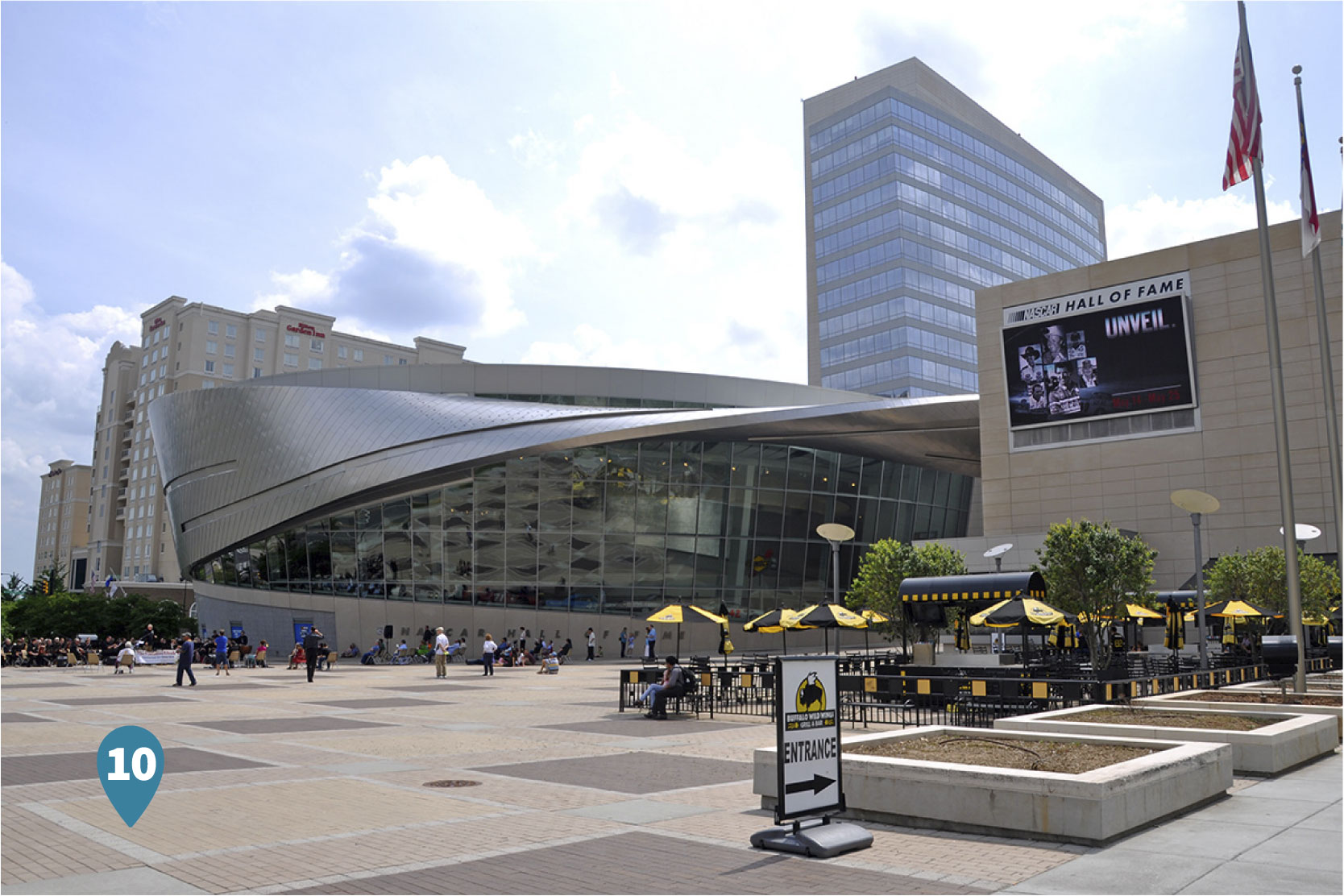 You don't have to be a NASCAR fan to appreciate the interesting history of America's fastest sport. The museum's exhibits let guests follow the history of NASCAR, from its humble beginnings to its well-known presence today. Along with tons of memorabilia and artifacts, the 86,500-square-foot museum also boasts 50 interactive experiences that include a racing simulator that lets visitors get behind the wheel of a NASCAR stock car replica.