$17.8M Palo Alto Estate Exemplifies Architect Birge Clark's Aesthetic
$17.8M Palo Alto Estate Exemplifies Architect Birge Clark's Aesthetic
Many of Palo Alto's treasured buildings are a testimony to the style and history of beloved architect Birge Clark. Native to the Northern California town, Clark's name has become synonymous with a style of its own.
Mention him in local circles and many can recall the architect whose career spanned more than 60 years and earned Palo Alto the title of "The City That Birge Built." Working during the crucial period of regional expansion and growth in the 1920s and 30s, his vision left an indelible impact on the city's appearance.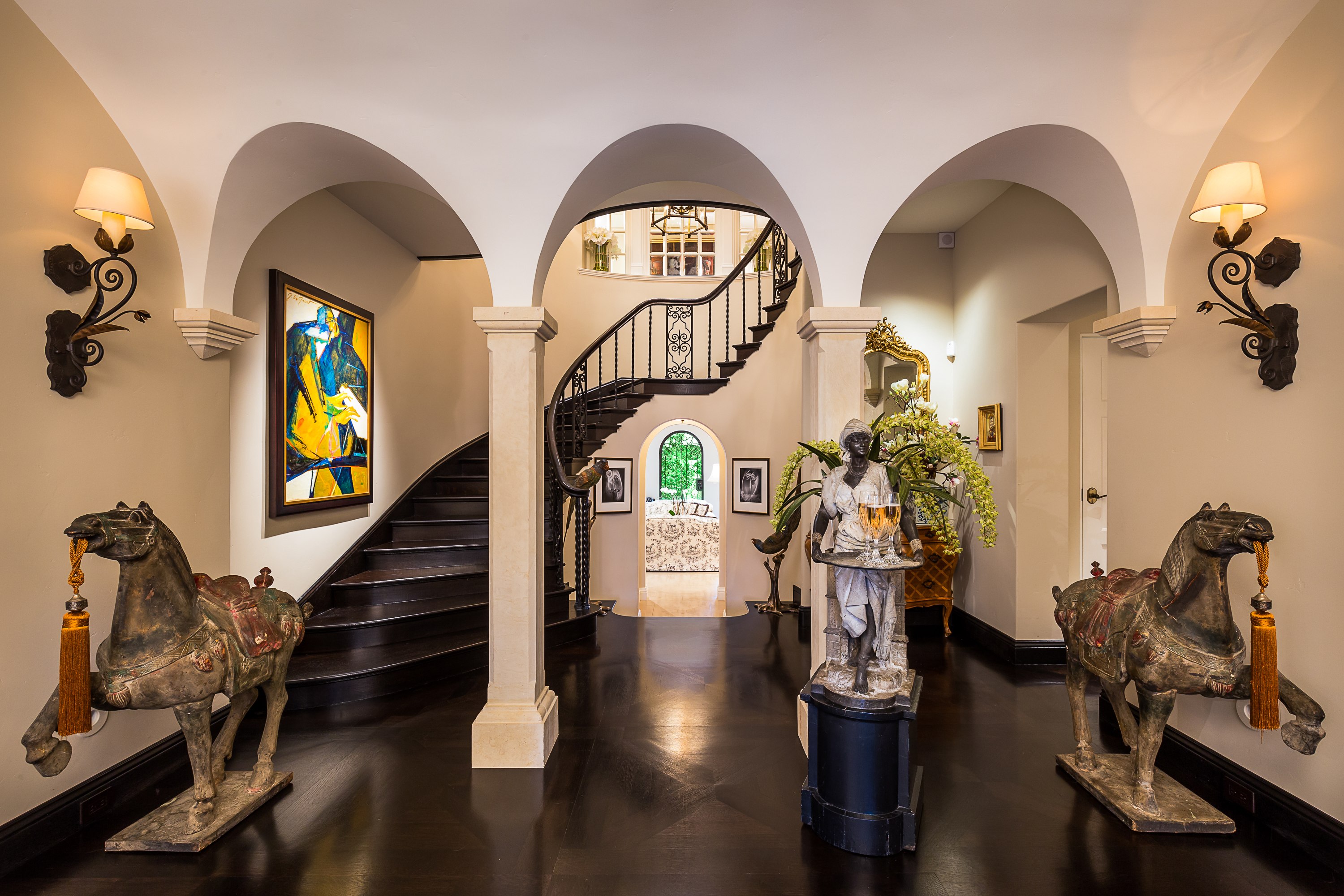 Clark's "Spanish Eclectic" or "California Colonial" style can be recognized by characteristic balconies and verandas, as described by SF Gate. Thick adobe walls were achieved by doubling the wooden framing. Archways led way to hand-hewn ceiling beams, typically found above a sunken living room, while colorful tiles line the entryways and stair risers. The style can be seen in many of his designs throughout Palo Alto from the 1920s through the 1970s. The 500 block of Ramona Street, mostly designed by Clark, remains to this day a historic district and unofficial museum assemblage of his work.
The four-bedroom Mediterranean villa at 51 Crescent Drive asking $17.8 million is another standout example of Clark's style and aesthetic.
Built in 1926 and thoughtfully renovated in 2009, the Spanish flavors of Clark's initial design remain. They include a series of arches that outline the barrel-vaulted ceiling, the Versailles-patterned hardwood floor, and a towering front door with inlaid glass and iron.
Of course a true estate wouldn't be so without mention of the lush grounds, complete with parterre gardens, and an antiqued limestone terrace extending across the rear yard. A Murano blue glass and gold mosaic tile pool with waterfall was inspired by the Hearst Castle.
Though modern luxuries like the elevator and the 18-karat gold-plated fixtures in all of the bathrooms anticipate a buyer with tastes of sophistication and grandeur, it is worth noting many, including listing agent Derk Brill, find the residence's true significance to be its original creator.
Brill boasted to Neighborhoods.com about his Clark-designed listing, noting he was a "true Spanish-Colonial architect indicative of Palo Alto's historical style" and iconic in the development of Palo Alto. He believes the reason is because the designs are timeless in appeal.
If you've got $17.8M handy, you can find out for yourself.