3 Popular North Bay Cities With Great Neighborhoods
3 Popular North Bay Cities With Great Neighborhoods
California's North Bay is known for a lot of things, from Marin County's vast outdoors to the Napa and Sonoma valley wine regions. Whether you're looking for a walkable neighborhood close to a vibrant downtown district, access to biking and hiking trails, or a spacious lot in the rolling hills, the North Bay is the place to find it.
Here are three popular cities—and neighborhoods within them—that'll put you next to some of the best dining, outdoor activities, and entertainment the North Bay has to offer.
San Rafael is 40 minutes north of San Francisco in the heart of Marin County. Best known for its eclectic downtown district, San Rafael offers breweries, popular restaurants, hiking and mountain biking trails, and marinas along San Rafael Creek and San Rafael Bay.
Downtown San Rafael is home to some of the city's favorite eateries, cafes, and drinking spots. Sol Food, a Marin County favorite, serves up authentic Puerto Rican dishes in a vibrant atmosphere, and Terrapin Crossroads, founded by the Grateful Dead's Phil Lesh, is a go-to for live music and food. Bikers and outdoor enthusiasts flock to China Camp State Park, along the shores of San Pablo Bay, for biking, hiking, camping, paddleboarding, and sailing.
San Rafael is family-friendly and community-oriented, with a handful of popular neighborhoods like Sun Valley and Peacock Gap. Sun Valley boasts a prime location within walking distance of San Rafael's downtown, giving locals easy access to shopping and dining as well as the weekly Downtown San Rafael Farmers Market and Marin Academy High School. Peacock Gap, closer to China Camp and San Pablo Bay, offers waterfront views and access to open space, trails, and beaches, like neighboring McNears Beach and Park.
About an hour north of San Francisco in the heart of wine country, Santa Rosa is the biggest city in the North Bay's Sonoma County. Santa Rosa has taken full advantage of its location among farms, orchards, and vineyards, and the city has become a hub for farm-to-table restaurants, microbreweries, and wine tastings.
Home to the well-known Russian River Brewing Company, local antique shops, and the Santa Rosa Wednesday Night Market, Downtown Santa Rosa offers plenty of places to eat, drink, and shop. Aside from easy access to the region's acclaimed wineries, Santa Rosa also boasts close proximity (40-minute drive) to Bodega Bay along the Pacific Coast, and residents here take advantage of the hiking, fishing, horseback riding, and mountain biking opportunities at the local Trione-Annadel State Park.
As the largest city in Sonoma County, Santa Rosa is separated into four quadrants that span out from its historic downtown. The southeast quadrant is home to neighborhoods like Bennett Valley, known for spacious lots, the Trione-Annadel State Park, and the Bennett Valley Golf Course. Santa Rosa's northeast quadrant—which is closer to downtown—houses many of the city's oldest neighborhoods, like the architecturally prestigious St. Rose and the charming, walkable, and community-oriented West End.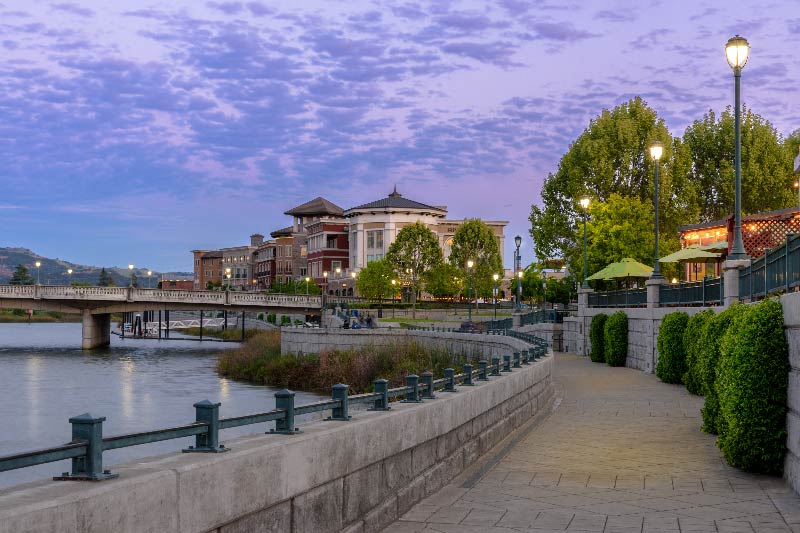 Famous around the world for its vineyards and wines, Napa is also known for its renowned restaurants, local shops, art galleries, and a growing collection of breweries. With a vibrant downtown along the Napa River and a collection of historic neighborhoods, Napa is much more than just a tourist destination.
Downtown Napa is home to the historic Uptown Theater, the Oxbow Public Market (a local go-to for wine and cheese), and an impressive year-round farmers market. Downtown also offers some of the North Bay's best restaurants and eateries within walking distance of one another—like Morimoto Napa or Carpe Diem—and of course, plenty of wineries. While Napa enjoys a picturesque landscape of rolling hills and vineyards, it's only about an hour's drive from San Francisco or Oakland.
The neighborhoods that surround Napa's downtown each have their own character. Browns Valley, west of the downtown district, is home to a mix of newer homes and shops alongside older farmhouses and orchards, with quality schools that make it a popular spot for families. Napa's Soda Springs neighborhood is home to grand estates on rolling hills—often with picturesque views and private vineyards—while the city's Westwood neighborhood can offer more affordable price points for first-time buyers.