Chicago Real Estate
4 Reasons to Call Chicago's West Ridge Home
West Ridge is a sister community to Rogers Park but often the less talked about of the two. Despite its under-the-radar status, this Far North Side neighborhood has a lot to offer its residents.
Homebuyers will find single-family homes (with yards) for prices that beat out neighborhoods closer to the city center. Once settled in, new residents will find a neighborhood that feels suburban with multiple parks and quiet residential streets.
Yet, West Ridge is still a Chicago neighborhood. For food, nightlife, and unexpected shopping finds, Devon Avenue—running east and west—cuts nearly through the center of the neighborhood. Discover more about what makes West Ridge a place people love to call home.
Affordability and Variety
Given how far north West Ridge is of the Loop, it's not entirely surprising that the home prices more resemble that of a suburb than an urban neighborhood.
Neighborhoods.com lists the current median home sale price at $185,000. Rogers Park, right on the lake, has a slightly higher median home sale price ($193,500). Of course, if you're working with a different budget, the neighborhood has a pretty wide range of pricing to explore—as low as $54,500 and as high as $2 million.
If homebuyers are seeking those single-family homes with yards, the north end of the neighborhood is the best place to search. However, condos are the more common type of home style in this neighborhood. Many of these attached homes are recently rehabbed yet still surprisingly affordable.
Suburban Quiet in the City
West Ridge was annexed to the City of Chicago in 1893, but it has retained an air of suburban charm. While a few major streets run through the neighborhood—Western Avenue, California Avenue, and, of course, Devon Avenue—most streets are smaller, residential byways. This means residents hardly ever have issues parking, which can seem like a minor miracle in Chicago.
Greenspace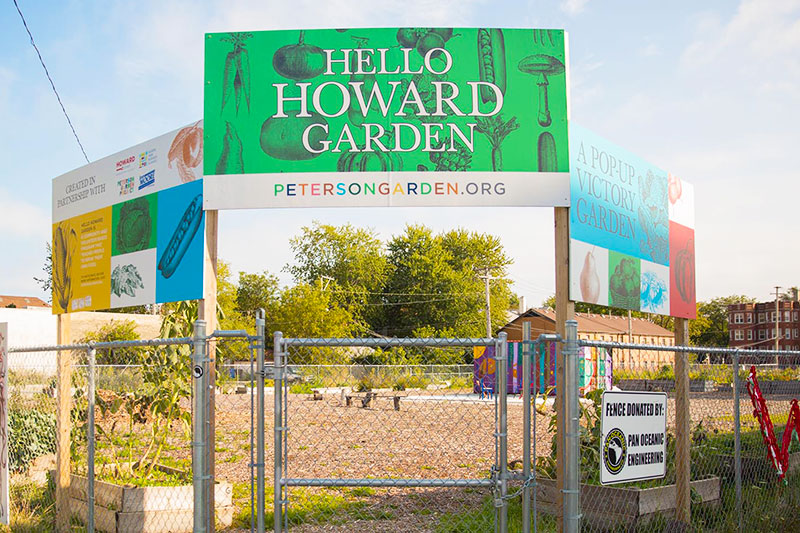 Plenty of Chicago neighborhoods have access to a park or two, but West Ridge contains nearly 10 parks within its borders, ranging from small playgrounds to an entire nature preserve.
Indian Boundary Park has a nature play center, a cultural center, tennis courts, and a lagoon. Lerner Park and Emmerson Park both have playgrounds, while Chippewa Park focuses on programs for kids. Mather Park, which shares space with Mather High School, has plenty of athletic fields. And on the southwestern edge of the neighborhood, the 50-acre Legion Park begins.
West Ridge Nature Preserve is dedicated to preserving biodiversity and teaching people about the natural world. The spot offers residents a place to learn, volunteer, or simply enjoy the outdoors.
If residents want to stretch their legs or take a bike ride, the North Shore Channel Trail runs along the Chicago River on the western edge of the neighborhood.
If you really want to feel like you've left the city, West Ridge has its own golf course. The Chicago Park District's Robert A. Black Golf Course has nine holes.
Devon Avenue
The stretch of Devon Avenue that runs through West Ridge is often called "Little India" or the "Desi Corridor" due to the proliferation of Indian restaurants and shops. For residents who want to cook at home, Patel Brothers and World Fresh Market are two grocery stores with a focus on Middle Eastern food.
Devon Avenue is also home to a variety of restaurants. Delhi Darbar Kabab House serves kebabs, barbecue, and vegetarian dishes. Tiffin has a huge menu that spans vegetarian cuisine, meat dishes, South Indian entrees, and more. Ghareeb Nawaz serves vegetarian and vegan food with an emphasis on Indian and Pakistani flavors.
This area of West Ridge is also rich in sweet spots. Tel-Aviv Kosher Bakery serves a cornucopia of kosher baked goods, as the name suggests. Just a few doors down, Taza Bakery does a full menu, fresh baked bread, and dessert. At Sukhadia's on Devon shoppers can stock up on Indian sweets and snacks.
When it comes to shopping, Devon Avenue's boutiques do not disappoint. Visit Resham's, right next to Patel Brothers, for a dazzling selection of fabrics and decor.