4 Reasons to Live in Gold Canyon
4 Reasons to Live in Gold Canyon
Located in an unincorporated area in the foothills of the Superstition Mountains, the upscale Gold Canyon is a top choice for many homebuyers because of its variety of homes, picturesque scenery, and many activities. Residents have access to hiking and biking trails as well as plenty of open space for outdoor recreation.
Gold Canyon is also ideally situated for those employed in nearby cities like Apache Junction or Mesa, offering a typical commute time of about 26 minutes. Located far enough from Phoenix to enjoy a small-town atmosphere and the Sonoran wilderness yet close enough to have easy access to big city amenities, Gold Canyon offers the best of both worlds to homeowners.
Here are four reasons why you should live in Gold Canyon.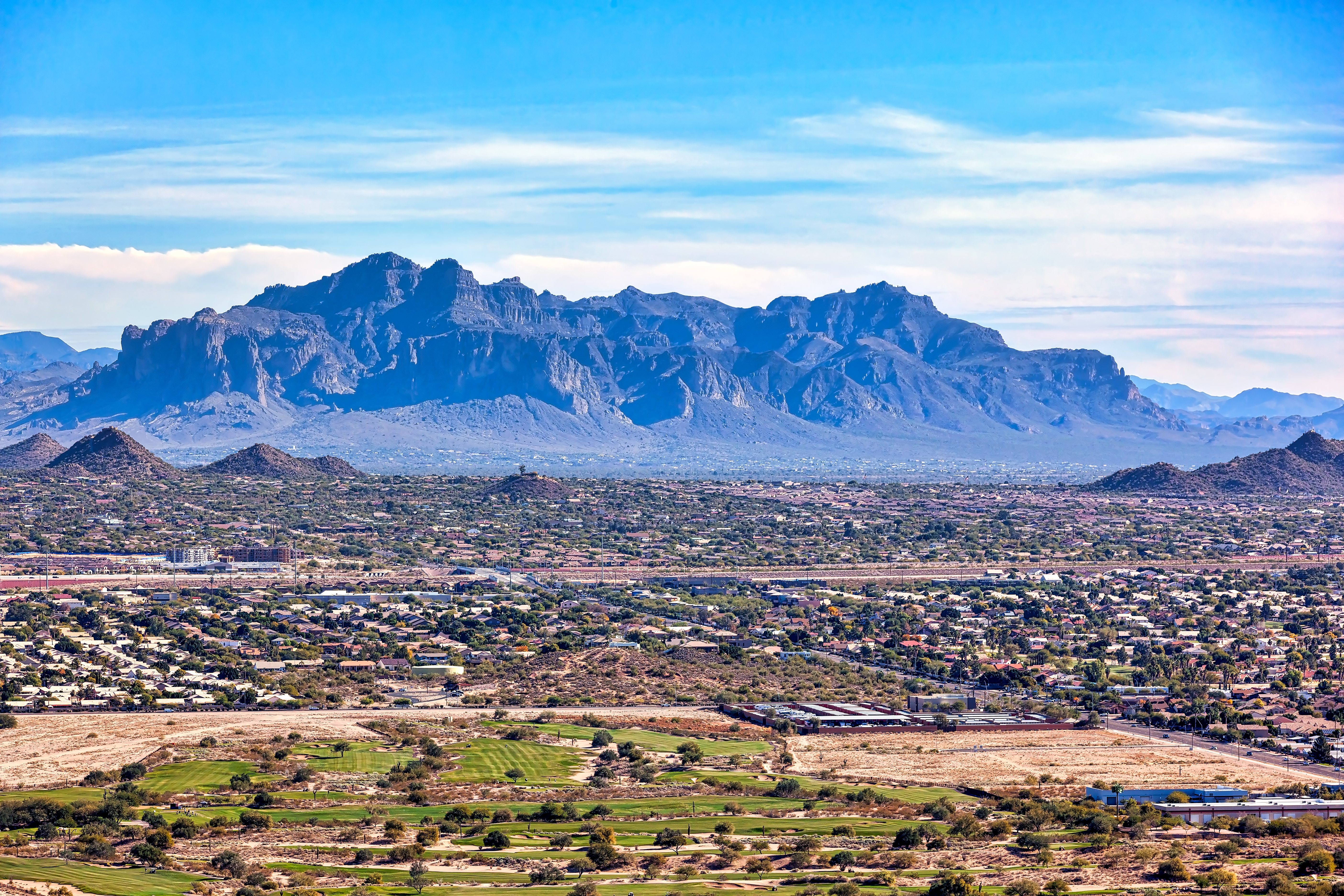 Gold Canyon at a Glance:
Cost of Living Index: 111.3 (U.S. average is 100)
Median Home Price: $308,000
Walk Score: 5 - Car-Dependent
Sources: Sperling's Best Places, Walk Score
There Are a Lot of Ways to Get Involved

Through more than a dozen organizations, Gold Canyon provides residents with opportunities to get involved in the community. Residents can volunteer with Artists of the Superstitions, a diverse group of artists living and working in the state's Gold Canyon and Apache Junction areas; East Valley Wildlife, a rehabilitation program where volunteers help injured wildlife and release them back into the wild; or A.D.O.B.E., a nonprofit group whose members keep track of developments that may affect the community.
The Variety of Homes and Pricing

Many homes in Gold Canyon were built after 2000, and there are a variety of housing options to choose from. Buyers can find one- and two-story single-family homes as well as condos and attached homes priced from the mid $100s, according to neighborhoods.com listings. Homebuyers can also find custom-built, luxury single-family homes within gated subdivisions that offer resort-style amenities.
Architectural styles vary throughout Gold Canyon, from Tuscan and Spanish Revival to Modern Ranch and Mediterranean designs. Homes range from quaint patio homes of about 1,200 square feet to expansive residences offering over 4,000 square feet and large acres of land.
Amenity-Filled Neighborhoods
Many neighborhoods within Gold Canyon also offer private amenities like pools, clubhouses, parks, and recreational facilities. Here are some of them:
Among the more popular neighborhoods within Gold Canyon is Superstition Foothills. This master-planned community has just over 1,000 homes built by multiple developers including Toll Brothers, Morrison Homes, US Homes, Shea, Pulte, and Standard Pacific.
This community features resort-style amenities, such as a year-round heated pool and spa and views of the Superstition Mountains. Hiking and walking trails are also accessible from residents' front doorsteps, which is a plus for those who want to maintain an active lifestyle. Homes within this neighborhood are priced from high $200s to the mid $600s.
Superstition Mountain is another master-planned community spread across 930 acres of desert landscape. Members of Superstition Mountain Golf and Country Club have access to two Jack Nicklaus-designed 18-hole golf courses, and the community's hiking trails lead into the Tonto National Forest for a scenic outdoor adventure.
The 50,000-square-foot clubhouse provides luxurious amenities such as a fitness and wellness center, elegant and private dining, and lively social events. Homes in Superstition Mountain are priced from the low $500s up to the millions.
This active adult community situated near the base of the Superstition Mountains offers scenic views and resort-style amenities. Homes in this neighborhood offer 1,100 to 2,800 square feet of living space, and they're priced from the low $300s to the high $500s. Amenities include two swimming pools, pickleball and tennis courts, and a challenging golf course at the Mountain Brook Golf Club.
Fun Attractions and Activities
Gold Canyon offers a lot for lovers of the outdoors, whether that be through scenic hikes, exploring the area's Old West roots, or at an outdoor festival. Here are some of the city's most popular attractions and activities.
Arizona Renaissance Festival
Gold Canyon is the closest city to the Arizona Renaissance Festival, which happens between mid-February and the beginning of April. The seasonal medieval amusement park offers a 14-stage theater, a 30-acre circus, an arts and crafts fair, a jousting tournament, and plenty to eat.
Lost Dutchman State Park
The legendary Lost Dutchman's gold mine in the Lost Dutchman State Park is what many locals and visitors spend their time dreaming about while camping and hiking in the park. Dotted with ancient cliff dwellings and caves—many showing signs of former inhabitants—the area has been a favorite for outdoor enthusiasts who believe they'll come across some of that fabled hidden gold.
Gold Canyon Golf Resort & Spa
Gold Canyon is also home to some notable golf courses: Superstition Mountain Golf Club, Mountain Brook Golf Club, and Gold Canyon Golf Resort & Spa. Gold Canyon Golf Resort hosts major golf tournaments, but most people in this community prefer to play the game themselves. Sprawling fairways can be found at five 18-hole championship golf courses within the boundaries of Gold Canyon, and dozens more are only a 30-minute drive away.
Goldfield
A short drive away in nearby Apache Junction is Goldfield, one of the Phoenix-area ghost towns. The once-booming ore mining town has gotten new life as a tourist attraction, but you'll still get to feel the eerie vibes of an abandoned Old West town. Visitors can tour the gold mine, watch a gun fight performance, pan for gold, and take a ride on a narrow gauge train.