4 Reasons to Take a Day Trip to the Austin Suburbs
4 Reasons to Take a Day Trip to the Austin Suburbs
While Austin residents and visitors can find plenty of weekend adventures within city limits, venturing out to the suburbs for a day trip provides access to a plethora of fun activities, all easily reached via a brief car ride. Whether you'd like to chow down on Central Texas' finest barbecue, get outdoorsy with river tubing routes, taste some locally-made booze, or scope out historical architecture, the Austin suburbs have just the day trip for you.
Dine on Brisket and Barbecue Ribs in Lockhart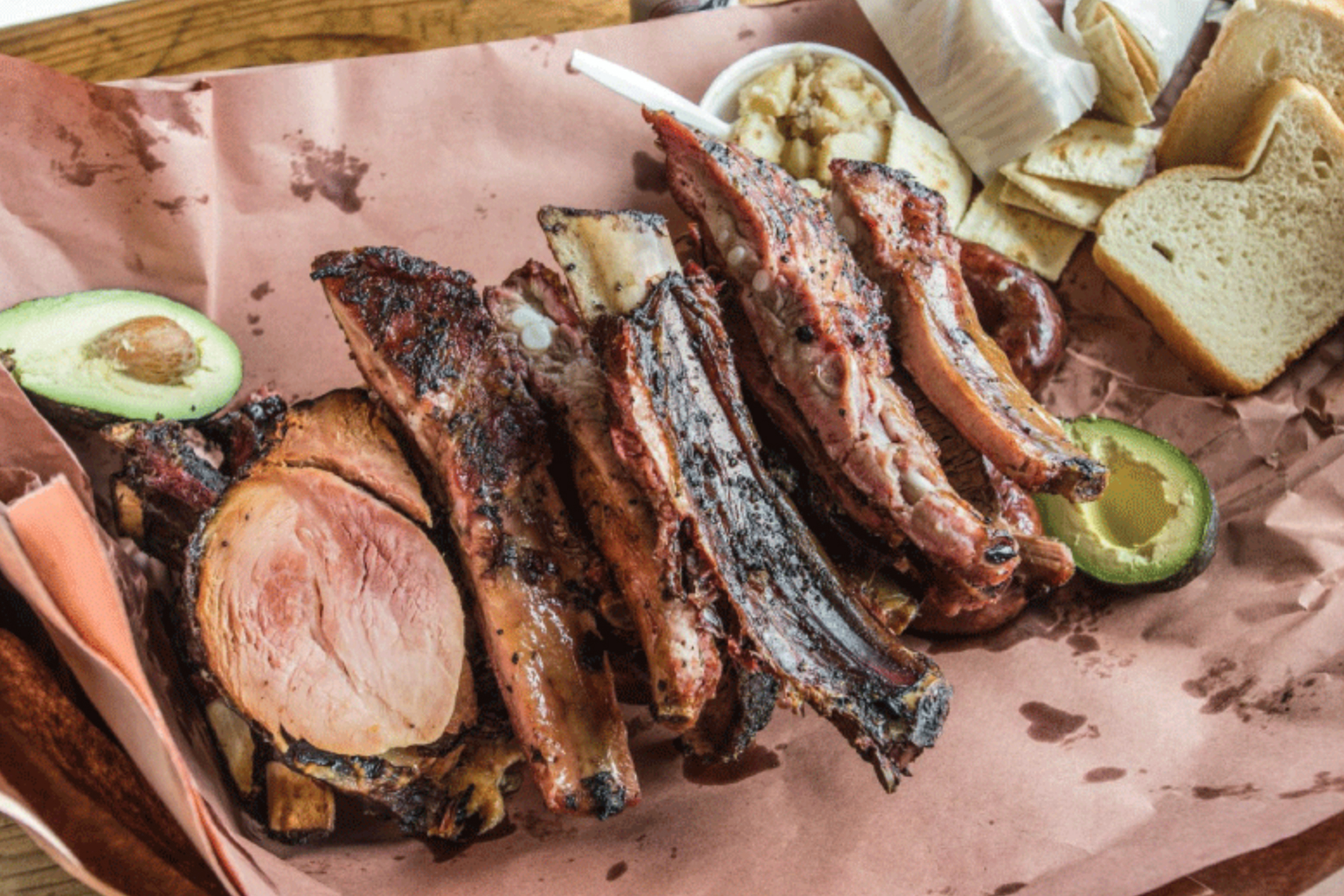 While Austin proper contains some of Texas' most-celebrated barbecue destinations, the Texas Hill Country west of the city features plenty of must-try venues for meat expertly cooked over an open flame. One must-visit Hill Country town is Lockhart, unofficially known as the "Barbecue Capital of Texas". Just a 40-minute drive from Austin, Lockhart is a town loaded with rustic charm and a high concentration of top-rated barbecue restaurants.
A Texas BBQ staple since the turn of the 20th century, Kreuz Market built its long-standing reputation on its use of brick pits for low and slow cooking. Head to their bare-bones dining room and order some expertly-smoked beef brisket, peppery spare ribs, and house-made sausage, all served in classic Texan fashion: on butcher paper with a pile of pickle chips and slices of white bread.
For another no-frills barbecue venue with highly-celebrated smoked meats, head over to Smitty's Market. Since 1932, Lockhart residents and barbecue fans from all over the state have flocked to Smitty's for oak-smoked brisket, pork chops, and prime rib. Smitty's shares a pedigree with Kreuz Market, with its owners descended from the Kreuz family, so you know you're in good hands here.
Black's BBQ, a family-run joint open since the 1930s, is locally beloved to the point of opening a second location in Austin proper, expanding access to its signature brisket, smoked turkey breast, baby back ribs, and jalapeno-cheddar sausages. But for the most authentic experience, you'll still want to visit the original in Lockhart. The wood-paneled dining room festooned with Christmas lights and taxidermied stag heads is delightfully quirky, and the barbecued meats available by-the-pound are especially delicious when paired with Black's specialty barbecue sauces, available in flavors like Chipotle Mustard, Ghost Chili, and Habanero.
Take a Tube Ride Down the Comal River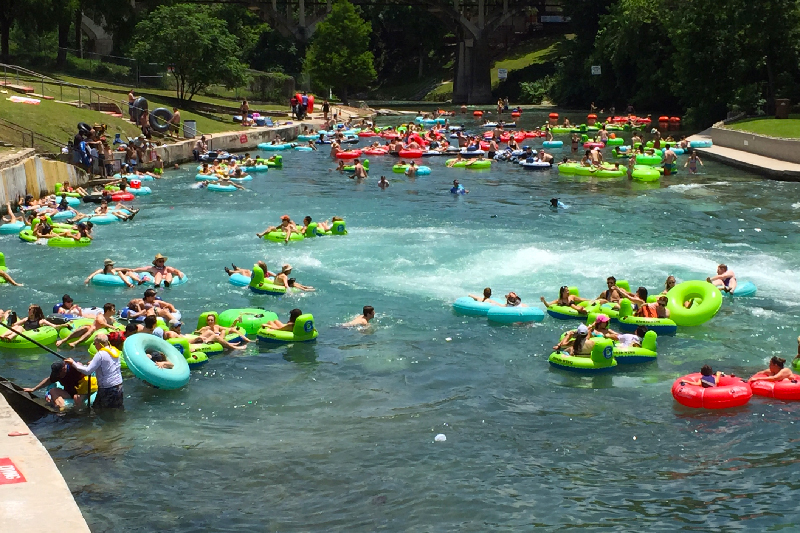 In less than one hour by car, Austinites can enjoy the beautiful natural vistas and abundant waterfront activities of New Braunfels. This small city occupies a Hill Country prime location, with both the Guadalupe and the Comal River running through it. As a result, river tubing is a major form of recreation in New Braunfels, and Austinites regularly make the trip to partake in the fun and relaxing warm-weather activity.
Thanks to its short distance span (2 miles), The Comal River makes for an especially pleasant trip, particularly for beginners. Companies like Texas Tubes, Comal Tubes, and Rockin' 'R' River offer equipment rentals, and as long as you keep glass and Styrofoam out of the raft, you're welcome to make your river ride a boozy one.
While in New Braunfels, you'll want to check out the city's unique spirit and activities. If you leave the river still jonesing for an aquatic fix, head to Schlitterbahn, a water park loaded with slides, heated pools, and water coasters.
Savvy shoppers will enjoy a visit to the Downtown Antique Mall, a vintage warehouse stocked with furniture, decor items, and memorabilia dating back to the early 20th century. To fully capture New Braunfels' German roots, take a seat at the Alpine Haus, a Bavarian restaurant specializing in classic wiener schnitzel; sausage platters with bratwurst, knockwurst, and vinegary German potato salad; and house-made apple strudel.
Get Your Drink on in Dripping Springs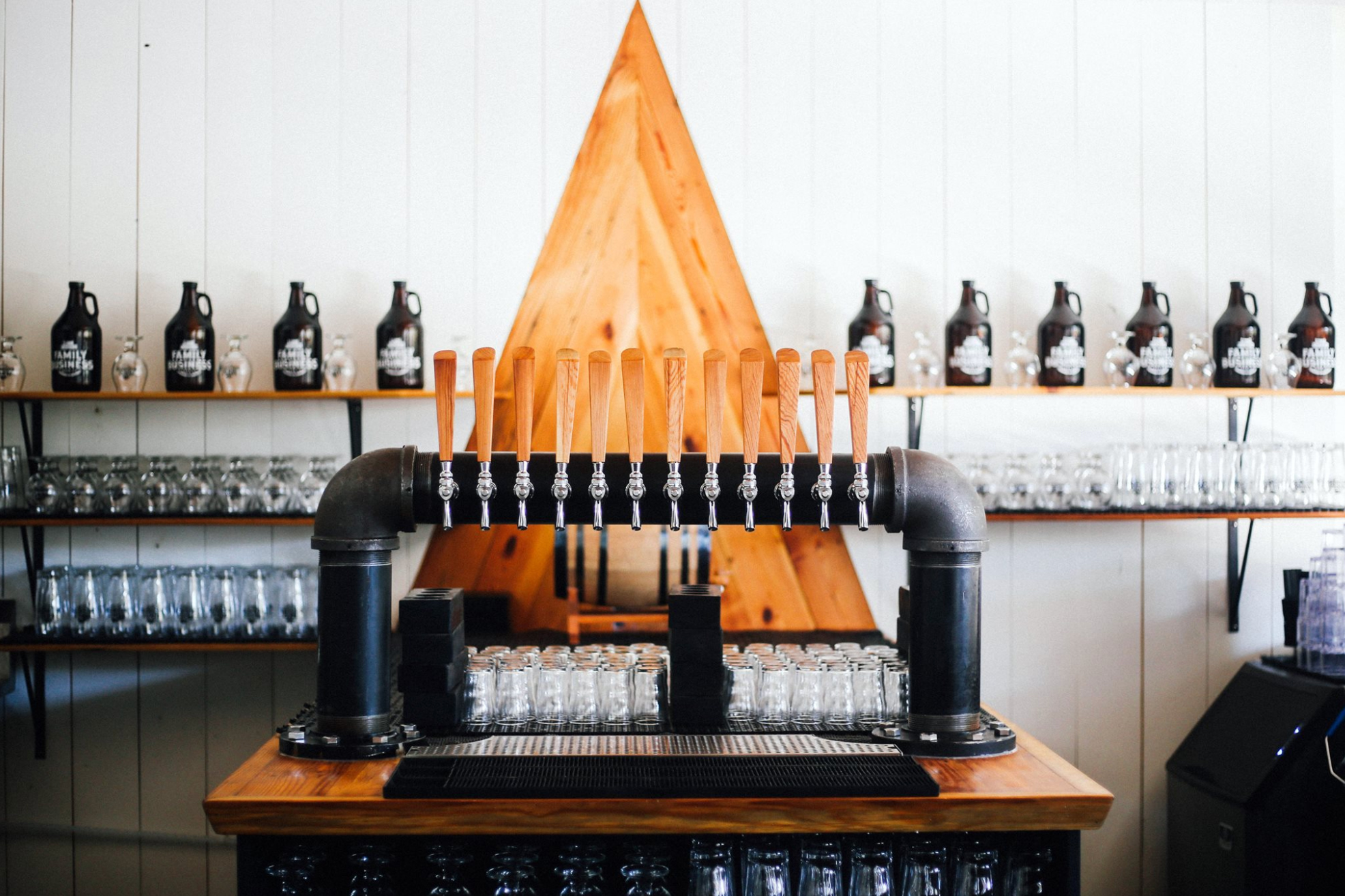 If you want your day trip to include a solid buzz, recruit a designated driver or hail a ride-share (trust us on this one) for the 30-minute drive to Dripping Springs. This small town contains more breweries, distilleries, and wineries per capita than any other Central Texas community, making it the perfect destination for sampling a wide array of local beverages.
A brand-new microbrewery launched by actor Jensen Ackles (of Supernatural) and his family, Family Business Brewing is a Dripping Springs must-do. The brewery features a charming interior tap room serving proprietary brews like the Hamilton Pale Ale and the hoppy Cosmic Cowboy IPA, and Family Business also features an expansive patio with food trucks, outdoor games, and a playground for the kids.
For a real one-stop drinking shop, get over to Treaty Oak Distilling, a brewery/distillery making everything from Waterloo Gin to Red-Handed Bourbon to Treaty Oak Rum to Lil' Hop IPA. Their Dripping Springs headquarters, known as the Treaty Oak Ranch, offers distillery tours, the Ghost Hill Restaurant (serving pub snacks and BBQ platters), and a tasting room with beer and liquor-based flights.
In a wine mood? Check out Bell Springs Winery, a small-batch winemaker creating vintages from grapes shipped in from top wine regions like California, Washington, and Oregon. Winery visitors can enjoy guided tastings of varietals like Snake Charmer Syrah/Carmenere, Drippin' Sweet Wine with Chardonnay and a peach infusion, and the Sidecar Apple Still Wine (a flavorful wine/cider hybrid).
Channel Your Inner History Buff in Fredericksburg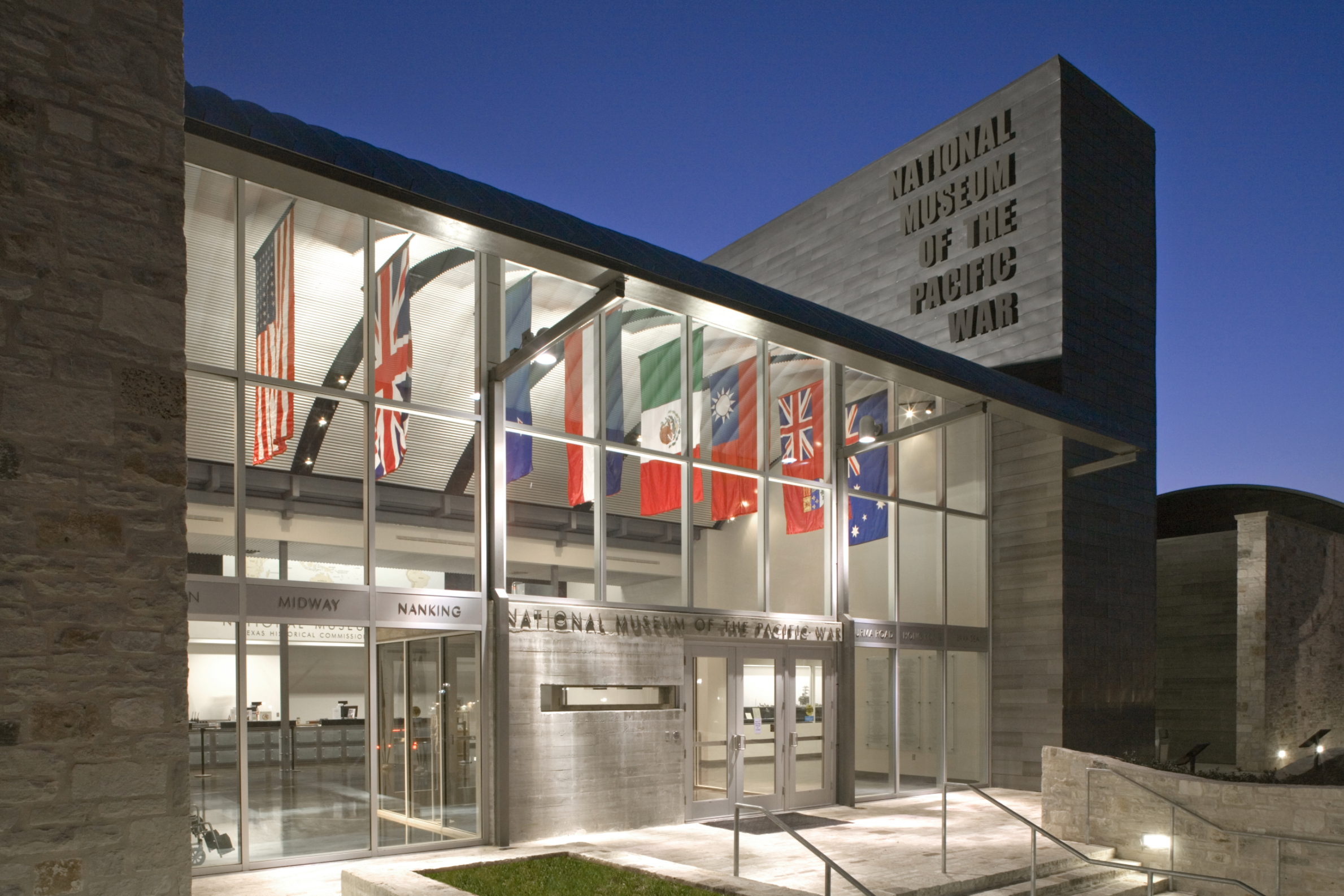 Wanna spend the day perusing historical buildings, landmarks, and museums? Hop in the car for the 90-minute drive to Fredericksburg. Like New Braunfels, Fredericksburg was once a bastion for German immigrants in Texas, and their cultural influence remains today.
Fredericksburg was a central trading post for pioneers headed west, and visitors to Fredericksburg's Pioneer Museum can scope out the Vereins Kirche church/town hall for 19th-century German settlers and historic homesteads, schoolhouses, bathhouses, and barns illustrating the quality of life for these migratory folks.
Museum buffs won't want to miss the National Museum of the Pacific War, which features items and stories from the Pacific Theater of World War II. Visitors can browse weaponry and artillery in the museum complex and gain a sense of the battle landscape in the meticulously-recreated Pacific Combat Zone exhibit.
Just outside of town in Stonewall, you'll find the LBJ Ranch, known as the "Texas White House" during Lyndon B. Johnson's presidency. At the ranch, you'll have the opportunity to see significant locations like LBJ's birthplace, the Johnson family cemetery, and the ranch house itself, where LBJ and Lady Bird Johnson stayed while in Texas.
While you're just outside Fredericksburg, pop 17 miles north for a look at the Enchanted Rock State Natural Area, a park featuring the impressive Enchanted Rock, a pink granite dome looming 425 feet above ground level. Outdoor enthusiasts can also partake of the park's 11 miles of hiking trails and rock climbing areas.