Los Angeles Local Life
5 Fun Things to Do in Fullerton This Spring
Fullerton is a city about 24 miles southeast of Downtown Los Angeles and it's also one of Orange County's booming hotspots. The popular suburb has evolved from disparate times during the 1990s when the region experienced an economic decline, and it's now a growing destination for nightlife, recreation, and culture.
Over the past decade, the region has seen an increase in young families, health care professionals, and students. With a bustling downtown area, several iconic landmarks, and over 50 parks, many people are now flocking to the city. If you're new to Fullerton and curious about what activities are available in the area, here's a guide for things to do this spring.
Visit the Arboretum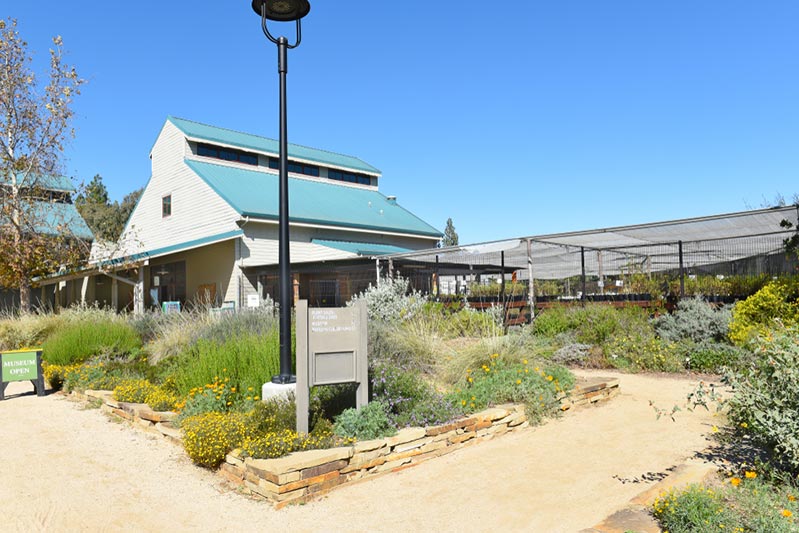 If you're stuck on where to bring your family, friends, or even a date this spring, try heading over to the Fullerton Arboretum, which is a 26-acre botanical garden situated on California State University's campus. This garden houses more than 4,000 various plants, focusing on protecting rare, at-risk, or near extinct species. There are several walking trails that guide visitors through four of the garden's major collections, which include the Cultivated, Mediterranean-Climate, Woodlands, and Desert.
The site is also home to the Agricultural and Nikkei Heritage Museum, which is operated by a volunteer support group called the Bowers Museum Docent Guild, who greet patrons, guide them through exhibits, and help with store purchases. By offering classes, such as water conservation and even bird watching, the Arboretum aims to teach the community about the value of protecting nature.
Go Fishing at Laguna Lake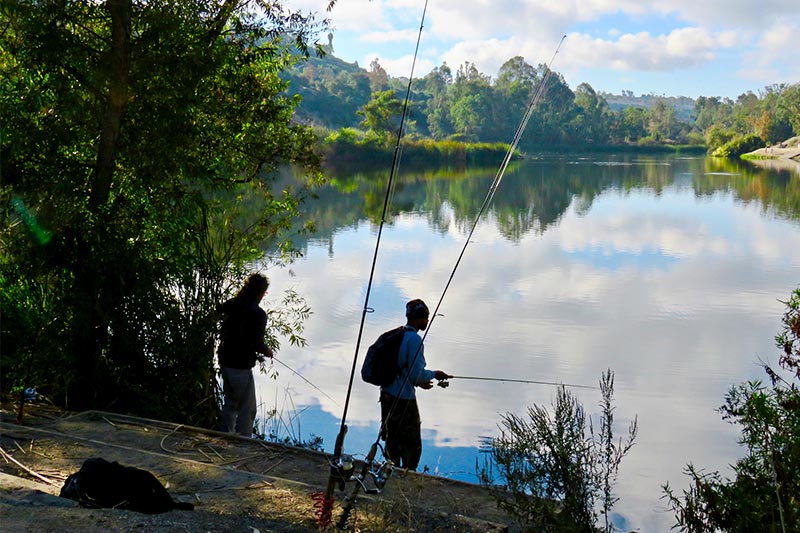 Even though Fullerton locals enjoy consistent Mediterranean weather year-round, spring is usually that time of the year when flowers bloom again and different kinds of wildlife make their way back to green spaces. It's also a great time for fishermen to take advantage of fishing. A popular park for adventurers and outdoorsy individuals is Laguna Lake Park, which features open-area green spaces, several dirt trails, and the glistening oasis of Laguna Lake at the heart of the park.
Visitors can hike, walk, run, cycle, or even ride a horse through the various trails, while fishermen can try fishing for rainbow trout, catfish, bass, and bluegills. The park also offers a tranquil place for families. Below Laguna Lake's dam is a picnic area that features stunning views. Visitors also come to Laguna Lake Park to watch horse riders practice and perform at the park's Equestrian Center, which includes show rings, riding rings, and grandstand seating.
Bar Hop in Downtown Fullerton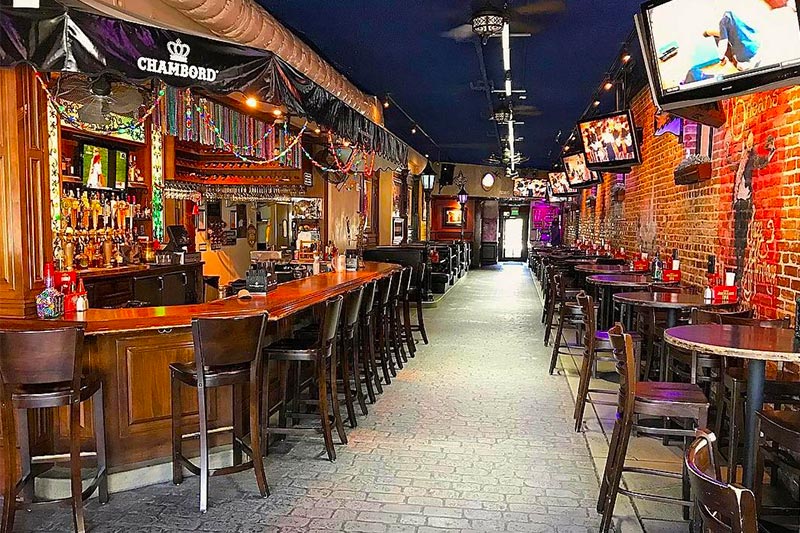 During the spring, nighttime weather in Fullerton gets warmer, and more people want to walk around. A very popular hotspot for students and young adults is Downtown Fullerton with its quality specialty eateries and an abundance of nightlife spots. With various bars built next to each other, both residents and visitors can easily hop from bar to bar.
Although there are a few dive bars located along the busy corridor, more well-known places include a speakeasy-style bar The Continental Room, Mardi Gras-themed Bourbon Street, and the local student hangout Back Alley Bar and Grill. A bit further from the main street is The Republic, which offers a wide whiskey selection and live music.
Visit One of Fullerton's Many Parks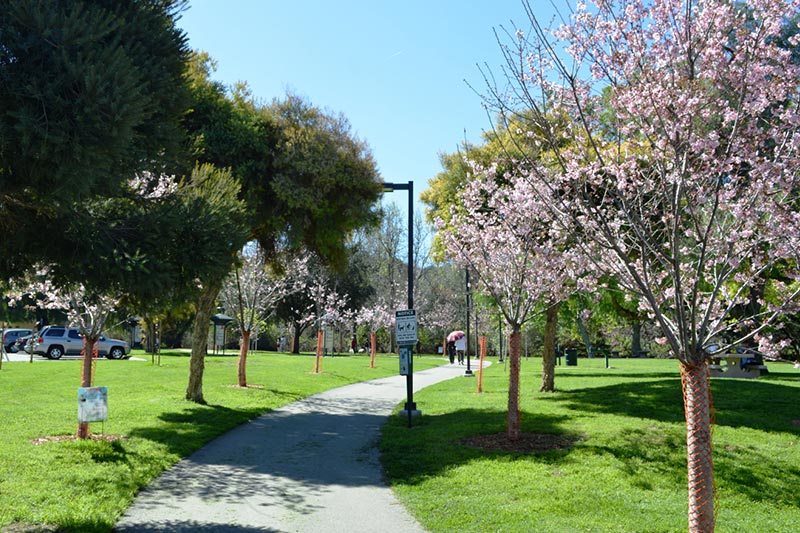 Springtime means picnics, barbeques, hiking, and of course… splash pads. As mentioned earlier, the city has over 50 parks, which means there's a park in nearly every corner. Hikers, cyclists, and pedestrians have several scenic trails to choose at one of the many popular recreational parks, including Peter F. Schabarum Regional Park, Powder Canyon, Craig Regional Park, Clark Regional Park, and Hillcrest Park.
If friends and family need a great location to have a picnic or BBQ, Pathfinder Community Regional Park and Lemon Park have plenty of barbeque grills and green areas to lounge and relax. Fullerton also offers some of the regions best splash pads, which is a hit with kids during the spring and summer seasons. The recreational parks that offer fun sprinklers and splash areas include Adlena Park, Lemon Park Spray Pool, and Adventure Park.
Hit the Trail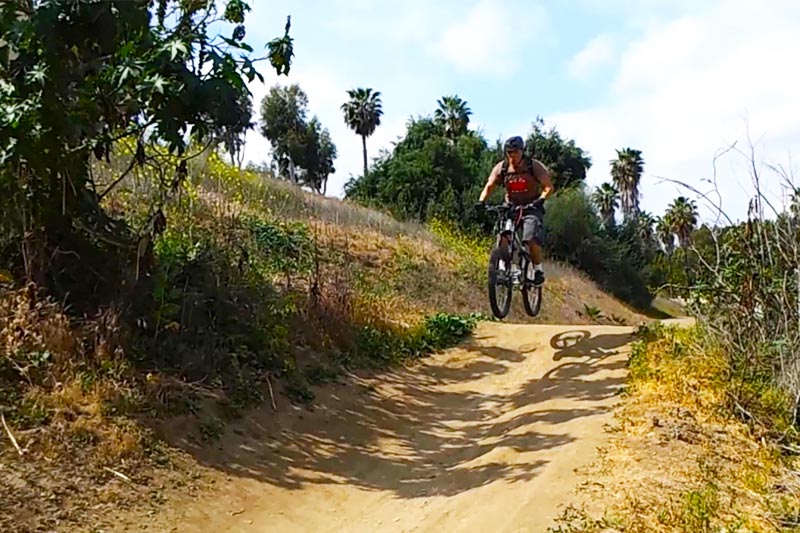 Before the summer heat descends on the area, what better time could there be to head out to the Fullerton Loop Trail and start exploring? This 11.1-mile trail system offers a great opportunity for hikers, bikers, and anyone looking for a nice stroll in the wilderness. Don't be surprised to see plenty of dogs and maybe even a couple horses out there as well. Make sure you leave some extra time to explore the side trails and "secret" sections of the trail system, especially fun for adventurous hikers and bikers looking to kick things up a notch.