5 Most Walkable Neighborhoods in Orange County
5 Most Walkable Neighborhoods in Orange County
The last time Orange County released a list of their most walkable neighborhoods was in 2011. Seven years later, many OC cities and towns have added new developments, dining establishments, pedestrian-friendly improvements, and transit upgrades to their communities.
Walk Score, a website that provides walkability resources, bases their scores on whether a neighborhood has access to a public center, enough people for thriving businesses and transit, mixed-use structures, schools, and pedestrian-oriented streets. After examining all of Orange County's neighborhoods according to its Walk Score, here are the region's five most walkable neighborhoods.
Downtown Santa Ana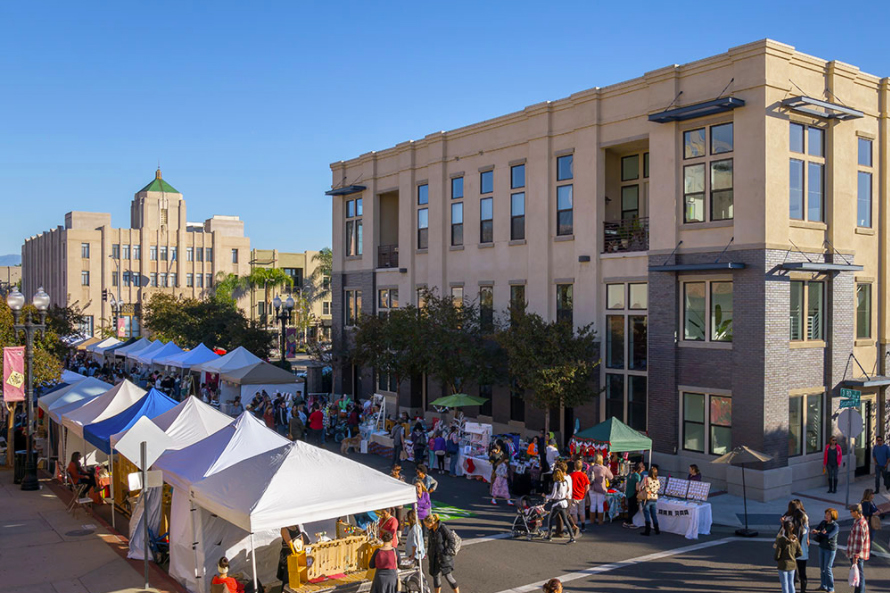 Located in the heart of Orange County, Downtown Santa Ana is a 147-year-old neighborhood full of culture, history, art, entertainment, and more. With nearly 100 historic structures dating as far back as 1870, the neighborhood itself is listed on the National Register of Historic Places. That's a lot of history.
Downtown Santa Ana is bordered by Civic Center Drive, Flower Street, First Street, and Southern Pacific Railroad, which are all adjacent to mixed-use residences, retail centers, world-class dining and bars, office buildings, and art galleries. Longtime residents of the neighborhood enjoy a tight-knit community that celebrates its diverse culture through a variety of events, such as Cinco de Mayo, Orange County Pride, monthly art walks, and Viva-la-Vida.
Willard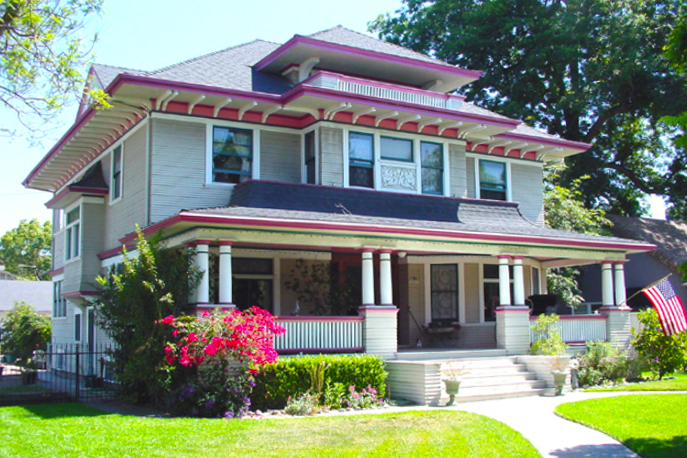 Another Santa Ana neighborhood that scored well for walkability is the up-and-coming community of Willard, which is situated in the center of the city between Washington Square and Historic French Park.
This densely populated neighborhood received high scores because of its easy access to public transportation, an abundance of outdoor activities, and active nightlife. Popular parks in Willard include Angels Community Park and the recently opened soccer field at Willard Intermediate School, which was part of the neighborhood's long-term vision to open more public park space. Since the park's opening in 2013, it has quickly become a popular attraction with crowds lining up to play soccer at all times of the day.
Downtown Garden Grove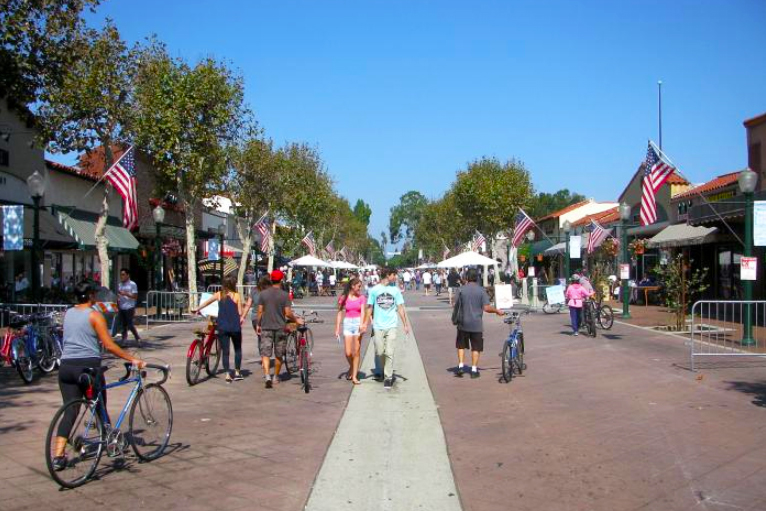 Garden Grove is a city that is located in northern Orange County, approximately 35 miles south of Los Angeles. Longtime locals of Garden Grove enjoy the charming small-town feel of Historic Downtown, which features diverse restaurants, community-oriented event shows, and numerous shopping centers. Although the rest of Garden Grove has more of a reserved suburban atmosphere, Downtown is where all the action happens.
The neighborhood is mostly known for hosting a weekly classic car show and its annual Memorial Day Strawberry Festival, which is one of the most popular community festivals held in the western United States. To experience all the fun and festivities in Downtown, simply head towards Main Street, where you'll find a string of small and welcoming businesses.
North Euclid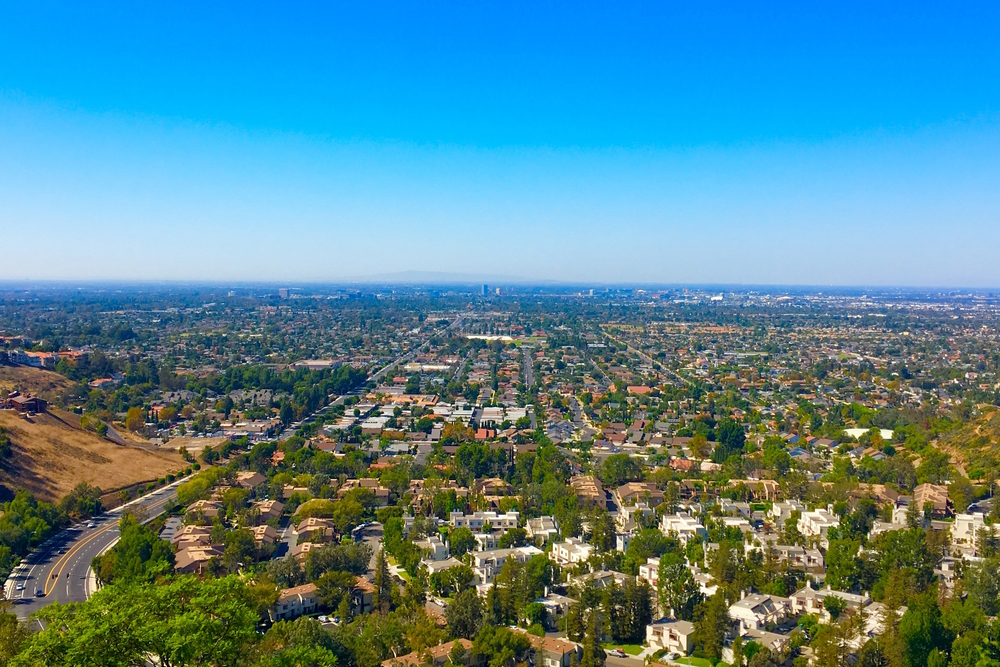 It's no surprise that North Euclid, a small residential neighborhood in Anaheim, received high marks on Walk Score. It's conveniently located near several city hotspots, including Disneyland Resorts, which is less than two miles away, Anaheim Convention Center on Katella Avenue, and even the 160-acre amusement park Knott's Berry Farm.
However, residents of North Euclid don't need to venture too far away from home, since there's plenty of shopping, grocery stores, hospitals, eateries, and schools in its immediate vicinity. According to the walkability rating website, there are approximately 51 bars, restaurants, and coffee shops situated in the neighborhood, so locals have no trouble finding a place to dine.
Central Costa Mesa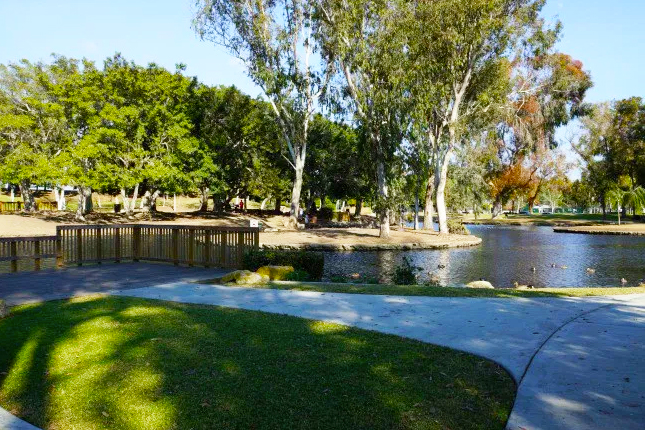 The sprawling city of Costa Mesa is made up of about 22 distinct neighborhoods, but the most walkable neighborhood is located in the heart of the city, Central Costa Mesa. The area is bounded by Baker Street, Wilson Boulevard, Harbor Boulevard, and the 55 Freeway, and is a hub for some of the largest businesses in the city.
The world-famous Orange County Fair is hosted here every year, and it brings in an estimated one million visitors to the neighborhood. Outside of the festival, locals enjoy easy access to several parks and recreation areas, including Costa Mesa Fairgrounds and The Tewinkle Park. Named after the city's first mayor, Charles Tewinkle, it spans nearly 50 acres, offering outdoor amenities such as BBQ pits, a baseball field, an amphitheater, tennis and basketball courts, exercise areas, and even a lake with a waterfall.