Los Angeles Local Life
6 Historic Restaurants in Los Angeles
Los Angeles is a diverse city filled with countless restaurants, many of which have deep roots in culinary history. Over the past century, the city has undergone several waves of change, such as the Golden Age of Hollywood, World War II, hippie culture, and even a development boom.
From the oldest sandwich and deli shops in LA to vintage restaurants and even food stands, many historic restaurants in the city continue to survive the test of time while still serving top-notch cuisine. Here are six historic restaurants in Los Angeles that have stood the test of time.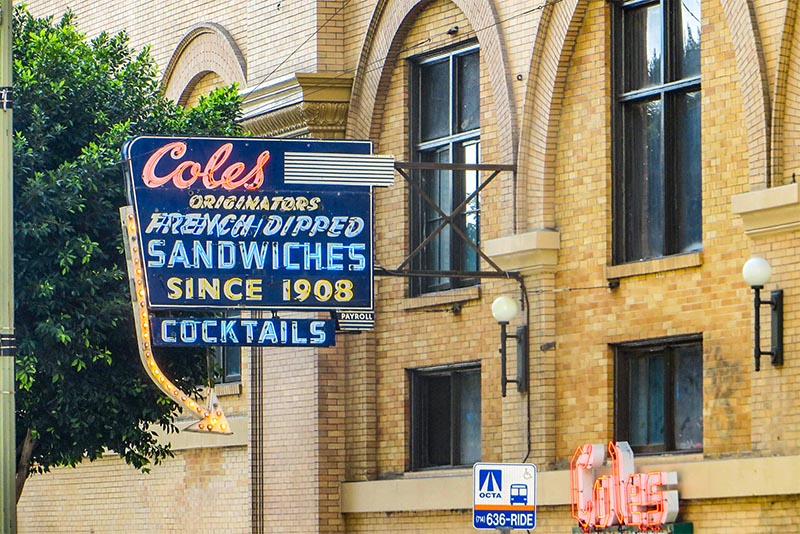 There are many restaurants in Los Angeles that claim to be the oldest restaurant in the city, but there's no denying facts. Cole's French Dip in Downtown Los Angeles wins the title as LA's oldest public house, first opening in 1908.
Located in the old Pacific Electric Building, Cole's oozes old Hollywood, from its retro vinyl booths, tiled flooring, and dark sultry red wallpaper to its old-school menu, handcrafted cocktails, and title as LA's first original French Dip Sandwich.
The restaurant is also home to The Varnish, which is considered one of the best hidden bars in DTLA.
Yamashiro in Hollywood in one of LA's most jaw-dropping restaurants due to its breathtaking scenery, architecture, and greenery. As of August 2012, Yamashiro was inducted into the city's National Register of Historic Places. This restaurant, event venue, and historic district was first built in 1911 by the Bernheimer brothers as a luxurious mansion containing priceless Asian artifacts. Since then, it has retained this history, but it has also evolved throughout the years into something more.
Like its name suggests (Yamashiro is Japanese for "Mountain Palace"), the restaurant was modeled after the mountains in Kyoto, Japan. The history of Yamashiro is a long one. During Hollywood's Golden Era, Yamashiro was renamed the 400 Club and was considered one of the city's most exclusive spots for A-list celebrities.
After WWII, the restaurant had to battle vandalism due to anti-Japanese sentiment. It also briefly became a military boys school, a small apartment complex, and was even rumored to be a brothel at one point. Today, Yamashiro is known for being an intimate date spot in LA, and it's almost always booked on Valentine's Day.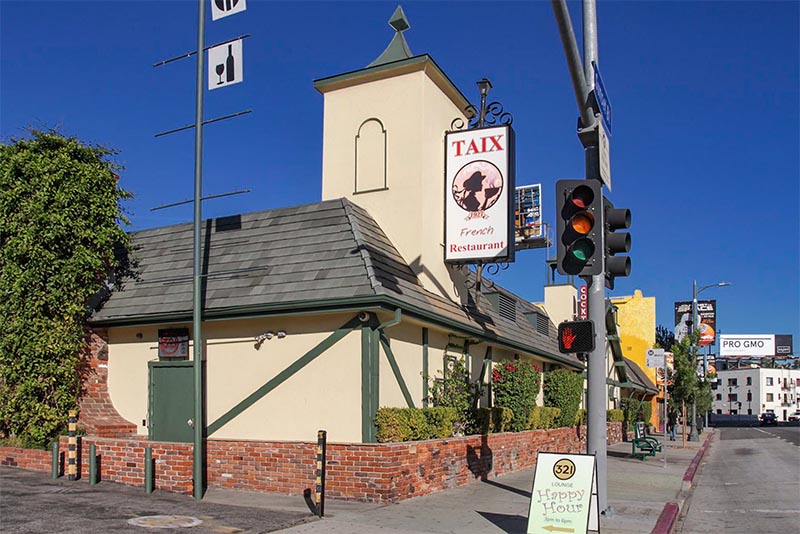 One of Silver Lake's most happening spots is the neighborhood staple, Taix French Restaurant. It was first opened in 1912 by the Taix family, and at the time, this was considered the first restaurant in LA's eastside offering French cuisine. Originally built in the Downtown neighborhood, the restaurant didn't open its Silver Lake location until 1962, but it has since kept its original concept and French roots.
Today, Taix still offers hallmark French dining including French onion soup, chicken breast a la diable, escargot de Bourgogne, and an extensive wine list. Patrons can also enjoy nights filled with entertainment, from live music to open mics, while enjoying a drink or bar bites. The Taix family still owns and manages the restaurant.
When asked by LAist about what's remained consistent about Taix French Restaurant throughout history, it seems that the restaurant's pronunciation is what stumps most customers (it's pronounced "tex").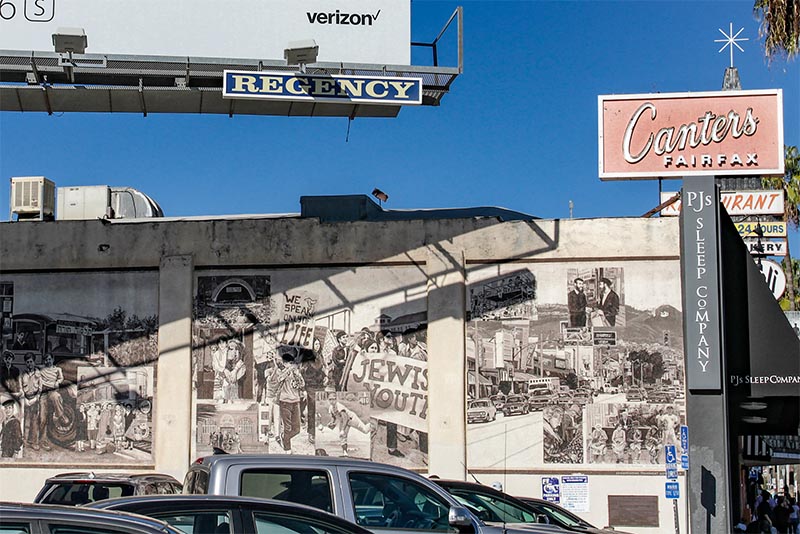 If you take a stroll down Fairfax Avenue, it's difficult to miss the ever-welcoming and homey Canter's Delicatessen. Although the deli originally opened in Boyle Heights in 1931, it relocated to the Fairfax neighborhood after WWII when its popularity required a larger location.
With a multitude of kosher classics, traditional deli offerings, and matzo ball soup served all day, Canter's remains one of LA's oldest and beloved restaurants. Today, the expansive restaurant continues to thrive, from its seemingly endless menu serving breakfast, lunch, and dinner items to its live music and comedy during the week.
Who would have known that an unassuming hotdog pushcart from 1939 would grow to become one of the most well-known franchises in the United States? Pink's Hot Dogs in Hollywood continues to be one of the city's most tourist-filled locations due to its inventive hot dog menu. In 1946, the hotdog stand expanded to include an open, curbside dining area with patio seating.
Since then, Pink's became renowned as a spot frequented by celebrities from both the past and the present. Patrons visiting the restaurant today can still find photos of A-listers trying out Pink's Hot Dogs, from talent such as Aretha Franklin and Michael Jackson to the Kardashians, Jay Leno, and many more. It's rare to see Pink's without a long line spilling down the sidewalk.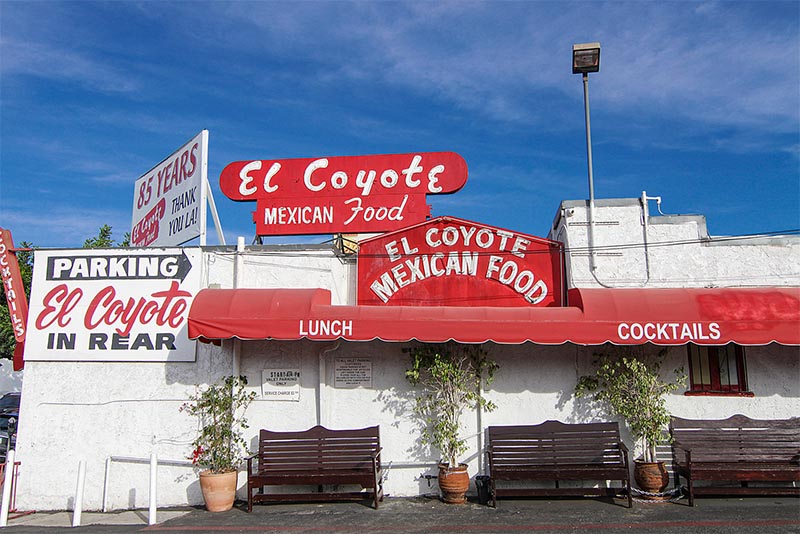 LA has always been big on partying, but the grandfather of all bars in the city can be traced to El Coyote in Fairfax. The LA hotspot first opened in 1931, and its friendly environment and unforgettable margaritas have stayed strong throughout the century.
Located on Beverly Boulevard, the restaurant is known for its history, good vibes, and generous beverages. This is an establishment that has withstood nearly a hundred years of LA happenings, and a fun night out is probably El Coyote's top reason for its survival. When the weekend hits, El Coyote still manages to rack up a long line.