6 New Condo Developments Coming to Koreatown
6 New Condo Developments Coming to Koreatown
Koreatown, often referred to as K-Town, is a neighborhood in Los Angeles that is conveniently located between Westlake, East Hollywood, Silver Lake, and Mid-Wilshire towards the central-east side of LA. Koreatown is a vibrant and cultural hotspot—especially when it comes to the latest foods, desserts, and nightlife. Even though K-Town has a checkered past, the influx of new restaurants, residential developments, coffee shops, and other businesses have slowly revitalized the neighborhood throughout the years.
Today, Koreatown is in the midst of emerging as one of the city's top residential neighborhoods, and real estate developers have noticed this as well. With a high population density of about 42,000 per square mile, developers look at K-Town as an opportunity to construct more housing. According to Curbed, there are approximately 9,000 new residential dwellings that are being built in the neighborhood, so in the next few years, Koreatown might start looking a bit more like Downtown Los Angeles.
Here are six new condo developments happening in Koreatown.
3545 Wilshire Boulevard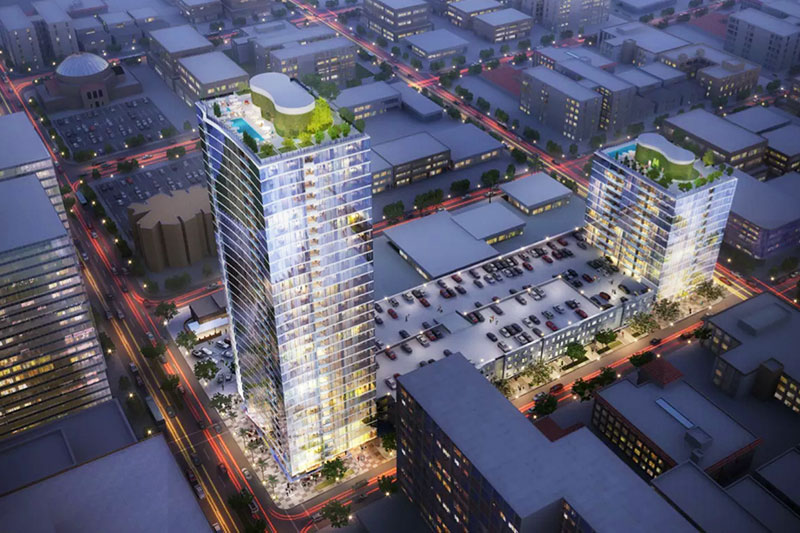 Renderings for 3545 Wilshire Boulevard were first released in January 2017 by Jamison Services, which is Koreatown's top developer. According to the Department of City Planning, the proposed project would demolish the property's existing structures in order to construct two mixed-use towers for housing and amenities. One tower would rise 32 stories while the other would stand at 14 stories. The project is expected to bring approximately 428 new condos, over 850 parking spaces, 650 bicycle parking spaces, and over 30,000 square feet of commercial space. The development is currently in pre-construction and will include amenities such as a spa, swimming pool, and lounge.
Wilshire Galleria Project
Spearheaded by the developer Harridge Development Group, the Wilshire Galleria project is a hotel and condo development that has been in the works for a couple years already. Earlier this year, the project developers requested financial assistance from the city for the project. If everything goes according to plan, the developer plans to revamp the current Wilshire Galleria building as a 160-key hotel, and they would also construct a seven-story condominium building next door. The condo structure is expected to bring over 500 residences, and it is expected to be completed sometime in 2020.
631 South Vermont Avenue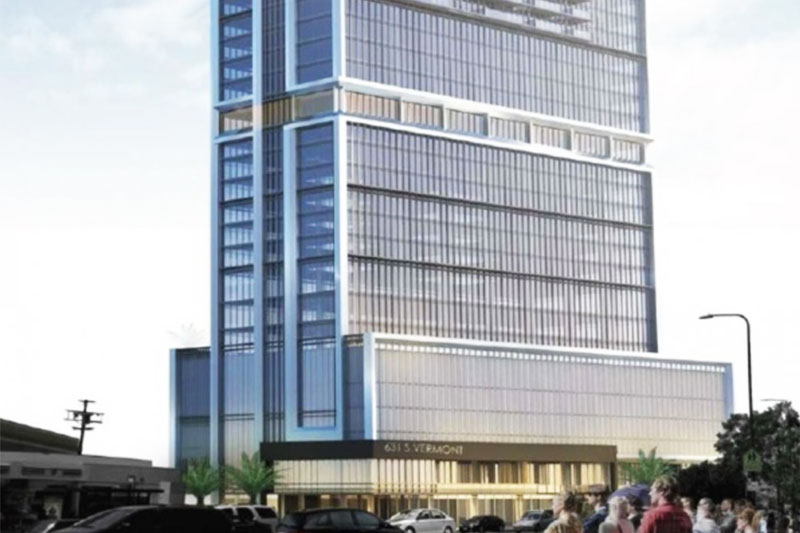 Another hotel and condo project set to rise in K-Town is located at 631 South Vermont Avenue, which would demolish the current Denny's establishment. The LA-based real estate developer Jia Long USA plans to replace the Denny's with a 33-story structure that would feature approximately 200 guest rooms and 200 condominium units. The high-rise tower would also feature nearly 50,000 square feet of corporate space and about 30,000 square feet for restaurant and retail.
Mariposa and Fedora I
Led by the developer Fedora Bliss, LLC, Mariposa and Fedora I are two condominium projects that are coming to the heart of K-Town. These structures will replace two existing apartment buildings with two side-by-side seven-story condo complexes that would feature a total of approximately 170 units ranging from studios to two-bedroom homes. According to City Planning documents, the new complexes would also include amenities such as a fitness facility, club room, and rooftop decks.
3800 W 6th Street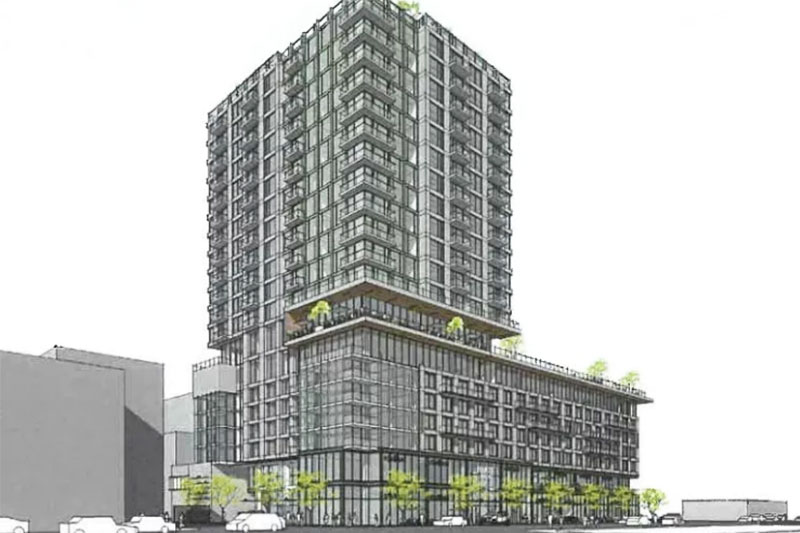 Pasadena-based developer Maxsum Development is behind the high-rise, mixed-use condo project at 3800 W 6th Street. The development is expected to rise 20 stories, and it would include approximately 192 hotel rooms as well as 122 condominium units. In addition to these units, the building's first two floors would be dedicated to commercial space. LA's planning department recently finished up its latest study and environmental impact for the project.
500 South Oxford Avenue
Last year, the Irvine-based developer Sang Hoon Chung filed plans with the Department of City Planning to construct a new residential development at 500 S. Oxford Avenue. The seven-story condominium structure would bring approximately 90 new condos to the area, and it would rise on what is currently a vacant lot. Per Curbed, some community advocates protested the development in hopes of converting it into a park. However, it seems this appeal will not go through. The new development is still in its pre-construction phases. Some of the proposed amenities include a gym, courtyard with a swimming pool and jacuzzi, and a dog run.