Washington D.C. Local Life
6 Spots for a Perfect Picnic in D.C.
From formal gardens to public parks, D.C. and the surrounding area is packed with outdoor areas that are perfect for a picnic. Pack up the family or snag your sweetheart and enjoy a fun day out at one of these awesome gardens.
Hillwood Estate, Museum and Garden - Van Ness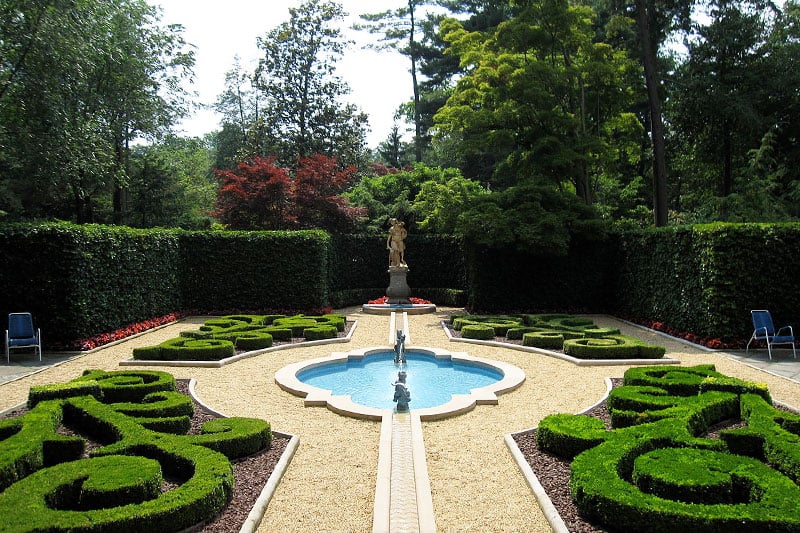 The Hillwood Estate near Van Ness has sprawling grounds with gardens full of flowers, plants, and more. Areas include a cutting garden full of flowers that are picked and used for decoration inside, a French parterre that looks as though it would fit perfectly on the grounds of Versailles, and a Japanese-style garden with bridges, flowers, and sculptures. Guests are welcome to bring food and non-alcoholic beverages, or you can snag a bite to eat at the Hillwood Cafe. If you get too warm, be sure to take a break inside the mansion-turned-museum, where you'll find Russian art, gorgeously decorated rooms, and multiple libraries.
Meadowlark Botanical Gardens - Vienna, Virginia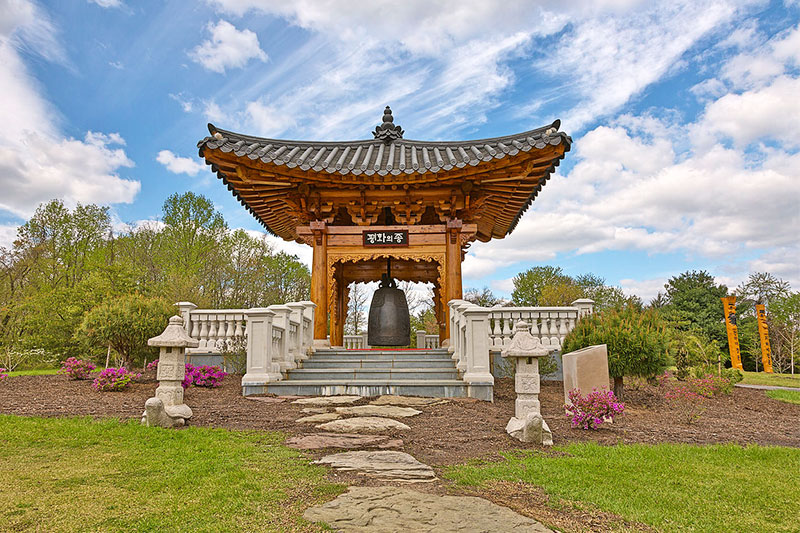 Just outside of D.C. are the Meadowlark Botanical Gardens in Vienna, Virginia. With 95 acres to explore, the mini-day trip will be worth it. The gardens include a variety of flowers, including a collection of cherry blossom trees. The Korean bell garden brings a unique flair to the area. You can set up shop and enjoy a picnic at one of the many tables in the area or bring a blanket and find a spot on the grass. If you have a big group, consider renting a gazebo for a nice little event.
Yards Park - Navy Yard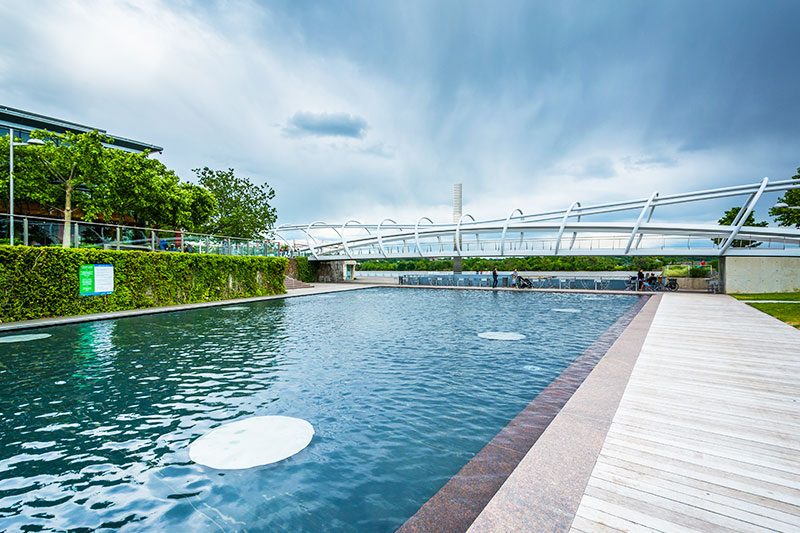 Along the south waterfront of D.C. is Yards Park in Navy Yard. The park runs along the Anacostia River, offering beautiful scenery and greenspace. You can enjoy so many fun perks at this park, including water fountains and a wading pool for kids to take a dip in. There is plenty of space for folks to picnic, from tables to open grass to stairs. Make a fun evening of it and bring a picnic dinner to enjoy before a free concert.
Anacostia Park - Anacostia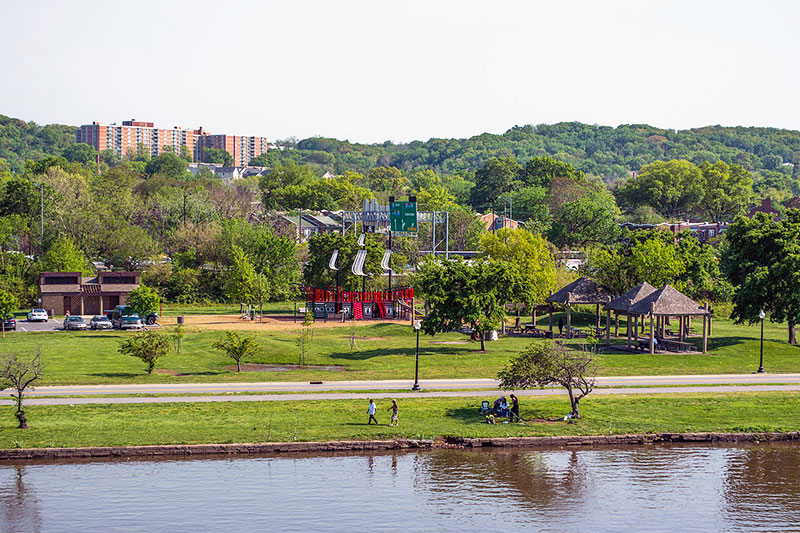 Across the Anacostia River you'll find Anacostia Park in—you guessed it—Anacostia. This park is a great place to take families, with plenty of trails and space for big picnic blankets. You're free to take advantage of the charcoal grills on the park grounds or bring along your own for a big barbecue. The park also features a fitness area with open-air equipment if you're looking to get your blood pumping, a roller skating pavilion with free skate rentals, and playgrounds that are perfect for kids.
Georgetown Waterfront Park - Georgetown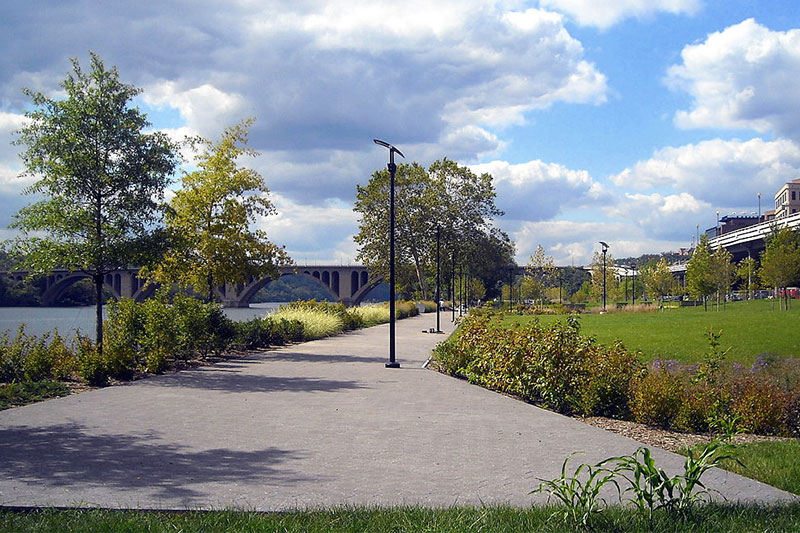 The Georgetown Waterfront Park in Georgetown is the perfect spot for a picnic any time of day. Bring the kids and some lunch and make your way to the steps on the eastern side of the park, which leads down to the river edge. Kids will enjoy running through the fountain and looking out across the Potomac River. You could also get a babysitter and sneak out for an evening picnic and stroll along the western side of the park, which offers benches, overlooks, and large open lawns. The dim evening light makes for a perfect romantic setting in an area that is active and bustling during the day.
Heurich House Museum - Dupont Circle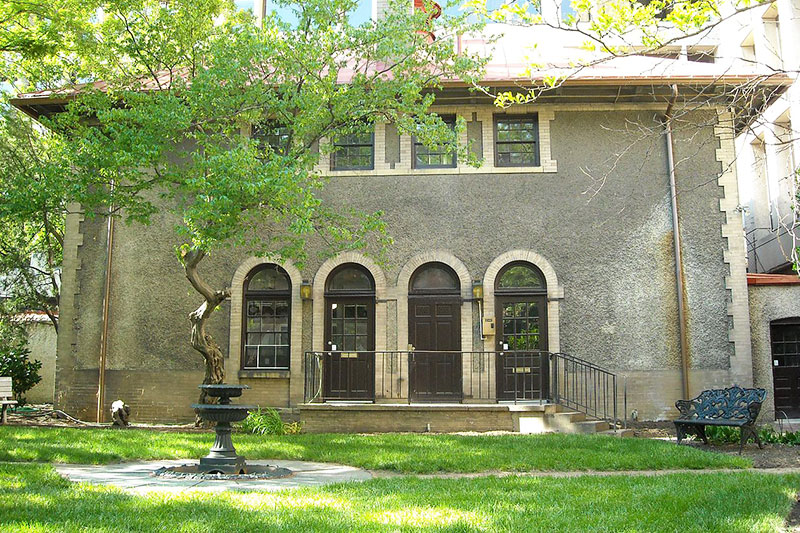 A coworker let me in on the little-known Heurich House Museum Garden in Dupont Circle. This tiny but beautiful garden is open to the public during business hours, making it the perfect spot for a picnic lunch away from your desk. You can snag a spot at the picnic table, on one of the many benches available, or bring a blanket and sprawl out on the grass. You might easily walk past the entrance along Sunderland Place NW, so keep your eyes peeled while you walk.