National Local Life
6 Suburban Cities With Easy Commutes to New York City
Living and working in New York City is a dream for millions of people. New York is a cultural hub complete with world-class museums, restaurants, and urban parks. But, living there can be both expensive and crowded. You can easily work in the city but find a home with a little more space and quiet in the suburban cities that revolve around New York.
Whether you want to remain in New York State or opt for New Jersey living, the drives from these six cities are manageable by car or train.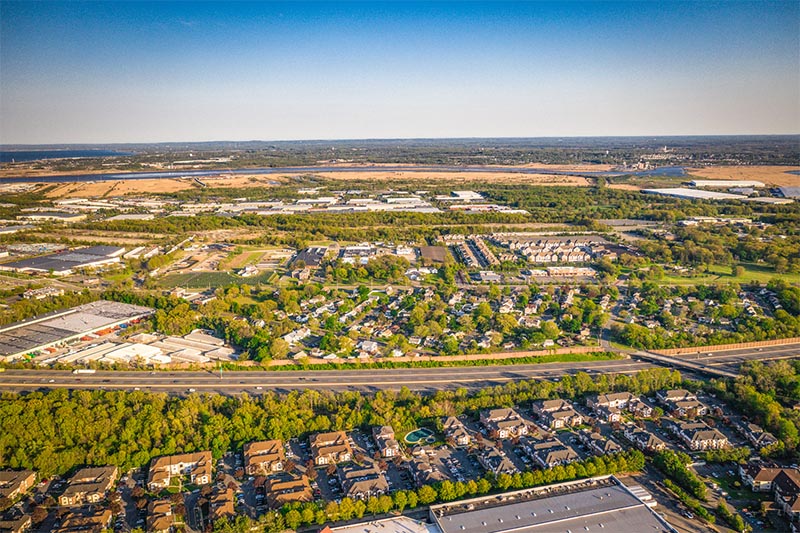 NJ Transit's Northeast Corridor Line makes it easy to get back and forth from Edison, New Jersey to the city. A commute time of roughly an hour will bring you directly to Penn Station. If you opt to drive, your transit time will be roughly the same.
For anyone considering settling down in New Jersey, Edison is a strong contender. This township has access to highly ranked elementary, middle, and high schools as well as plenty of outdoor space. And as the name suggests, the town's biggest claim to fame is its ties with Thomas Edison. Residents have access to plenty of big-box shopping options, and the convergence of major highways, including I-287 and I-95, make it easy to hop to other towns and cities nearby.
Car: 50 min - 1 hr 20 min
Train: 58 min - 1 hr and 15 min
Great Neck, located to the east of the city between Little Neck Bay and Manhasset Bay, is a village on Long Island. Stretching across a peninsula, it offers residents attractive waterfront views and a palatable commute to Manhattan. It takes drivers a little over an hour to make it into the city, while the MTA's Port Washington Line will get you to New York in a little under an hour.
This Long Island village has a reputation for affluence, but it has a blend of apartment buildings, condos, and single-family homes. You do have options when considering your home style and budget. If you're browsing single-family homes, you can expect to find plenty with sprawling yards, a major draw for people looking to move outside of the city.
Car: 1 hr 7 min - 1 hr 20 min
Train: 50 min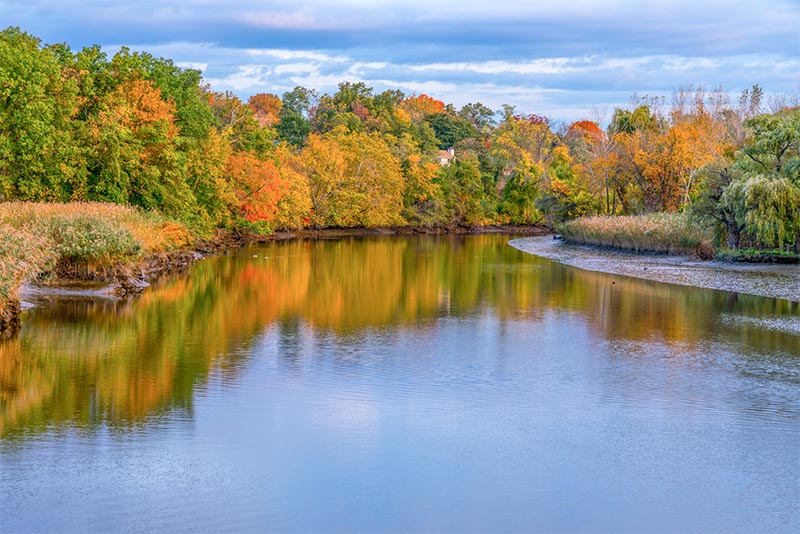 Hackensack, New Jersey is bordered by the Hackensack River and the I-80 expressway. A trip across the Hudson River, either by car or by a New Jersey Transit train line, will bring you to Penn Station in approximately an hour. Commuters also have the option to travel to the city by bus, reaching the Port Authority Bus Terminal in roughly the same amount of time.
This New Jersey city has the smaller, suburban scale that many NYC commuters crave in a hometown. Hackensack is known for its more reasonable home prices, especially compared to much of New York City, and a greater sense of community. The city also has a handful of parks and a wooded nature preserve (Borg's Woods Nature Preserve). But, you don't have to trade everything urban to live here. Hackensack still has coffee shops, restaurants, and plenty of shopping.
Car: 45 min - 1 hr
Train: 40 min - 1 hr 10 min
Jericho is small enough that it's considered a hamlet rather than a city, but it has plenty to attract New York City commuters, not least of all the reasonable transit time. A straightforward commute on I-495 takes Jericho residents directly west, over the East River, and into Lower Manhattan. The MTA, either the Ronkonkoma Line or the Port Washington Line, takes a little longer but helps to avoid traffic.
For families with kids, this small New York suburb has the attraction of three elementary schools ranked 10 out 10 by GreatSchools. Golfers will appreciate that a large swath of Jericho is occupied by the Meadow Brook Club.
Car: 1 hr 5 min - 1 hr 15 min
Train: 1 hr 4 min - 1 hr 45 min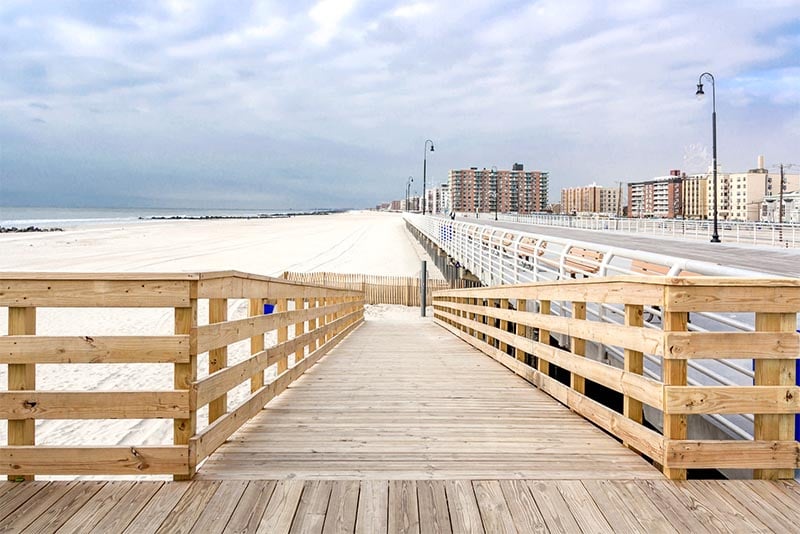 Long Beach is aptly known as "the city by the sea." The city is situated on the Long Beach Barrier Island, off the shores of Long Island. It takes roughly an hour-and-a-half to drive from the sandy shores of Long Beach into the city. Opting for public transit via the MTA will take a little less time.
Naturally, one of the major attractions to Long Beach is its beach. The city also has a pristine boardwalk that makes it easy to forget the city is so near. Long Beach is so small and narrow, residents can easily walk to the beach no matter where they live.
Car: 1 hr 30 min
Train: 50 min - 1 hr 20 min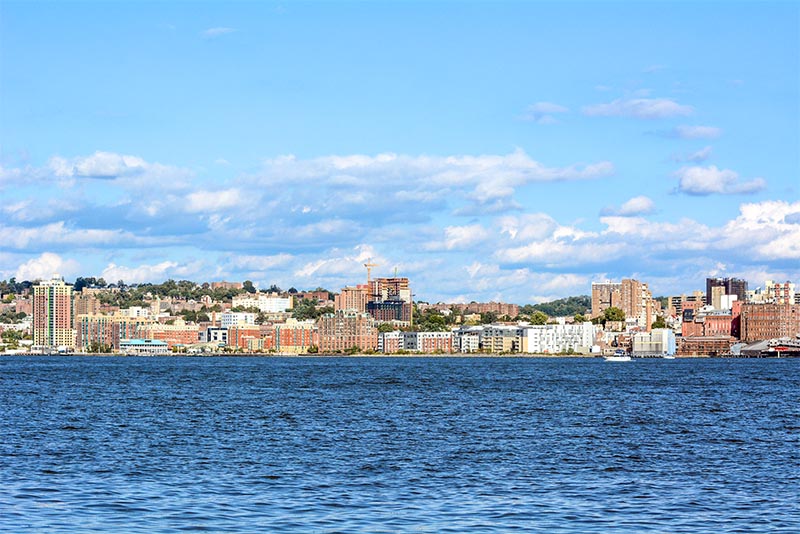 Yonkers sits north of the city with the Hudson River on one side and the Bronx River on the other. With commuting to NYC in less than an hour possible, Yonkers is a top consideration for a lot of workers looking to trade their smaller city dwellings for a little more space in the burbs. The MTA's Harlem and Hudson lines both run out of Yonkers to Grand Central. If you opt to drive, it's also possible to make it to the city in less than an hour, depending on traffic conditions.
Yonkers comes from industrial roots, but it has taken on a revitalized up-and-coming reputation over the past few years. You can find more expensive homes on the waterfront or shop around for something more reasonably priced. There are single-family homes in the city as well as many attached options.
Car: 45 min - 1 hr 5 min
Train: 34 - 45 min