6 Things to Know Before Buying a Home in Tampa
If you're considering buying a home in Tampa, you're in good company. Despite Hurricane Irma, people are still moving to Florida in large numbers and Tampa — along with Sarasota and Orlando — was identified as having above average affordability, according to a recent report in Barron's.
But if you're planning a move, there are factors you should consider. Aside from contacting a real estate agent — which is good advice for buying a home anywhere — there are unique aspects of home buying in the Sunshine State in general and in Tampa in particular. The following are some things you should keep in mind.
Florida is a Homestead State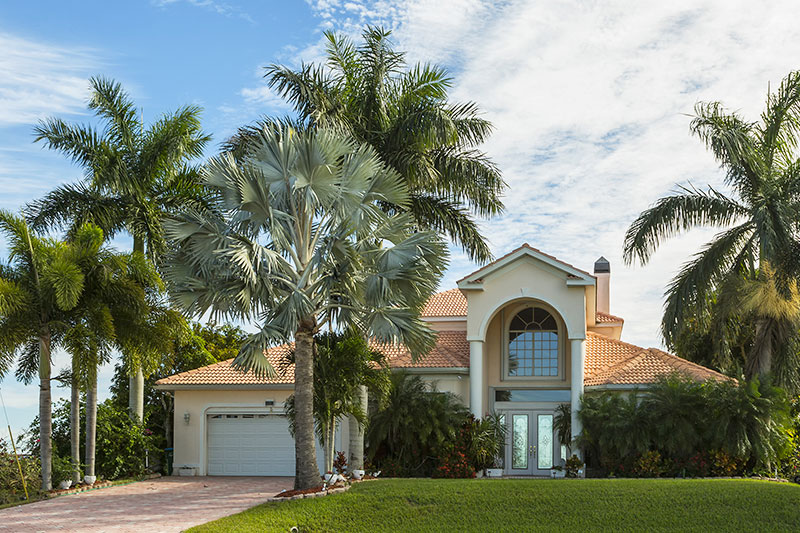 Florida offers qualifying homeowners valuable legal protections under the homestead exemption law. Under the law, a creditor cannot force the sale of your home to satisfy a monetary judgement. To be eligible, the home must be your principal place of residence and sit on less than one-half acre within a municipality and up to 160 acres outside a municipality. Judges have upheld that the law does not just pertain to single-family homes; condominiums, manufactured homes, and mobile homes are also protected under the law.
Attorneys Not Needed at Closings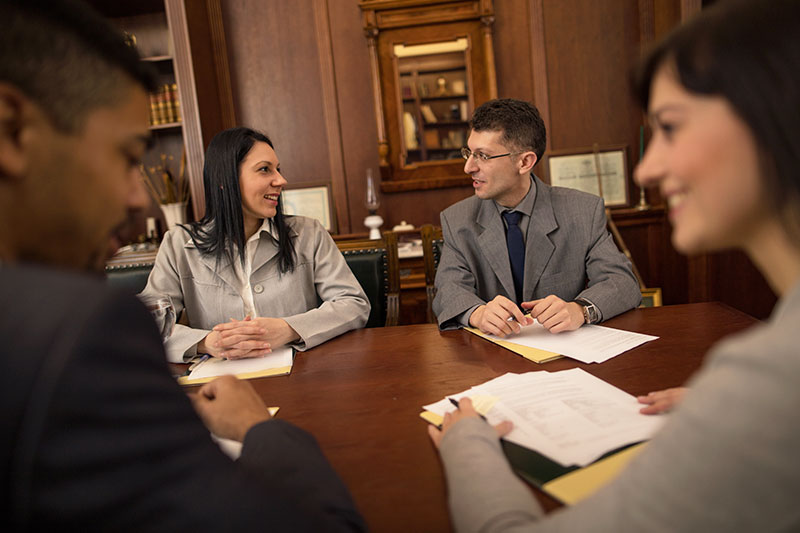 Under Florida law, you are not required to hire an attorney for the closing process on a home. Many real estate transactions are completed by negotiations between the buyer and seller via their two real estate brokers. However, hiring an attorney may help to expedite the process, as well as protect your interests.
Sinkholes
Although sinkholes are found in other places, they seem to be particularly prevalent in Florida due to its geological composition. According to Weather.com, "Florida's peninsula is made up of porous carbonate rocks such as limestone that store and help move groundwater. When the dirt, clay, or sand gets too heavy for the limestone roof, it can collapse and form a sinkhole. Sinkholes are caused naturally but they can be triggered by outside events."
Sinkholes have been reported recently in areas such as Pasco County and Hillsborough County. But, while they can have catastrophic consequences, they do not form quickly. So it's best to conduct research prior to buying a home and, in some areas, you may want to buy sinkhole insurance to mitigate risk.
Flooding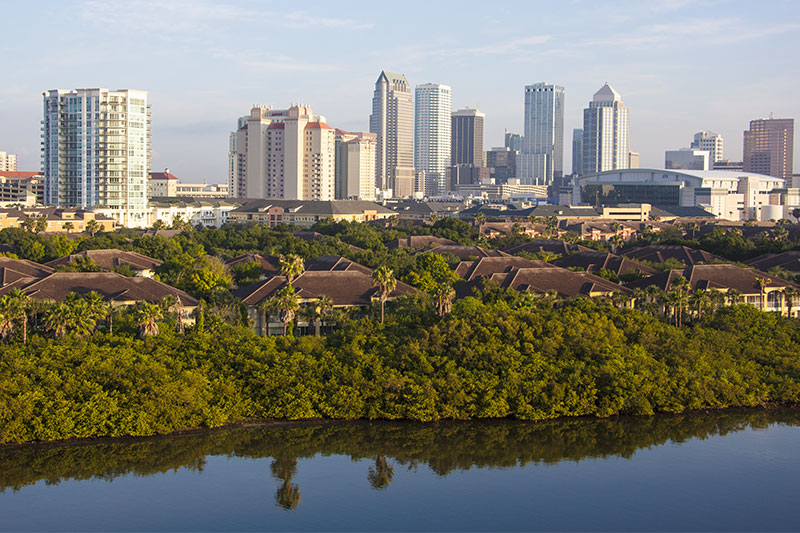 You'll want to make sure you research the area where you're considering buying a home to see whether it's prone to flooding. Heavy downpours are a routine occurrence during the summer and hurricanes can cause storm surges that can potentially flood coastal areas. Homeowners insurance does not cover flooding, but separate flood insurance can be purchased to fill the gap. Depending on the location of the home, you may also be eligible to participate in the Federal Emergency Management Agency's National Flood Insurance Program.
The Suburbs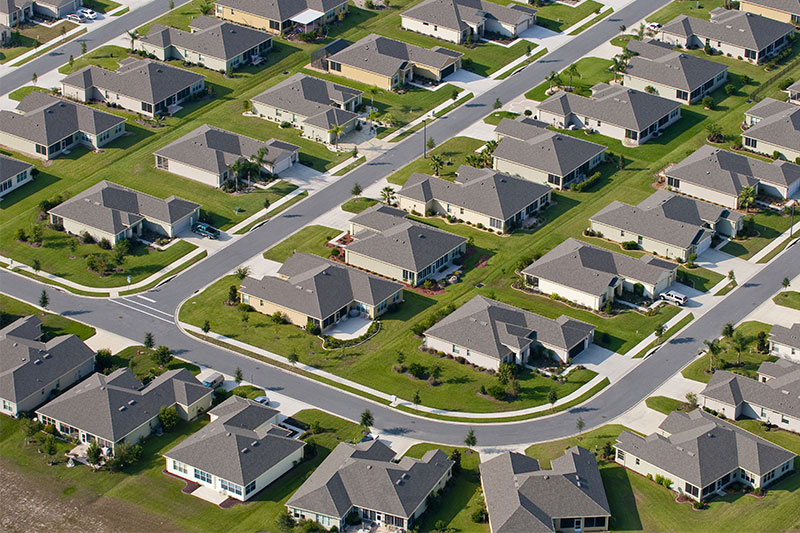 While Tampa has many neighborhoods that offer a wide range of housing, its suburbs also offer buying many options, too. For example, for those who want access to both a bustling downtown area and the beach, buying a home in St. Petersburg is a great option. Clearwater also offers potential homebuyers the opportunity to buy a home within minutes of the beach. Wesley Chapel is a suburb north of Tampa that has been growing in popularity in recent years and, if you're looking for small-town living, Indian Shores, with a population of just over 1,400, may suit you.
Housing for Those 55 and Older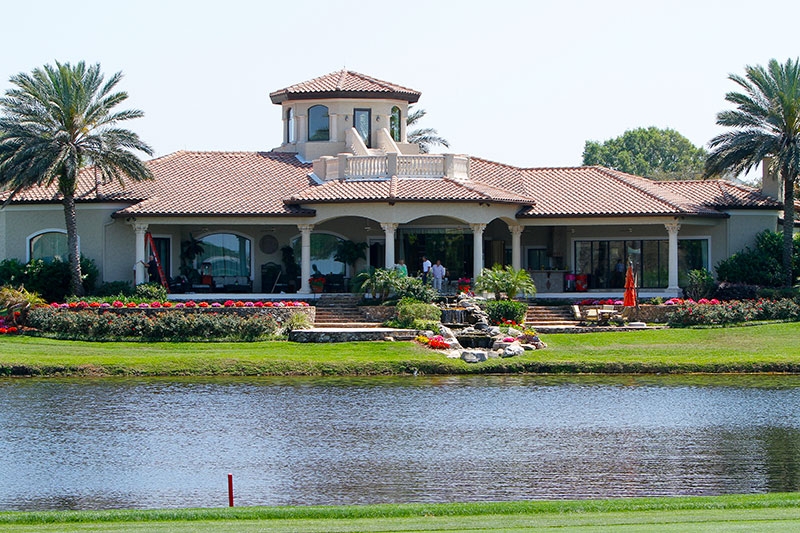 If you are age 55 or older, you may consider buying a home in a community geared specifically for people who fall into your age group. In Tampa, a wide range of housing is available, including single-family homes, condominiums, and manufactured homes. In 55+ communities, residents often have access to amenities catering to active lifestyles, and many have resort-style pools and large clubhouses where activities and events are held. If you're interested in buying a home in a 55+ community, but you are under 55, you may still be able to do so. Under the Housing for Older Persons Act (HOPA), at least 80 percent of the units must be occupied by people 55 or older. But the remaining 20 percent may be available to those under 55, often referred to as the 80/20 rule. Inquire within a particular community to see whether units are available under this rule.