Dallas-Ft. Worth Neighborhood News
64-Year-Old Casa View Village Shopping Center Gets a Next-Generation Upgrade
Casa View Village shopping center isn't just the centerpiece of the eclectic Casa View neighborhood in East Dallas—it's a reminder of Dallas' progressive spirit.
When the iconic center at Gus Thomasson and Ferguson Roads opened in 1954, North Texas was undergoing a massive post-World War II building boom that ultimately transformed vast parcels of rich farmland into new home subdivisions where veterans in the Greatest Generation purchased affordable houses and settled down to raise families.
As thousands of new homes cropped up in the Casa View area, the new midcentury shopping center with antique white brick and decorative wrought iron was touted as "a new downtown for far East Dallas". Though Downtown Dallas was still the epicenter for day-long retail excursions, Casa View Village—anchored by two supermarkets, Sears, and JC Penney—introduced the growing area to the conveniences of neighborhood shopping.
In 1956, the Dallas Morning News wrote, "Less than three years ago, farm workers were picking cotton from the land where the modern Casa View Village shopping center now stands."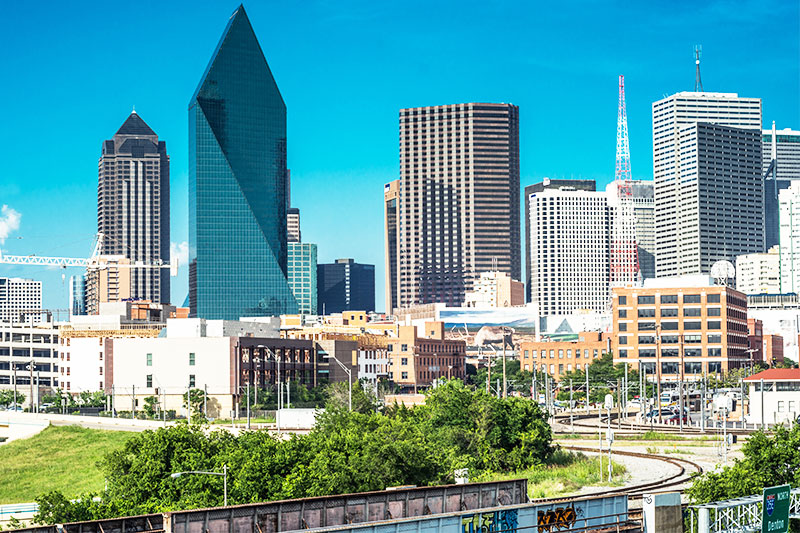 Multi-Generational Appeal
From the Greatest Generation to baby boomers, Gen-Xers, and millennials, Casa View Village has had multi-generational appeal for more than six decades while some of the much younger once-hottest malls are fighting for survival.
The next-generation upgrade that's underway is designed to heighten Casa View's charismatic vibe by fusing contemporary retail and restaurant trends with the signature landmark's style.
In late 2017, SHOP Development partnered with Hunt Realty Investments and CrossTie Capital to purchase Casa View Village and sink more than $10 million into a redo, which will restore buildings and storefront canopies; upgrade lights and signage; add new paving, landscaping, and 60 shade and ornamental trees to a central plaza; and provide leasing to a new swath of restaurants and retailers.
According to Daniel Fuller, founding partner of SHOP Development, the plan is to keep Casa View Village's old-style charm and quirky architecture. "It's a wonderful eccentric property, and our goal is to do a sensitive restoration," Fuller told the Dallas Morning News. "We want to preserve the original brick with the wonderful patina."
Omniplan—the award-winning architectural firm that designed NorthPark Center in North Dallas and Liberty Mutual Insurance's regional offices at Legacy West in Plano—worked with Casa View Village's owners, neighborhood residents, and the City of Dallas to design the renovation plan.
The Greater Casa View Alliance has played a pivotal role in providing input for the shopping center upgrade. Mike Nurre, a member, told the Dallas Morning News that the neighborhood is attracting a new generation of residents who are eagerly awaiting new shopping options.
Completion of the project is expected within six to eight months. Though the tenant roster will likely be a broad mix of current and new occupants, the News reports that Tacos y Mas restaurant and Ace Hardware have already signed new leases.
"There are probably three or four tenants that have been there since 1954," Fuller concluded. "There is an art and science to merchandising a property that has the history Casa View has."
The Greater Casa View Area
The Greater Casa View Alliance defines the Greater Casa View Area as a super-neighborhood framework, which offers best practices input from multiple Neighborhood Associations, Homeowners' Associations, and Crime Watches throughout the area.
While Casa View is primarily known for having one of the nation's largest selections of midcentury modern homes designed by architect Cliff May, it's most loved by residents for its friendly, neighborhood spirit, and it's easy access to White Rock Lake, Downtown, and a myriad of nearby conveniences.
Many of the same things that attracted young families to the new neighborhood in the 1950s and 1960s are luring a new generation of homeowners today. After World War II, veterans could purchase a new home for less than $8,000. While today's prices are much higher, the modern homebuyer can find many homes in the low $100s in Casa View today, according to Neighborhoods.com. It's among the most affordable neighborhoods in East Dallas, where the current median home sale price is $482,500. Between the friendly neighborhood vibe and reasonable price points, a D Magazine poll found that homeowners average living in their Casa View home for 18.5 years.