9 Historic Bars in San Francisco
9 Historic Bars in San Francisco
Known for both history and innovation, it's no surprise that San Francisco's selection of historic bars surpasses that of most other cities. Although many of them have been modernized, the city's bar scene is living history. Many of the city's historic bars have withstood everything from earthquakes and prohibition to the tech boom and neighborhood gentrification, often observed by an assortment of tell-all decor.
Regardless of whether you're day-tripping through the city or have been a resident for years, visiting at least one of these historic bars in San Francisco is a must-do.
Established in 1912, the Dogpatch Saloon really puts the "dog" in Dogpatch. Dogs of all shapes, sizes, and breeds are welcome to this historic saloon, and they might even receive a treat or two upon entrance. Patrons enjoy the warm lighting and Bay breeze that the location offers. Historically, the Dogpatch Saloon converted to a "soft drink" bar during prohibition, but it promptly started serving alcohol again once prohibition ended.
Founded as a lesbian bar in 1962 by Pat Ramseyer and Nancy White, Wild Side West in the Bernal Heights neighborhood welcomes members of the LGBTQ+ community, locals, and tourists alike. When, in the 1970s, protesters left broken toilets and other household objects in front of the bar, Pat and Nancy refused to back down and created an outdoor sculpture garden in the back of the bar out of the broken objects. The sculpture garden is now the location of a patio patrons love. For all of the history buffs out there, a few of Wild Side West's most famous guests include Janis Joplin and Bob Dylan.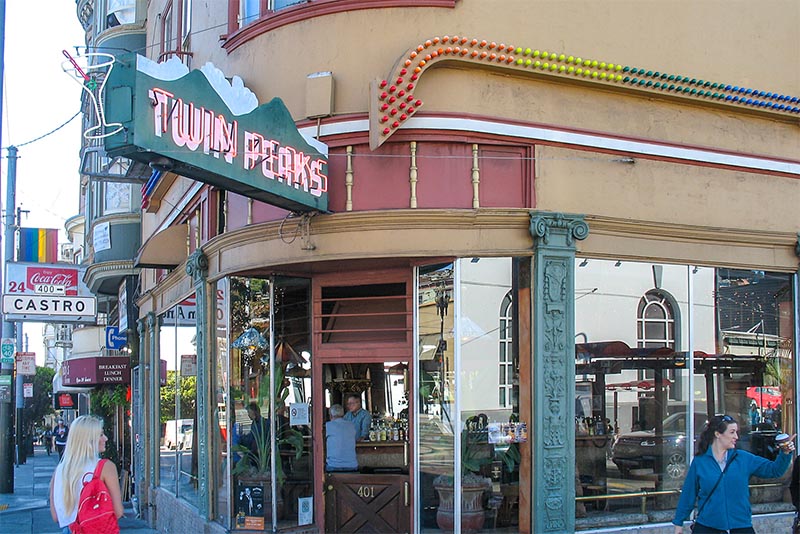 Established in 1935 and named after the nearby hills, Twin Peaks Tavern in The Castro is the first gay bar to feature full-length windows that allowed patrons to reveal their identities to the public—which, at the time, was a bold and potentially dangerous move. Today, Twin Peaks is an emblem of the LGBTQ+ community in San Francisco and welcomes both locals and visitors to The Castro. The bar, described by locals as "part dive bar, part Irish Pub," is known for its history, friendly bartenders, and drinks that aren't too pricey.
Founded in 1851, the Old Ship Saloon considers itself the oldest bar in San Francisco. This historic bar in the Financial District was converted into a bar from a ship that washed up on shore after a particularly bad storm. Today, the Old Ship Saloon is a draft house that often appeals to tourists. For those looking for a meal, the Old Ship Saloon also offers a variety of sandwiches and salads.
Established in 1891, Shotwell's originated in the Mission District as part grocery store and part saloon. Since the 19th century, the bar has been remodeled many times, with different themes, owners, and styles. Today, the bar is known for its impressive craft beer list that consistently draws a crowd. Locals flock to Shotwell's for its pool table, jukebox, and reliably available seating. When the Giants are playing, catch locals cheering on their home team with a glass of the latest popular craft beer.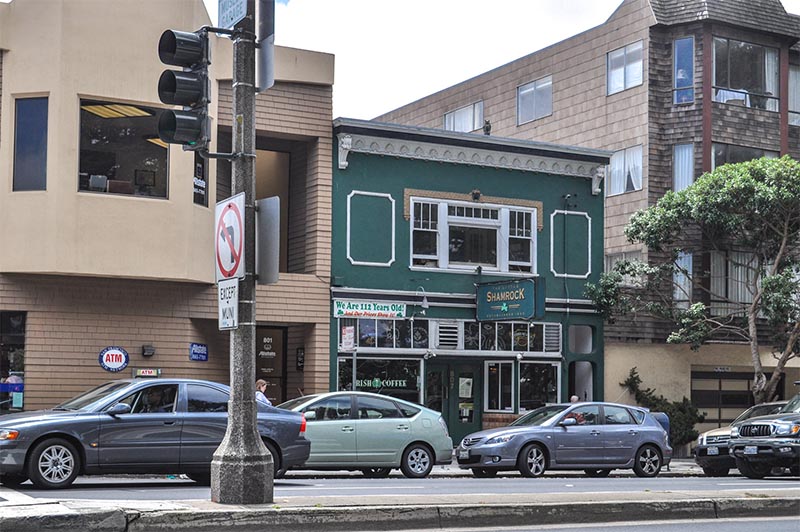 Established just after Shotwell's in 1893, Little Shamrock has survived prohibition, and even more notably, the 1906 earthquake. The bar is one of the many dive bars scattered throughout the Inner Sunset neighborhood, but it holds its own by offering 18 unique beers on tap, a variety of board games, and popcorn for all to enjoy. The interior of the bar features a mishmash of styles that can only come from surviving many an era of interior design.
Hotel Utah, a staple of the SoMa neighborhood, is a vestige of the old San Francisco with its open mic nights, traditional decor, and photos of famous guests like Marilyn Monroe and Robin Williams. The bar and its flock of regulars consider it a San Francisco institution and take pride in the fact that Hotel Utah has maintained its unique reputation throughout prohibition and beyond.
For those visiting Hotel Utah today, it's known for its $4 draft beers until 8 p.m. and evening live music. Bar snacks, salads, and burgers are on the menu for those looking for a meal.
Glen Park Station, an institution in the Glen Park neighborhood since 1926, is a great place to watch sports, chat with your neighbors, and scoop up some of the free food that's often out for the taking (with the purchase of a drink, of course). For those on their way to or from the Glen Park BART station, the bar is the perfect stop on the way home to grab a post-work drink and catch up with friends. Glen Park Station is widely recognized for its welcoming environment that makes patrons feel immediately at home.
Founded in 1936, Marina Lounge has by and large stayed the same as the surrounding Marina District has drastically changed. The lounge is known for friendly locals, helpful bartenders, and affordable prices. Unlike other historic bars in the city, Marina Lounge is also known for its variety of food, from breakfast sandwiches and pastries to full-sized salads.