92-Foot Tall Venus Statue Rises in San Francisco's MidMarket
92-Foot Tall Venus Statue Rises in San Francisco's MidMarket
Fine cuisine, distinct culture, and monumental architecture are just a few things San Francisco and Greece share. Well, that and a statue inspired by the Roman goddess Venus.
Just in time for summer, the Trinity Place public plaza located at 33 Eighth St. in Mid-Market unveiled a nine-story art installation inspired by the ancient Greek statue Venus de Milo.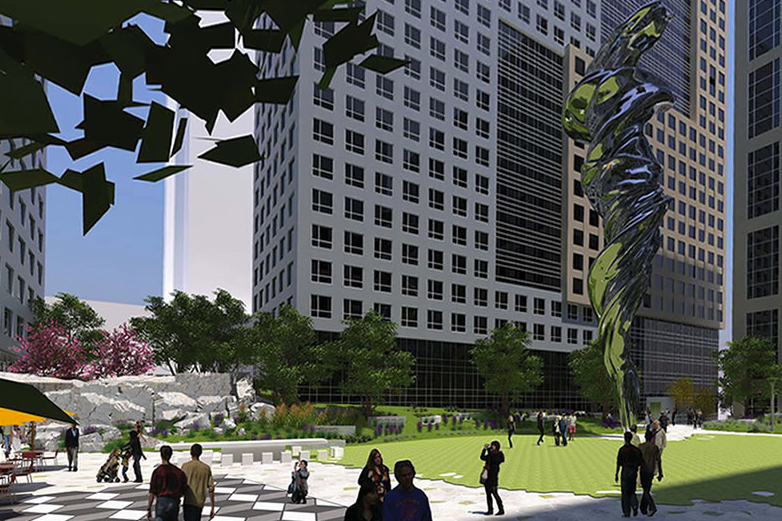 The San Francisco statue, completed by artist Lawrence Argent, measures 92 feet high and is made of mirror-like stainless steel. Per Curbed SF, it is the city's largest public art structure. The reflective exterior of the piece should keep birds at bay, Although open to the public, it cannot be seen from the street so onlookers will have to venture inside Trinity Place to get a good look.
The Trinity Place plaza, which still has buildings under development, promised to boast $5 million worth of public art when plans were approved. They've made good on that promise.
The developers of the plaza recently lost owner and long-time San Francisco landlord, Angelo Sangiacomo. Sangiacomo took trips to Italy to gain inspiration for the pieces of art that now fill the property. When the Venus statue and other art installations were revealed earlier this May, they were unveiled hand-in-hand with a tribute to Sangiacomo.
The twisting Venus is not the only piece of art in the public plaza. A large marble table with chairs, carved faces on large white boulders, and mosaic flooring can be found throughout as well. An even taller sculpture, a a 110-foot tentacle-like structure creeping out of the ground, is expected to join them by 2019.