Washington D.C. Local Life
A Dessert Lover's Guide to Logan Circle
During the Obama era, that administration's millennial staffers considered Logan Circle their "campus," according to the Washingtonian. And perhaps that's why the neighborhood has such a youthful, lively dining scene—particularly when it comes to desserts. Not just a post-meal afterthought anymore, these creative sweets are making Logan Circle D.C.'s sweet spot.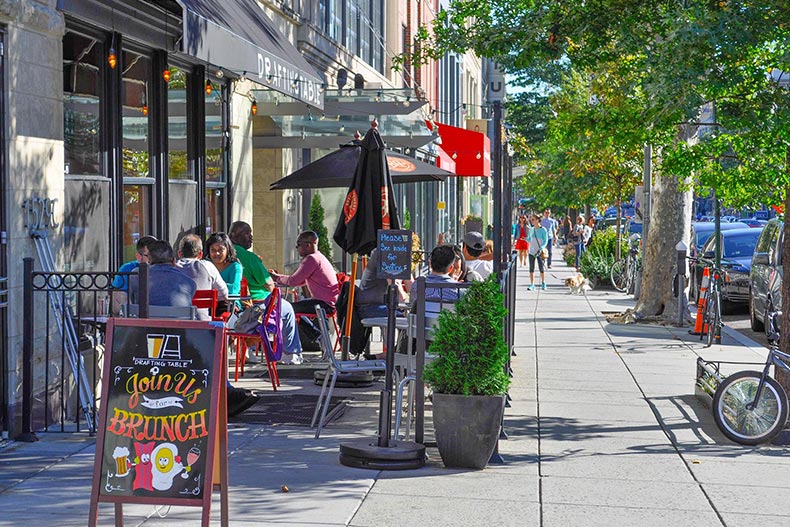 Milk Bar Flagship
Christina Tosi's popular, whimsical New York-based bakery Milk Bar recently opened its first ever flagship location in Logan Circle after locations in CityCenterDC and the Wharf. The dessert lover's paradise includes a standard cafe space, with room for classes, events, and other programming like movie nights. All the delicious Milk Bar classics—like cereal milk-flavored soft serve and the famous Crack Pie–are available here, plus new, location-specific creations. If that doesn't sound delicious enough, Milk Bar's Logan Circle outlet also houses a DIY sundae bar complete with brand-new toppings like chocolate peanut butter party crunch, strawberry gummies, and Crack Pie caramel sauce.
Jeni's Splendid Ice Creams
Ex-Midwesterners will love this outpost of the Ohio-based chain, the first of its kind on the East Coast. Logan Circle residents with a late-night sweet tooth will appreciate that the shop is open until 11 p.m. on weekdays and midnight on weekends. The flavors are refreshing and fun, like the "frosé" sorbet pint (made with rosé wine), and the decadent but dairy-free dark chocolate truffle pint. A crowd favorite is the wildberry lavender. A very fruity concoction made with brambly berry flavoring and pulverized black currants, it's scented with sweet orange and lavender oils.
Le Diplomaté's Ice Cream Cart
After posting a Craigslist ad for the job to run the wildly popular ice cream cart again this year, Le Diplomaté's French ice cream is back. The acclaimed French bistro's glace (as it's called in French) is a soft ice cream made of frozen mousse and whipped cream mixture. The sprinkle-lined double cone is a nostalgic ode to childhood, when you spent summers at the amusement park, county fair, maybe even traveling through Paris. The vintage tricycle cart they're served out of adds an extra ounce of sentimentality to it all too. Last year, the cart was only out on summer weekends, so keep an eye out when you can. Each cone sells for just $6—not bad for freshly-made ice cream from a top-notch restaurant.
Dolcezza Gelato
Dolcezza's creamy gelato is made with locally sourced ingredients and there's a Logan Circle branch right on 14th St. Gelatos here are concocted with fresh blueberries, strawberries, blackberries, lemon-thyme, apricots, plum, and of course, fresh milk and cream. After traveling to Argentina and eating at a popular gelato spot there, the owners were inspired to open a similar one in Georgetown in July 2004—at that point, they hadn't made a single batch of gelato. Fourteen years later, they've expanded to seven additional locations. The exposed brick walls and marble counter create a cozy, intimate atmosphere locals flock to.