A First-Timer's Guide To the Austin Food and Wine Festival
In recent years, Austin's reputation as a major foodie mecca has become more and more pronounced, earning the Texas capital's dining scene plenty of national accolades and attention. Therefore, it should come as no surprise that our biggest local food event, the Austin Food and Wine Festival, will include appearances from celebrity chefs, huge culinary personalities from across the country, and prestigious cookbook authors. Wanna get in on the delicious action? We've put together a comprehensive guide to the festival geared toward first-time visitors.
Ticketing Options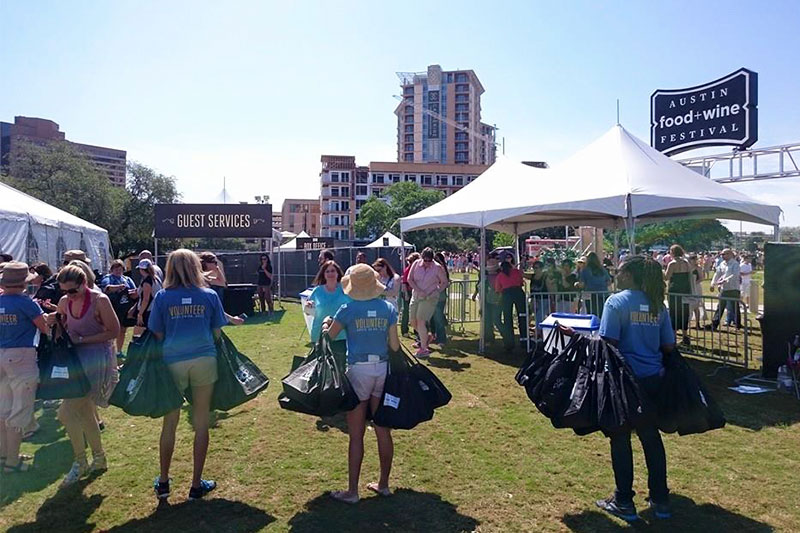 The Austin Food and Wine Festival takes place on Saturday, April 28 and Sunday, April 29 at Auditorium Shores on the southern side of Lady Bird Lake and Fair Market in East Austin. The festival offers two different ticket options: the All-In and the Weekender.
The premium ticket choice, All-In entitles holders to festival access on both Saturday and Sunday (which includes culinary demonstrations, beer, wine, and cocktail tastings, and admission to the Fire Pit open-fire cookouts on Saturday and Sunday nights), a spot at the Grand Taste chef showcases, and a pass to the special premium-only festival events, Grillin' and Chillin' (a pre-fest event on Friday night) and Rock Your Taco on Saturday night. All-In passes go for $625 each and can be purchased here.
For a slightly more economical option, the Weekender pass is good for Saturday and Sunday festival access, admission to the Fire Pit events on both nights, and entry to the Grand Taste showcases. These tickets cost $250 each and can be purchased here.
Daytime Events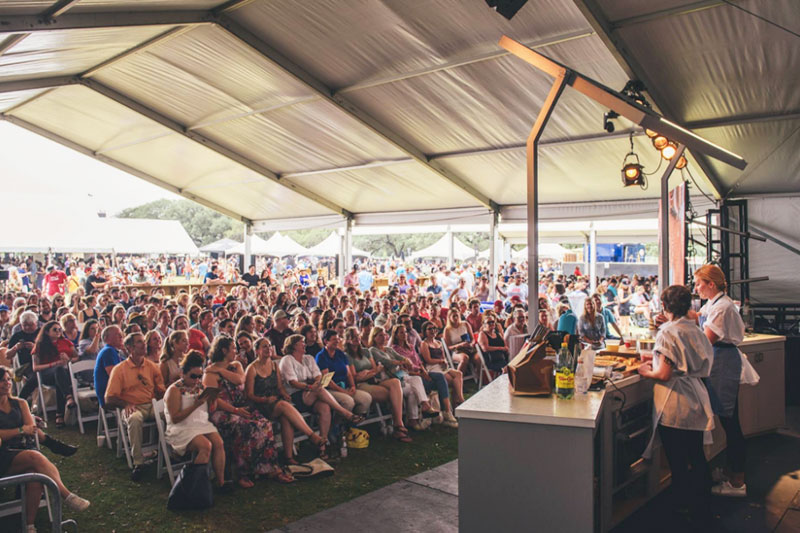 On Saturday and Sunday at 11 a.m., the Grand Taste chef showcases will happen at Auditorium Shores. These events will include live cooking demos from Austin culinary superstars like Eric Silverstein of The Peached Tortilla, Joshua Thomas of Mattie's, Carmen Valera of Tamale House East, and Max Snyder of Pitchfork Pretty. Right before the Grand Taste exhibitions on Sunday, ticket holders will have the opportunity to partake in a Gospel Brunch featuring Austin musicians Kings of Harmony and breakfast bites from the Grand Taste chefs.
Saturday events include a guided discussion and Q&A period with culinary superstar Lidia Bastianich, a pancake seminar by acclaimed Boston chef Jamie Bissonnette, and a brunch workshop led by Chicago chef and "Top Chef" champion Stephanie Izard.
On Sunday, visitors can enjoy a French cooking demo by "Chopped" judge Amanda Freitag, a seafood seminar by Chicago chef and James Beard winner Paul Kahan, and a biodynamic wine course by L.A. beverage director Helen Johannesen.
The Fire Pit cookouts will be open to pass-holders on both Saturday and Sunday from 11 a.m. - 3 p.m., with open-fire BBQ dishes prepared by an illustrious group of pit-masters including David Bull of Austin's Second Bar and Kitchen, Jennifer Nguyen of Parkside in Austin, Billy Durney of Hometown BBQ in Brooklyn, and Evan LeRoy of Austin's LeRoy and Lewis.
Evening Events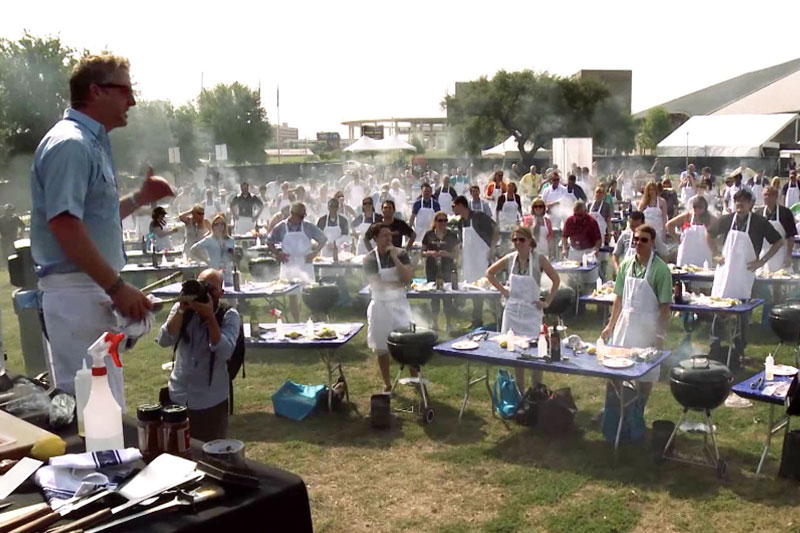 If the Food and Wine Festival's daytime activities haven't quite satisfied your appetite, you'll want to spring for an All-In pass, which grants you access to the festival's big nighttime happenings: Grillin' and Chillin' and Rock Your Taco.
On Friday night at 7 p.m., the Grillin' and Chillin' event kicks into high gear. Celebrated Texas chef Tim Love of the Lonesome Dove Bistro will guide pairs of participants through a grilling intensive, providing personal grills, tools, meats, and rubs to each station. At the end of the seminar, attendees will be able to gorge themselves on their own expertly-crafted barbecue creations, complete with wine pairings from Joel Gott and Charles & Charles.
At 7 p.m. on Saturday night, All-In ticket holders can head to Fair Market for the Rock Your Taco event. As the name suggests, Rock Your Taco encourages guests to sample an array of inventive tacos created by Austin Food and Wine Festival headliners like Stephanie Izard, Amanda Freitag, Tim Love, Jamie Bissonnette, and Tyson Cole. Wine and cocktail pairings will be provided, as will a live performance by Austin musician Gina Chavez.
Book Signings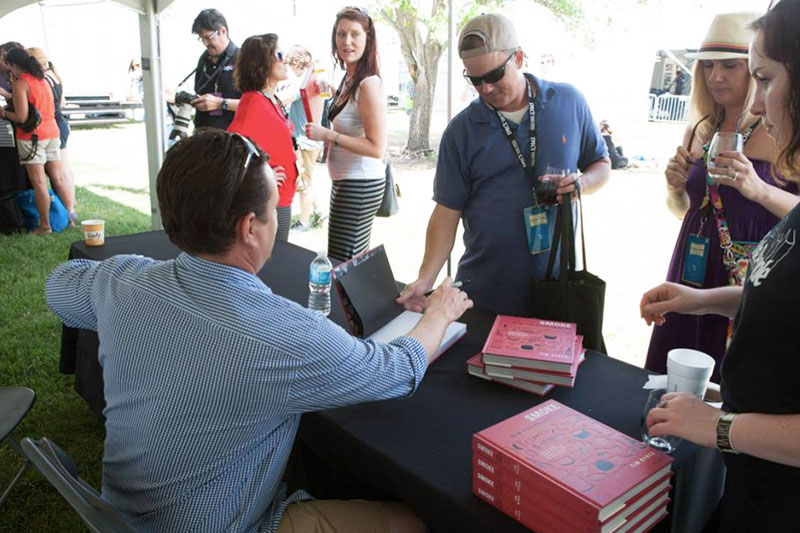 Several of the headlining chefs will also be signing their most recent book releases at the Food and Wine Festival, and attendees will have the opportunity to purchase the books prior to the signings.
Saturday book signings include Lidia Bastianich, Stephanie Izard, and Jamie Bissonnette, while Sunday features signings by Amanda Freitag and Paul Kahan.