Austin Local Life
A Guide To Austin's Neighborhood Swimming Holes
With average temperatures in the summertime hovering right around 90 degrees, Austin considers cool-down spots a major priority, so the city has 50+ public pool facilities along with Central Texas' plentiful natural swimming holes. If you need a break from the heat, go for a splash at one of these locations.
Barton Springs Pool - Barton Hills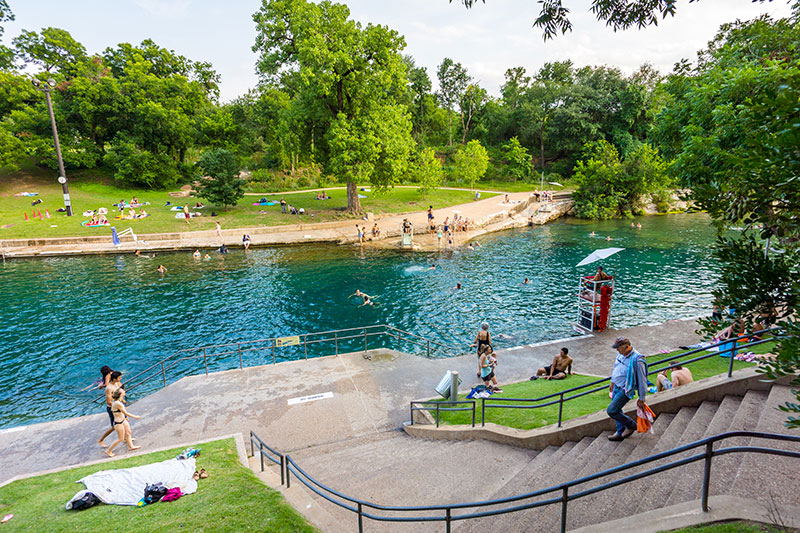 Right on the southern border of Lady Bird Lake, you'll find the Barton Springs Pool, Austin's largest pool. Filled with fresh water directly from Barton Springs, the pool spans three acres. The natural spring water keeps the temperature at 68 degrees, making it one of the most refreshing swimming spots in the entire city. Pool admission is open to all with a small fee ($3 for adults, $1 for children). Surrounded by the lush greenery of Zilker Park, the Barton Springs Pool makes for an ideal South Austin summer escape.
Zilker Park and Barton Springs largely define their adjacent neighborhoods of Zilker and Barton Hills, both family-friendly areas with an emphasis on outdoor activities. Once the kids are out of school, Barton Springs Pool regularly fills up with locals ready to enjoy the cool water, explore the surrounding parkland, and search for the pool's unofficial mascot, the Barton Springs salamander.
Deep Eddy Pool - Clarksville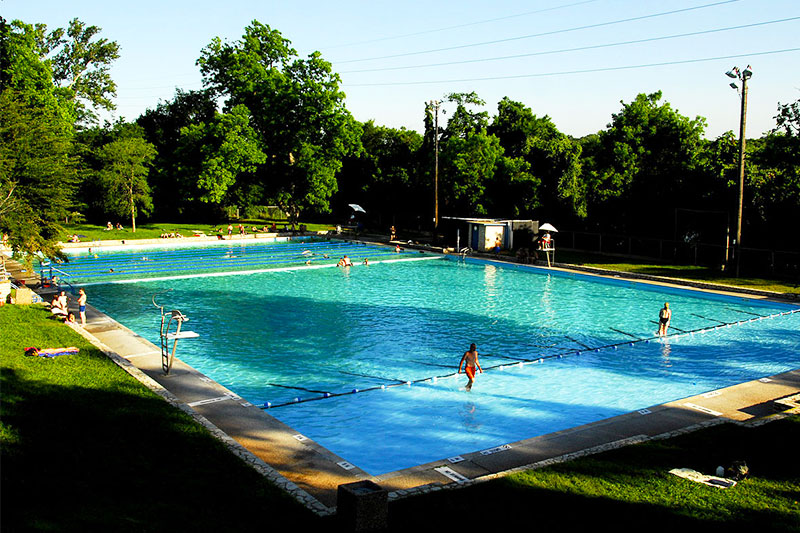 Dating back to its swimming-hole origins in the mid-1910s, Deep Eddy Pool in Clarksville is Texas' oldest public pool. Admission for adults ranges from $1 to $8, with Austin residents paying significantly less than out-of-town guests, while children can enter for $1 to $4. The pool area spans nine acres and includes lap lanes, a kid-friendly shallow end, green space for sunbathing, and summertime movie screenings. Like the Barton Springs Pool, Deep Eddy consists of non-chlorinated water, making it a fresh, chemical-free way to cool down.
Deep Eddy Pool boasts a central location just west of Downtown Austin. Clarksville is a walkable neighborhood with plenty of restaurants and shops to accommodate its many visitors, including popular spots like Pool Burger, Josephine House, and Fabi + Rosi.
Bartholomew Municipal Pool - Windsor Park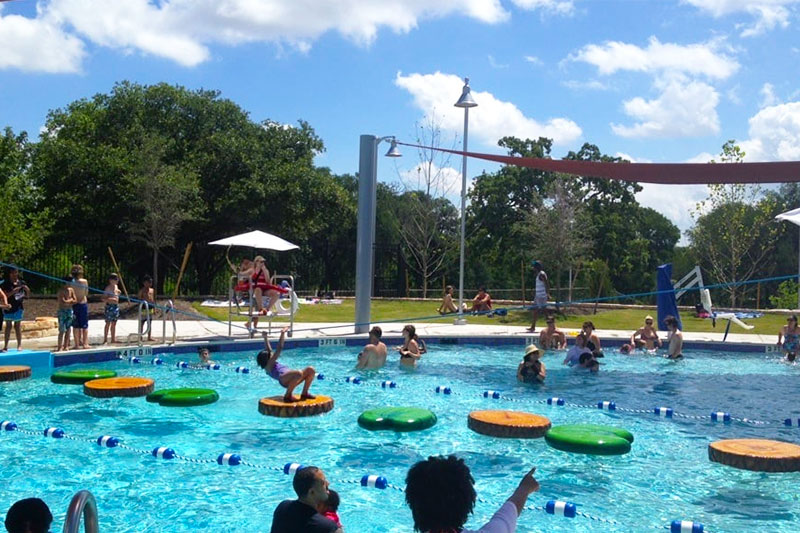 North Austinites with kids on summer vacation consider Bartholomew Municipal Pool an oasis. Located above East Austin in Windsor Park, Bartholomew Pool is a water playground with a lap pool, a diving board, a splash pool for small children, a four-foot-deep pool with a lily pad bridge, and two water slides. The park around the pool allows food and includes numerous picnic tables for a post-swim bite. Entrance fees at Bartholomew compare to those of other city-funded pools: $1 to $2 for children and $3 for adults.
With its close proximity to the University of Texas, its relatively-affordable housing, and its serene residential charm, Windsor Park attracts a vibrant group of UT students and employees, young families, and long-time Austinites. Windsor Park is definitely worth a day trip for those living in other Austin neighborhoods.
"Secret Beach" - Pleasant Valley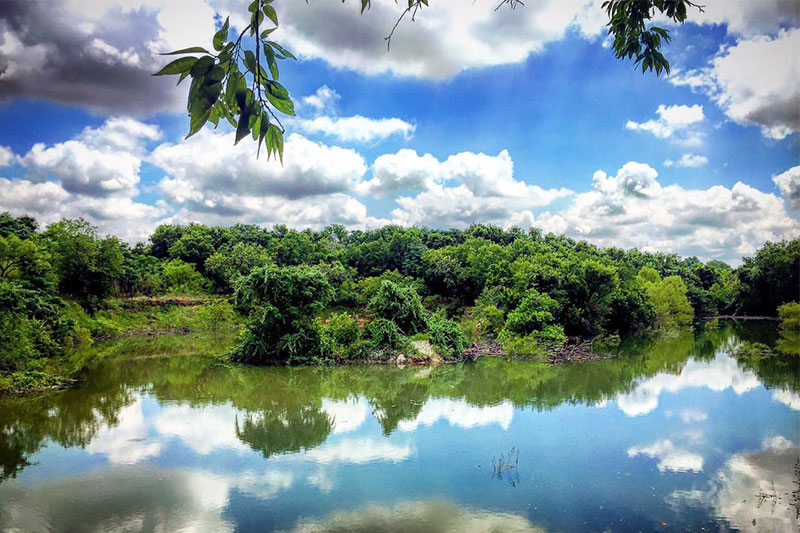 Informally known by locals as "Hipster Hollow", the semi-secret sandy alcove with water access within Roy G. Guerrero Park can be found on the bank of the Colorado River. This swimming hole with clear, fresh water and soft sand benefits from its fairly secluded park location; it's perfect for a low-key summertime afternoon. The beach is dog-friendly, and while swimming and floating are prohibited, wading and splashing are encouraged.
The park's location of Pleasant Valley in South Austin makes it an excellent warm-weather destination for Austinites, as this reasonably-priced neighborhood features a sizable student and professional population. As a result, Secret Beach is largely known as a hangout for young residents with canine companions.
Hamilton Pool Nature Preserve - Dripping Springs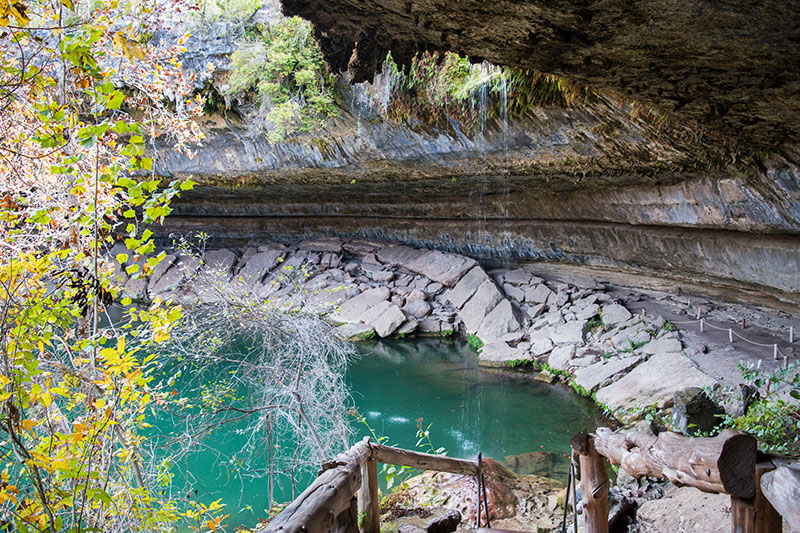 Residents of the Austin suburbs can also enjoy fantastic publically-funded pools, like the Hamilton Pool Nature Preserve in Dripping Springs. A freshwater swimming hole first established in 1900, Hamilton Pool provides impressive vistas, a 50-foot waterfall, and plenty of wildlife for nature buffs. Due to its popularity during the high season, Hamilton Pool requires reservations from May to September. Bookings can be made online for $11 per vehicle with an additional $15 cash only fee per vehicle after getting into the park.
A bustling community just 30 minutes from Austin, Dripping Springs recently distinguished itself as a Central Texas center for food and drink. From the Deep Eddy Vodka Distillery to the rollicking bluegrass spirit at The Rusty Mule to the phenomenal Neapolitan pizzas at Pieous, Dripping Springs attracts residents who love a good meal, plenty of outdoor activities, and easy access to Austin.
Wimberley Blue Hole Regional Park - Wimberley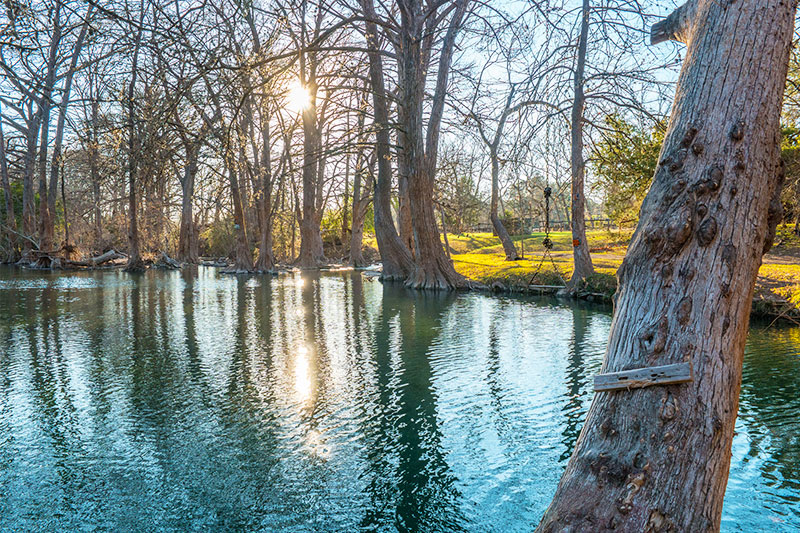 The Texas Hill Country features plenty of swimming holes, including the one found in Blue Hole Regional Park in Wimberley. After a recent refurbishing, Blue Hole emerged as an idyllic, woodsy natural beauty with plenty of sun and shade. Rustic rope swings hang from the trees stretching over the water, and the adjacent lawn makes for an impeccable picnic spot. Blue Hole access goes for $7 per person.
Just 45 minutes southwest of Austin, Wimberley is a small city with gorgeous parkland and an artistic energy. With plenty of local wineries, the Corral Theatre's outdoor productions, and Instagram-friendly sights like Jacob's Well, Wimberley is a perfect summer weekend escape for Austinites.