Washington D.C. Local Life
A Guide to Baltimore Rowhouses
Like Washington D.C. and Philadelphia, Baltimore's housing stock for the past 200 years has mostly been made up of rowhouses. But, over the last 200 years, the types of rowhomes that have been built have changed and each specific style indicates a lot about the neighborhood and the city. Here are the five basic types of rowhouses you'll find in Baltimore.
Federal Era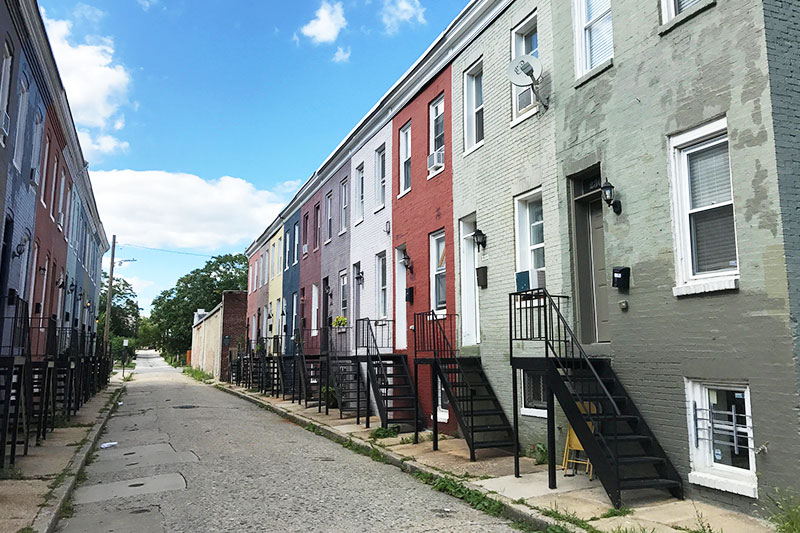 Baltimore's first rowhouses were built in the mid-1790s. The idea of the rowhouse came from England, where elegant rows of homes were built both to appeal to a middle class and give people the opportunity to own homes. That tradition was continued in the U.S. with the "ground rent" system, where a developer only bought the rights to build houses from a property owner, and the new homeowner would have to pay a small rent to the property owner but would get a house at a cheaper price. (This practice continued for a long time, and some Baltimore rowhouse owners still don't own the property beneath their house and have to pay ground rent today.)
A population increase in Baltimore starting around the turn of the 19th century meant a need for more housing, and soon, Federal Era rowhouses were built for all incomes. One of the keys to Baltimore's development was having large houses on main streets, medium-sized houses on side streets, and very small houses on alley streets. Most of the Federal Era houses can be recognized because they're two-and-a-half stories tall with pitched roofs (rather than flat). These homes are found in the oldest neighborhoods like West Side (also known as South West Baltimore or SoWeBo), Federal Hill, Harbor East, Jonestown, Fells Point, and Canton.
Italianate
While the Federal Era houses are plain and kind of rare today, Italianate rowhouses are ornate and the most common type of rowhouse. The Baltimore harbor and the railway industries were booming in the 1850s, and immigrants needed places to live. The most distinguished feature of the Italianate house is the cornice, or the very top of the front of the building. Decorative elements could be made of cast iron and easily reproduced, so many houses have the same ornamental brackets at the edge of the roof.
These houses are generally three-stories and can be found in the neighborhoods that were built after the Inner Harbor was developed—Downtown, Locust Point, Highlandtown, Washington Village (also known as Pigtown), Broadway East, and Middle East, just to name a few.
Artistic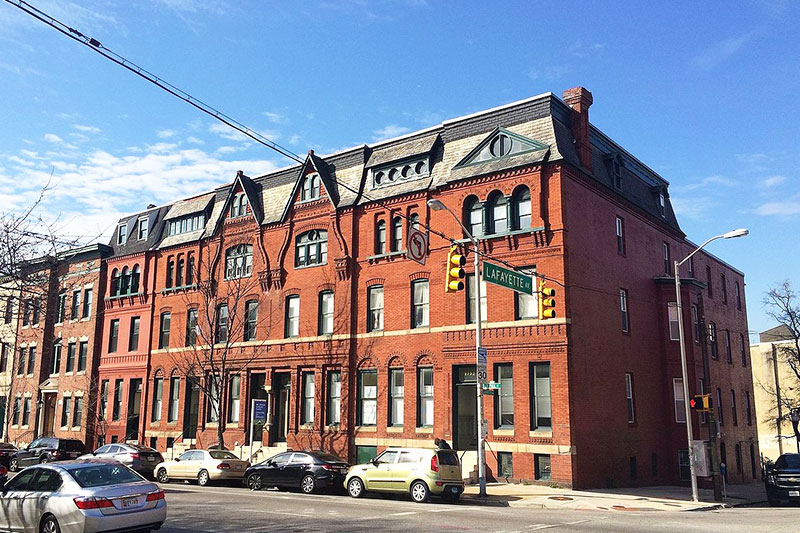 In 1890, the first electric streetcar whizzed down the streets of Baltimore. A new system of streetcars allowed people to live farther from their work, so more and more developments appeared along the streetcar lines. Other transformations in production and industry also changed how homes could be built.
The Artistic period of Baltimore rowhouses started in the 1870s and lasted until 1915, and this period offered houses that were more expressive and unique. Houses varied in construction and had front porches (now colorfully painted in neighborhoods like Charles Village and Barclay); bow-fronted brick houses and marble steps (common in Highlandtown and Hampden); and very large rowhouses with decorative brickwork, copulas, and bay windows (particularly prominent in Mid-Town-Belvedere, Bolton Hill, Upton, Druid Hill Park, Patterson Park, and Butcher's Hill).
Daylight
Although all of the rowhouses in Baltimore had their own charm, up until 1915, they were all very dark. The houses were long and skinny; often the front room had windows, the middle space or room had no windows, and a small kitchen area in the back had a window. Previously, houses were built to be 12 to 16 ft. wide, but they're now expanded to 20 or 21 ft. These newer houses were advertised as open, light, and modern. Some developers built porches or glassed-in sunrooms and new amenities, like radiator heat, gas ranges, and indoor plumbing to add to the appeal (Baltimore's municipal sewer was only installed in 1912). The best examples of these houses are in Remington around Wyman Park, Waverly (including Ednor Gardens), Greater Govans, and Northwood.
Postwar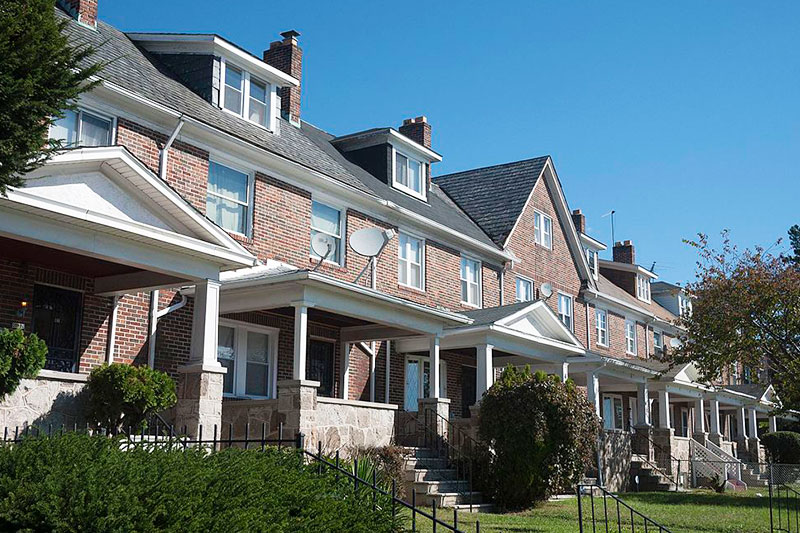 In many ways, the construction of World War II and post-war houses is very similar to that of the daylight rowhouse. These rowhouses are also wider and shallower, with windows in each room, but they're plainer than the earlier version. Neighborhoods like Waverly, Northwood, Loch Raven, and Belair-Edison usually have a mix of both of these eras.
During both the Daylight and Postwar periods, homeowners also became interested in free-standing houses. They wanted fresh air and yards, and at that time, they had cars that could bring them to jobs across the city, so free-standing houses were built in neighborhoods like Roland Park, Lauraville, Harford-Echodale, Westgate, and Pimlico, which started to break the mold of a city of rowhomes. If you want to learn more, check out the homes in Baltimore and read Mary Ellen Hayward's "The Baltimore Rowhouse".