Miami Local Life
A Motorcycle Tour of Biker-Friendly Bars Along A1A in South Florida
For some South Florida residents, enjoying the beach doesn't involve feeling the hot sand underneath their feet or wading in the ocean. Rather, it means hopping on a motorcycle and riding along the coast on A1A, sometimes in the company of fellow riders. In many areas, A1A runs right next to the beach, so you can enjoy the sunshine, sights, and sounds as you ride. But if you feel like stopping to enjoy some food or a cold drink along the way, there are several havens for bikers where you'll be joined by other motorcyclists.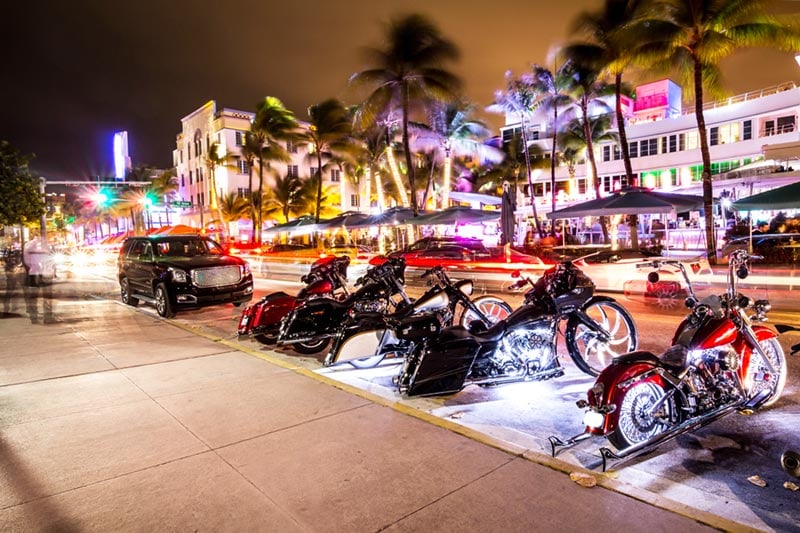 Judy's Highway Cafe – Tequesta
If you're as far north as Tequesta, you may want to stop at Judy's Highway Cafe on US 1, just north of where US 1 and A1A split into two roads. It's the oldest bar in town and a great place for beer, burgers, and brats (the German kind). As a recognized spot for Harley riders, especially on the weekends, it's easy to spot all the bikes parked out front near the picnic tables.
Harry's Banana Farm – Lake Worth
Although you'll have to venture a bit off A1A to find Harry's Banana Farm (it's located on North Dixie Highway in Lake Worth), it's worth the few extra minutes of your time. Harry's is the quintessential dive bar; Penthouse magazine once called it the sleaziest bar in the country, but that's a compliment as far as the regulars are concerned. While bananas are in short supply here, wit is not, as evidenced by the sign out front with sayings like "I taught Christian Grey all that stuff," "More people read this sign than your stupid blog," and "We've got beer colder than your ex-wife's heart."
Old Key Lime House – Lantana
You'll have to drive a tiny bit inland along East Ocean Avenue to get to the Old Key Lime House in Lantana, but you'll still be on the Intracoastal Waterway where you can watch boats come and go, listen to the band, and join the many bikers who frequent the tiki bar at this local favorite. Visitors love the Key West atmosphere and the many seafood entries on the menu, such as mahi and conch fritters. And if that's not enough to entertain you, you can play tiki toss, a game that involves tossing a ring attached to a string in an effort to latch it onto a hook.
This oceanfront tiki bar, right next to Boston's on the Beach in Delray Beach, is located on AIA and offers food and drink served directly across the actual beach. Only people over age 21 are permitted, so you won't find kids here, but you'll find daily drink specials. Parking can be a bit of a challenge for those driving cars, but motorcyclists should have an easier time finding a spot.
Mickey's Tiki Bar on SW 12th Avenue in Pompano Beach is definitely off the beaten track if you're adamant about sticking close to A1A, but if you're looking for a bar that caters specifically to bikers, head over for a drink. The bar hosts Bike & Cruise Night every Thursday when it welcomes all bikes, custom cars, trucks, and Jeeps. Even on an average day, this is a known hangout for bikers.
Finding a parking spot on Fort Lauderdale Beach can be a challenge, but if you're planning to stop there, then you might want to give Hunters Beach Bar on Almond Avenue a try. Many describe it as a "dive bar," but don't let that dissuade you from frequenting this popular local spot.
Flossie's Bar & Grill – Dania Beach
Like Mickey's, Flossie's Bar & Grill in Dania Beach is a bit of a drive from A1A, but it's still worth visiting if you're in the mood for a no-frills biker bar. It has cheap drinks, live bands, a pool table, jukebox, and outdoor seating.