A North Side Chicago Neighborhood Fights For More Greenspace
A North Side Chicago Neighborhood Fights For More Greenspace
Bowmanville, a neighborhood on Chicago's North Side near Andersonville, has no official parks. To fix that, neighbors got together and created the idyllic Gateway Garden along a stretch of Ravenswood Avenue. Neighbors have been gathering and gardening at the space, and the Montessori school across the street even uses it as a teaching garden.
However, a problem since it's inception is that the land next to the garden is privately owned, and DNAInfo reports it is being threatened by development — unless the neighborhood can come up with funds to buy it, and quickly.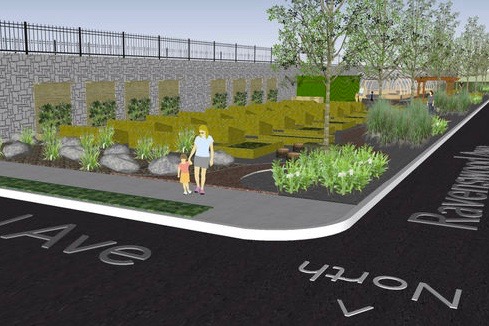 The overgrown parcel of land next to the garden wasn't very appealing until improvements to the nearby Metra track cleaned it up, and now it's up for sale. The Bowmanville Community Organization worked with the urban land use group NeighborSpace to offer to buy the land. The offer was accepted and while NeighborSpace will put up some of the money for the land, the neighborhood organization must pony up $30,000 by September.
The organization envisions the land as complementing the garden with "year-round food-growing, accessible gardening for the elderly and persons with disabilities, ecological education for kids and parents and a quiet oasis in our dense urban environment." They will present this proposal and outline a fundraising plan, which includes an additional $20,000 to improve Gateway Garden for a total of $50,000, at a community meeting.
If the fundraising is successful — and a member of the group's board of directors said to DNA Info he is confident it will be — the neighborhood without a park may end up with an even more thriving greenspace built by the community.