Las Vegas Local Life
A Shaved Ice Guide To Las Vegas
Hawaiian shave ice is among the most desirable desserts in Las Vegas during the summer heat. While the popular treat is frequently confused with snow cones, it's the soft melt-in-your-mouth texture that distinguishes shave ice from a snow cone. It comes in hundreds of different flavors, although classic favorites include guava, pineapple, mango, and passion fruit. Shave ice can even be served with sweetened condensed milk or Dole Whip. When temperatures hit 100 degrees, there's nothing like a refreshing shave ice treat to help you cool off. Here are a range of shave ice options, no matter where you are in the Valley.
Bahama Buck's - Enterprise
With locations in both Enterprise and North Las Vegas, Bahama Buck's is a prime spot to get shave ice in dozens of flavors ranging from cherry lime to toasted coconut. The franchise locations also offer super sour flavors and even Thin Ice, which is their sugar-free, carb-free, fat-free, and cholesterol-free shave ice for those who are a bit more health conscious. Bahama Buck's also offers party packs, which include their signature fluffy snow, flavors, and cups, ideal if you're hosting a backyard pool party.
Bubble Shave Ice - Spring Valley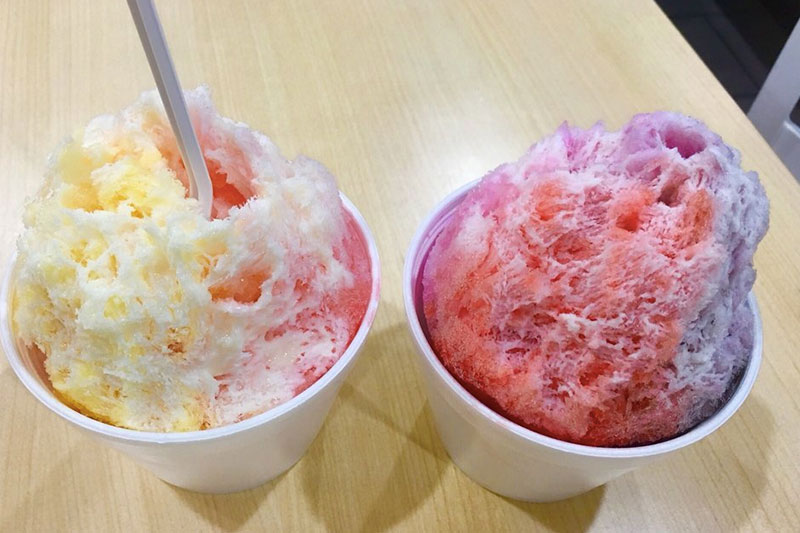 Locally-owned Bubble Shave Ice, which recently opened in Spring Valley, serves up a whole range of bubble shave ice flavors like pina colada and watermelon green apple. The shop also has the option to drizzle syrup, sweetened condensed milk, and ice cream on top of this dessert. The menu also includes boba tea and macaroons.
Oso Ono Shave Ice - Enterprise
Oso Ono Shave Ice is a local, family-owned shave ice food truck run by a father and daughter team. Shave ice flavors range from dreamsicle to lychee. Although Oso Ono's location varies, Twitter is the best place to check for live updates on their locations. They often make stops at Mountain's Edge Regional Park and the Fresh52 Farmer's Market in Las Vegas.
The Frozen Frog - Summerlin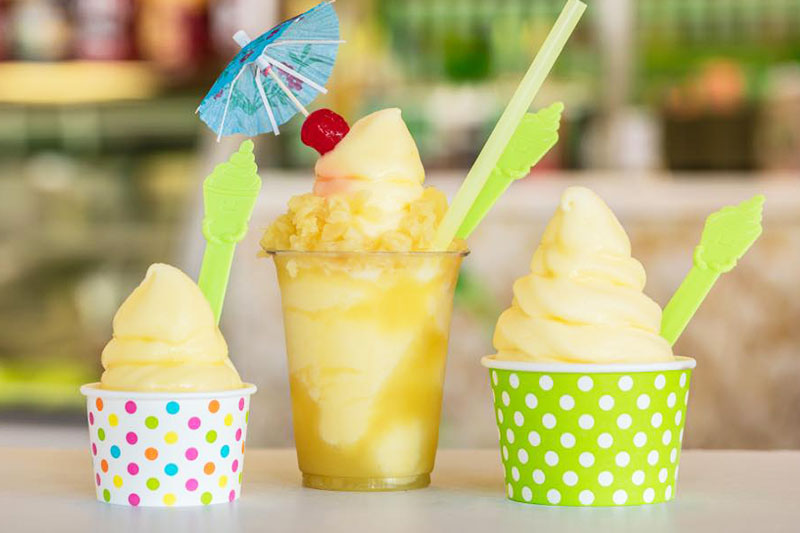 The Frozen Frog in Summerlin serves up popular flavors (like raspberry, strawberry, and mango), and their frozen treats even come with the option to include chocolate, ice cream, Dole Whip, and condensed milk. The dessert shop is known to add a gummy frog or gummy worms to each creation. With another location opening up on the north side of the Valley, The Frozen Frog also offers Dole Whip Floats and flavored popcorn.
Snow Vegas Shave Ice - Centennial Hills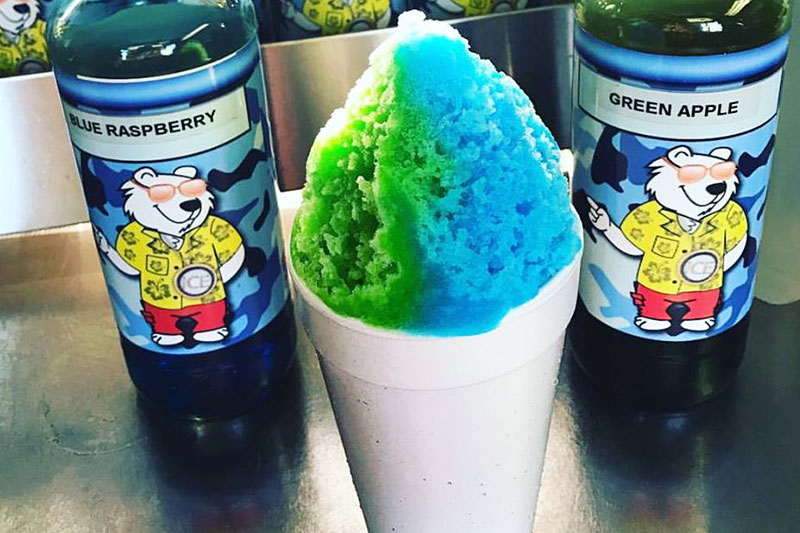 Other location: Whitney
With locations in both Whitney and Centennial Hills, Snow Vegas Shave Ice is known for being open until 9 p.m. every night. From pink lemon sour to horchata to guava, Snow Vegas Shave Ice has a whole range of flavor combinations for the shave ice lover to enjoy.
Fluff Ice - Spring Valley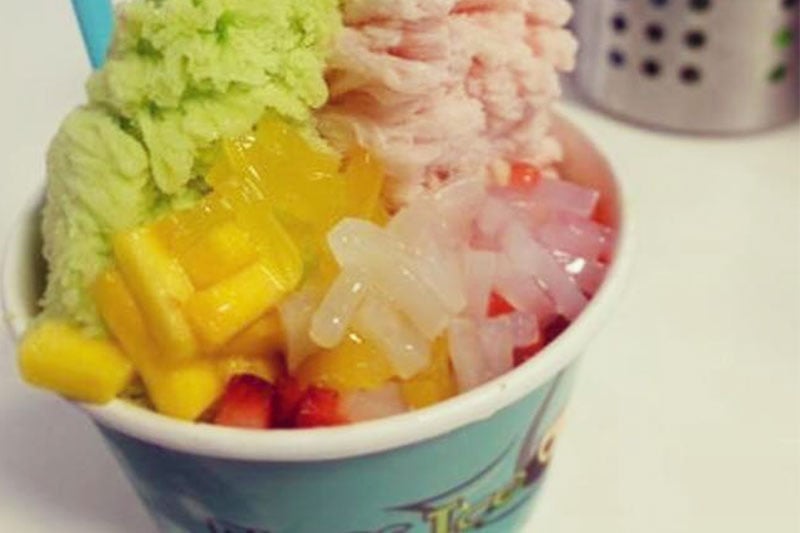 Fluff Ice in Spring Valley gives you the option to select your dairy-free "fluff" in flavors like mango, thai tea, taro, or strawberry. Next, add toppings like gummy bears, lychee jelly, or fresh fruit and drizzle with condensed milk, caramel syrup, or chocolate syrup. The result is a unique treat that resembles shave ice but has its own take on the popular dessert. The store also offers frosted milk drinks and boba tea.
Jammin Ice - Anthem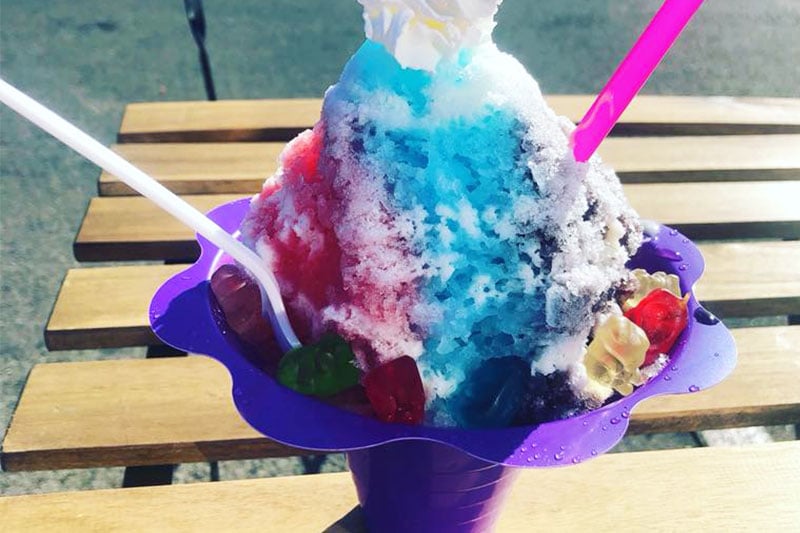 Jammin Ice in Anthem has all the traditional favorites like blue Hawaii and banana, along with unconventional flavors like Cajun red hot, cucumber melon, egg custard, and silver fox. Extras include Azuki beans, sour spray, gummy worms, and marshmallow cream.
Hokulia Shave Ice - Painted Desert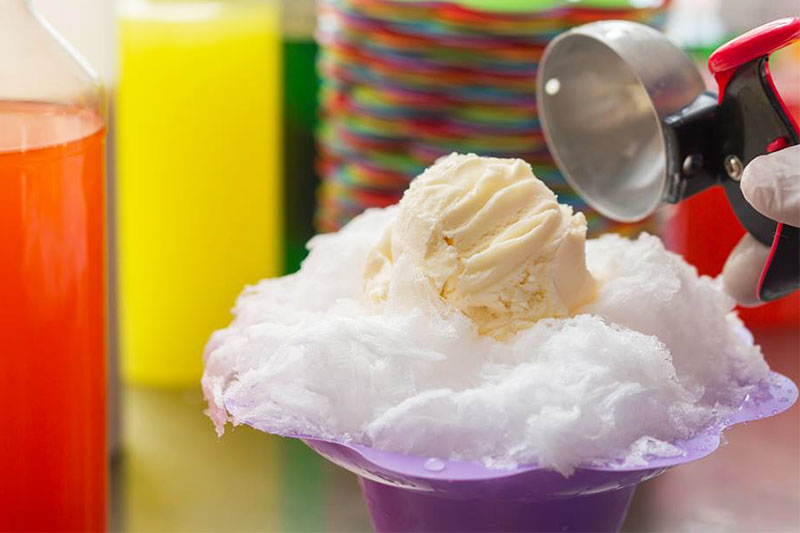 Hokulia Shave Ice serves up island-style shave ice in Painted Desert, where favorites include Lava Flow and Hula Pie. With over 50 flavors to choose from, their unique offerings include Li Hing Mui, Haupia, and passion fruit. Hokulia also serves ice cream and real fruit smoothies.