Bay Area Local Life
A Tea Drinker's Guide to the Bay Area
While it's a well known fact that San Francisco is a coffee town, what happens when you're a tea drinker in the Bay Area? In a city full of coffee gurus, finding a tea spot might sound like an impossible task. Thankfully we've rounded up some of the best options, so you're sure to find a favorite tea spot in no time.
Japanese Tea Garden - Inner Richmond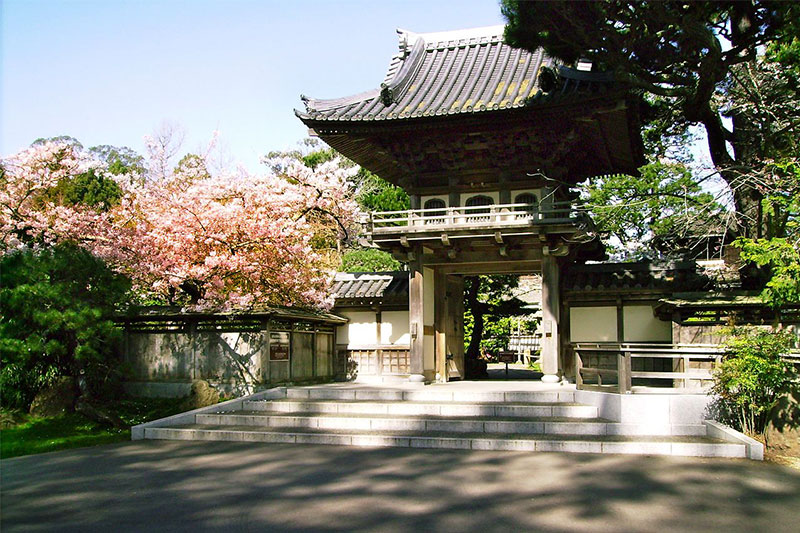 The Japanese Tea Garden is the oldest public Japanese garden in the country and a gorgeous backdrop of history and design. It's roots go back to the 1894 Midwinter Exposition. The tea house, located inside Golden Gate Park near Inner Richmond, features a custom-designed, farmhouse-style family table and offers a sampling of traditional Japanese teas including sencha, genmaicha, and hojicha as well as popular jasmine tea and iced green tea. Rumor has it that the fortune cookie was also invented here, which you can nibble on while you sip your tea.
Red Blossom Tea Company - Chinatown
For those looking for a high-end tea experience, Red Blossom Tea Company in Chinatown is a must-stop. Red Blossom offers high-quality loose-leaf teas to suit even the most seasoned tea drinker's palate. They offer white, green, oolong, black, pu-erh, scented, blossoming, and herbal teas. Patrons visiting Red Blossom will also get a tea education where they learn how to select and properly steep each specific tea. Not only will you leave with the perfect tea but also the knowledge and teaware you never knew you wanted.
Samovar - Mission District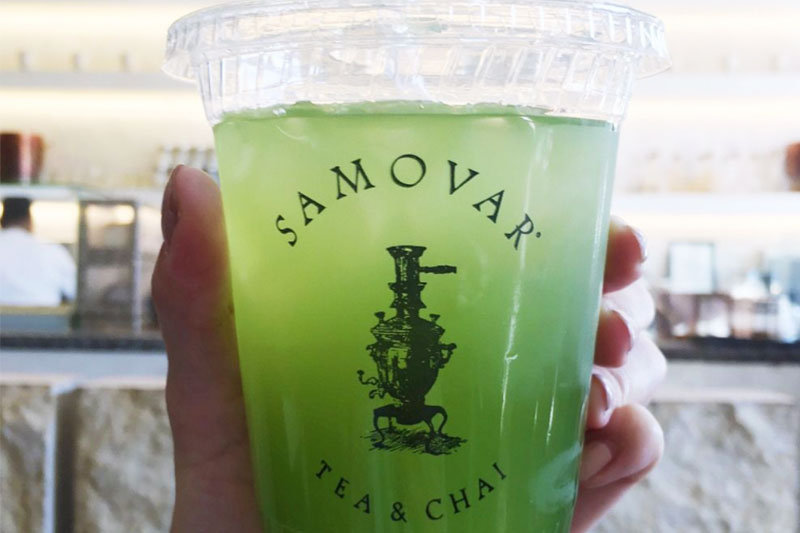 Other location: SoMa
Folks come from all parts of the city to visit one of Samovar's three locations in the Bay Area, and each location has its own vibe. The small location within the Mission District is great for a quick grab-and-go tea. It has limited space inside with just a couple of tables and seats that are connected directly to the walls. Visit the Mission location to grab a cup of chai tea and then take a stroll around Clarion Alley. It is recommended to walk or bike or take public transportation to this location as street parking may be difficult to find.
For a more relaxed, sit-down experience, you'll want to head to Samovar's SoMa location at Yerba Buena Gardens, which offers a variety of teas including matcha cold brew or traditional Moroccan mint tea, as well as delectable organic bites such as duck jook, chai moochi cake, and salmon egg bowls. Samovar gets very busy, so it may be difficult to accommodate large groups of six people or more. It also does not take reservations, although if you have a larger group you are encouraged to call ahead of time to secure a table for your party. It is recommended to take public transportation, walk, or otherwise not drive to this location as well as parking is not ideal here.
Lastly, if you have discovered Samovar and are traveling to or from San Francisco then you'll be happy to know that you can also get Samovar at San Francisco International Airport. It's located in Terminal A and perfect for your last-minute tea fix before hopping on your flight.
Leland Tea Company - Burlingame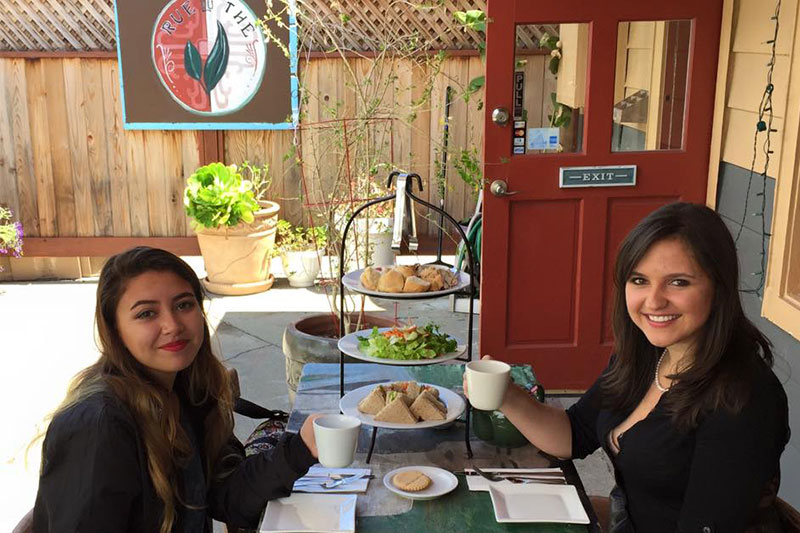 Leland Tea Company is one of the best quiet and cozy spots for tea that you'll find in the Bay Area. The tea shop in Burlingame has a vintage Parisian-style decor and offers indoor and outdoor seating. The outdoor patio even has outlet access available, which is a rare find in the Bay coffee and tea scene. You can custom build your tea from a variety of loose-leaf tea options such as rooibos, oolong, pu-erh, herbal, green, and black. If you are having a difficult time choosing a type of tea, the friendly staff of Leland Tea Company is happy to oblige and assist you with recommendations.
Leland is also possibly the best little co-working space not many people know about. You can sit with a pot of loose leaf tea, tiny sandwiches or macarons, and work away for hours without time restrictions (aside from when they close). Parking is relatively easy at this tea spot thanks to a lot located across the street as well as its location outside of the city and in the peninsula area.
Asha Tea House - Berkeley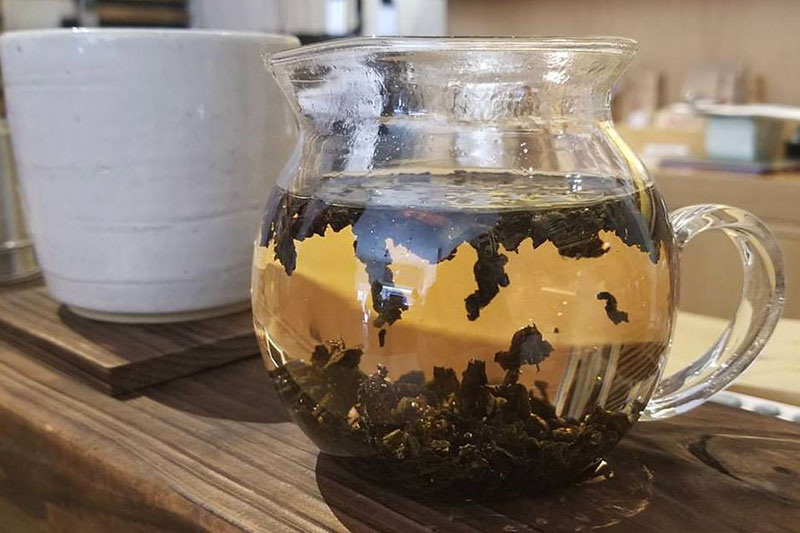 If you're in Berkeley and in need of tea, then visit Asha Tea House. It's got a variety of loose-leaf teas to choose from and quite a bit of seating as well. The menu consists of pure, herbal, fruit, matcha, milk, or specialty teas as well as traditional dark and light oolong tea, green tea, and white tea. They offer seasonally changing pairings of fruit teas such as a yuzu green tea, blood orange oolong tea, pineapple oolong tea, and bergamot black tea. Their tapioca milk teas can also be customized with a few additional options including lavender infusion, freshly muddled mint, seasonal fruit puree, or seasonal pumpkin puree.
Due to its proximity to campus and college students in the area, the Berkeley location stays open until 10 p.m. Monday through Saturday and until 8 p.m. on Sundays. There is also a San Francisco location on Kearny Street in the Financial District that offers the same menu but has earlier and shorter hours of operation. The Kearny location is open from 8:30 a.m. to 6:30 p.m. during the week, Saturdays from 11 a.m. to 6 p.m., and closed on Sundays.
Lovey's Tea Shoppe - Pacifica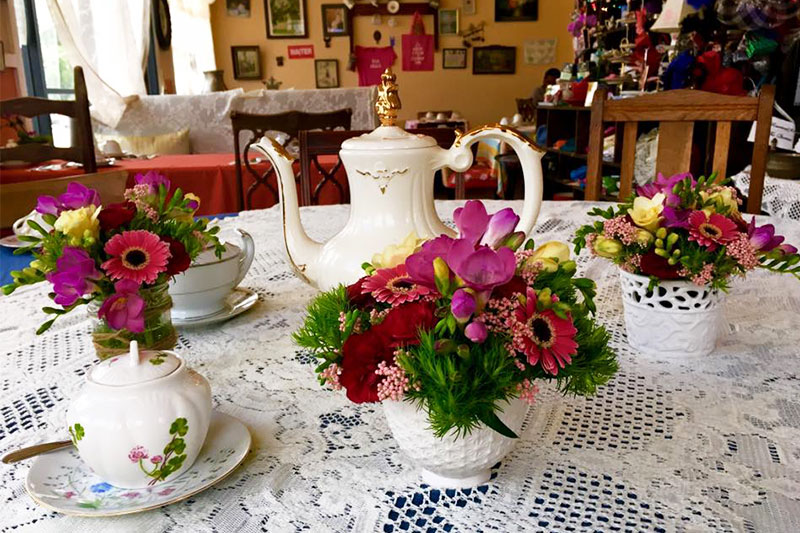 If you want to venture outside of the city and drive to the coast, you won't have to travel too far for some English tea and food at Lovey's Tea Shoppe in Pacifica. Lovey's is a 15-mile trek outside of the city along Highway 1 in Pacifica. It's a cozy and quirky tea shop featuring mismatched China combined with old-world charm. The shop offers a variety of teas from flavored black teas and decaffeinated teas to herbal and traditional white and green teas. Patrons visiting Lovey's will enjoy a traditional tea experience, complete with tea sandwiches, warm scones, and toasted crumpets along with bottomless pots of tea. This menu also includes heartier pub fare to go along your desired tea offered such as sausage rolls, shepherd's pie, and quiche.
KitTea Cat Cafe - Hayes Valley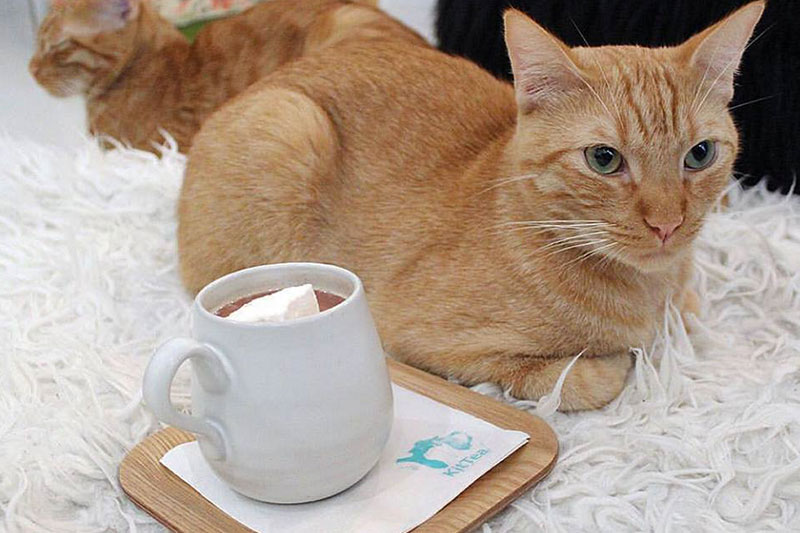 What's that? You want to have tea with the company of cats surrounding you? Well the KitTea Cat Cafe in Hayes Valley might be just up your alley. The KitTea Cat Cafe is a mix between tea service and a way to adopt cats. Each feline resident of the KitTea Cat Cafe is part of the local rescue mission and is potentially up for adoption. Proceeds from the cafe go in part towards saving rescue cats. Besides playing with kitties, you have a choice of four different Japanese green teas and nibbles in the lounge. While you're placing your order, the cats are busy walking around or sitting windowside in the cafe area. KitTea Cat Cafe is open all week except on Tuesdays. The cafe also hosts events during the week in the evenings after normal business hours that include a yoga class with cats on Wednesdays, a movie on Thursdays, and a game night on Fridays.
LoveJoy's Tea Room - Noe Valley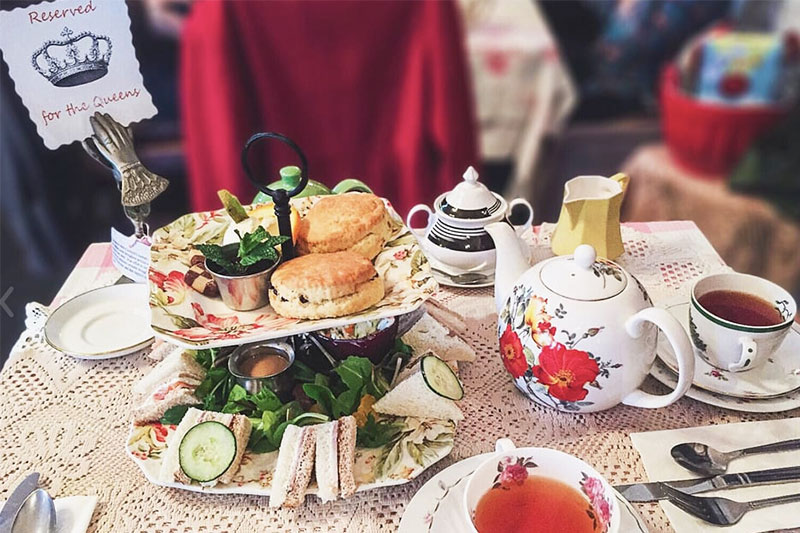 LoveJoy's is another upscale tea place in the Bay Area with two locations: Noe Valley and Redwood City. Seating time is limited to two hours and is open from early afternoon to early evening. Both tea shops have a variety of teas including flavored black teas, traditional black teas, green and white teas, as well as Tisanes (herbal) teas and a variety of pub fare. Each bottomless serving of tea comes in a tableside teapot and is served in a room decorated with a mixture of antiques that give the place a dainty and kitschy vibe.