A Walking Tour of Wynwood Street Art
A Walking Tour of Wynwood Street Art
Art lovers have many options in Miami and not just traditional art museums, like the Perez Art Museum Miami in Downtown Miami, or art festivals, like Art Basel Miami Beach which draws thousands of visitors every year.
In fact, the eclectic district of Wynwood has become a popular draw for those who enjoy both traditional and street art. The neighborhood is home to over 70 galleries, museums, and art collections. Every second Saturday of the month, the Wynwood Art Walk Block Party attracts crowds to enjoy the artisan market, live music, food trucks, games, and of course, art installations. Attracting both well-known and up-and-coming graffiti artists, the Wynwood Walls have become an iconic part of the area, with colourful and eye-catching art adorning the walls of buildings throughout the area.
Official tours are available (at a cost), but for those who prefer to go it alone, you can do a walking tour of your own. The following is a list of some of the art you might want to see along the way:
Northwest 2nd Avenue/Northwest 30th Street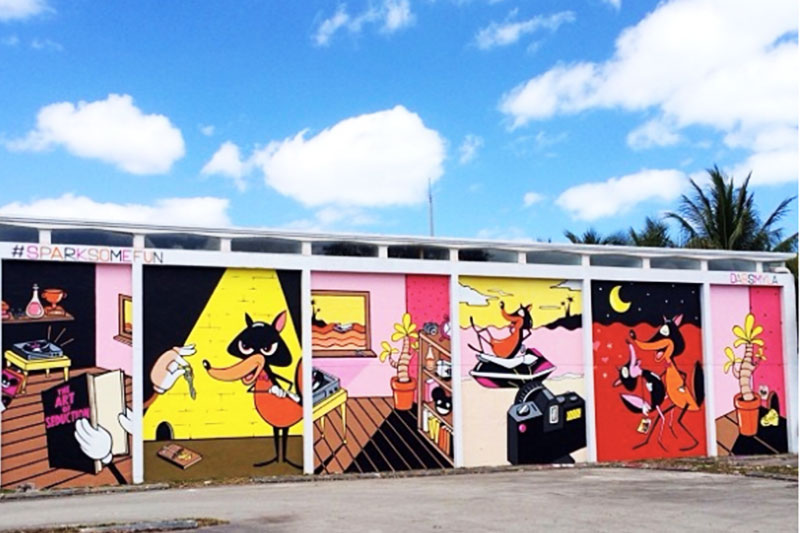 DabsMyla is a husband and wife team from Australia known for their cartoon-like depictions. Their work called "The Art of Seduction" can be found at a building at the corner of Northwest 2nd Avenue and Northwest 30th Street. And, in a twist that only a graffiti artist could appreciate, their work was the subject of, you guessed it, graffiti. The large letters and numbers were not part of the original work.
Northwest 2nd Avenue Between Northwest 29th Street and Northwest 28th Street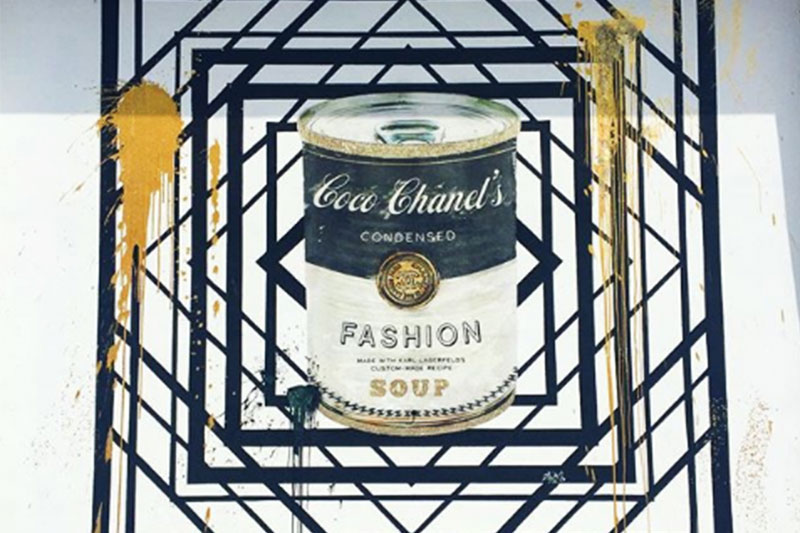 On Northwest 2nd Avenue between Northwest 29th and Northwest 28th streets, you'll find "Fashion Soup" which looks like a Campbell's Soup can but has Coco Chanel's name on it. It's part of the Oliver Gal collection, which is a collective of artists spearheaded by sisters and artists Lola Sanchez and Ana Gal.
Northwest 3rd Avenue/Northwest 27th Street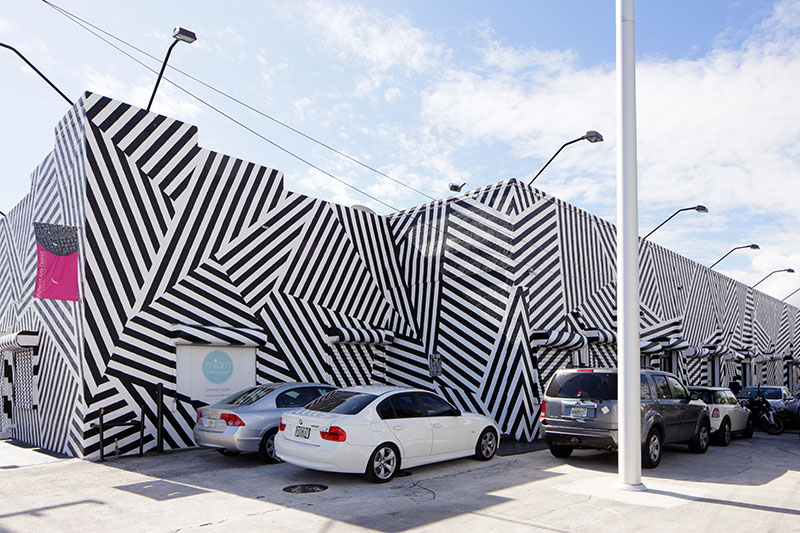 As you approach the corner of Northwest 3rd Avenue and Northwest 27th Street, it's hard to miss the Wynwood Building with its black and white striped exterior. Named for the Wynwood Arts District, the 45,000-square-foot building was formerly a retail building but was retrofitted into an office building. It now serves as a beacon for the creative community surrounding it.
Nearby on the west side of Northwest 3rd Avenue, you'll also see the work of Lakwena Maciver, a London-based artist and one of the few black artists of the Wynwood Walls. Her mural, painted for the "Women on the Walls" program for Art Basel 2013, states "I Remember Paradise," and it's a good example of her style.
"50 Cakes of Gay" by French artist Kashink was inspired by French demonstrations against gay marriage and depicts 50 wedding cakes in brilliant colors. For the "Women on the Walls" program for Art Basel 2013, she continued an ongoing movement to paint the cakes around the world.
On the east side of the street, you'll see work by Jeroen Koolhaus (HAAS) and Dre Urhahn (HAHN) (often just called HAAS and HAHN). The pair focuses on turning urban blight into art, and they have worked with residents to transform neighborhoods around the world.
Northwest 27th Street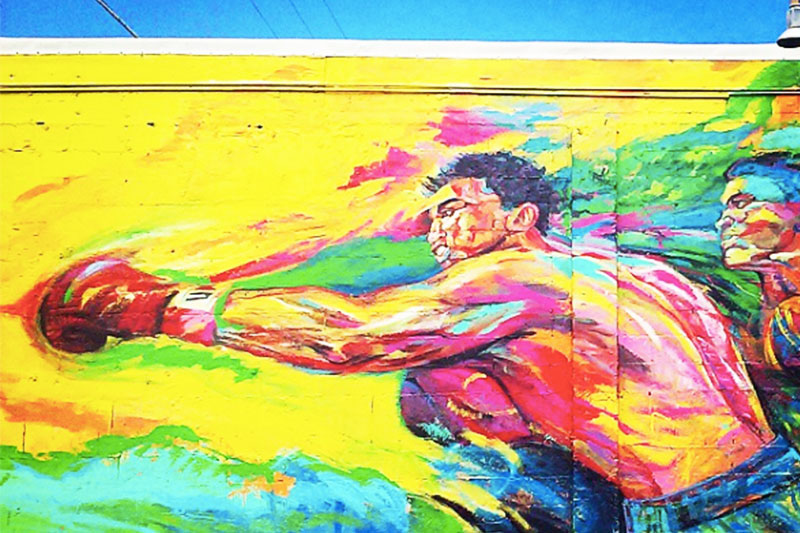 Moving east and north, you'll see the work of Los Angeles-based artist Cleon Peterson, which is often called "chaotic and violent." In a statement about his mural "Revenge," Peterson said "abuse of power and violence is ever present in our world and lives, we see it around us every day and play a role in it both directly and indirectly." In addition to his mural in the Wynwood Doors, Peterson collaborated with US-based artist Shepard Fairey on a mural outside the walls, called "Scales of Corruption."
You'll also see art by Lucy and Jace McTier, whose mural of boxer Muhammed Ali is representative of the type of portraits the American couple is known for. The mural shows the boxer with his back against the ropes, trying to punch his way out of trouble.
Northwest 26th Street
Northwest 26th Street features the work of Claudio Picasso, who also goes by CP1 and CPWON. Born in Chile, she now lives in Miami and her work can be found in numerous locations throughout the city.