Bay Area Real Estate Development
Alviso Eyes "Floating Village" Idea to Protect Developments from Floods and Quakes
It's no secret that the San Francisco Bay Area is smack-dab in the middle of earthquake territory, thanks to the San Andreas Fault and the Hayward Fault. Business Insider reports that there's a 76 percent chance of a 7.2 magnitude (or greater) earthquake hitting the region within the next three decades. On top of that concern, the Bay Area also worries about rising sea levels, which could be detrimental for the region's coastal areas.
To preemptively protect developments against both floods and earthquakes, the Alviso neighborhood of San Jose is considering a "floating village" project, using technology from the Los Gatos-based tech company Arx Pax. The company created a strategy for deploying pontoons underneath buildings, with the aim of protecting the buildings from both rising sea levels and earthquakes. This new technology just might be the answer to some of the Bay Area's concerns about possible damage from earthquakes and rising sea levels in the future.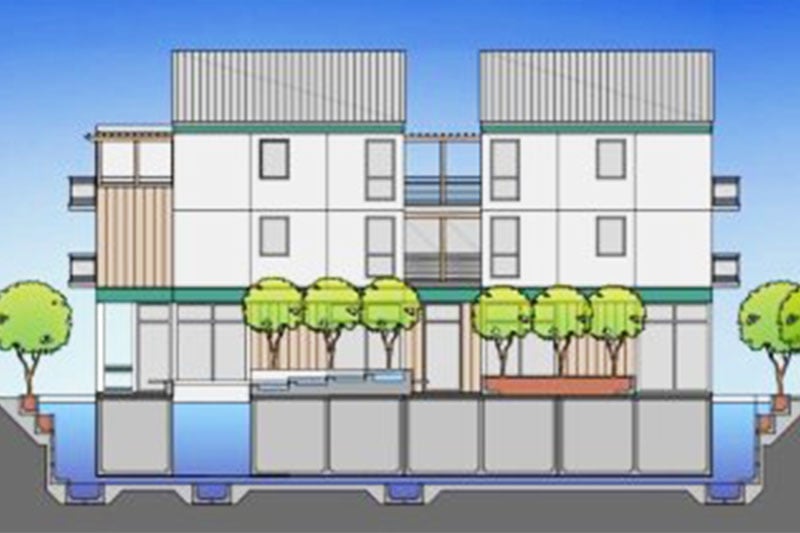 "We sincerely believe that in our mission, we can protect people, property and communities from natural disasters," said Greg Henderson, chief executive officer and co-founder of Arx Pax, told Mercury News.
Through its SAFE Foundation, or Self-Adjusting Floating Environment, Arx Pax is aiming to build a mixed-use village of homes, offices, and retail space in Alviso. All the buildings will be constructed on top of a series of concrete pontoons. Water will be added deliberately, to make the buildings "float." That way, in the event of flooding due to rising sea levels, the development would stay protected by rising along with the influx of water. Eliminating direct contact with soil will also ensure the buildings shake less in the event of an earthquake.
Henderson ensures that the company doesn't want to change or impact the Bay Area's unique habitats, such as the marshes and wetlands. "We are looking at urban in-fill areas that are already subject to flooding," Henderson said, according to the report. "We are not touching the wetlands at all with this; we are not touching salt ponds. We are being totally respectful of the environment."
The goal of the SAFE Foundation is to make developments possible in areas that may have avoided in the past due to earthquake concerns or possible flood damage. More developments would be good news for the region, where the housing market is marred by low availability and high demand.