Austin Local Life
Austin Neighborhood Guide
If you've visited the capital of the Lone Star State, you've likely seen plenty of signs, bumper stickers, and banners imploring you to help "Keep Austin Weird." And indeed, we Austinites treasure our city's eclectic nature, along with its impressive range of live music venues, world-class BBQ joints, craveable breakfast tacos, locally made craft beers and spirits, plentiful public greenspaces, vibrant independently owned shops, and unique combination of down-home country vibes and academic prowess.
Austin's neighborhoods reflect the city's rapid outward expansion, with once far-flung areas now becoming popular hotspots. Along with larger and more well-established sections in town receiving "neighborhood" status, Austin contains multitudes of micro-neighborhoods and master-planned communities. While Austin is still a motorist's city, a growing network of bike lanes, scooter and bicycle rental programs, and rideshare options—along with the CapMetro public bus system—make it easy to explore this Central Texas urban gem.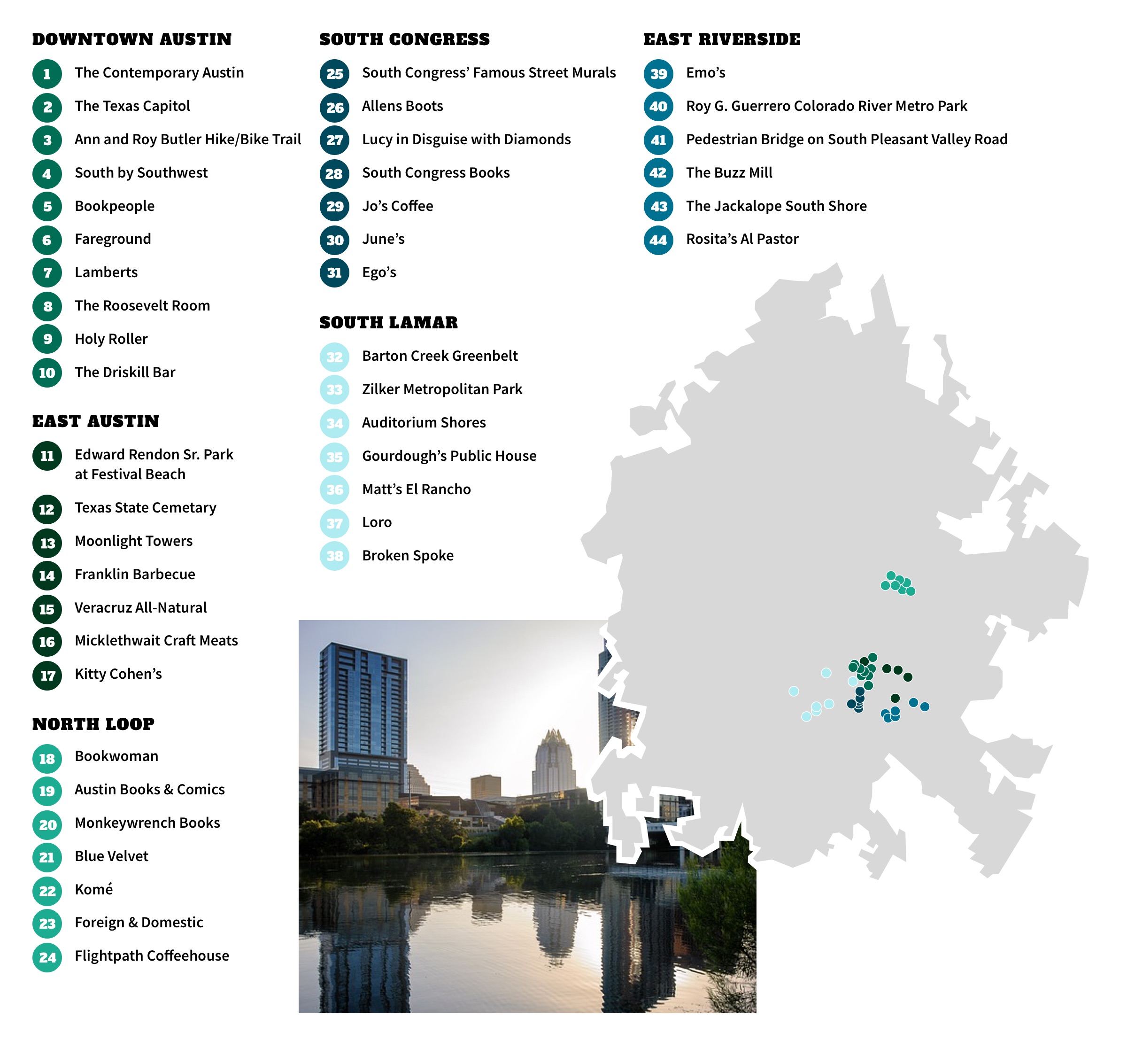 Austin at a Glance
Here are some helpful tips for getting around Austin and its neighborhoods.
The most significant geographic divide within Austin city limits takes place on either side of Lady Bird Lake. All neighborhoods located above the lake are considered part of "North Austin," while the neighborhoods below the lake are "South Austin."
If you're planning to use public transit to shuttle yourself around Austin, you'll quickly become familiar with the CapMetro bus system. Austin doesn't have a streetcar or a subway system, so CapMetro is the last word in mass public transportation. CapMetro run bus services throughout the city, with most lines terminating service at midnight (with the exception of a few "Late Night" lines that run buses until 3:40 a.m.). Passes cost $1.25 for a single ride or $2.50 for a 24-hour unlimited day pass, and you can either pay cash on the bus or download the CapMetro app on your phone to buy tickets ahead of time.
Two major expressways run north and south through Austin: the MoPac Expressway on the west side and I-35 on the east side. The most notable east-west thoroughfare is South Austin's I-290, framed by Ben White Boulevard.
Rideshares are extremely popular in Austin, particularly Lyft and Uber. However, those wishing for a more local option can select Ride Austin, a non-profit rideshare program focusing on equitable pay for drivers.
While each of Austin's neighborhoods claim its own unique sights, attractions, and activities, these six neighborhoods count among the city's most popular, and for excellent reasons.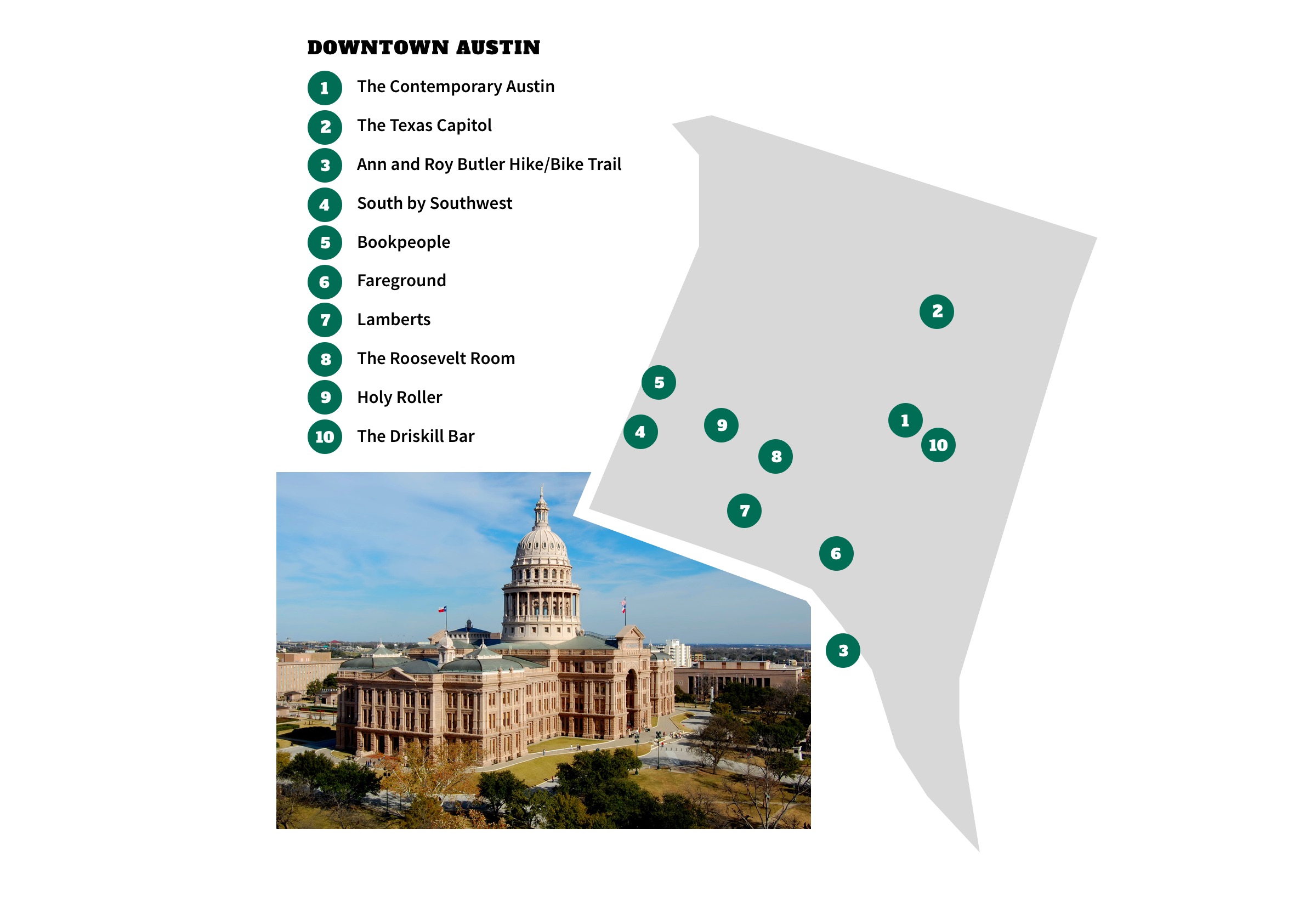 The financial and business center of Austin, Downtown Austin feels more quintessentially "urban" than other areas of town. Here, you'll find high-rise buildings, large bus stations with stops for multiple lines, plenty of shopping options (from large-scale chains and independent operators alike), and dozens of company headquarters. This centrally located region makes for an excellent launching spot for Austin adventures, and its prime locale makes it the ideal setting for one of Austin's most legendary annual festivals, South By Southwest.
What to Do
Downtown Austin features numerous art and culture museums, highlighting everything from 20th century Mexican handcrafts to Greek and Roman sculptures. But for a one-of-a-kind Texan experience, the Contemporary Austin-Jones Center is your best bet. This museum and gallery focuses on 20th- and 21st-century artists based in the Lone Star State. Multidisciplinary exhibitions rotate on a regular basis, so you're bound to spot something new with every visit.
The Texas State Capitol makes its home in Downtown Austin, and history buffs and architectural enthusiasts are welcome to tour the grounds. Dating back to 1888, the marble and granite building is considered among the most distinguished public structures in the nation. Tour guides are on-hand to lead you through the rotunda while discussing the Capitol's history and showing you the building's art collection, public spaces, and even its "hidden" spaces.
A 10-mile pathway tracing the shores of Lady Bird Lake, this trail provides Austinites with stunning views of downtown skyscrapers, waterfront vegetation, and public art installations along the boardwalk. While runners and cyclists can use this thoroughfare for recreation, pedestrians also have an easy way to travel along the lake and connect with North and South Austin on foot.
A famous and well-trafficked tech conference as well as a film and music festival, SXSW takes over Downtown Austin every March, attracting an international community of artists, entrepreneurs, politicians, public icons, and revelers keen on enjoying the festivities. While native Austinites like to gripe about the temporary population swell that occurs during SXSW, the city benefits from SXSW's cultural cache and unstoppable cool-kid cred.
Downtown Austin's shopping scene largely relies on big national retailers, but the local community also cherishes its long-standing indie stores, like the rightfully-acclaimed BookPeople on North Lamar Boulevard. Opened since 1970, BookPeople carries an impressive selection of new releases and classic titles, and the shop regularly hosts author signings by big-name writers.
Where to Eat and Drink
Austin's first-ever food hall occupies some prime downtown real estate on Congress Avenue, taking full advantage of that opportunity by offering up an all-day, indoor-outdoor space perfect for a quick weekday lunch, after-work drinks, or a full sit-down dinner. Fareground vendors all have deep roots in the Austin culinary scene, with highlights including tacos from Dai Due, an outpost of Easy Tiger's bakery and beer garden, and farm-to-table American cuisine from Henbit.
For an upscale Texas BBQ repast in historic digs, check out Lamberts on West 2nd Street. This downtown staple specializes in slow-smoked Black Angus brisket, pork ribs, and homemade sausages. Diners can also enjoy live music performances hosted on a nightly basis at Lamberts' upstairs bar.
Austin proudly considers itself a "beer town," but the Lone Star capital also features plenty of excellent mixologists with clever cocktail tricks up their sleeves. Many of these folks can be found at The Roosevelt Room, a sleek and sexy downtown boite with an extensive beverage list ranging from classic, Prohibition-era libations to newfangled tipples.
An effortlessly cool "nouveau diner," Holy Roller serves comfort food with a twist, complemented by punk-rock-inspired decor and an excellent playlist. Dishes like biscuits with pimento cheese, brisket queso fries, and house-baked layer cake are designed to soak up potent beverages like the Austinite (rye, Averna, and Aztec chocolate bitters).
Downtown Austin's oldest hotel, The Driskill, has welcomed visitors and guests since the late 19th century, and the lobby bar pays homage to its historic surroundings. A combination of "Mad Men"-esque elegance and down-home Texan charm is readily available at The Driskill Bar. Patrons can sip on The Driskill's classic cocktails and settle in for some live music in the bar's comfortable environs.
Why Locals Live Here
Austinites in search of "big city living" gravitate to Downtown Austin's vertiginous architecture, easy access to public transit, and thriving dining and nightlife scenes. The bulk of Austin's business culture happens in this part of town, so well-heeled professionals in need of convenient lodgings and a quick commute appreciate this neighborhood's amenities. Also, Austin's tallest residential structures can be found in Downtown, so condo hunters with a fondness for high-rises will find what they want in developments like the upcoming 6X Guadalupe, which is on-track to become Austin's tallest building.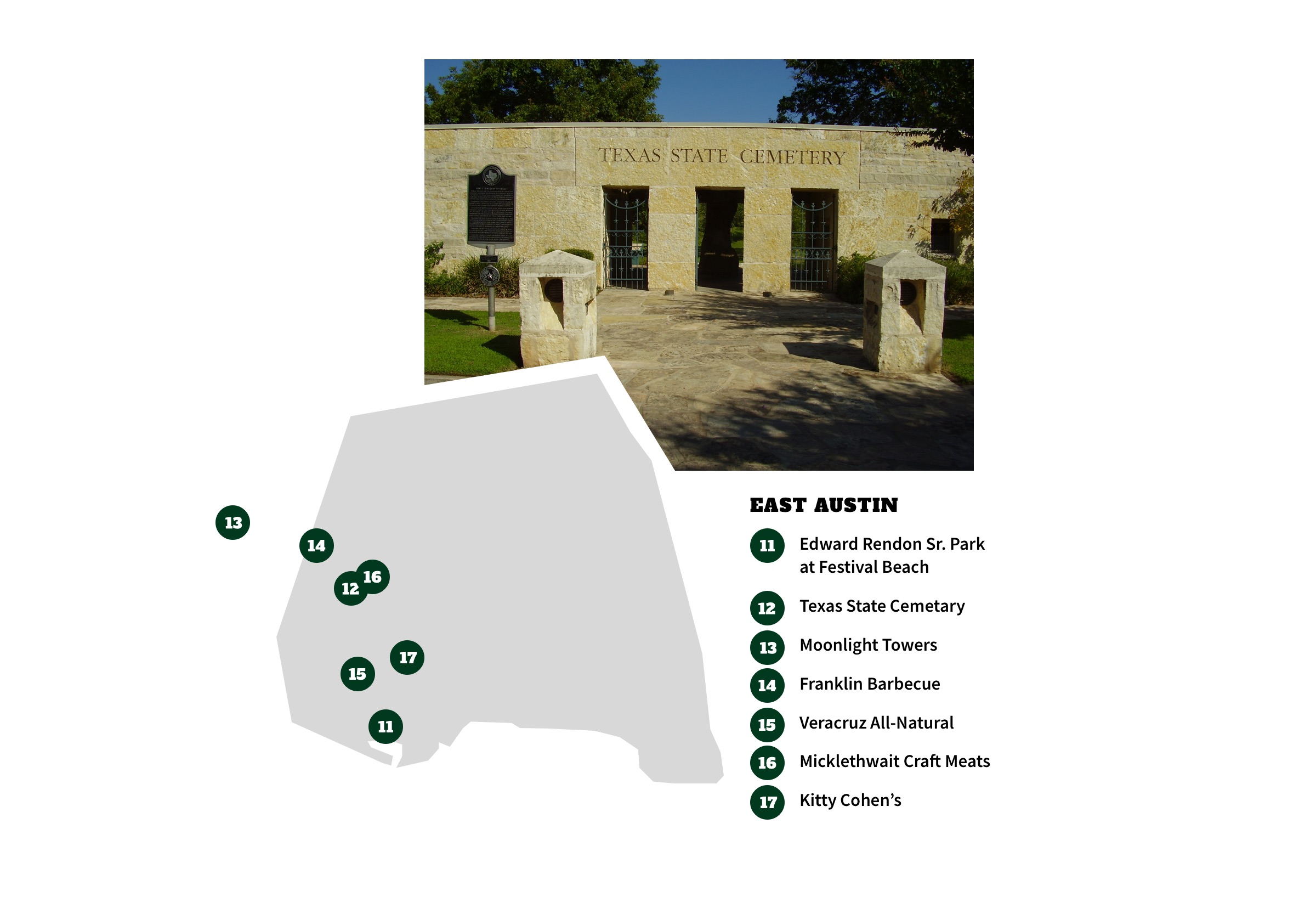 Austin's epicenter of hipness is the rapidly shifting East Austin neighborhood. Trendy watering holes, craft breweries, and top-rated food trucks can all be found here, anchored by a long-time residential population committed to keeping East Austin "weird" even in spite of the area's fast-paced development.
What to Do
As East Austin's largest public greenspace, Edward Rendon Sr. Park provides ample lawn for picnicking and daytime-partying, supplemented by gorgeous Colorado River views and abundant opportunities for boating and rafting. The park also features athletic fields and a dog run, encouraging residents to enjoy the pleasant Central Texas weather with their four-legged friends.
East Austinites with a penchant for history will find plenty of high-profile Texans memorialized in the Texas State Cemetery. Guided tours are available, or visitors can scope out the grounds on their own, discovering the burial spots for Texas governors, senators, first ladies, and rangers.
13. Moonlight Towers
If you've ever seen the 1993 (Austin-set) film Dazed and Confused, you may remember Matthew McConaughey shouting "Party at the moontower!" That legendary line refers to actual structures dispersed throughout Austin—the only remaining versions in the country. Examples can be found in neighborhoods all over town, but East Austin's two moonlight towers (one on East Martin Luther King Jr. Boulevard and the other on East 13th Street) are less trafficked than the structures in Austin's downtown center, making them perfect for a leisurely visit.
Where to Eat and Drink
As the most iconic smokehouse in a celebrated BBQ region, Franklin Barbecue requires some advanced planning and a great deal of patience. Prospective diners start queuing up early in the morning, and the restaurant regularly sells out of brisket and pork ribs by early afternoon. But if you stake out a spot in line early enough with some beverages in tow, you'll get to enjoy one of Austin's most beloved traditions and world-class barbecue.
Every local has their own "best breakfast taco" pick, but the pro critics tend to favor the versions whipped up by the Veracruz All-Natural food truck, which holds court on East Cesar Chavez Street. The most popular Veracruz dish? The migas taco with scrambled eggs, pico de gallo, cheese, and avocado on a blistered flour tortilla.
Franklin Barbecue garners a great deal of hoopla, and the rave reviews are well-earned. But if you ask a local for their top BBQ destination, many East Siders will direct you to the Micklethwait Craft Meats trailer just a few blocks east of Franklin. Micklethwait serves up melt-in-your-mouth brisket and tasty side dishes, but they're most acclaimed for their smoked sausage selection.
At Kitty Cohen's, you'll find a chic mid-century decor scheme, tiki-inspired cocktails, and an actual wading pool in the spacious backyard. The vibe here borrows heavily from 1960s Miami, an energy reinforced by potted palms, wicker lounge furniture, and copious amounts of frozen rosé.
Why Locals Live Here
East Austin has a recent reputation as a haven for hipsters, but the neighborhood also hosts a sizable population of long-time residents, particularly in the single-family homes on and around East Cesar Chavez Street. East Austin represents a cohesive blend of "Old Austin" and "New Austin," making it one of the city's most vibrant, energetic, and diverse neighborhoods.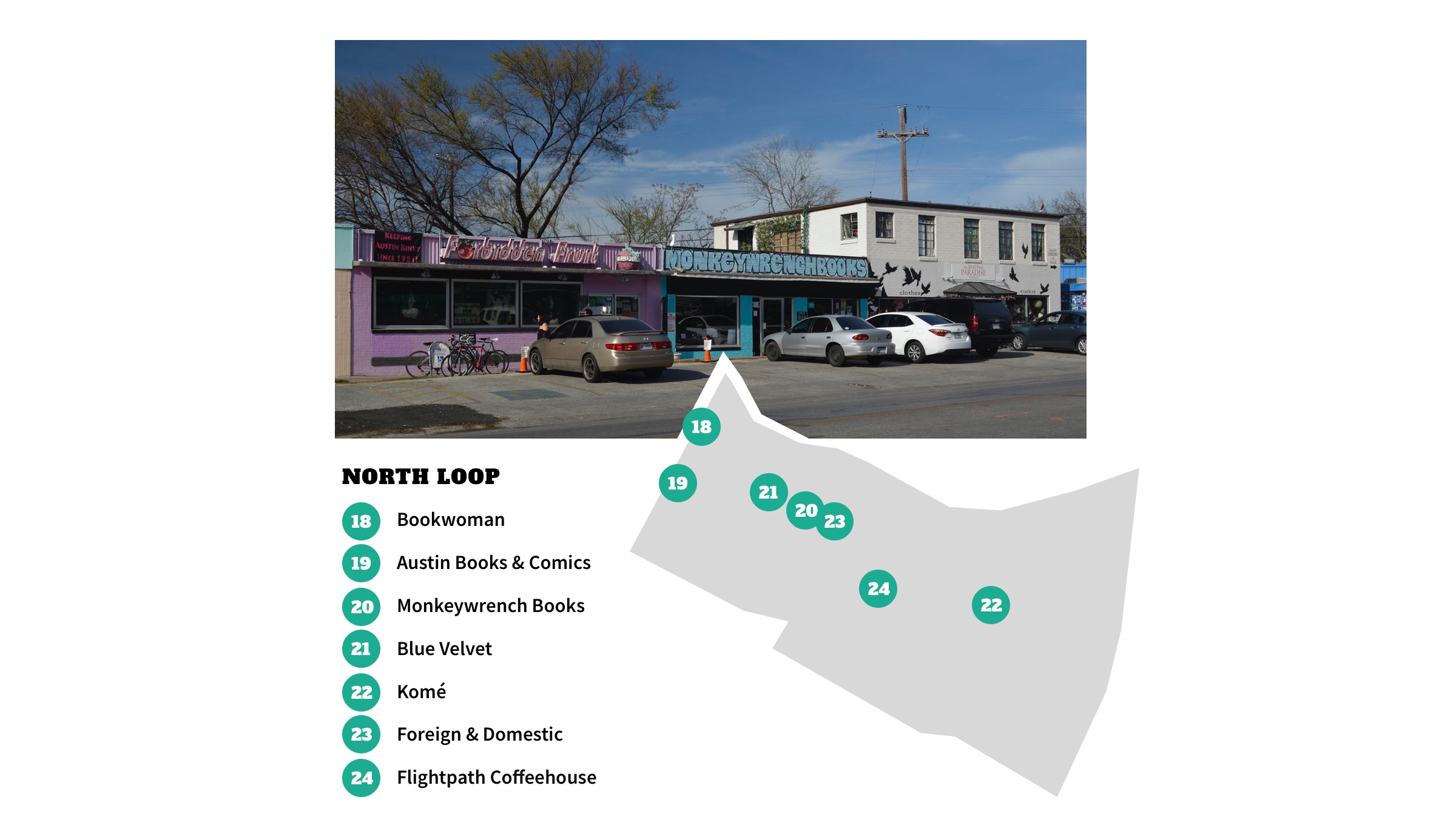 A serene residential neighborhood characterized by tree-lined streets, quirky independent businesses, and plentiful bike lanes, North Loop is a popular area among University of Texas students and faculty, thanks to its close proximity to the campus. North Loop's peaceful blocks perfectly crystallize the urban-meets-suburban appeal of North Austin, but its location near major highways like I-35 makes it easily accessible.
What to Do
In spite of its small size, North Loop is a dense neighborhood in terms of bookshop destinations. Throughout the area, there are specialty purveyors of different literary genres, including feminist-leaning BookWoman. This bookshop has been serving the Austin feminist and queer community for over 40 years.
Comic book fans can stock up on reading material at some of Austin's finest indie bookstores like the comic book and graphic-novel haven Austin Books & Comics.
Monkeywrench Books is another neighborhood hotspot for bookworms. This particular bookstore is a volunteer-run event space and social hub that caters to readers who are passionate about social justice.
Indie shops in the North Loop, like Blue Velvet, shouldn't be missed. This vintage boutique is family-owned and has been in business since 1994. Thanks to its affordable, vintage clothing, Blue Velvet has been able to keep North Loop residents looking sharp in unique throwback duds. Vintage mavens often flock to this neighborhood for the well-curated array of clothing shops clustered along North Loop Boulevard.
Where to Eat and Drink
A North Loop staple for inventive sushi rolls and authentic Japanese entrees, Komé is a popular date-night spot and gathering place for foodie friends. Komé receives particular accolades for its Monday-Thursday happy hour food and drink deals.
If ethical farming and locally sourced ingredients are a dining priority for you, Foreign & Domestic should appear at the top of your must-visit list. Chefs Sarah Heard and Nathan Lemley partner with Central Texas farms to score the freshest produce and meats, and their seasonal menu blends American and European culinary traditions to fully showcase each ingredient's potential. In addition to a well-appointed a la carte menu, this restaurant offers a prix-fixe "nose to tail" tasting menu, featuring dishes like seared lamb heart with red risotto and foie gras mousse with cherry jam and peanut glass.
A cozy bastion frequented by both North Loop residents and freelancers from all over Austin, Flightpath Coffeehouse proudly offers exactly what its patrons want and need—friendly baristas and powerful doses of java. This establishment also features speedy WiFi, funky furnishings, a spacious outdoor patio, and snacks from local purveyors like East Side Pies and Tacodeli.
Why Locals Live Here
The North Loop is a tight-knit neighborhood that feels like its own small town, but the CapMetro easily links the area to other higher-volume areas of Austin, making this a strong home base for business commuters and students. The stores and restaurants lean heavily in an independent direction, allowing the North Loop to retain its eclectic nature.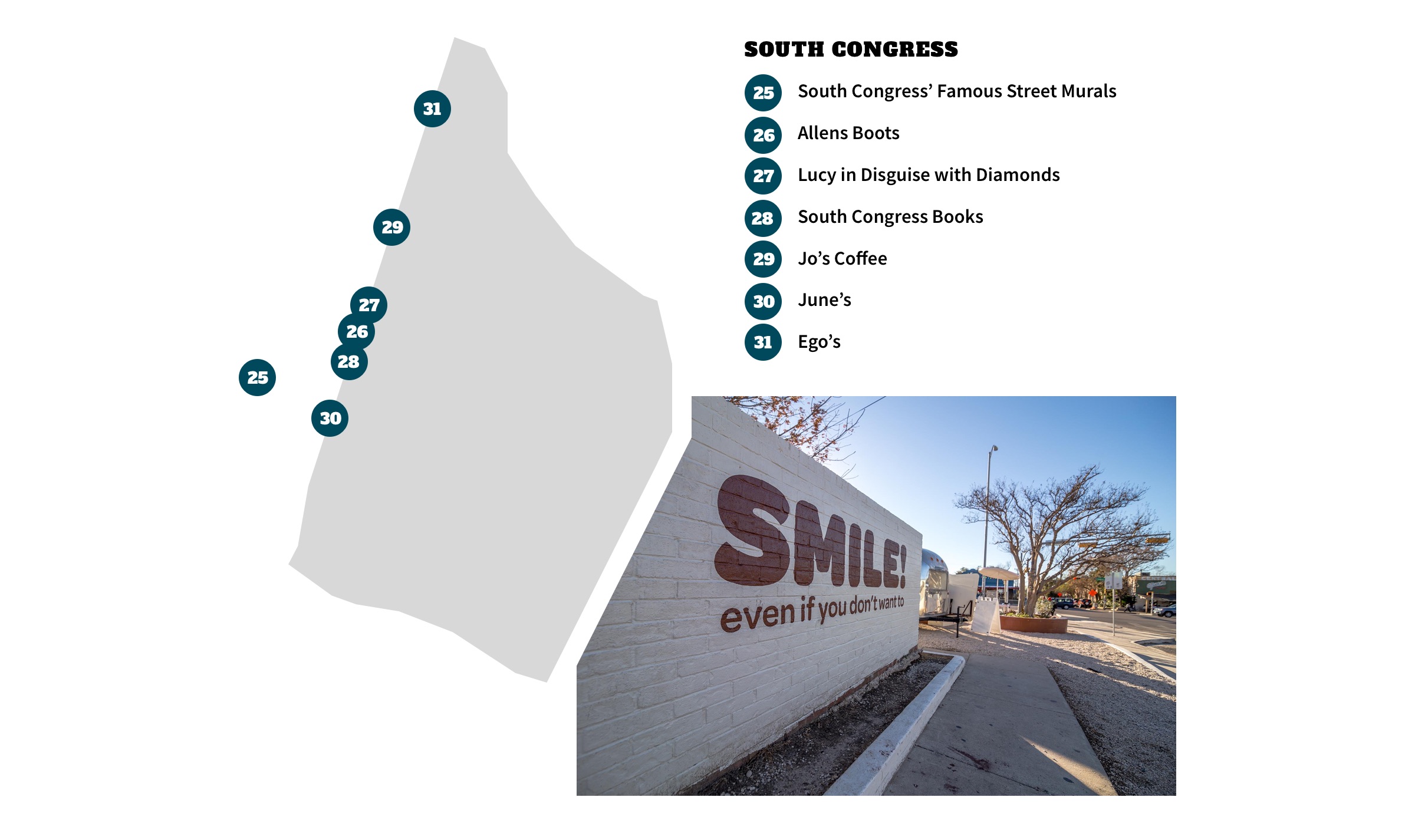 South Austin is home to numerous evolving neighborhoods, and one particularly vibrant and popular example can be found in South Congress. Home to trendy hotels, hopping bars and restaurants, and a flourishing shopping scene, South Congress possesses a youthful spirit, solidifying it as a top destination for Austin visitors and residents alike.
What to Do
25. South Congress' famous street murals
Street art is a major creative force in South Congress, and some of the city's most famous murals can be found in this enclave. Instagrammers favor the "Greetings From Austin" mural on South 1st Street and the "Willie For President" painting on East Elizabeth Street, celebrating one of Austin's most lauded sons, Willie Nelson.
A South Congress retail classic, Allens Boots is a one-stop shop for Western attire. Cowboy boots, Stetson hats, intricately carved belts, and fringed leather bags are just a few of the items you'll find at Allens Boots. Thanks to the shop's impressive selection of Western gear for kids, you can also outfit the whole family for a Western-themed family portrait.
Like the North Loop, South Congress is a hotspot for vintage shopping, as evidenced by well-stocked apparel emporiums like Lucy In Disguise With Diamonds. In addition to antique clothing items, this shop also carries ornate costume jewelry, vivid feather boas, and a wide selection of off-kilter dress-up pieces.
Not to be outdone by North Loop's indie book scene, South Congress also has a few to offer to its book-loving residents. South Austin's most iconic indie bookseller is, without question, South Congress Books, a cozy store with an impressive collection of used tomes from a wide range of genres.
Where to Eat and Drink
Local favorite Jo's Coffee has since expanded to other regions of Austin, but the mini-chain got its start on South Congress. This location still features top-notch coffee, craveable breakfast tacos, and patio seating that provides wonderful people-watching opportunities.
A stylish all-day cafe serving New American grub, craft cocktails, and biodynamic wines, June's is a South Congress brunch center, often with long wait times. For a more laid-back experience, swing by during the week for delicious house-made pastries, clever spins on diner classics like a Matzo Ball Caldo, and one of the most intriguing wine lists in all of Austin.
You might expect to catch incredible vocal performances at karaoke bars in New York City or Los Angeles, but Austin isn't the "live music capital of the world" for nothing. The city's only dedicated karaoke pub, Ego's, is a genuine dive bar, from its inside-a-parking-garage location to its inexpensive beer selection. But the singers are the real deal, and even if you don't intend to take the stage yourself, Ego's is still worth checking out if you want to see a top-quality show.
Why Locals Live Here
Homebuyers with deep pockets have recently identified South Congress as a particularly desirable Austin locale, thanks to its inventory of beautiful Victorian homes, lively bar and restaurant scene, and bohemian appeal. As a result, it's not the best bet for budget-minded buyers, but if you have some extra cash to spend and you want to be in the heart of the action, South Congress may be the perfect place for you.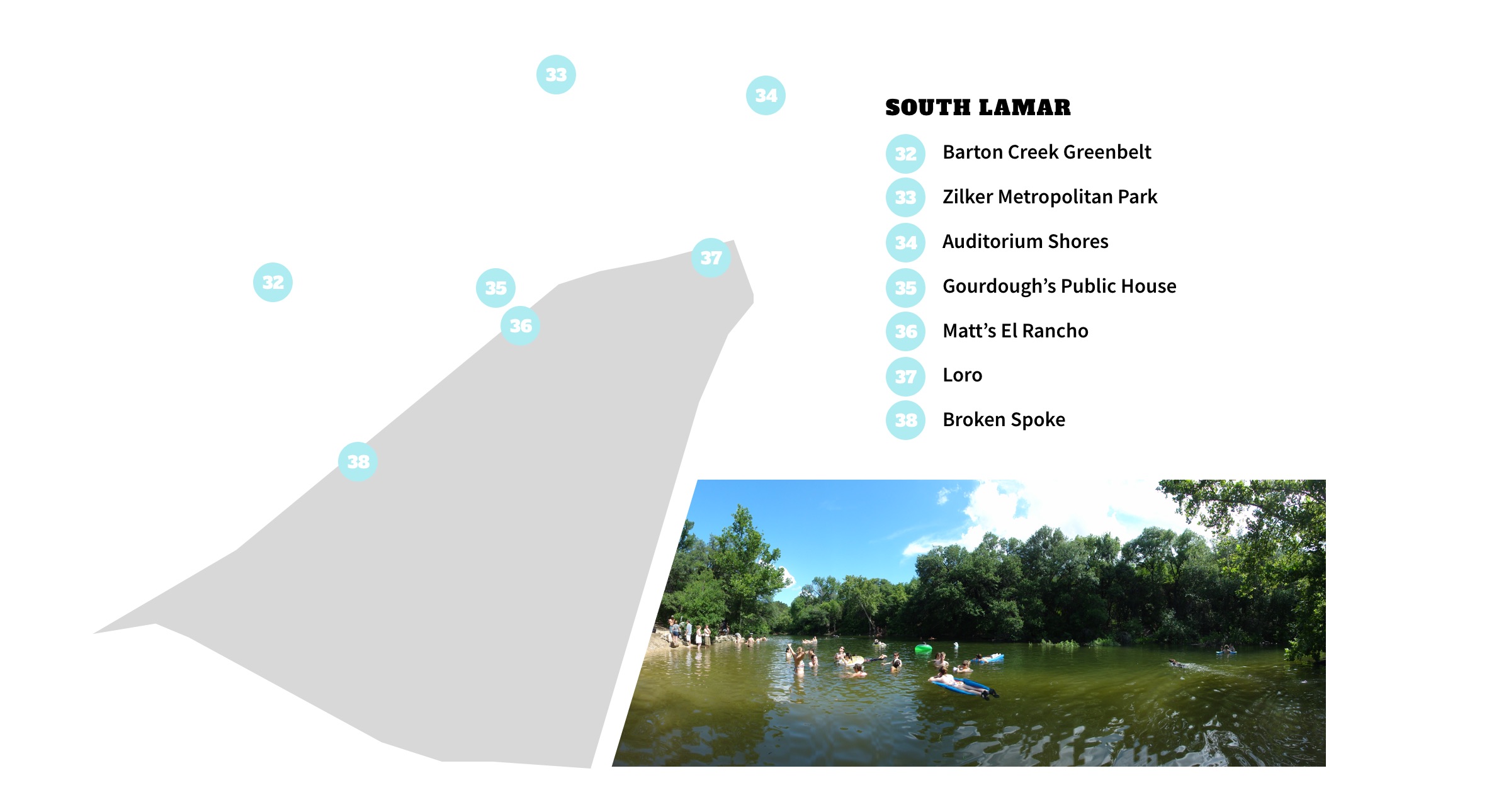 Due to a recent influx of new restaurant openings from top-level Austin chefs, South Lamar is poised to become the city's next big dining scene. The neighborhood also features many plans in the works for new Austin developments, reflecting the heightened interest in the area from builders, developers, and businesses. However, buyers on a budget can still find affordable homes in and around South Lamar, making it a strong pick for a first-time homebuyer in Austin.
What to Do
South Lamar features some of Austin's largest and most action-packed public greenspaces, specifically the Barton Creek Greenbelt. At Barton Creek and its surrounding parkland, you'll find ample opportunities for hiking and biking, limestone bluffs for rock climbing, abundant lawn space for picnicking and sunbathing, and easy access to swimming holes and splash ponds in nearby Barton Springs.
Zilker Park follows the creek to its genesis at the Colorado River, and this expansive space also contains the Zilker Botanical Garden and the Austin Science and Nature Center. In the fall, Zilker Park hosts the city's second-biggest music festival (after SXSW): Austin City Limits.
Austin residents with a fondness for the arts will find multiple venues and exhibition spaces in the Auditorium Shores park on the shores of Lady Bird Lake. The city-funded Dougherty Arts Center provides gallery space and a theater for local artists and performance troupes, with a special focus on diversity in programming. For big-budget productions featuring top-billed talent from around the world, check out the Long Center for the Performing Arts, a beautiful theater space welcoming acts like the Boston Pops, Eddie Izzard, and the Austin Opera.
Where to Eat and Drink
If gourmet doughnuts sound like a delicious snack while drinking, then Gourdough's Public House just might be the hangout of your dreams. This bar and restaurant includes a large dog-friendly patio, a well-appointed list of local beers, and a blend of sweet and savory doughnuts to satisfy every possible craving.
An Austin-style Tex-Mex temple serving the good stuff since the 1950s, Matt's El Rancho is most famous for its "Bob Armstrong Dip," a bowl of homemade queso topped with seasoned taco meat and a healthy scoop of fresh guacamole.
When BBQ master Aaron Franklin (of Franklin Barbecue) and New Texas cuisine impresario Tyson Cole joined forces to open Loro on South Lamar Boulevard, Austinites knew they were in for something special, and Loro didn't disappoint. This Asian-influenced smokehouse offers classic BBQ staples with a twist, like smoked brisket with chili gastrique and Thai herbs. The cocktail menu features boozy slushies and batched sippers like a Ginger Old Fashioned, all designed to pair perfectly with the restaurant's grilled eats.
Austin may be a free-spirited urban oasis, but we're still in Texas, and we must pay homage to tradition by visiting the occasional honky-tonk and doin' the two-step. Luckily, Broken Spoke in South Lamar provides an authentic venue, complete with patrons sporting 10-gallon hats and live bluegrass performances on a nightly basis.
Why Locals Live Here
South Lamar features a blended population, fairly evenly split between professionals and families. The neighborhood is part of the Austin Independent School District, providing local kids with access to highly rated public schools, and even as South Lamar becomes more popular with restaurateurs and bar owners, the area's community vibes withstand the changes with aplomb.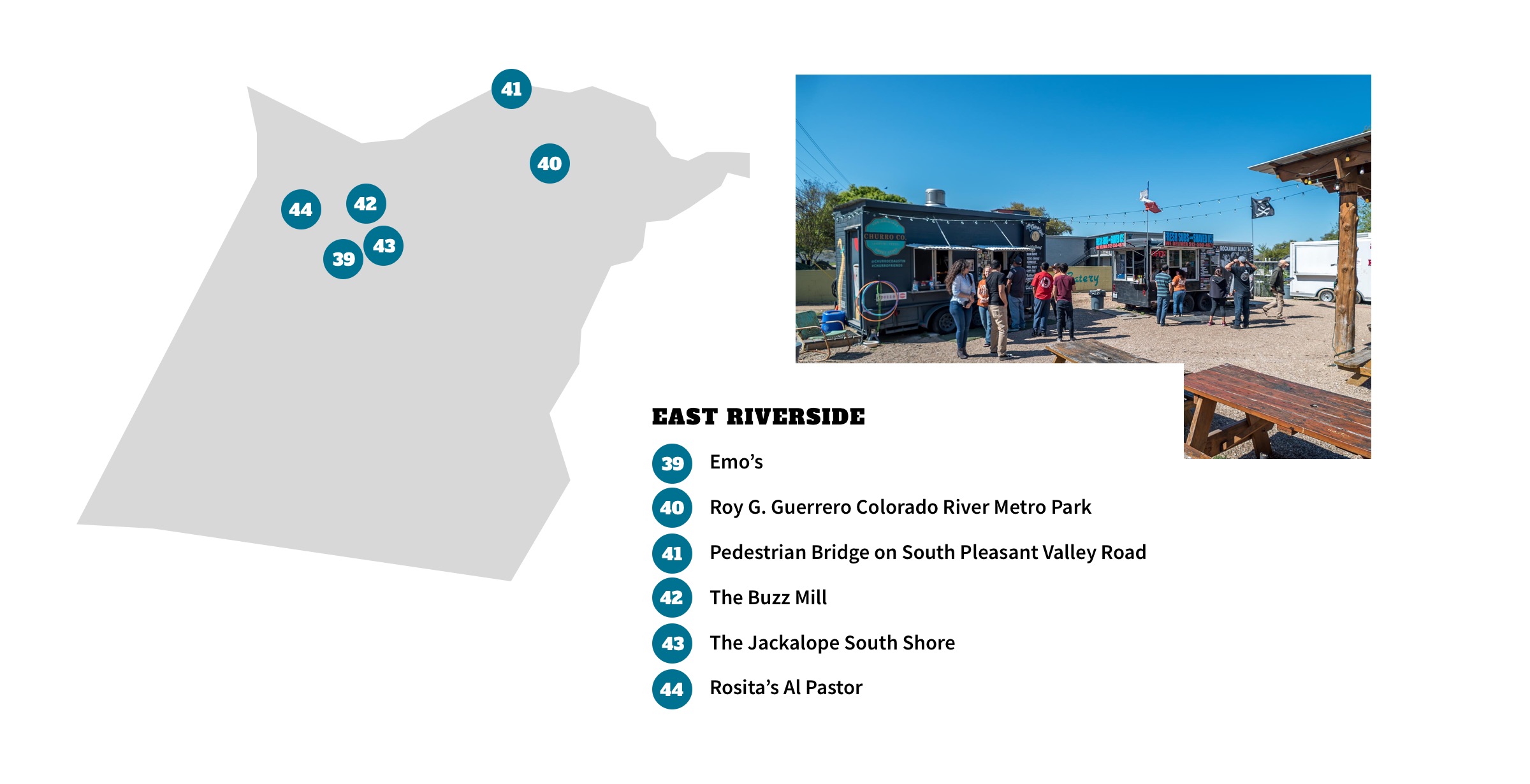 Once considered a "down and out" area of town, East Riverside is experiencing a rejuvenation, bolstered by higher residential numbers and the neighborhood's convenient location just south of the river from trendy East Austin. Those in the housing market can still find reasonably priced homes in East Riverside, and as the neighborhood continues to grow and develop, the investment potential will only become more lucrative.
What to Do
You'll want to catch a show in this neighborhood. East Riverside is home to Emo's, a premier musical venue that focuses on punk and alternative bands. The venue is an official participant in SXSW, and both local bands and famous groups like My Chemical Romance have taken the stage here.
The largest greenspace in East Riverside features numerous amenities for active Austinites. Walkers can make use of the trail tracing the Colorado River, traditional golfers can tee off at the Riverside Golf Course, disc golfers can enjoy the popular course in the park's northwest quadrant, and local softball teams regularly play at the Krieg Complex under the South Pleasant Valley Road overpass.
41. Pedestrian Bridge on South Pleasant Valley Road
Connecting the up-and-coming East Riverside neighborhood with the uber-hip area of East Austin, South Pleasant Valley Road crosses the Colorado River via a pedestrian-friendly bridge and footpath. A route commonly used by local runners, this stretch of sidewalk offers scenic river views and an easy way to traverse between two Austin neighborhoods without the need for a car or even a bus map.
Where to Eat and Drink
A coffee house by day and a beer bar by night, The Buzz Mill is an East Riverside institution, beloved for its spacious patio and dog-friendly policies. The Buzz Mill stays open 24/7, making it one of the few spots in Austin catering to early birds and night owls alike.
An East Riverside offshoot of the popular "Dirty Sixth" pub, The Jackalope South Shore location features a larger space, a locally beloved weekend brunch, and a back patio equipped with cornhole games. Sunday funday anyone?
Rosita's may be decidedly no-frills, but that's part of the charm of this truck-based taqueria serving the best in Mexican food. As the name suggests, Rosita's Al Pastor specializes in spicy marinated roasted pork, which you can enjoy on a plate, inside a burrito or taco, on top of nachos, or scrambled with eggs. Take your pick, each is just as delicious as the next.
Why Locals Live Here
Many longtime East Riverside residents fear the rapid pace of change in the area but others appreciate the investments made to improve public safety and maintain the neighborhood's cleanliness. Prices are still relatively low in comparison to the rest of Austin, but East Riverside's popularity will only continue to grow, so homebuyers will want to purchase their prospective homes sooner rather than later.