Austin Real Estate Development
Austin New Development Drilldown February 2019
Austin's impressive population growth—projections indicate that the city will claim 1 million residents by 2020—owes its progress to a variety of factors. The city regularly tops "Best Places to Live" lists, has higher education institutions like the University of Texas and St. Edwards University that welcome scores of students each year, and more families are flocking to area suburbs and master-planned communities. Not to mention the Central Texas tech scene also continues to flourish, attracting thousands of remote contractors and on-site employees.
The latter group of Austinites recently received a major piece of news, as Apple announced its plans to build a new campus within Austin city limits with a budget of $1 billion. The Apple facility, which will represent the company's largest presence outside of its Cupertino, California headquarters, is scheduled for completion within the next three years, but the Austin real estate industry plans to waste no time accommodating this influx of new residents.
Read on to see what else is happening in Austin's real estate development.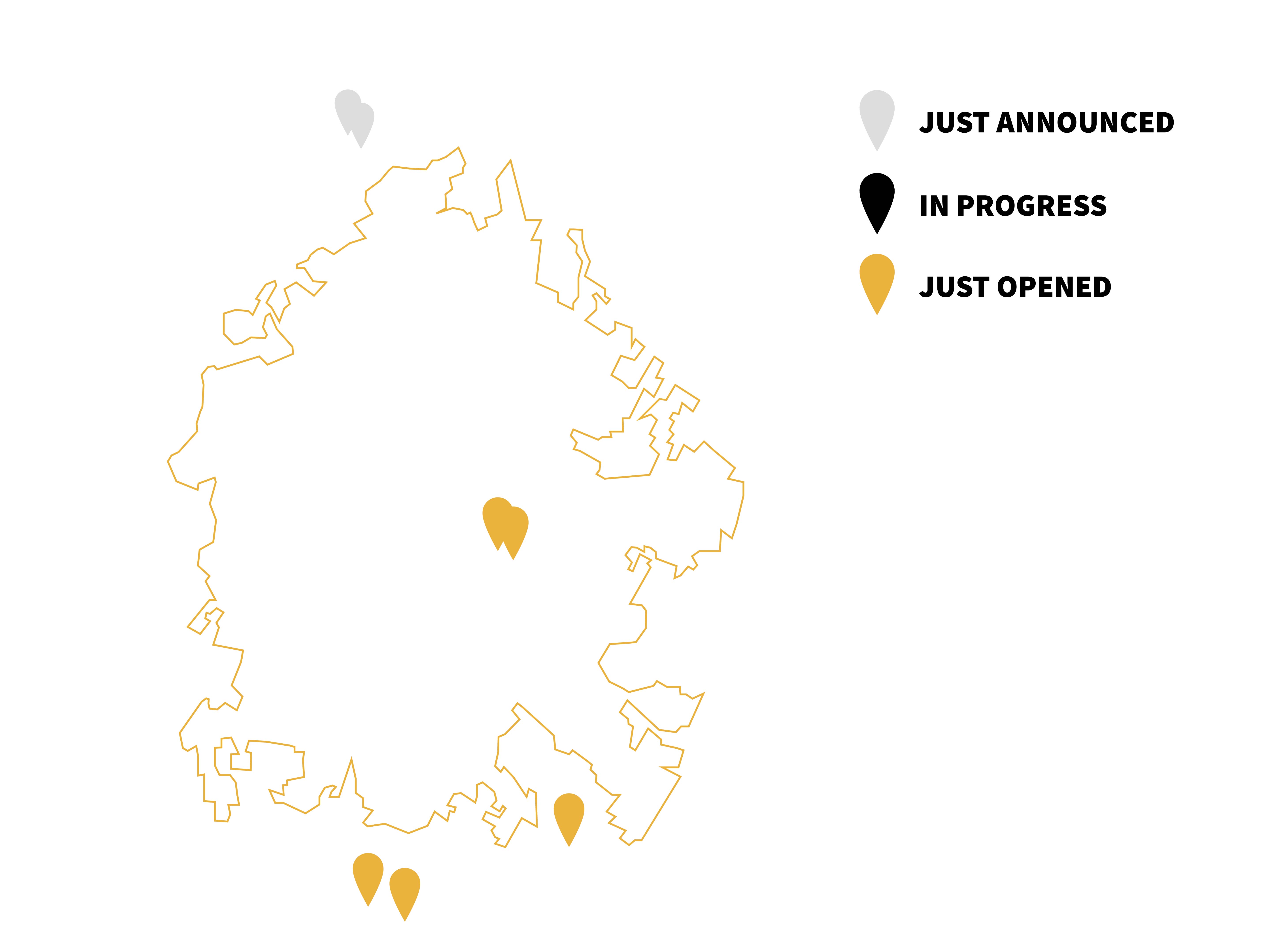 Just Announced
Alamo Drafthouse Coming to Cedar Park
Local movie-theater juggernaut Alamo Drafthouse recently announced their intention to build a new location in the popular Austin suburb of Cedar Park, which will anchor the second building phase of the Presidio master-planned community.
The new Alamo will include 10 screens, and in addition to the in-theater food and drink service for which Alamo is famous, the chain's Presidio location will feature a separate bar and restaurant. The Alamo component of Presidio Phase II will break ground in Spring 2019, and local residents can also expect 90,000 square feet of office space and new retail and restaurant developments unattached to the movie theater.
"Love More" Coming to Holly
Super-trendy East Austin's more residential (and more reasonably priced) neighbor, Holly, will soon welcome a mixed-use building on East 5th Street entitled "Love More." Designed by local firm Weaver Buildings, Love More will include 12 micro-lofts and over 2,500 square feet of retail space. Buyers can expect to pay around $253,240 for each condo unit. Love More is expected to break ground in late January 2019, with a projected completion date of September 2019.
In Progress
In late December of 2018, Apple announced its intention to build a massive new campus in Austin, investing $1 billion in its construction and operation. While the campus isn't due for completion for at least three years, real estate watchers expect to see immediate effects on property values in Austin proper, its suburbs, and neighboring cities to the north.
As Austin real estate broker Karen Choate told Forbes:
"Austin has been a seller's market for at least 10 years, and it was not impacted by the 2008 recession as many other cities across the nation were. Good paying jobs, no state income taxes, and the relatively low cost of living are what have drawn, and will continue to draw people to Texas. But as far as housing goes, there are pros and cons to Apple's new campus, and it boils down to basic economics—supply and demand. As the demand for housing goes up, unless the supply increases at the same rate, the prices go up."
While no housing development plans directly linked to Apple's new campus have been announced thus far in 2019, North Austin and the suburbs between Austin and fellow Texas tech-hub Round Rock, like Leander, Cedar Park, and Pflugerville, will likely experience major value swells as the opening date for Apple Austin approaches. Therefore, prospective Austin property investors would be wise to hone in on these markets while pricing remains reasonable.
Just Opened
Taylor Morrison, a major builder in the Austin-area master-planned community scene, recently unveiled eight new home designs exclusive to the Easton Park master-planned development in Southeast Austin. Homebuyers can select from two-story models starting at 2,446 square feet, with up to four bedrooms and three-and-a-half bathrooms.
Taylor Morrison's newest addition to its design repertoire, known as The Amaretto, involves a two-story house with 2,558 square feet of living space, three bedrooms, two-and-a-half bathrooms, a two-car garage, covered patio, play room, and home office. Buyers who purchase a home in Easton Park built by Taylor Morrison will also have access to the entire suite of the community's amenities, including a swimming pool and fitness center, recreational fields, indoor-outdoor lounges, playgrounds, grill stations, biking and hiking paths, and dog parks.
Highlands at Grist Mill
Like Taylor Morrison, developer KB Home holds significant influence over Austin-area master-planned communities. Builder Online reports that the builder added a new community to its roster in mid-December of 2018 called Highlands at Grist Mill in Uhland, a suburb just 35 minutes south of Downtown Austin.
The Highlands offers 17 floorplans for buyers to choose from, maxing out at 2,800 square feet. The homes include modern kitchens, two-car garages, outdoor patios, and up to six bedrooms and three-and-a-half bathrooms. Also, Uhland boasts close proximity to major shopping centers at Kyle Crossing and Kyle Marketplace, along with scenic outdoor venues like Barton Springs Pool, Balcones Canyonlands Wildlife Refuge, and Canyon Lake. Homes currently available for purchase begin at the budget-friendly price of $190,000.
Another new addition to the KB Home portfolio is Stagecoach Crossing that recently opened in Kyle during Summer 2018. This new community offers homebuyers 16 floorplans that come as one- and two-story designs. Some of the notable features include deluxe master bedroom suites, double walk-in closets, top-of-the-line kitchens, and working fireplaces. Residents of Stagecoach Crossing can also use the community's park, hiking trails, and playgrounds, and Kyle offers abundant opportunities for shopping and dining. Homes at Stagecoach Crossing start in the low $200s.
A highly-anticipated new arrival to the trendy neighborhood of East Austin, Whisper Valley opened in Spring 2018 as an eco-friendly "smart home" community. Designed by popular developers Pacesetter Homes, Avi Homes, and AHA Dream Home, the houses in Whisper Valley use solar panel systems to generate their own energy, include Nest thermostats to keep temperatures level with minimal energy draining, and come equipped with electric car charging stations.
Other eco-friendly aspects of the community include a Google-powered community and education center, geothermal-heated pool, creative play areas, community gardens, fitness centers, 600-acre Whisper Valley Park, and plenty of lifestyle programs and activities intended to promote healthy living practices, such as fitness classes, nutritious cooking classes, and athletic events. Homes at Whisper Valley start in the low $200s, and the Homebuilder Association of Greater Austin named Whisper Valley its "Best New Community" in 2018.
Community First!
Now fully operational and move-in ready after early pilot programs, Community First! represents a new concept for Austin: a master-planned community specifically intended to support those in need. Located in East Austin, this community offers "tiny" homes (roughly 250 square feet) and RVs to residents who once identified as chronically homeless.
Homes at Community First! Are currently rental-only, with residents paying between $225 and $430 per month for their houses. The nonprofit supporting the project believes that uncertainties about where to live must be addressed before alcoholism and drug abuse can be corrected, and they launched this community to directly assist those suffering with dependence issues that led to homelessness.
Residents at Community First! can use the community's many resources, like a market, dog park, hair salon, community garden, and outdoor kitchens. While homeownership isn't currently possible at Community First!, the project is embarking on a second phase in the near future, which may open up more flexibility for residents looking to set down permanent roots.