Austin Real Estate Development
Austin New Development Drilldown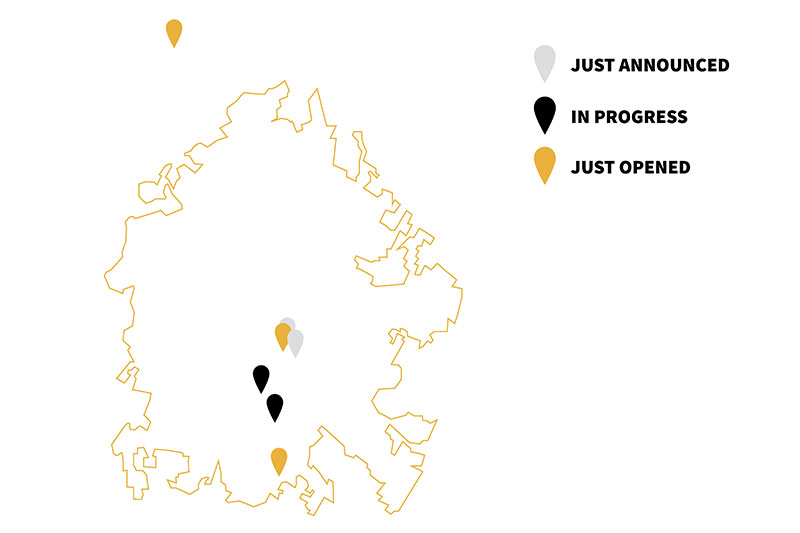 Claiming the top position in U.S. News and World Report's ranking of the Best Places To Live for the second consecutive year, Austin continues to experience major population swells as new residents flood into the highly-desirable city and locals seek to purchase homes for the long haul. During the latter half of 2018, Austin found itself growing both upward and outward. Active urban business districts like Downtown Austin and South Congress are home to skyscraper projects poised to permanently alter the city skyline, while smaller cities and suburbs—like Lockhart and Leander—welcome new and growing master-planned communities to accommodate those looking for resort-style amenities and plenty of space to spread out. Here, you'll find a rundown of the biggest construction projects, proposed developments, and newly-opened communities in the Austin area.
Just Announced
As the area continues its trend of rapid urbanization, high-rise skyscrapers are definitely the name of the game in Downtown Austin. New projects announced for Downtown seem engaged in a constant "Who built it taller?" competition, but so far, there's a clear winner. 600 Guadalupe, also known as 6X Guadalupe, will stand at 67 stories and 848 feet tall. The building will include both residential and office spaces, with the former comprised of 349 condo units. Now that city permits have been secured for the project, developers hope to break ground before the end of the year.
One of Downtown Austin's premier drags for nightlife, dining, and entertainment, Rainey Street will soon also host a 29-floor tower with retail, office, and residential space. 93 Red River still awaits its groundbreaking date, but Endeavor Real Estate, the group behind the project, anticipates progress in the near future. The sleek buildings will contain 328 residential units, 588 parking spaces, and designated parking for 65 bikes. If you're in the market for an apartment in this complex, Endeavor hopes to be ready for move-ins by mid-2020.
In Progress
Downtown certainly doesn't have a monopoly on metropolitan-minded development in Austin; the perennially-hip shopping and dining destination known as South Congress also finds itself plunged into a whirlpool of demographic, economic, and architectural change. One such change began recently with the groundbreaking of Society, a new 262-unit residential project by Dallas developers Leon Capital, on South Congress's eponymous avenue. Housing stock will include one-, two-, and three-bedroom units equipped with smart technology. While the building will begin its life as a rental-only property, apartments available for sale will likely follow. Society hopes to launch pre-leasing soon and begin move-ins by mid-2019.
Austin's enormous popularity among millennials and first-time homebuyers inspires even pre-existing master-planned communities—a residential neighborhood built with specifically-designed homes, recreational activities, and amenities like parks and pools—to grow their inventory with an eye toward attracting these youthful Austinites. One such master-planned community is Goodnight Ranch, a development that's been in the fast-growing area of Southeast Austin since 2017. The community recently announced a new partnership with local homebuilder Homes by Avi, who will construct 90 duplex townhomes within the new development. Residences built by Homes by Avi in Goodnight Ranch will feature two to three bedrooms as well as marble-accented bathrooms and landscaped lawns. Pricing for these homes starts at $190,000.
Just Opened
Its status as the tallest skyscraper in Austin may not last for long, but Independent Austin currently soars above Downtown's other buildings and towers. Independent's 363 residences, ranging in price from $400,000 to over $3.5 million, are currently available for sale; the majority of apartments are under contract, but some units priced at $600,000 and above can still be purchased. The units range from one to four bedrooms and include sweeping city views, top-of-the-line bathrooms and kitchens, and access to building amenities like a heated infinity pool, a landscaped outdoor lounge complete with a fireplace, a dog park, and a high-tech fitness center cantilevered over the building's edge.
Meadows at Clearfork, a new master-planned community in the "barbecue capital" of Central Texas in Lockhart, recently hosted its own ribbon-cutting ceremony in mid-July. Built by popular local developers KB Home, Meadows at Clearfork has 14 spacious single-family home designs offering 1,491 to 2,881 square feet with three to six bedrooms. Homes are priced starting in the low $200s.
If single-family homes within easy commuting distance of Austin proper are of interest to you, check out Brookfield Residential's newest MPC, The Cottages at Crystal Falls. Located in the serene small city of Leander just 25 miles northwest of Austin, The Cottages includes 57 one and two-story detached homes featuring a mix of Craftsman, Bungalow, Hill Country, and Prairie architectural styles. Homes range in size from 1,206 to 1,806 square feet and offer two to three bedrooms. This gated community also offers residents on-site amenities like Crystal Falls' acclaimed golf course, multiple swimming pools, and abundant hiking and biking trails. Crystal Falls has been in Leander for several years now, but The Cottages offers the opportunity to access the amenities of the community at a lower price range, making it more attainable for first-time homebuyers.