Washington D.C. Real Estate Development
Bethesda's Pearl District Getting First Major Development
The first redevelopment project for Bethesda's Pearl District was given the go-ahead by Montgomery Country planning officials last week, Bethesda Magazine reported. With a unanimous approval, the 145-foot-tall mixed-use building will begin to move forward.
The site is currently a surface parking lot, located at the corner of Pearl Street and Montgomery Avenue, Bethesda Magazine reported. The project, which is headed by Promark Development, will bring 61,250 square feet of residences and retail space to the Pearl District, which is the area east of Waverly Street and north of the Capital Crescent Trail.
"We're excited that this project will somewhat jump-start this portion of the redevelopment of Bethesda," Pat Harris, a land-use attorney representing Promark Development, told Bethesda Magazine.
According to the sketch plan, developers are aiming for this new project to become "an eastern gateway to Bethesda." The site will offer easy access to the Capital Crescent Trail and future Purple Line Metro service.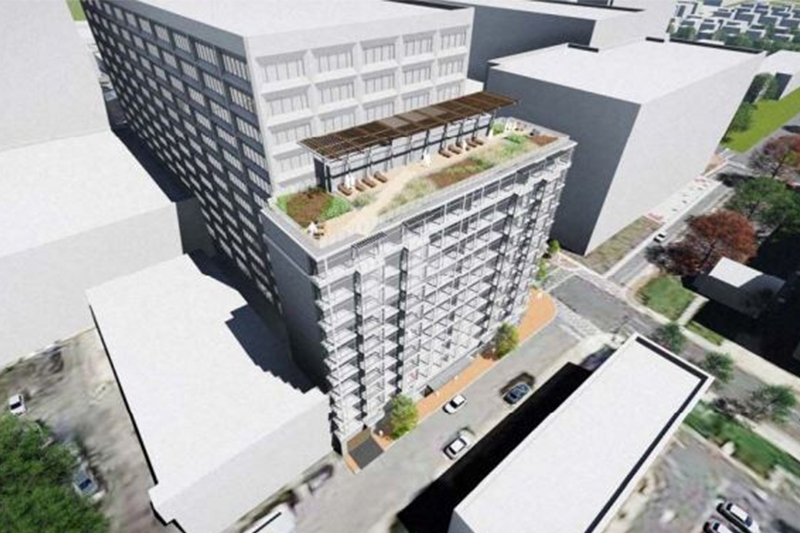 The actual building design is still in the concept stages but includes a great deal of glass through the use of glass bay windows. Residents will have access to balconies from which they can enjoy what will become an improved streetscape, the sketch plan noted. The residential lobby will be on the 20-foot-tall ground floor. Along with corner retail on Montgomery Avenue and Pearl Street. This ground floor will "help activate the street and provide a pedestrian-friendly connection to the future Purple Line and [Capital Crescent Trail] at the south end of Pearl Street," according to the sketch plan.
Other planned features include a vegetated green roof and trellis on the penthouse level of the building, bike parking, and a loading area. The sketch plan also noted that new brick pavers around the building will help enhance the pedestrian space, and will align with the new streetscape guidelines of the downtown area.
Pearl Street itself will transform quite a bit during this project. According to Bethesda Magazine, the project will develop the street into a "shared street," with the goal of having drivers, cyclists, and pedestrians coexist.
According to Bethesda Magazine, county planner Leslye Howerton would like to see Pear Street become more of a "main street," and feels the additional first-floor retail could do just that. "This would really, hopefully, start to catalyze that vision," she said to the magazine.
Town officials are aware of some of the concerns surrounding the redevelopment, among them being Mary Flynn, mayor of Chevy Chase. When she spoke during the meeting at which the plan was approved, Flynn asked developers to be considerate of residents nearby, Bethesda Magazine said. As such, she asked they work to mitigate light pollution and noise that could become a nuisance to the existing community.