Beverly West Rolling Out Remaining 22 Luxury Condos in Beverly Hills
Beverly West Rolling Out Remaining 22 Luxury Condos in Beverly Hills
Emaar Properties (the developer behind Dubai's Burj Khalifa) started construction on an ultra-luxury condo development called Beverly West in Beverly Hills in 2008. By the time the Great Recession rolled around, they decided only to market 12 of the 34 residential units inside in order to stave off falling condo market concerns. Now, they're ready to put the remaining 22 units up for sale.
The Real Deal spoke with Eric Jencks, director of planning and design for Emaar North America, who says the remaining condos have started going up on the market, four years since the last available unit sold. Hilton & Hyland has been chosen to market the 17 condos and five penthouses.
Ultra-luxury means that just about everything inside these units is top of the line. That goes for the slab marble walls in the bathrooms, limestone and hardwood flooring throughout, or Miele and Wolf appliance-stocked kitchens. Not to mention the penthouse suites, which take up entire floors with 11- or 12-foot ceilings and wrap-around walls of windows.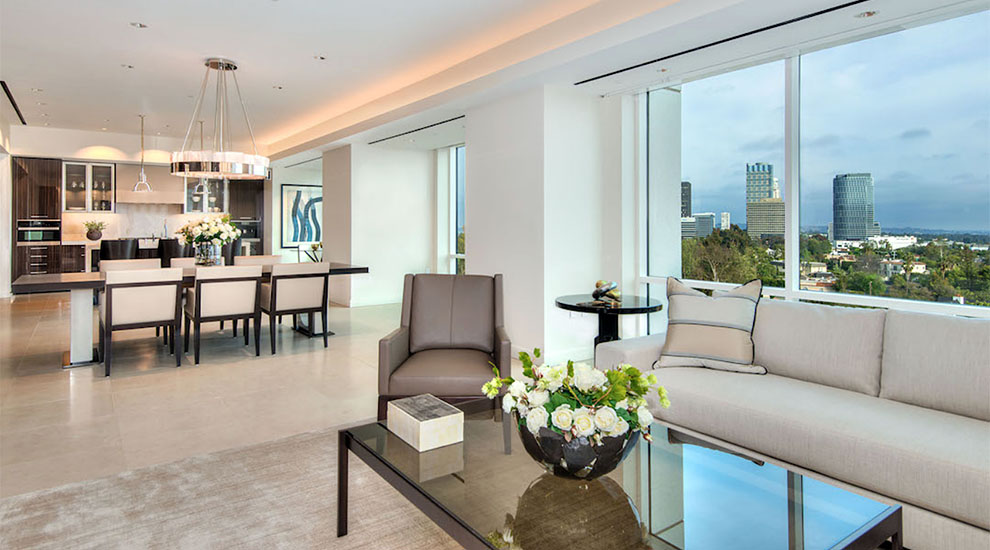 As for building amenities, they are hotel-esque as you might expect. Living in Beverly West gets you access to a fitness center, swimming pool with spa, boardroom, 24-hour valet parking, 24-hour concierge, and housekeeping.
The most expensive unit for sale will be a 4,158 square-foot, three-bedroom penthouse asking $12.15 million ($2,922/foot). For perspective, the average price per square foot for luxury condos in LA last year was $966. Median sale prices in Beverly Hills are currently hovering around $3 million. As such, the cheapest unit available will be a 1,709-square-foot condo asking $3.5 million.
Sources:
Dubai's biggest developer takes another crack at Beverly West [The Real Deal]
Beverly West [Emaar]