Big Marsh Bike Park in South Deering, IL
Big Marsh Bike Park in South Deering, IL
Chicago has no shortage of parks and outdoor space for the city's residents. But the availability of open space has largely been to the benefit to those who work and live downtown and on the north side of the city. The south side has been largely neglected - until now.
Big Marsh, which is located in the South Deering neighborhood on the far southeast side of Chicago, is a revitalized 278-acre former industrial site that has been transformed into a world-class bike park and nature reserve.
The city broke ground in June of this year on the former industrial site tucked away in the Calumet Industrial Corridor along Stoney Island Avenue. For decades, the site was home to nine steel mills that used the land as an informal dumping ground for slag, which is industry speak for "waste matter separated from metals during smelting."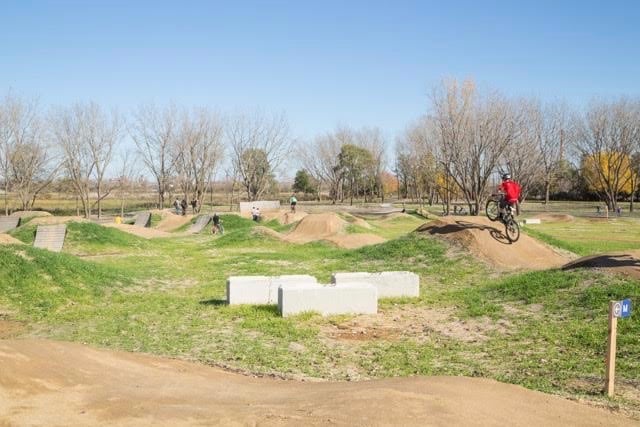 The land, which had been vacant and largely unused long after the steel mills shut down, was redeveloped and turned into an urban recreational retreat. The city tapped landscape architects Hitchcock Design Group to design the park. The City of Chicago, Chicago Park District, Friends of Big Marsh, SRAM Corp. and other organizations and companies worked together to restore the site's ecological components by removing invasive species and debris and installing water control structures as part of its eco-restoration and habitat restoration process.
"What was once used as a dumping ground for slag by industrial factories that couldn't be remedied for successful plant life is now used as a 44-acre world-class bike park that sits on top of the slag fields," said Jay Readey, interim executive director of the nonprofit organization called Friends of Big Marsh.
"Nowhere else in the city will you find a large, natural space for recreational use."
As the first bike park in the city, the first phase of the development includes small and large pump tracks, dirt jump trails, cycle-cross courses, gravity flow trails, single-track trails, and a tot track for small tikes. There is even a communal plaza where spectators can watch bikers perform tricks and stunts -- at a safe distance of course. Big Marsh is free and open to the public all year long and accommodates people of all ages and skill levels. With these state-of-the-art facilities, Big Marsh hopes to bring the U.S. Cyclo-Cross Championships to Chicago in 2020.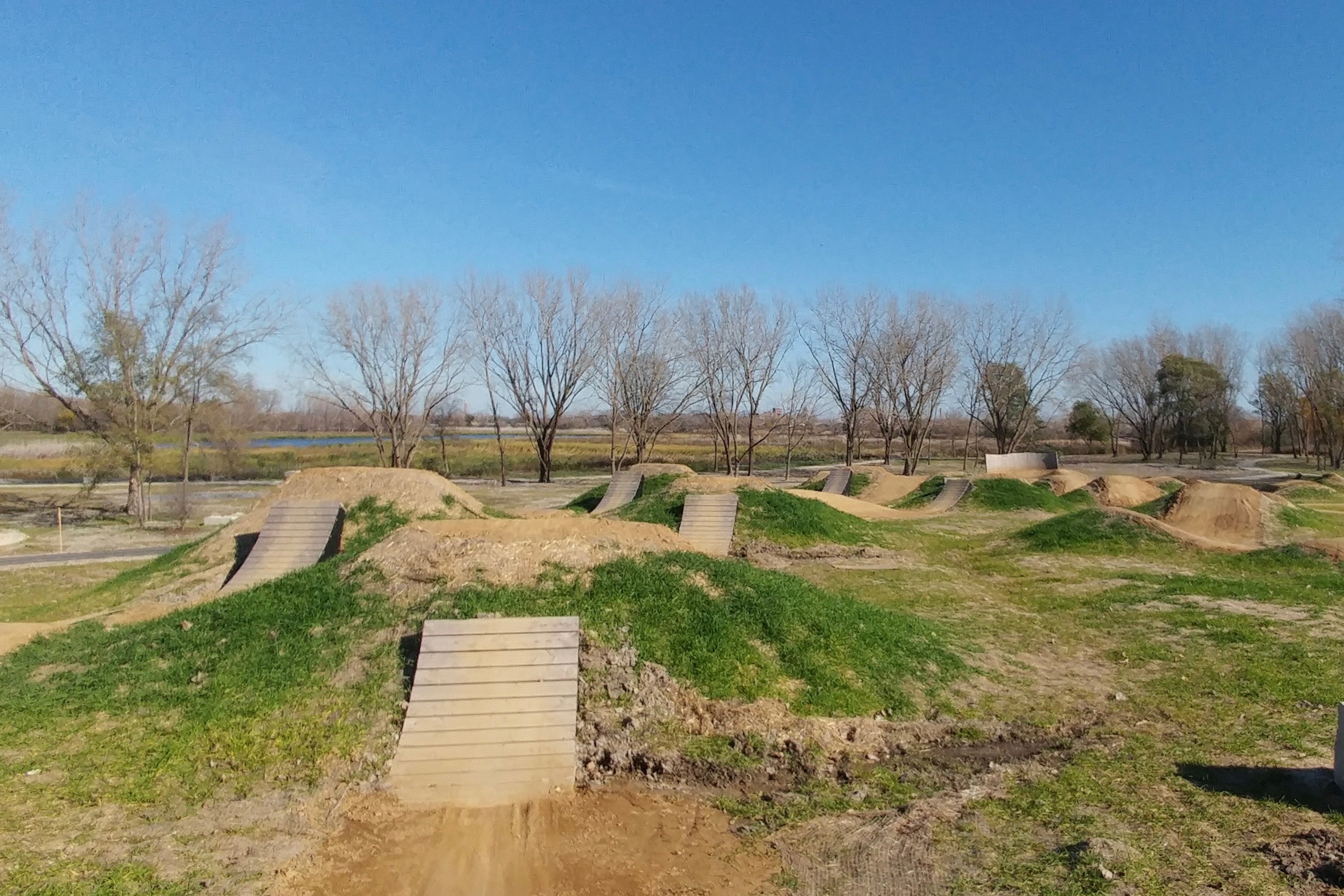 The second phase of the park will include more difficult features for avid BMX riders. It will also be home to the Ford Calumet Environmental Center, located at the entrance of Big Marsh and will provide an educational program for kids about the industrial heritage of the Calumet region.
Although the bike park is the heart of Big Marsh, it will also be a paradise for outdoor enthusiasts and nature lovers. The park also has multi-purpose trails throughout that include areas for walking, hiking, running, and bird watching. In addition to the recreational facilities, the other 234 acres of Big Marsh are dedicated to nature preserves that include a restored hemi-marsh replenished with native plant species as well as natural areas that attract rare, migrant birds and other wildlife. And because it's open year round, visitors can see the park change throughout the seasons.
This $8 million investment was unveiled on November 6th when Mayor Rahm Emanuel, the Chicago Park District, and Friends of Big Marsh along with local officials, sponsors, and organizations attended the ribbon cutting ceremony that officially marked Big Marsh's public opening. After its grand opening event, people are taking notice of this hidden gem on the South Side.
"Opening day attracted an estimated 1,000 to 1,500 people, which was way beyond our expectations," said Readey. "It gave us the validation that this is what the community needs."
Friends of Big Marsh, which is made up of a coalition of organizations, companies, sponsors, and volunteers, joined forces to develop this multi-use park. The recreational facilities and urban open space are what's sorely needed in this relatively green-less part of Chicago and is sure to give the South Side a boost to its recognition among those unfamiliar with the area. "It's going to make people from all over come ride their bikes to Big Marsh," he said.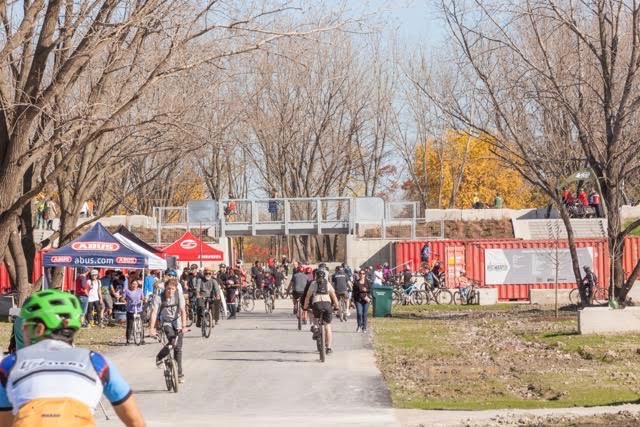 Scheduled events and fundraising initiatives are already underway like the #OptOutside campaign sponsored by REI that's going to be held on Black Friday, November 25th , 2016. #OptOutside will be the bike park's inaugural race with all of the proceeds benefitting Friends of Big Marsh in their continued development of the park. The event will kick off with walking tours of Big Marsh that highlight the history, ecology, and bike features as well as provide information about the future plans of the park. Afterwards, riders can strap on their helmets and hop on the course's expertly designed features with race categories for all skill levels.
Rebecca Campos, a local resident from South Chicago, volunteered with Friends of Big Marsh and the Southeast Environmental Task Force just a few weeks before the grand opening event. "I loved the integration of nature with the walking and biking trails. Once it's all done it's going be an amazing balance of sports recreation and nature," she said.
Although Campos drove to Big Marsh for the grand opening event and had no idea what to expect, she plans on biking to the park now that it's open. "The park still needs a ton of work, but it's a beautiful space regardless, and I think Big Marsh has the potential to put the Southeast Side on the map!" She even noticed that people came from all over town for the grand opening and the park isn't even completely finished yet. "I think people should come check out the park as an introduction to the Southeast Side. Our part of the city has so much to offer…great parks, open spaces, and good restaurants."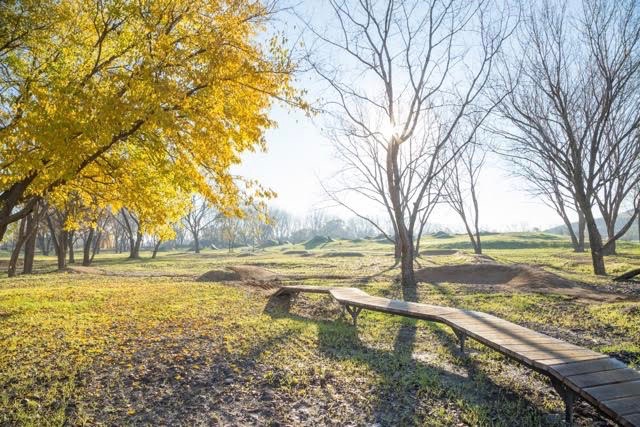 As an insider tip, Campos recommends making a full day out of your bike trip to Big Marsh by stopping at local eateries in the neighborhood such as Calumet Bakery for coffee and donuts in the morning, followed by tamales for lunch at Taco Mex or Hienie's Chicken on Torrence Avenue.
While Big Marsh is fairly new to the community as well as to outsiders, it has the potential to have an everlasting effect, not only as an incredible example of urban revitalization in an overlooked neighborhood, but also as the first urban bike park and nature preserve of its kind in the city of Chicago. Big Marsh can bring more attention to the diverse communities of the Southeast Side that have a rich and long history due to its past ties with steel mills that make up its industrial heritage and landscape. Fighting for attention and recognition among other popular Chicago neighborhoods while maintaining its industrial identity within the Windy City, Big Marsh just might be exactly what the South Side needs now.
"You may see a smokestack or steel mill building out in the horizon, but then you get lost in nature and almost forget that you are in the city and that this place exists," said Readey.
This emerging neighborhood is now home to Big Marsh - a transformed industrial waste site that is now a vibrant eco-park and bike recreational facility that can bring residents of the area together to coexist with nature without ever having to leave the city.
Big Marsh is located at 11599 South Stoney Island Avenue, Chicago, IL 60617.
Sources: