Capitol Hill Housing Project Part of DC Neighborhood's Development Boom
A condo townhome development taking shape in and around a century-old school building is part of a group of projects boosting a section of D.C.'s Capitol Hill that needed it.
Buchanan Park, a new home project going up in Capitol Hill East, is nearing completion according to the Washington Business Journal. The project from Insight Property Group and Federal Capital Partners will add new condos to the former Buchanan School, which consists of two buildings built in 1895 and 1922, and townhomes elsewhere on the property.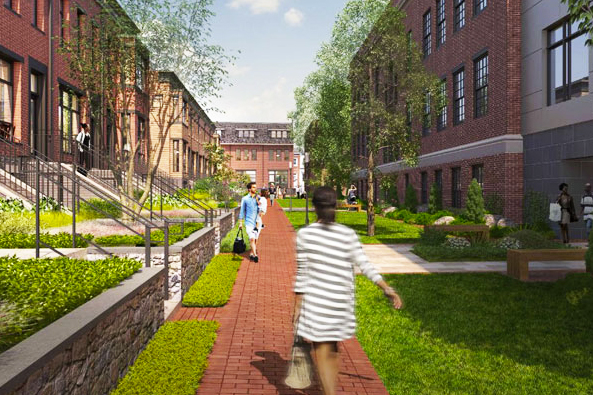 The development will feature 41 four-level townhouses, many with garages and nine with elevators. Prices will average about $1.3 million for the three-bedroom, four-bath homes. Aiming to blend in with the neighborhood's historic residences, the exteriors will be all-brick with slate roofs, and interiors will keep a lot of the school's original architectural features. Units will look distinct from each other, many including 13-foot ceilings, exposed brick, and large, arched windows. Townhomes include private rooftop decks.
Condo units will be priced from mid-$300,000s to about $1 million and will include private balconies or patios.
There will also be a pedestrian mews, grassy common area, new trees, wide stoops, and restoration of Guetler Way, an alley that connected the block in the 1800s. The development will also include restored William Tarr sculptures salvaged from a playground on the block.
Other developments happening in the neighborhood includes a residential project happening at the current site of a Safeway and a $40 million redevelopment of Watkins Elementary across the street.