National Local Life
Charlotte Music Venues That Anchor Their Neighborhoods
Music may not be the first thing that comes to mind when thinking about Charlotte. There are many other attributes the quickly growing city is known for, like banking or its professional sports teams, but the Queen City also has a vibrant live music scene with venues hosting local and national acts throughout the week.
While each one of the city's music venues has its own appeal and brings something to the table, there are certain venues that truly anchor their neighborhoods. Even though Charlotte has lost a number of its most beloved music institutions in recent years like The Double Door Inn and Tremont Music Hall, there are still quite a few favorites standing strong and bringing in crowds.
From an outdoor pavilion that seats thousands to popular watering holes with standing room only, here are seven Charlotte music venues that anchor their neighborhoods.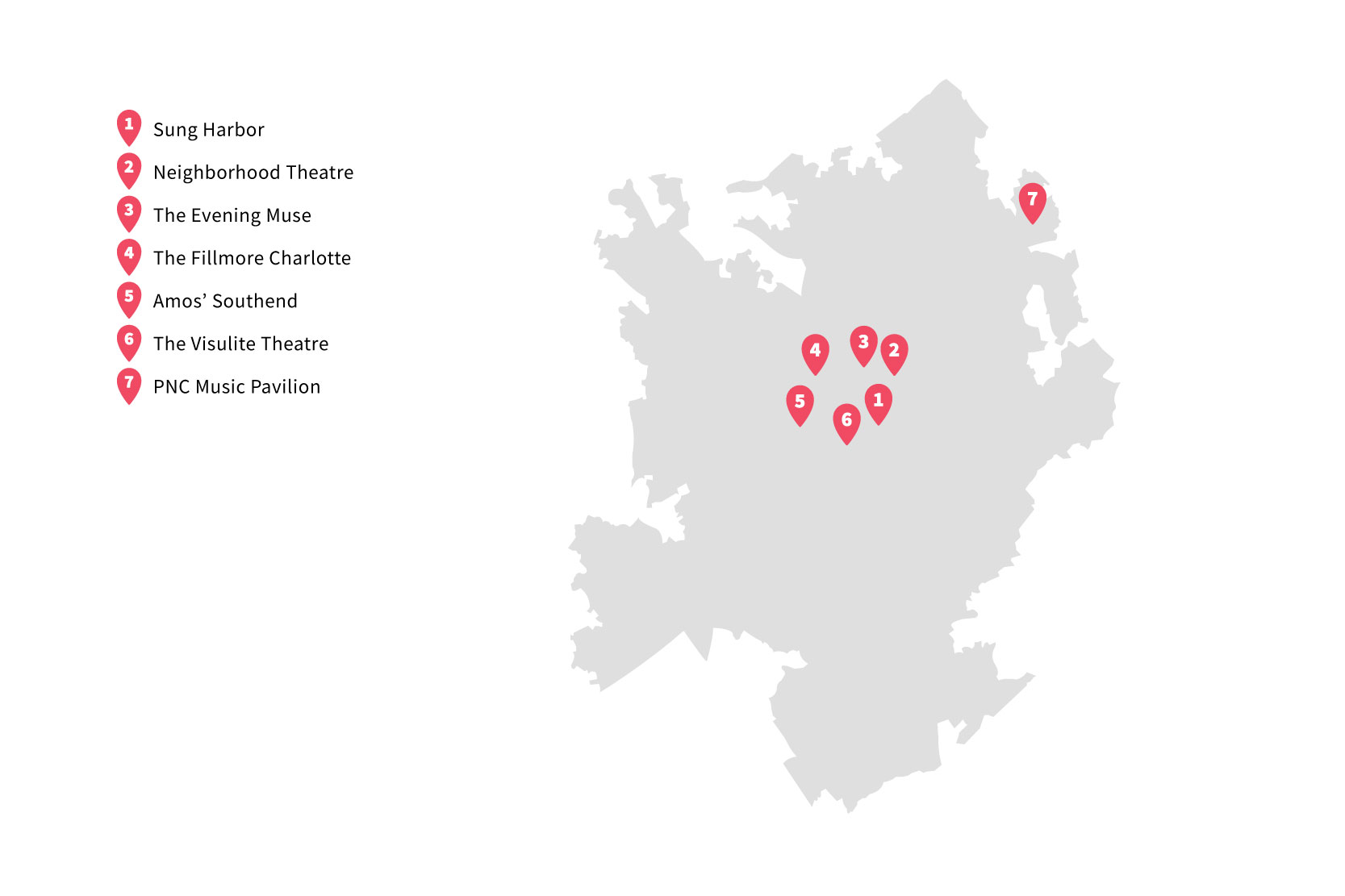 Plaza Midwood's Snug Harbor is the epitome of a dive bar—a dimly lit, no-frills kind of place, with cheap drinks. Though the neighborhood and venue generally radiate hipster vibes, you'll surprisingly find an eclectic music schedule that's full of all sorts of genres ranging from R&B and country to everything in between.
On Sundays, anyone can take the stage during Bone Snugs-N-Harmony, the bar's popular karaoke night. The venue also has an impressive list of beer to choose from that includes a wide variety of local and seasonal craft brews along with plenty of imports and domestics.
The North Davidson neighborhood—fondly known as NoDa to Charlotteans—is well-known for its music and art scene, so it comes as no surprise that there are two music venues that truly anchor the neighborhood. Neighborhood Theatre was originally built as a movie theater in 1945 and was known as the Astor Theatre.
The movie theater closed in the 1970s and, after decades and many renovations, was reopened as a performance venue. Now, music fans can catch a show almost every night of the week.
Within walking distance of Neighborhood Theater, you'll find The Evening Muse, a small, intimate venue that's hosted acts from all over the globe for decades. The limited space and seating allow for show-goers to see the performers up close and personal. It's a nice respite from the more crowded venues around town where patrons are crammed and the bar is virtually impossible to reach.
On any given night you can find something happening at The Muse from acoustic showcases to soulful jazz and blues performances. In addition to live music, The Evening Muse hosts open mic nights and stand-up comedy routines.
Situated on the outskirts of Uptown in the AvidXchange Music Factory, The Fillmore Charlotte has been luring music fans to its doors with its wide array of performances since 2009. Housed in a historic textile mill designed to mimic the iconic Fillmore in San Francisco with glitzy chandeliers, velvet curtain, and vintage posters, The Fillmore Charlotte has hosted an impressive lineup of musical talent over the past decade.
Many well-known acts from a wide variety of genres have graced the stage, including Grace Potter, Marylin Manson, Snoop Dogg, and Montgomery Gentry. Smaller shows typically take place next door at The Fillmore's sister venue The Underground.
Amos' Southend was a neighborhood staple long before South End was teeming with craft breweries, new apartment buildings, and trendy stores. The two-story building can hold around 700 people and features a tiered mezzanine, so everyone can have a great view of the show.
While a ton of local cover bands and homegrown acts perform weekly at Amos' South End, there have been plenty of big-ticket names who have also taken the stage, including Hootie and The Blowfish, the Beastie Boys, and John Legend. Most weekends you can expect to find a line out the door and crowds sticking around until closing sipping on reasonably-priced drinks and dancing.
Situated in the heart of Elizabeth on Elizabeth Ave., The Visulite Theatre was originally Charlotte's first neighborhood movie theater, but has progressively transformed into a nightlife hotspot where locals go to enjoy a laid-back atmosphere and great acoustics. The former movie theater offers mostly standing room with very limited seating that's first come, first served, and a full bar that's always well-stocked.
While Visulite doesn't serve food, it's surrounded by delicious eateries like Earl's Grocery, Customshop Handcrafted Food, and Viva Chicken, so show-goers will often grab a bite before heading inside.
Located just a few miles outside of Charlotte, the PNC Music Pavilion is a go-to to see the hottest names in the music industry when they blow through Charlotte. The expansive outdoor venue can hold well over 18,000 people and features more than 8,000 reserved seats as well as a rolling hill where general admission holders can bring a small blanket or lawn chair to sit on and enjoy the show. Don't have a lawn chair? The Pavilion has you covered. You can rent one inside for $5.
There are also plenty of concession stands spread through the venue that serve up cold beer and bites like burgers, pretzels, and candy. Show up early and you're bound to find a slew of fans tailgating in the parking lot hours before the show starts.