National Local Life
Charlotte's Best Neighborhoods for Beer Lovers
Over the past few years Charlotte, North Carolina has become a popular destination for craft beer lovers — and with more than 40 breweries currently in operation and several more slated to open in the next year, it's no surprise why. With so many award-winning breweries spread out among the city's most vibrant neighborhoods, there's always a reason to explore a new part of town. Here are the four neighborhoods you'll want to visit next time you want a cold brew.
Historic South End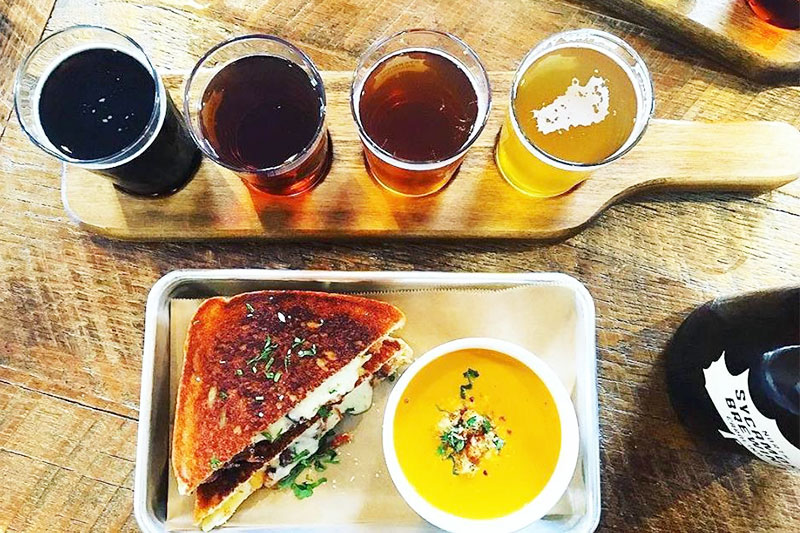 You can't talk about breweries in the Queen City without bringing up Historic South End, which is overflowing with breweries. It's also conveniently located near Uptown Charlotte with several stops along the LYNX Blue Line — the city's version of the Subway or Metro — making it an easy destination to get to.
As one of the first breweries to open in the area Sycamore Brewing has become a Charlotte staple when it comes to the craft beer scene. It's extremely rare to stop by Sycamore on a weekend and not see a large crowd outside on the expansive patio. While they don't serve food in the brewery, there's typically always a popular food truck outside serving up delicious bites.
Lenny Boy Brewing Company is another popular South End brewery that gained its popularity for its wide variety of organic kombucha. Along with their kombucha, Lenny Boy serves up traditional ales and lagers, plus gluten-free wild ales and gluten-reduced beer.
If you want to go somewhere and try a bunch of different types of beer from several different breweries, you'll want to check out Hyde Brewing. Not only does the brewery brew their own beer, they also serve brews from several other North Carolina breweries, giving guests a chance to try multiple breweries all in one location. Another big draw is the brewery's outdoor patio that has lots of picnic tables and outdoor games like corn hole and life-sized Jenga for guests to enjoy.
Stop in Wooden Robot Brewery for a cold one and a bite to eat. The brewery just started serving their own food like beer cheese with a soft pretzel, mac-n-cheese egg rolls, and duck quesadillas.
The Unknown Brewing Co. and Triple C Brewing Company are also notable breweries in the neighborhood that both boast incredible outdoor seating areas which fill up quickly when it's a nice day outside.
Lower South End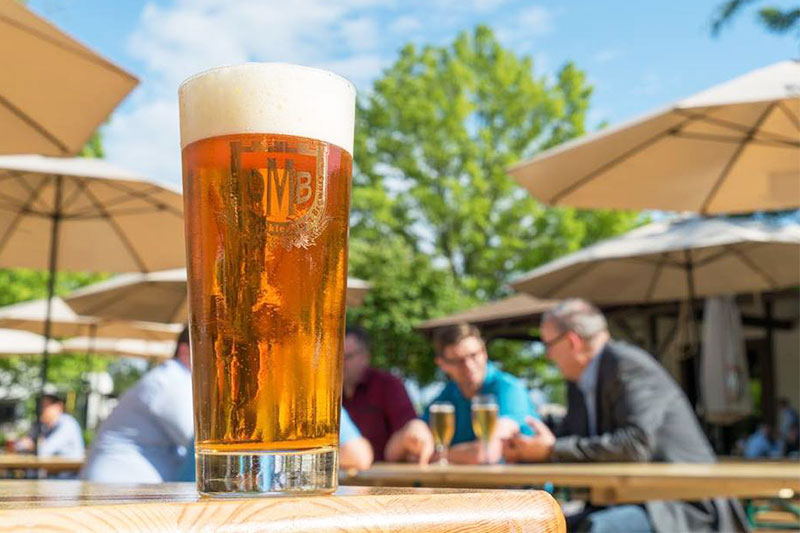 An extension of Historic South End, Lower South End has come into its own in the last few years in regards to breweries. The Olde Mecklenburg Brewery was the first brewery in the area and still anchors the neighborhood. The brewery was designed to mimic an authentic German-style Brauhaus and its menu follows suit with a vast selection of bratwurst. There's also a sprawling outdoor area with plenty of seating and room for dogs to run around.
Just down the street from Olde Meck sits Sugar Creek Brewing Company, another LoSo destination definitely worth a visit. Sugar Creek specializes in Belgian-style beer, and their beer list contains a mixture of popular year-round selections, as well as seasonal craft beers like their Mocha Java Porter.
NoDa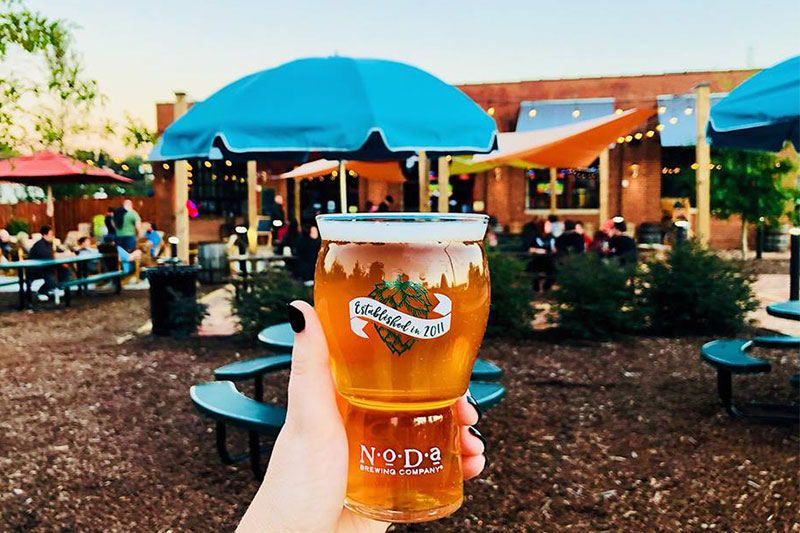 Another beer destination to make sure you visit in Charlotte is the eclectic neighborhood of NoDa, which was named after the main road that cuts through the area, North Davidson. It's packed with local eateries, art galleries, live music venues, and of course, plenty of breweries to choose from.
NoDa Brewing Co. is a local go-to when it comes to grabbing a cold brew in the area. They have won several prestigious awards for many of their selections including their Hop, Drop 'n Roll, which won gold at the World Beer Cup. Guests can check out NoDa Brewing's taproom to try one of their award-winners and then take a free brewery tour that covers their entire brewing process from start to finish.
If you like change, then you'll love NoDa's Free Range Brewing where there's always something new to try with constantly rotating taps. The brewers at Free Range are always trying out new recipes that feature all sorts of local ingredients they've sourced from North Carolina farms.
Just down the road is Heist Brewery that boasts an expansive beer list ranging from traditional IPAs to interesting selections like their Lemon Drop Hop — a Blonde Ale brewed with honey and Lemon Drop hops. Heist also serves lunch, dinner, and brunch. On a warm day, their large outdoor patio is always a hotspot.
Plaza Midwood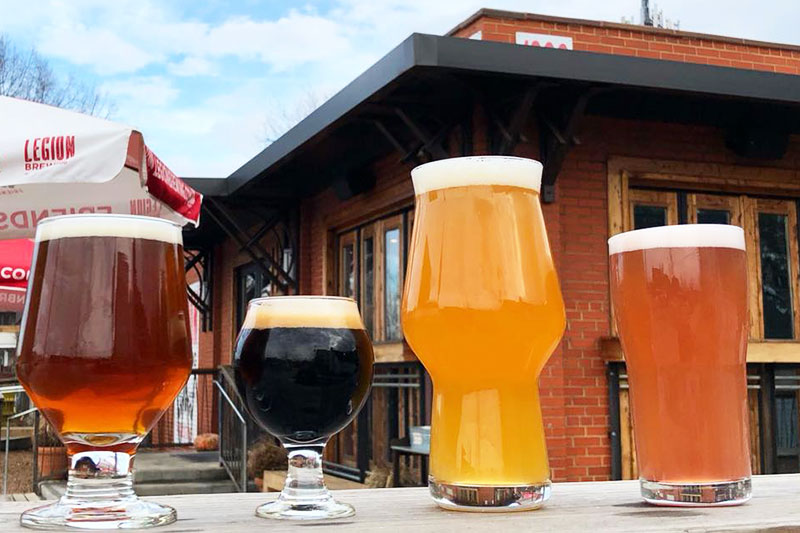 The trendy Plaza Midwood neighborhood is fairly new to the craft brewing scene in Charlotte, but it's not to be overlooked thanks to Legion Brewing Company and Resident Culture Brewing.
Legion Brewing Company's beer menu ranges from American Pale Ales and IPAs to an Oatmeal Stout. They also host a ton of weekly events like music bingo, trivia nights, open mic nights, and live music performances. Weekends are taken over by the brewery's popular Brunch and Brews, every Saturday and Sunday from 10 a.m. to 2 p.m.
Resident Culture specializes in hoppy beers with IPAs, Pilsners, and American Porters on the menu. They also have cider and kombucha on draft, if beer isn't your thing. While Resident Culture doesn't have its own menu, there's typically always a food truck parked outside or guests can order from Pure Pizza just a few blocks away and have it delivered.