Chicago Real Estate Development
Chicago Real Estate: The Rising Star of Edison Park
Chicago neighborhoods' popularity with homebuyers seems to spread out in ever-growing ripples from the city center. Places like the Loop and its surrounding neighborhoods—think Fulton Market or River North—remain red hot with the high prices to match.
Homebuyers begin to look further from the city center for neighborhoods with the right atmosphere and pricing. As that growing wave sweeps even further out, taking places like Logan Square and Bridgeport with it, homebuyers are growing more curious about neighborhoods on the Far North and South Sides. Neighborhoods that previously felt like hidden gems to their residents are becoming the focus of new interest and development.
Located on the far northwestern edge of the city, Edison Park is one of these neighborhoods. The neighborhood's development paired with reasonable pricing emerged as a standout trend in our November installment of the Quarterly Digest. A deeper dive reveals how current residents feel about their changing neighborhood and what prospective homebuyers can expect when they start searching in Edison Park.
Preserving the Neighborhood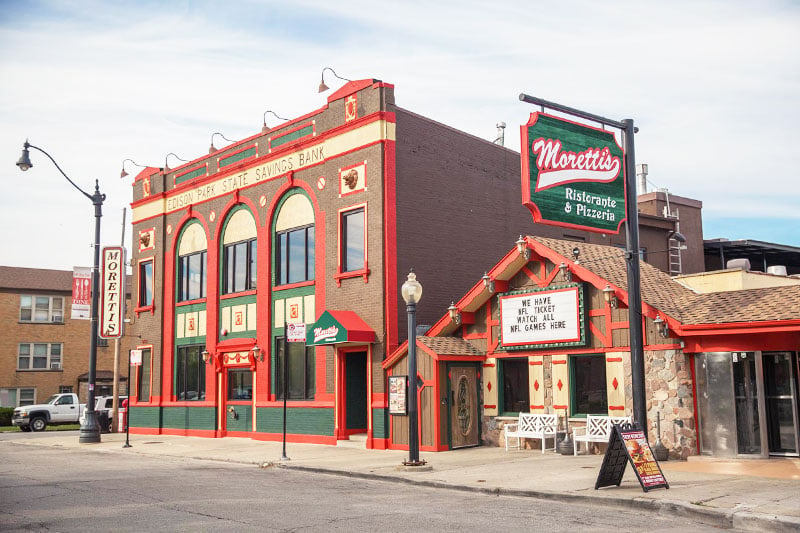 Edison Park has been on the radar for new development over the past couple of years, but residents have been vocal about how they view big changes coming to their home community. In 2016, a developer sought to build an apartment building near the Metra tracks in the neighborhood but was met with heated resistance. Hundreds of people gathered in Edison Park's Olympia Park field house to voice their dissent, DNAinfo reported.
Tim Heneghan, Democratic committee member of the 41st Ward, was a leading voice in opposition of the development. He told DNAInfo:
"The people in this community aren't averse to new projects and development, we just want projects to fit the character of the neighborhood. This is a space surrounded by single-family homes, and if we get one big structure like the one proposed, it could set a precedent for more big structures all the way down Avondale."
The development proposal for 6655 N. Oliphant Ave. was eventually retooled into a four-story condo building, but in 2017, it ultimately failed to secure the zoning change necessary to move forward, according to another DNAInfo report.
New Development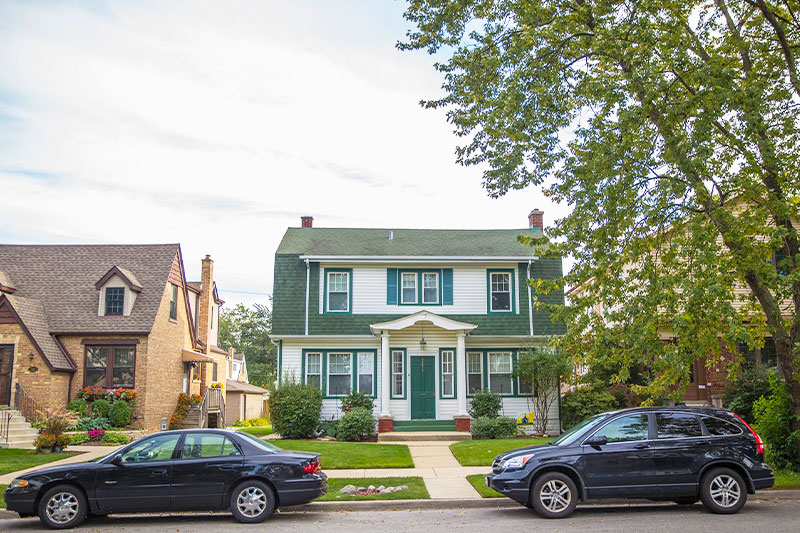 Although that new condo development never came to fruition, new homes are going up in Edison Park. Crain's Chicago Business reported that three new homes sold for more than $900,000 apiece in the neighborhood this year. According to another Crain's report, over the past two years, approximately 12 newly built homes have gone off the market for about $750,000 each.
Some of the neighborhood's older bungalows and farmhouse-style homes are being replaced in favor of these newly constructed homes, according to the report, with much of new development popping up on Oxford, Olympia, and Oriole avenues.
The Homes of Edison Park
The neighborhood, officially annexed to Chicago in 1910, can trace its history back to the 1850s, truly beginning to form with the advent of the area's railroad. Following World War I, construction of Chicago-style bungalows and Dutch Colonial-style homes proliferated.
Today, the neighborhood is still a bastion of older homes, some dating back to the 1880s. You can expect to see plenty of low-slung brick bungalows lining residential streets. Interspersed among the older construction, you'll find new construction that spans a variety of styles: single-family home, townhome, and condo.
When it comes to size, homebuyers have a wide variety at their disposal. You can find a home as small as 600 square feet and as large as 5,000 square feet. The neighborhood's homes have between one to seven bedrooms and one to five bathrooms.
Given the wide variety of home styles, age, and size, homebuyers can expect to find a fairly broad spectrum of pricing. The median home sale price in Edison Park is in the mid $300s, according to Neighborhoods.com data. But current prices range from the low $100s to the mid $800s, which means people in search of home can usually find something within their budget.
Given the growing interest in Edison Park, the time homes spend on the market has been on a general downward trajectory over the past three years. Neighborhoods.com data shows in February 2016, homes spent an average of 167 days on the market. Though there have been ups and downs since, the average time on the market has been dropping. In October 2018, Edison Park homes spent an average of 67 days on the market.
Breaking Down the Neighborhood's Increasing Popularity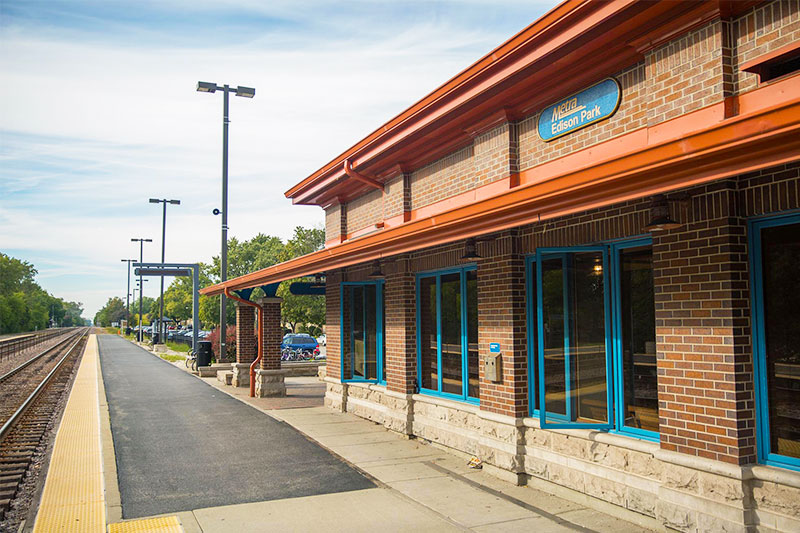 Edison Park's distance from the city may have kept it a relative secret, but once people visit the neighborhood the reasons for its popularity become clear. Even President Barack Obama was lured by its charm when he visited as an Illinois senator.
Though far from downtown, Edison Park still manages to be quite accessible. The neighborhood has its own Metra stop, as well as easy access to a CTA Blue Line station and the Kennedy Expressway in neighboring Norwood Park. Plus, you can drive to O'Hare Airport in about 15 minutes.
Beyond the benefit for commuters, Edison Park charms its residents with a suburban feel that still manages to embody its Chicago location. You don't have to fight for a parking spot, but you can still walk to the neighborhood's very own restaurant row, which include 12 restaurants spanning Italian, French, Mexican, pub grub, and other cuisines.
No mention of the Edison Park's attractions could be made without highlighting its parks: Edison Park, Olympia Park, Brooks Park, and Monument Park.