Washington D.C. Local Life
Comparing the Entertainment Strips of D.C.'s Neighborhoods
One nice thing about Washington D.C. is that when our forefathers designed this city, they made sure to group the bars together as to create specific social scenes. (That's definitely a real fact; don't waste your time looking it up.) History lessons aside, there are more than a few social strips in D.C., and where you live in relation to one dictates a lot about what your social life is going to look like. Here's a very scientific, not-at-all biased breakdown of D.C.'s various social strips.
18th Street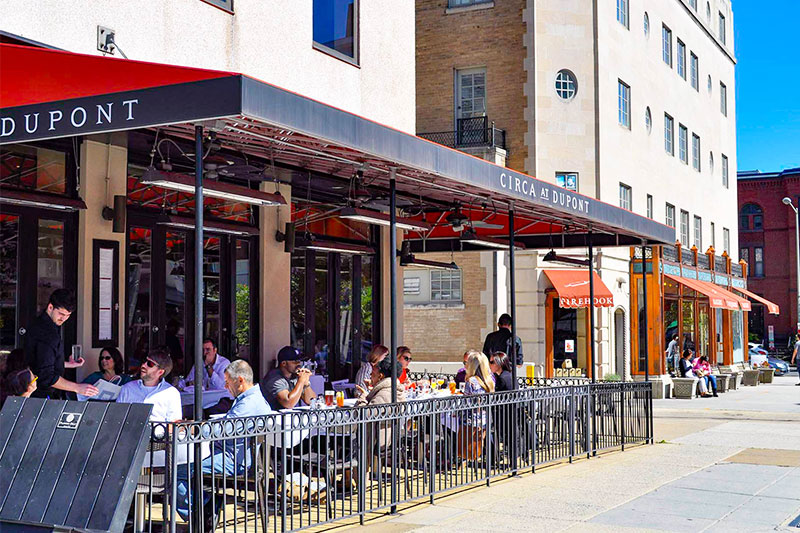 18th Street starts in downtown D.C., cuts through Dupont, runs through Adams Morgan, and spills out into Mount Pleasant. If you live in northwest D.C., chances are you're dealing with 18th Street one way or another. While not there exclusively, the heart of 18th's social life is packed into a half-mile stretch in Adams Morgan.
That stretch is best reserved for if you're … how should we say it … right out of college? Still in college? Not interested in the longevity of your inner ears? To put it one way, it's where you'll find 10-block lines to get into bars on St. Patrick's Day.
18th Street does cheap booze and loud music better than any other spot in D.C. Madam's Organ, the famous and vibrantly painted bar and club is one of the stretch's biggest attractions. There's also Town Tavern, which is where you will almost certainly find yourself at least twice a season if you play any sort of intramural sports. If you want to take the deep dive and fully immerse yourself in 18th Street, go ahead and walk into Club Heaven and Hell. Like the stretch in general, Club Heaven and Hell is dark, loud, and everyone around you is dancing.
14th Street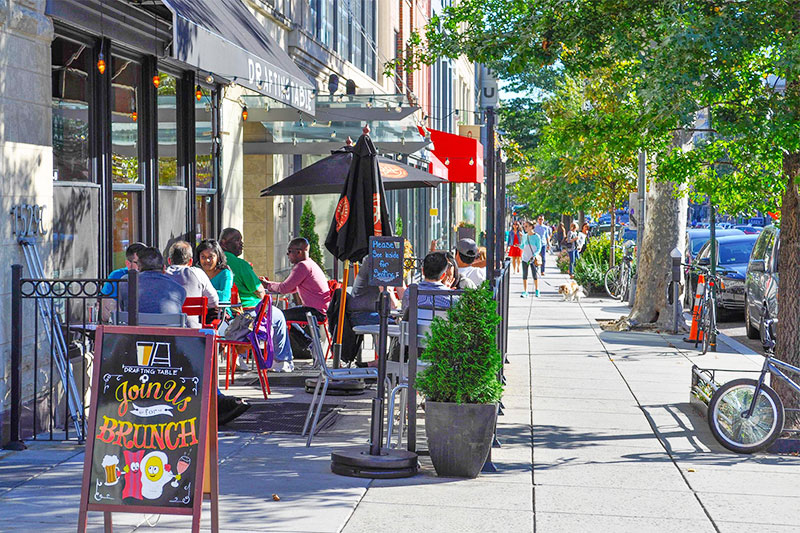 14th Street is D.C.'s fastest-growing social scene and stretches from the National Mall through Logan Circle and Shaw, so it's pretty hard to miss. The exciting thing about 14th is that it seems like a trendy new restaurant that you can barely afford moves in every month.
There's an abundance of places you'll definitely want to hit while the appetizer menu is half-off during happy hour. Colada Shop is one of those new spots. A brightly colored establishment specializing in Cuban fare, Colada Shop also offers award-winning coffee and a wide variety of frozen drinks. They're one of the only bars that offer alcohol in pouches, which is great for the 'Gram.
More of a beer person than an alcohol-in-a-pouch person? Don't blame you. Churchkey is a well-known hub for craft beer lovers. Go play some pinball or pop-a-shot at Player's Club. You can also get a nice glass of red or white at Barcelona Wine Bar and choose from hundreds of whiskeys at Chicken and Whiskey. (Chicken and Whiskey also happens to be one of the more underrated late-night food spots in D.C; try their Reina De Chicharron.) Whether it's a bar for the night, a happy hour, or just a quick bite to eat, 14th Street has you covered.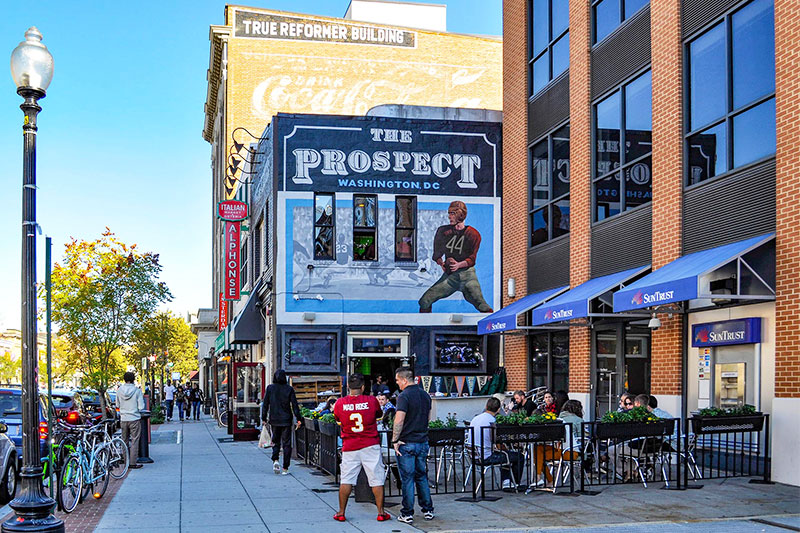 U Street doesn't get the attention that 18th or H Street does, but it's one of the more lively social scenes in the city. Primarily running through Dupont, Shaw, and Cardozo, it's hard to drive a car down U Street on a warm weekend night. It's long been the heart of D.C.'s music scene, too—the corridor is home to 9:30 Club, U Street Music Hall, and Black Cat, among other live music venues.
Most notably, U Street is also home to the original Ben's Chili Bowl—perhaps D.C.'s most nationally well-known greasy spoon. Outside of chain hot dog places, U Street offers some of the most diverse dining options anywhere in the city—you can get Italian at Al Crostino, Mexican at Alero, or Ethiopian at Dukem.
Bars on U Street are just as varied. There's dance clubs like Cloak and Dagger, small grungy basements like The Codmother, and upscale places like The Fainting Goat. While 18th Street is a younger, clubby vibe, and 14th street is a calmer, older vibe. U Street lets you choose. Sometimes you want to sip craft beer on a rooftop, and other times you want to finish that fishbowl and let the Bruno Mars bangers flow through you. That's the best part—U Street doesn't judge.