National Real Estate
Denver Suburbs With Easy Commutes to the City
In Denver neighborhoods, the attractive, historic streets, bustling bars, and high rise apartments are quite appealing for transplants and locals alike. However, it's quieter suburbs just beyond the outskirts of the city have a unique appeal, and they're definitely worth checking out.
Commuting to Denver
According to the Denver Business Journal, the average vehicle commute time in Denver during rush hour is 46.11 minutes. The study also shows that 32 percent of drivers believe the commute time is too long. Fortunately, with the population influx, Denver's Regional Transportation District (RTD) grows increasingly focused on expanding the Light Rail and public bus systems to better serve area suburbs.
Read on to discover which Denver suburbs have the easiest communities into downtown.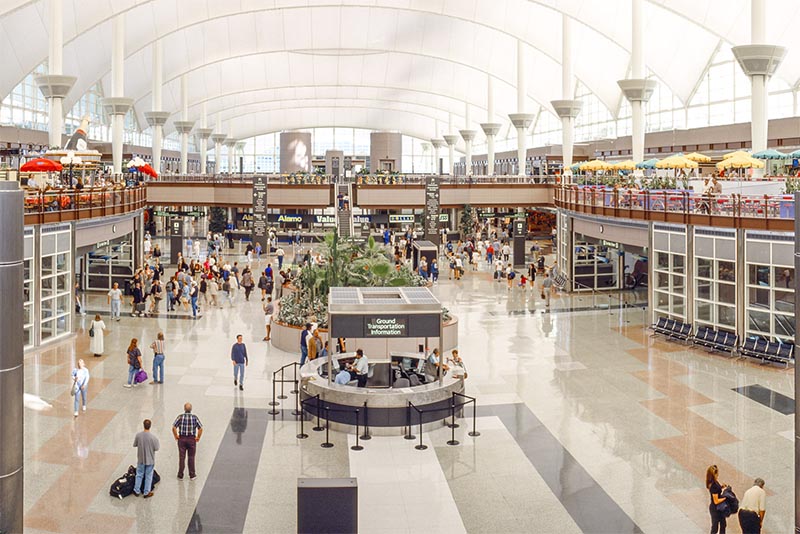 This treasured haven offers a family-friendly atmosphere and proximity to the mountains. Its charming downtown boasts unique retail shops, delicious restaurants, and community breweries where neighbors rub shoulders over frothy pints of microbrews. Thanks to the city's involvement, Arvada feels more like a small town nestled in the heart of a big city.
In addition to engaging activities and community events, the city and its residents take care of their own through programs like "Snow Buddies" in which residents clear the sidewalks and driveways of elderly or disabled residents. The Arvada Police Department, local recreation centers, and the Arvada Center host numerous free or discounted classes to engage and educate area residents.
Commuting from Arvada is a breeze with RTD's five, well-placed stops throughout the town. Pick up the train in Olde Town for a short, 20-minute ride to Union Station, or work your way from Arvada down south to the Tech Center with minimal transfers and no I-25 traffic.
Lines: G Line
Stations: 5
RTD Commute Time to Downtown: 20 - 25 min
Car Commute to Downtown: 18 - 20 min
This southern neighborhood has quickly earned a loyal following due in large part to its historic downtown. The 10-block segment was home to famous Coloradoans who settled here some 130 years ago. As the city sprung up around them, they created a peaceful haven just 11 miles south of Denver's epicenter.
Many locally owned businesses have found success along West Main Street, including bakeries, bottle shops, restaurants, and eateries. Born2Bake, Santa Fe Spirits, and Cafe Terracotta are just a few local favorites. During the holiday season, the main drag is decorated with sparkling white lights and the entire town comes out to sip hot cocoa, shop for gifts, and mingle with neighbors.
Commuting to and from Littleton is simple via RTD's C or D lines. Pick up either line at both of Littleton's stops—Mineral and Downtown—every half hour. The ride takes approximately 35 minutes into Union Station or LoDo and saves commuters from traffic jams, fuel costs, and parking fees.
Lines: C Line, D Line
Stations: 2
RTD Commute Time to Downtown: 31 - 35 min
Car Commute to Downtown: 20 - 25 min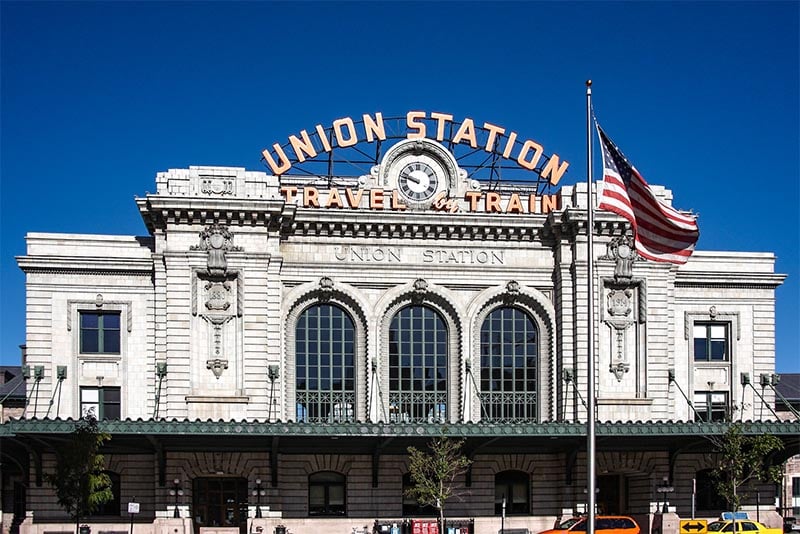 Southwest of downtown lies this popular Denver suburb that has long been a favorite of Coloradans. Its position between the Rocky Mountains and downtown can't be beat. Plus, its urban center at Belmar houses over 80 restaurants and retail shops. Tourists and locals alike find Lakewood incredibly appealing to shop, dine, and spend the weekend.
Music and mountain lovers love Lakewood's proximity to the world-famous Red Rocks Amphitheater, while hikers, mountain bikers, and climbers are sure to enjoy straightforward access to Golden's playground of foothills. Squeeze in an after-work trail ride or run through Lakewood's ample greenspaces to really embrace all Colorado has to offer.
RTD boasts a total of 10 stops throughout Lakewood and into Golden, meaning residents of this popular suburb can easily access the Light Rail system. Monday morning commutes are made a little easier when taking in stunning mountain views from the window of a comfortable rail car. Ditch the car and the mountain traffic on the weekends by opting to train into Golden instead of driving.
Lines: W Line
Stations: 10
RTD Commute Time to Downtown: 30 - 50 min (depending on departure station)
Car Commute to Downtown: 15 - 20 min
Known for its proximity to one of Denver's busiest economic centers, the Denver Tech Center, Greenwood Village comprises an eight-square mile area that's home to well-established single-family neighborhoods, highrise apartments, and modern condos alike.
Residents of Greenwood Village thrive in plentiful outdoor space. The eastern border of the neighborhood is adjacent to Cherry Creek State Park. Spend summers paddling the refreshing waters of Cherry Creek Reservoir or enjoy the 12.7 miles of Cherry Creek Trail. In all, Greenwood Village boasts 18 parks, a nature preserve, and a golf course.
For those working in DTC, Greenwood Village is just a short drive from many of the major office parks. Downtown commuters can easily travel via three RTD lines. Driving south for work in Lone Tree, Castle Rock, or Monument proves straightforward enough down I-25; however, downtown commuters may struggle through an hour of rush hour traffic.
Lines: E, F, R
Stations: 8
RTD Commute Time to Downtown: 30 - 45 min
Car Commute to Downtown: 25 - 30 min